10 Best Things to Do in Deauville
What is Deauville Most Famous For?
Deauville is located on Normandy's Côte Fleurie and is one of the most beautiful seaside escapes in France. Known for its chalky white cliffs and colourful flowers, Deauville is often called the 'Parisian Riviera' and has been considered a top destination for the rich and famous since the 1800s.
Today, Deauville welcomes all kinds of travellers. While it still has fabulous attractions for those looking for that upscale experience, it also offers many enjoyable activities for the more relaxed traveller, such as delightful markets, historic hotels, and golden beaches. Just a short 2-hour drive away from Paris, it's no wonder that Deauville attracts tourists seeking a break from the city and looking for rest, relaxation, and some old-world glam.
What are the best things to do in Deauville?
1
Deauville's beaches
Relax and take in the beautiful French coastline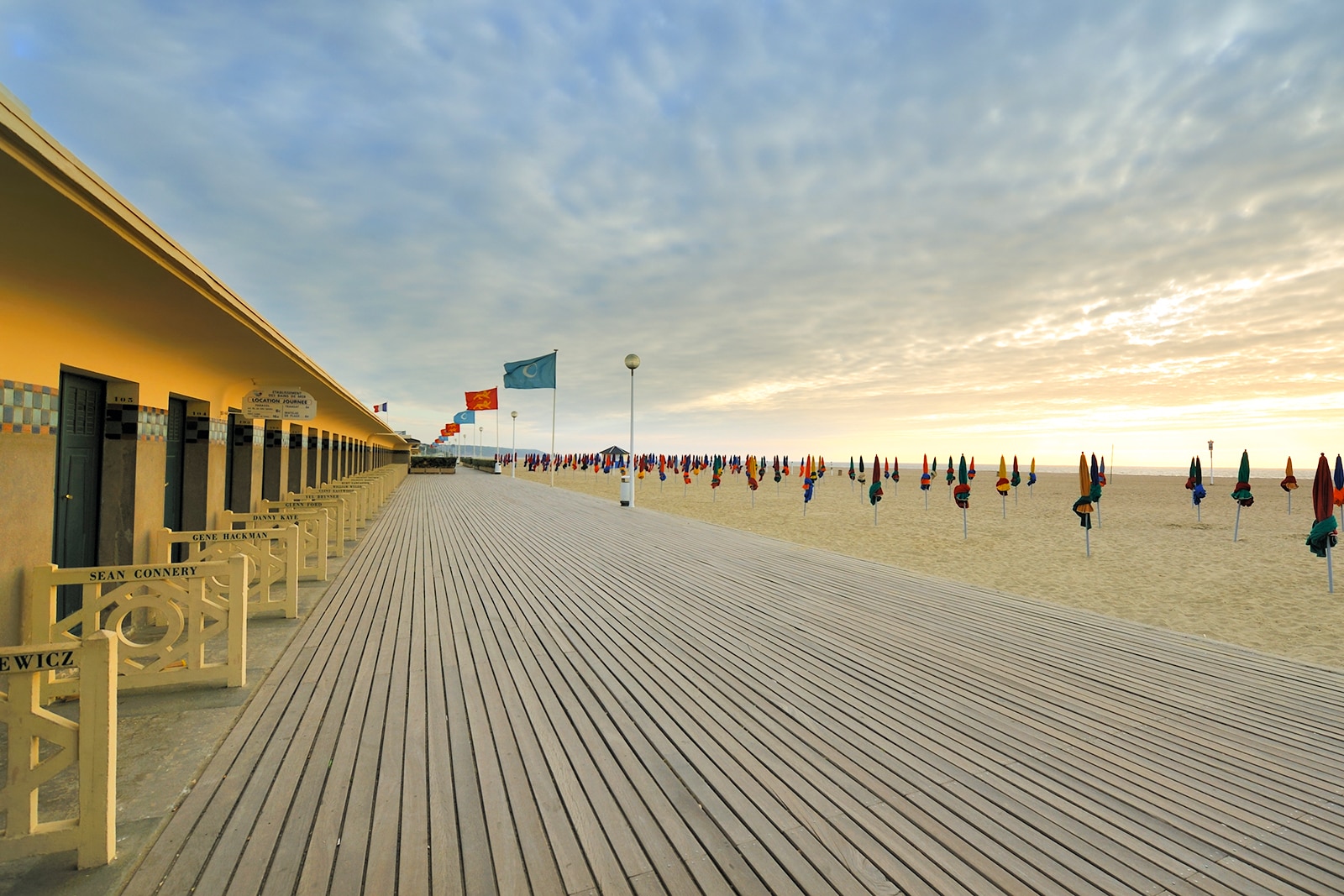 Deauville is a beach town famous for its long stretches of soft sands and calm pristine waters. Simply, one of the best things to do in Deauville is enjoying its beaches. You can easily spot the beach from a distance by its brightly coloured umbrellas, which are available to use free of charge.
Weekends can get quite busy as people come in from the city, so be prepared to navigate modest crowds if you hit the beach on Saturday and Sunday. If you have a weekday available though, you can enjoy the still, calm waters with a little more privacy. Don't forget to bring your sunblock, towel, and beach toys because these aren't for sale around the beach area.
2
Casino Barrière de Deauville
Try your luck at the famous Deauville casino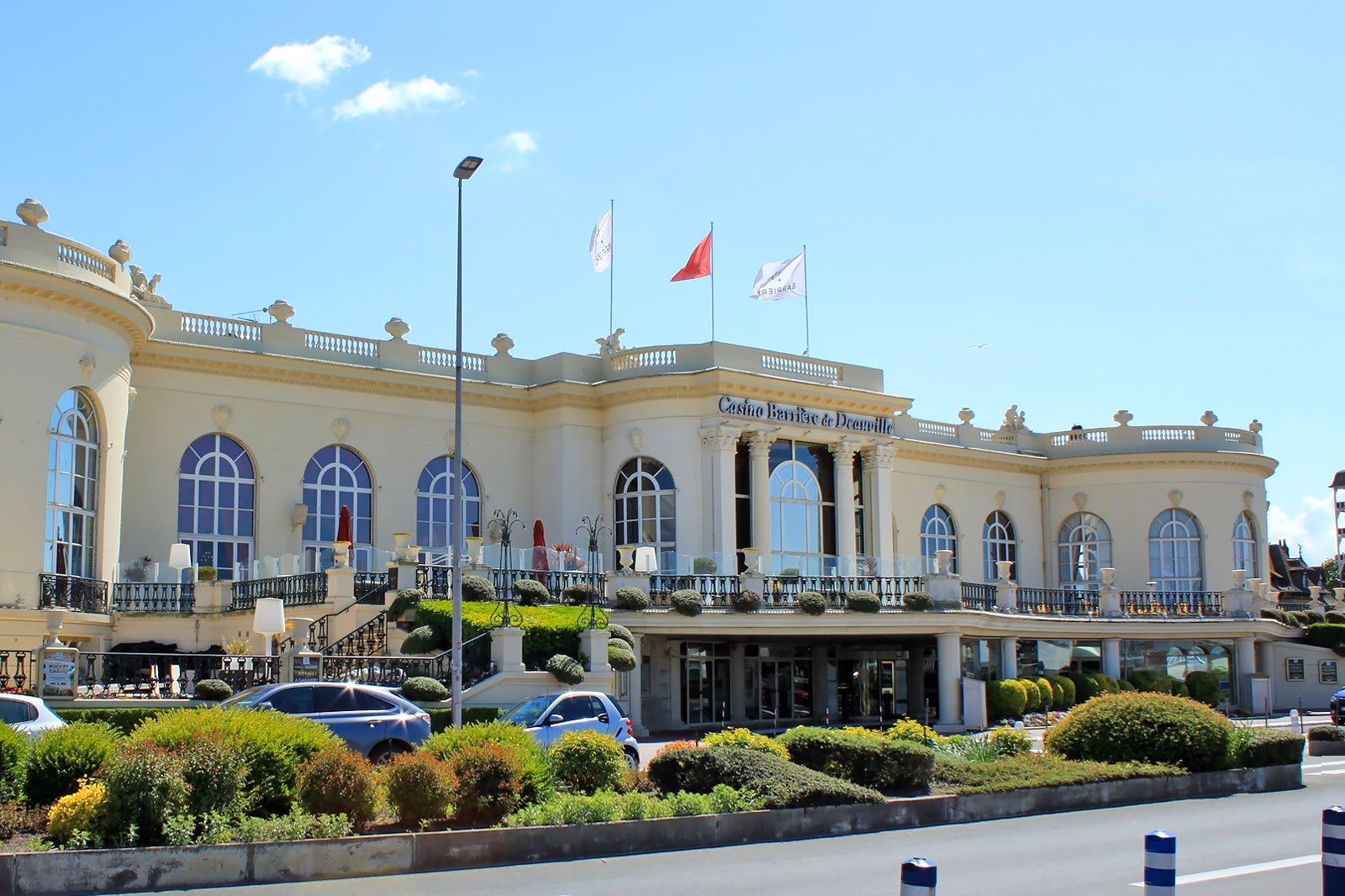 Whether or not you like to gamble, it's worth taking the opportunity to catch a glimpse of Casino Barrière de Deauville, the world-famous Deauville casino. The immaculate façade, with its majestic high windows and entrance hall, will have you feeling like you're entering a royal palace instead of a gaming hall. And the inside is just as stunning. Crystal chandeliers, high ceilings, and lavish red and gold decorations surround card tables and lots of slot machines.
You can also enjoy delicious local cuisine at the casino's wide variety of restaurants or check out the latest entertainment offerings in their Renaissance theatre.
Location: 2 rue Edmond Blanc, 14800, Deauville, France
Open: Monday–Thursday and Sunday from 10 am to 2 am, Fridays from 10 am to 3 am, Saturdays from 10 am to 4 am
photo by Christophe.Finot (CC BY-SA 3.0) modified
3
Sail from Deauville
Explore the waters in style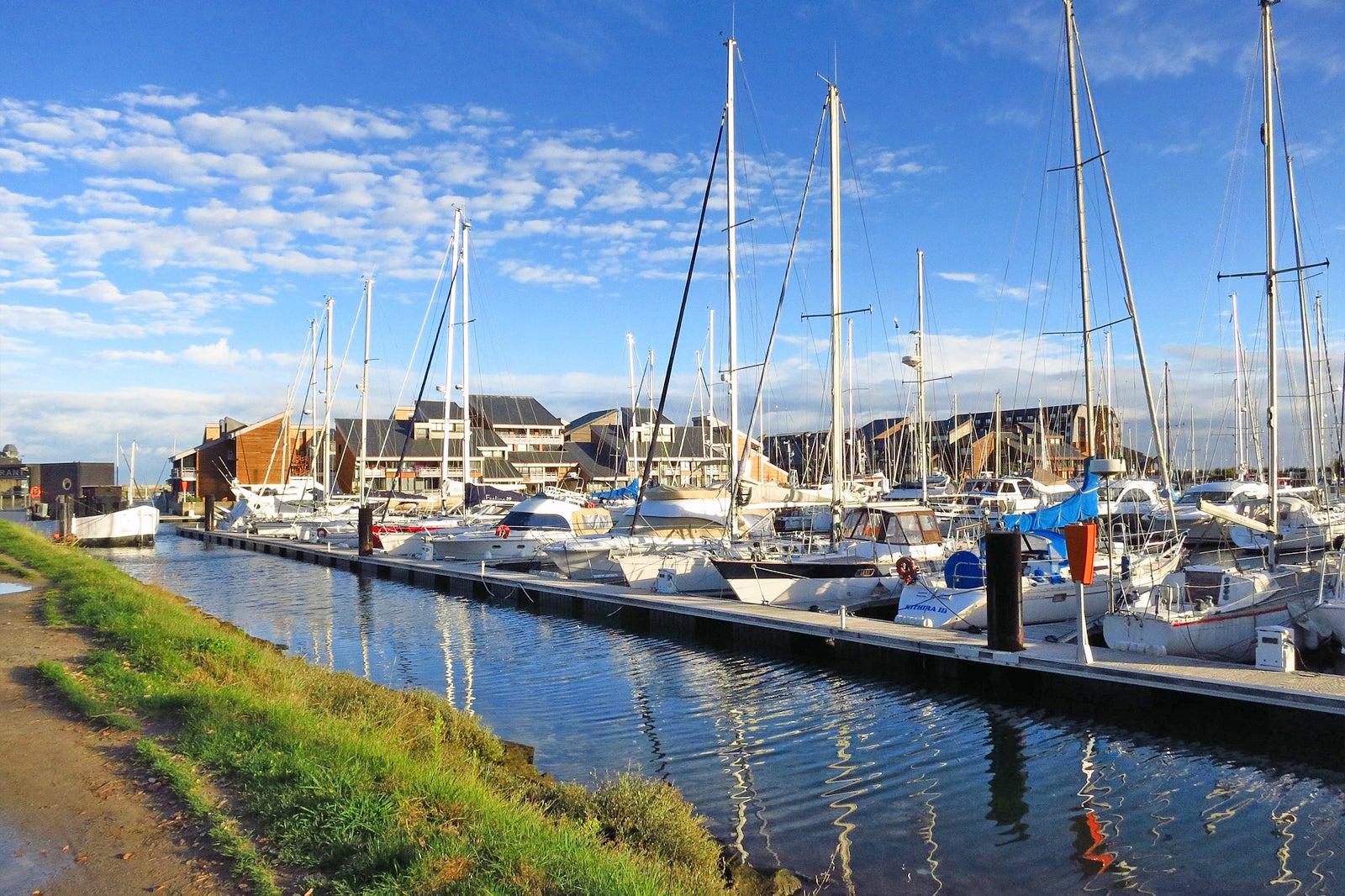 Deauville has 2 ports and a reliable sailing school and regularly hosts regattas and sailing events that draw sailors from all over the world. You can relax at the Deauville Yacht Club and watch the sailors and their boats at sea, or even indulge in some seabird watching while sailing the Seine Estuary.
The Deauville Yacht Club offers 2-hour sails for travellers over the age of 3. You can relax on deck while an expert skipper takes you for a spin on the English Channel. If you really want to make the most of the experience, remember to pack a picnic or bring a bottle of champagne.
Location: Quai de la Marine, 14800, Deauville, France
photo by Leon Brocard (CC BY-SA 2.0) modified
4
Deauville's iconic grand hotels
See the beautiful architecture of Le Normandy Deauville and Le Royal Deauville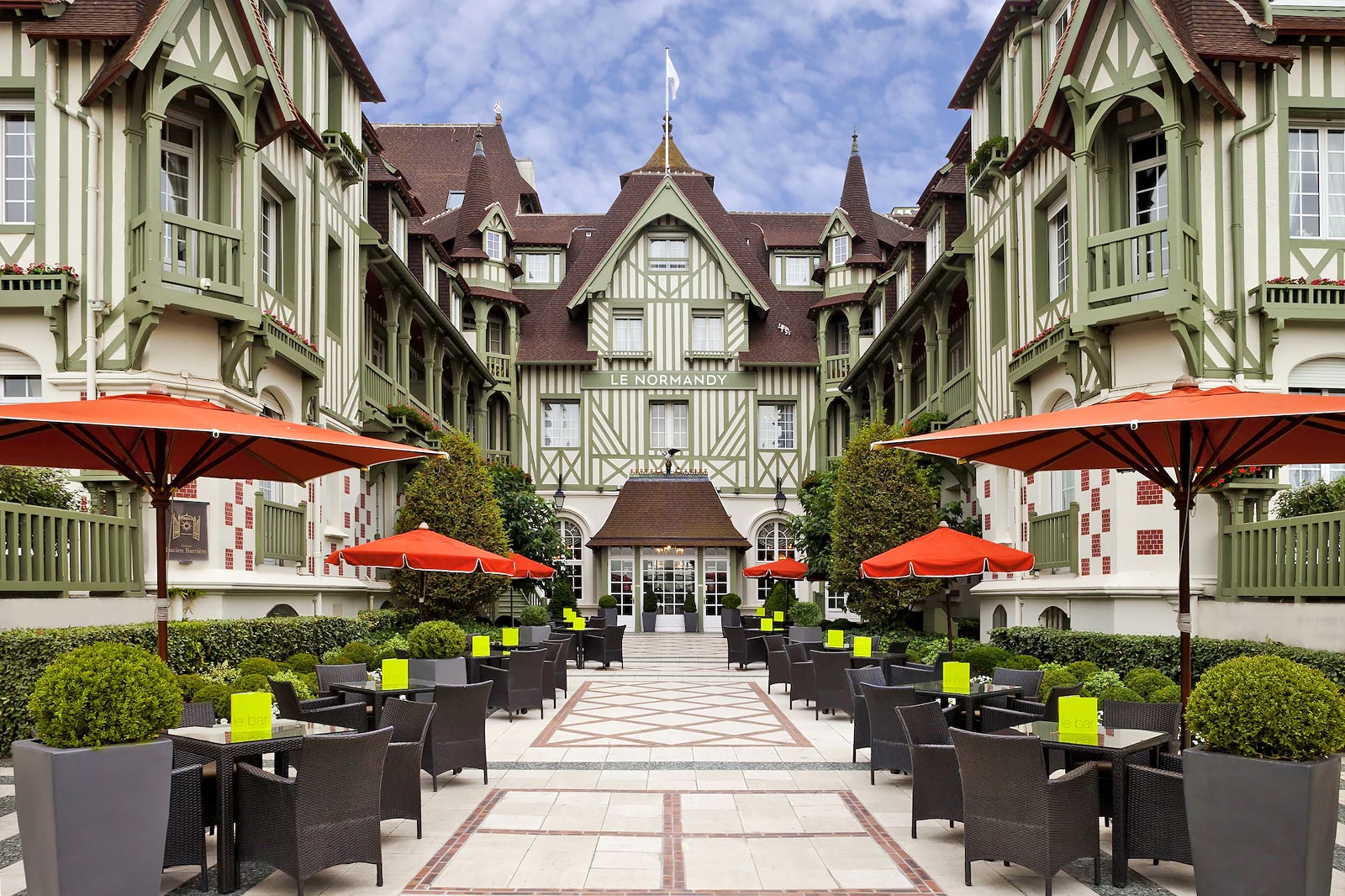 Back in 1912, to attract chic Parisian travellers and British high society, Deauville opened 3 iconic buildings — the Hôtel Barrière Le Normandy Deauville and the Hôtel Barrière Le Royal Deauville, with the Casino de Deauville positioned right between them. The plan worked well as the luxury hotels have become the go-to spot for discerning travellers, socialites, and movie stars coming to Deauville for the film and music festivals.
While visiting, you can take a sightseeing stroll around the properties to marvel at the hotels' massive entrance halls, high ceilings, and delightful parlours and lounges where you can stop to enjoy a delicious afternoon cocktail.
5
Deauville polo and horse racing
Discover Deauville's equestrian centres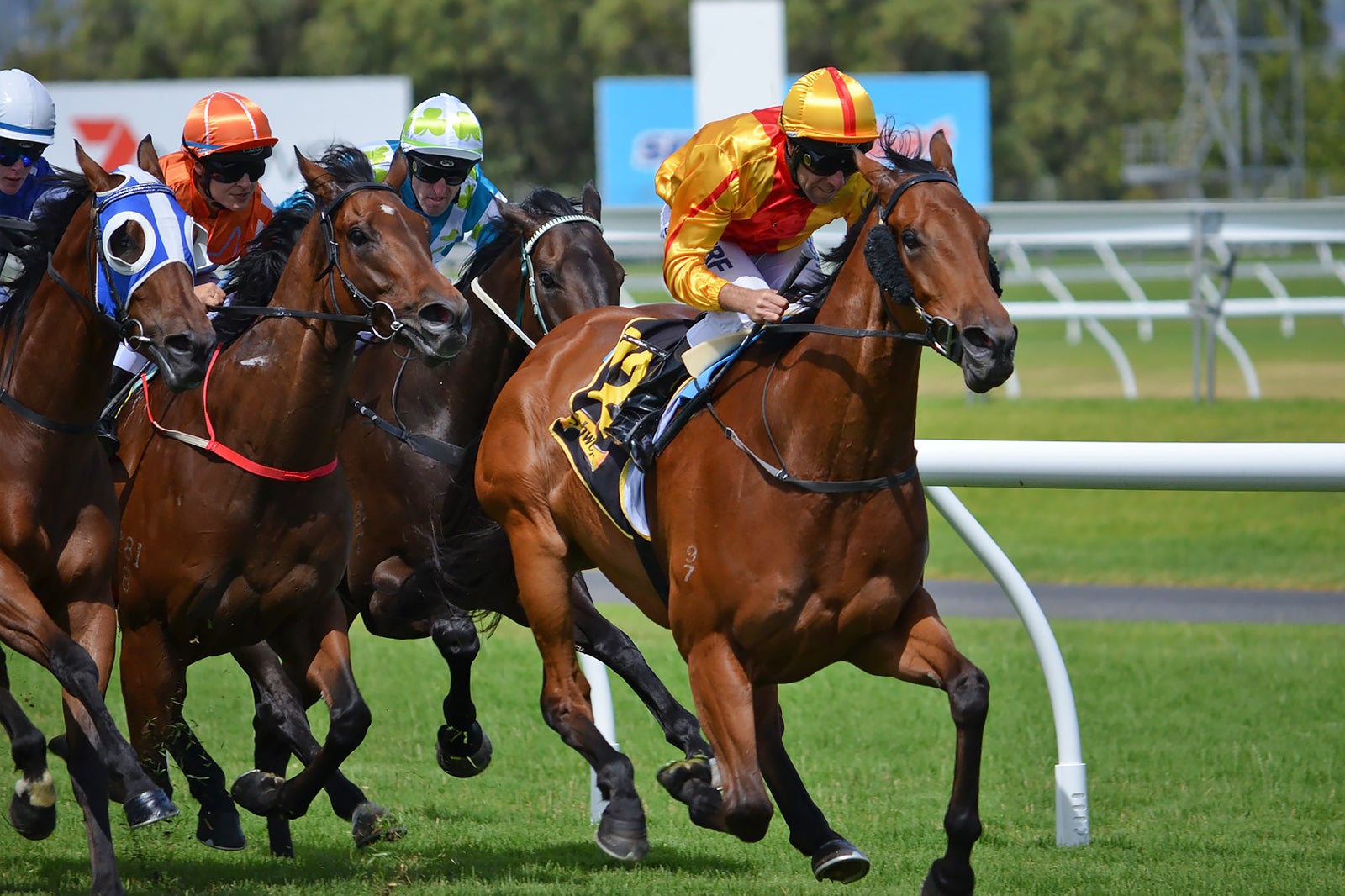 Deauville is horse central – horse racing in the region dates back as far as 1863 when horses and riders raced on the beach. In 1864, the famous Deauville La Touques Racecourse was built and opened to the public and it has since become a famous tourist spot. Here, you can enjoy roughly 40 regular annual races that attract many international trainers, jockeys, and horses. You can even place a bet here if you're feeling lucky.
If racing isn't for you, regular polo matches between some of the world's best teams are also played here. Matches are typically held in August and open to the public for free during weekdays, while an admission fee is charged for weekend matches.
Location: 45 Avenue Hocquart de Turtot, 14800 Deauville France
6
Deauville Market
Enjoy wine and browse local produce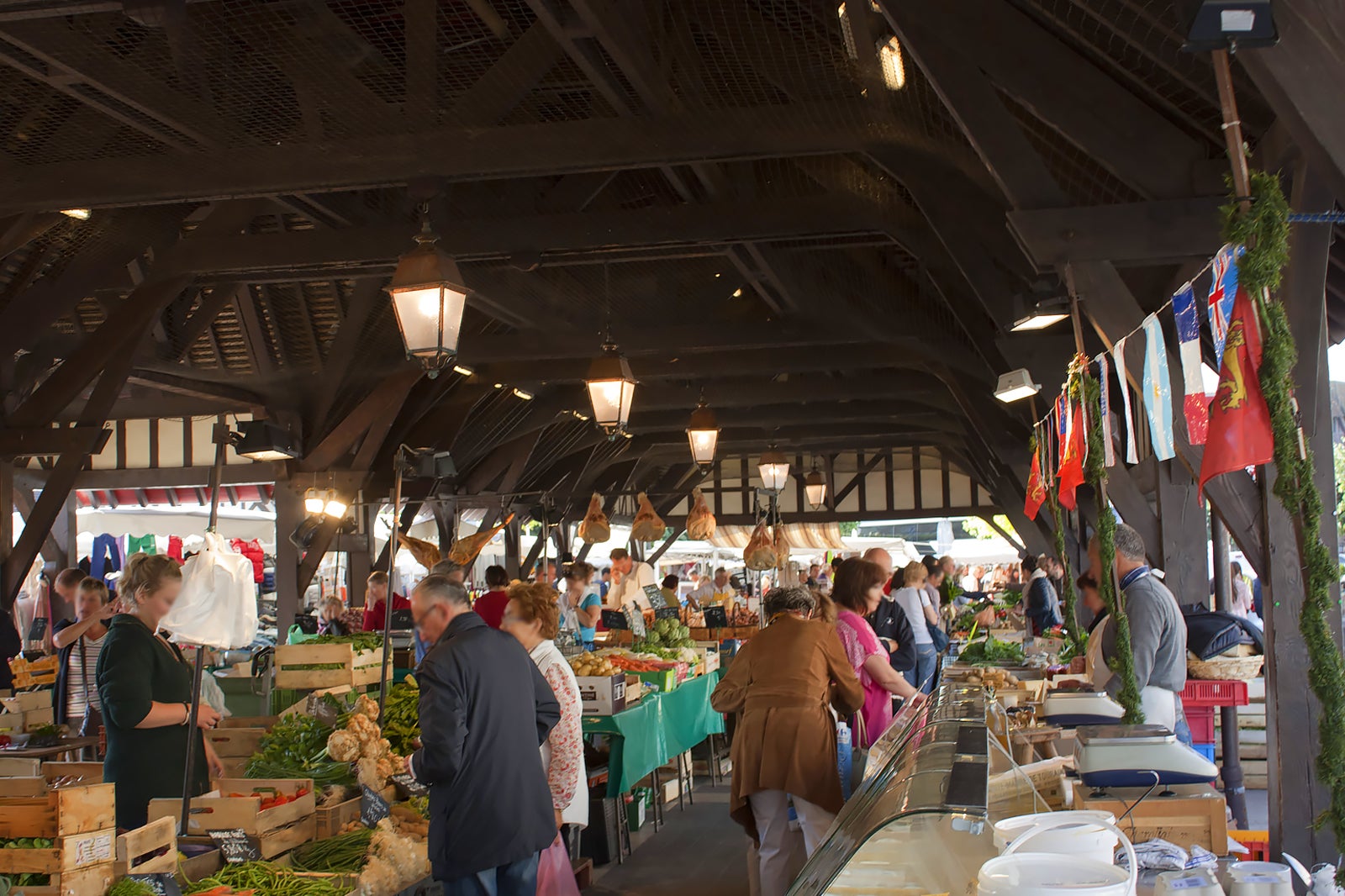 Between the casino, sailing, and horse racing in Deauville, you may be yearning for some downtime to enjoy the quieter side of this quaint seaside town. If you want a more local experience, you can try exploring the covered market at the Place du Marché. The market is full of delightful local vendors selling fresh vegetables, food, fish, flowers, homemade crafts, and some of the best wine and cheese in the region.
Enjoy your purchases while strolling through the stalls, or take a breather at one of the pavement cafés nearby where you can people watch before you continue with your day.
Location: Place du Marché, 14800 Deauville, France
Open: Tuesdays, Fridays and Saturdays from 8 am to noon
photo by Daniel Villafruela (CC BY 3.0) modified
7
Villa Strassburger
See the villa originally built for Baron Henri de Rothschild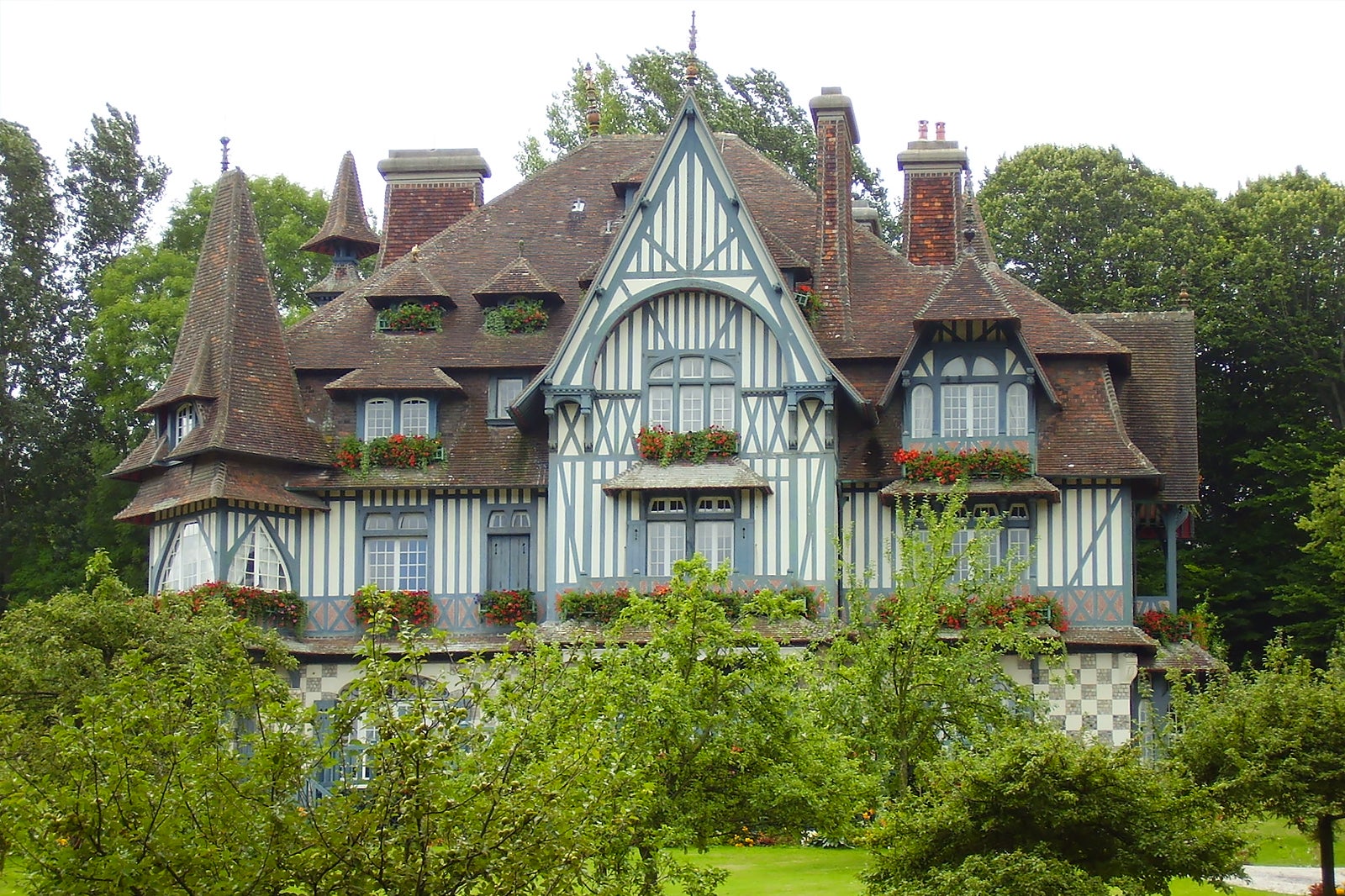 Architect Georges Pichereau built the Villa Strassburger in 1907 for Baron Henri de Rothschild. As he was a fan of the horse races, the Baron wanted a site closer to the racecourse than the sea. The villa overlooks the racetracks and has beautiful interiors and flower gardens.
In 1924, American billionaire Ralph Beaver Strassburger bought the villa. It was subsequently donated to the town of Deauville through his son in 1980. Villa Strassburger has since been listed as a historical French monument. A living museum of the past century, the villa can be rented out for seminars, cocktail parties and wedding receptions.
Location: Avenue Strassburger, 14800 Deauville, France
photo by Kamel15 (CC BY-SA 3.0) modified
8
Golfing in Deauville
Get a hole-in-one at one of the city's famous greens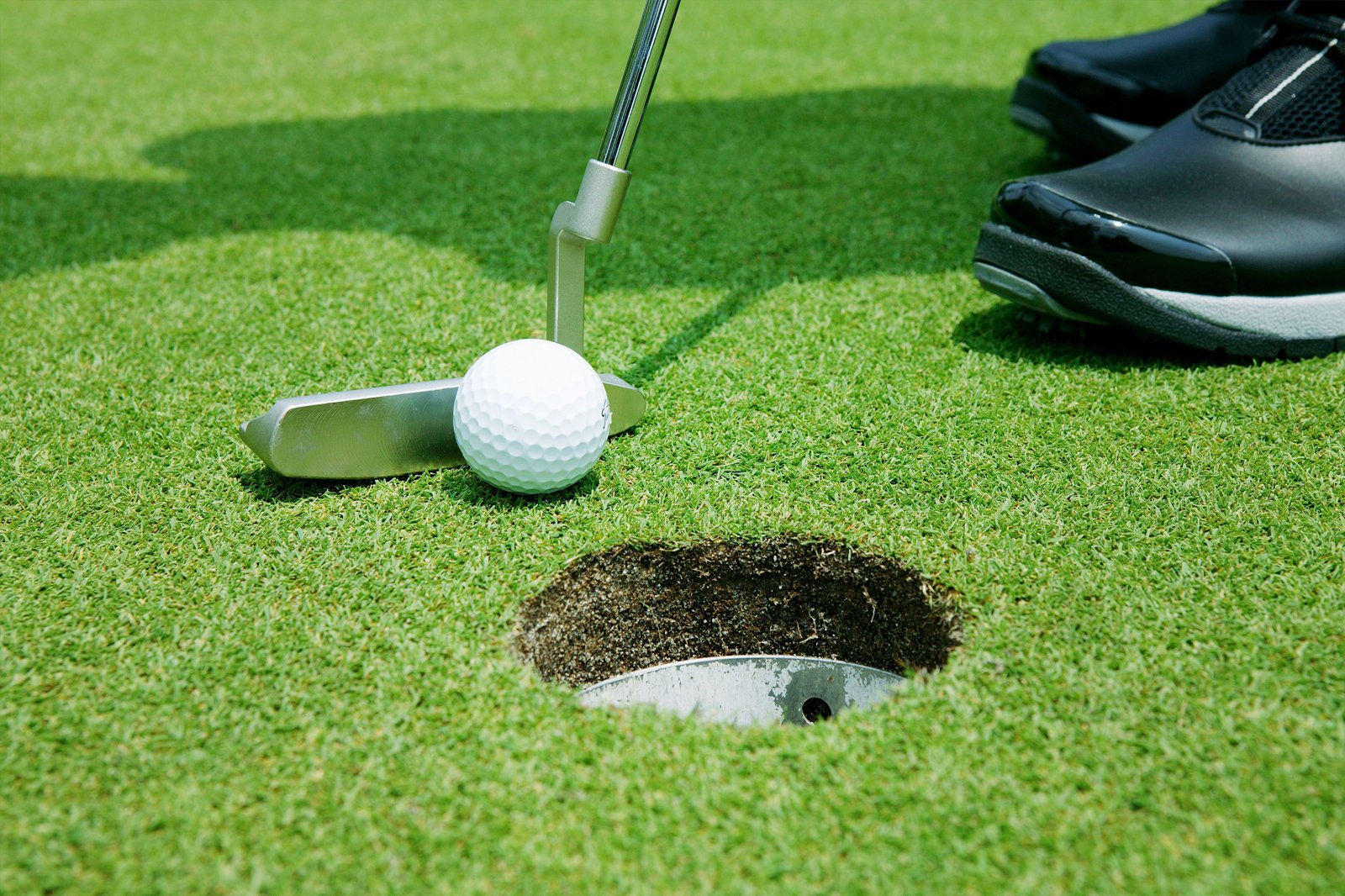 Normandy is well known as a destination for golfers, and Deauville serves as a popular getaway for players who want to get in some games during their holidays and mini-breaks.
There are several golf courses within easy reach of the town, but if you want to stay close then opt for the Amirauté golf course. This 27-hole course near Deauville is just 5 minutes away from the Amirauté Hotel. Architect Bill Baker designed the championship course, which boasts 3 different courses, 2 putting greens, a driving range, shop, sauna, and restaurant. What's more, you can also enjoy the various artistic sculptures found throughout the club while here.
Location: Chemin Départemental 278, 14800 Tourgéville, Deauville, France
Open: Daily from 8 am to 8 pm
9
Eglise Saint Augustin
Enjoy the beautiful and serene architecture
Eglise Saint Augustin is a lovely church located right in the centre of Deauville. It's open daily with signs posted whenever there's a service being held. The church, with its fusion of neo-Gothic and Roman architecture, looks imposing yet reverent. Inside the church, you can enjoy detailed paintings and a large stained glass window that serves as a memorial to World War II.
You can visit the Eglise Saint Augustin to marvel at the architecture, to take a quick breather, or to light a candle and pause for reflection inside the main chapel.
Location: Square de I'eglise, 14800 Deauville, France
photo by Civa61 (CC BY-SA 3.0) modified
10
Tour Normandy by vintage sidecar motorcycle
See Deauville in a fun, old-fashioned way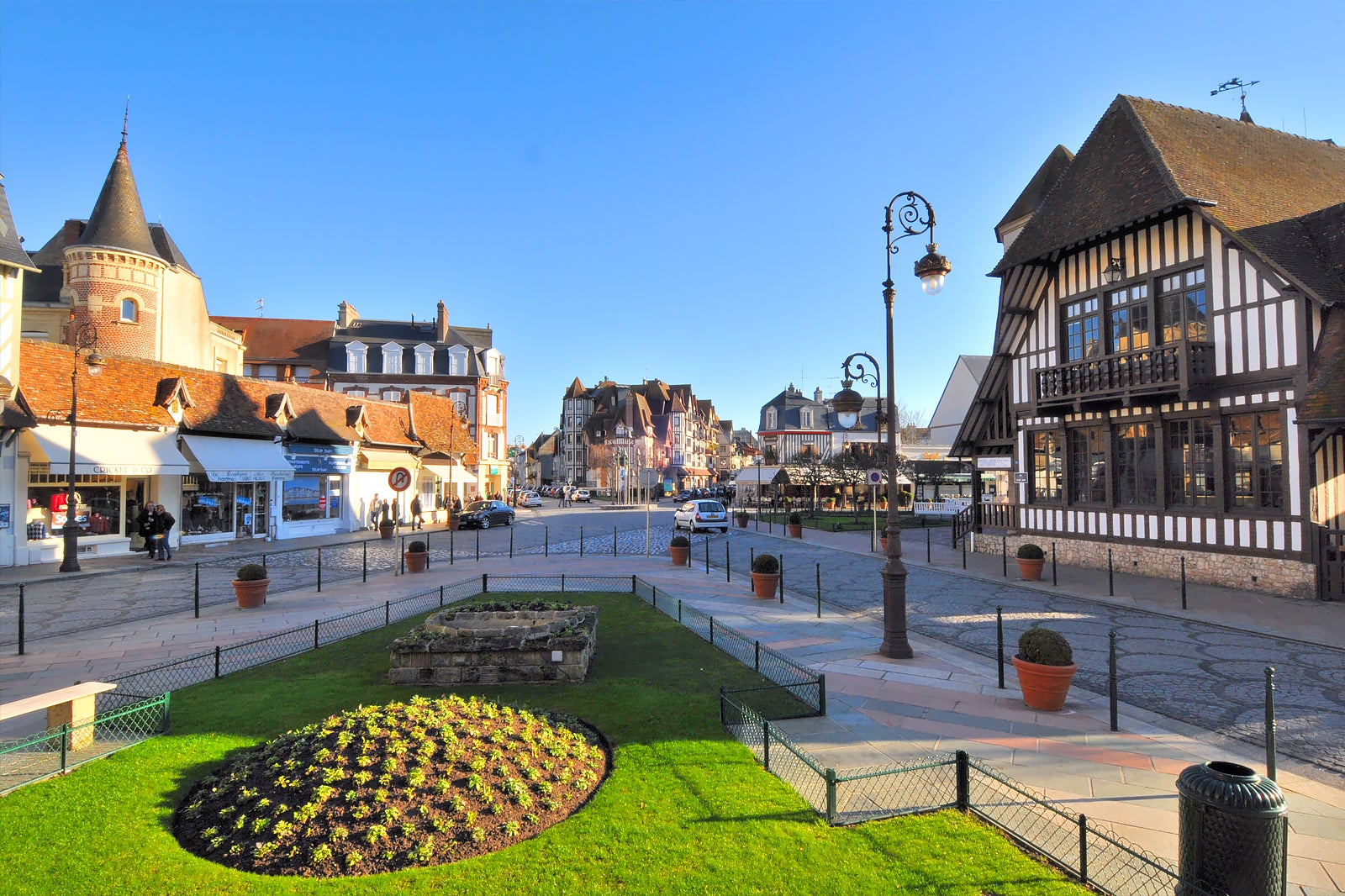 If you want a complete tour of Normandy, you can do so in historic style by taking a vintage sidecar trip through Deauville, Trouville, and Honfleur – all in just 3 hours. You'll see several enchanting landmarks along the coast, while an experienced 'gentlemen sider' shares all the best anecdotes, legends, and stories about the region. You can even customise your tour based on the sites you specifically want to see.
The motorcycle tour guides all dress the part in authentic vintage biker garb, so dress to match if you want some fun, one-of-a-kind photographic mementoes of your trip.
photo by Viault (CC BY-SA 3.0) modified
Back to top