10 Most Iconic Landmarks on the South Coast of England
See the Famous Sites in the UK's Sunny South
The South Coast of England is a world heritage heavyweight with countless iconic landmarks scattered around this gorgeous stretch of land. From natural phenomena such as Durdle Door and Lulworth Cove on the Jurassic Coast to quaint towns like Rye and remarkable historical landmarks such as Dover Castle, you'll be spoilt for sightseeing options when heading South. Also great is that the weather here tends to be a bit kinder than other parts of England.
With more than 300 miles of coast, planning a trip here can seem a bit daunting, but with a little guidance below, you'll be planned and packed in no time.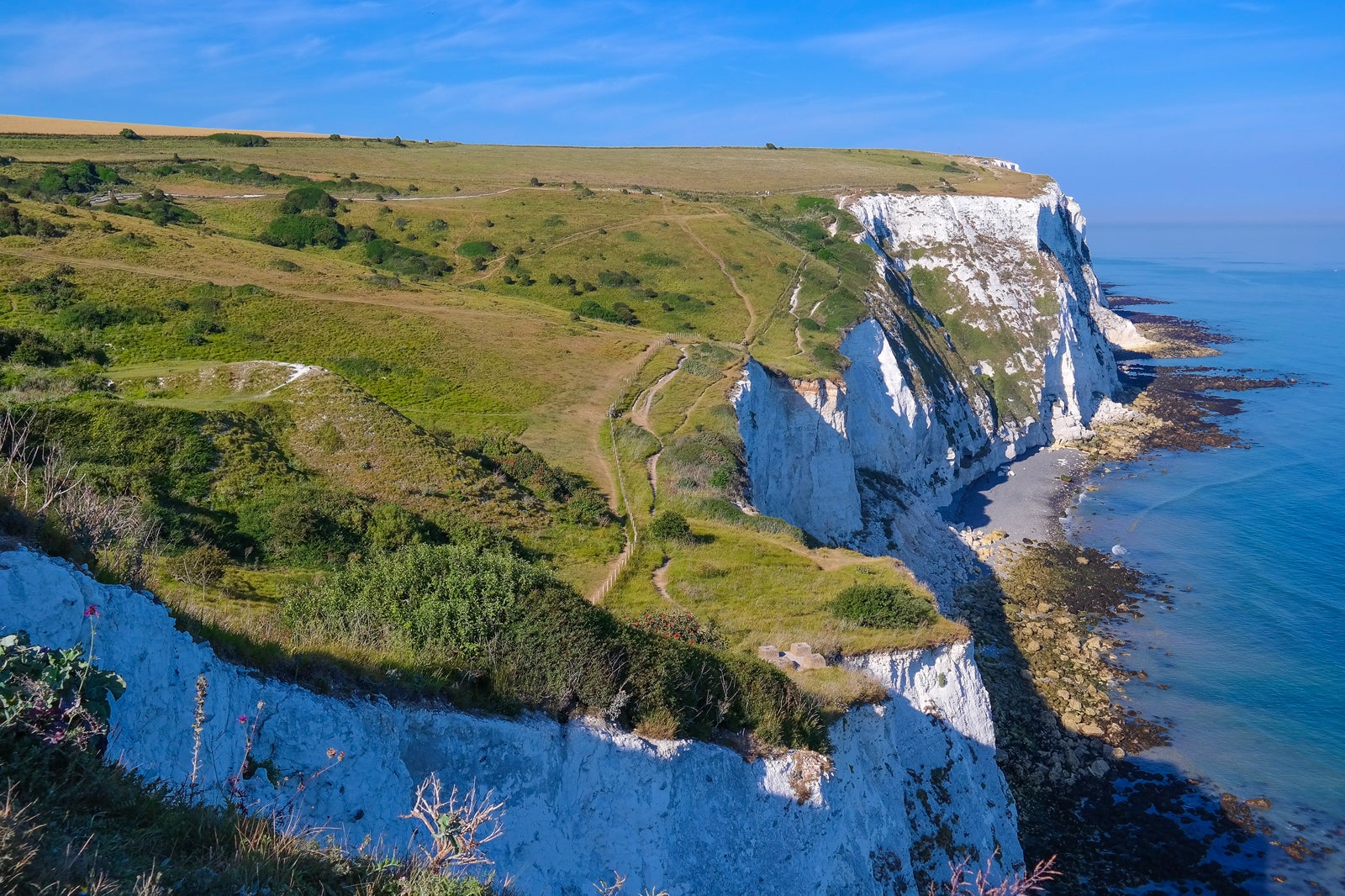 The White Cliffs of Dover
Visit this world-famous attraction in Kent
The White Cliffs of Dover are an icon of England with their dazzling white faces and sharp edges standing at 530 feet above sea level, trimmed with tufts of wild, lush grass. These famous cliffs are made of striking white chalk, which also means the cliff's geology dates back millions of years. Along with its striking beauty, the cliffs have played host to many key moments of British history, standing as a formidable barrier to invasion during both world wars and even coming face to face with Julius Caesar.
A nice spot to start your walk to the cliffs is from Dover Beach, up towards the port and onwards to the cliffs. For a little something extra, walk further to the tranquil South Foreland Lighthouse. Don't forget to stop at Beachy Head – the highest of the cliffs – along the way.
Families
Photo
Budget
Adventure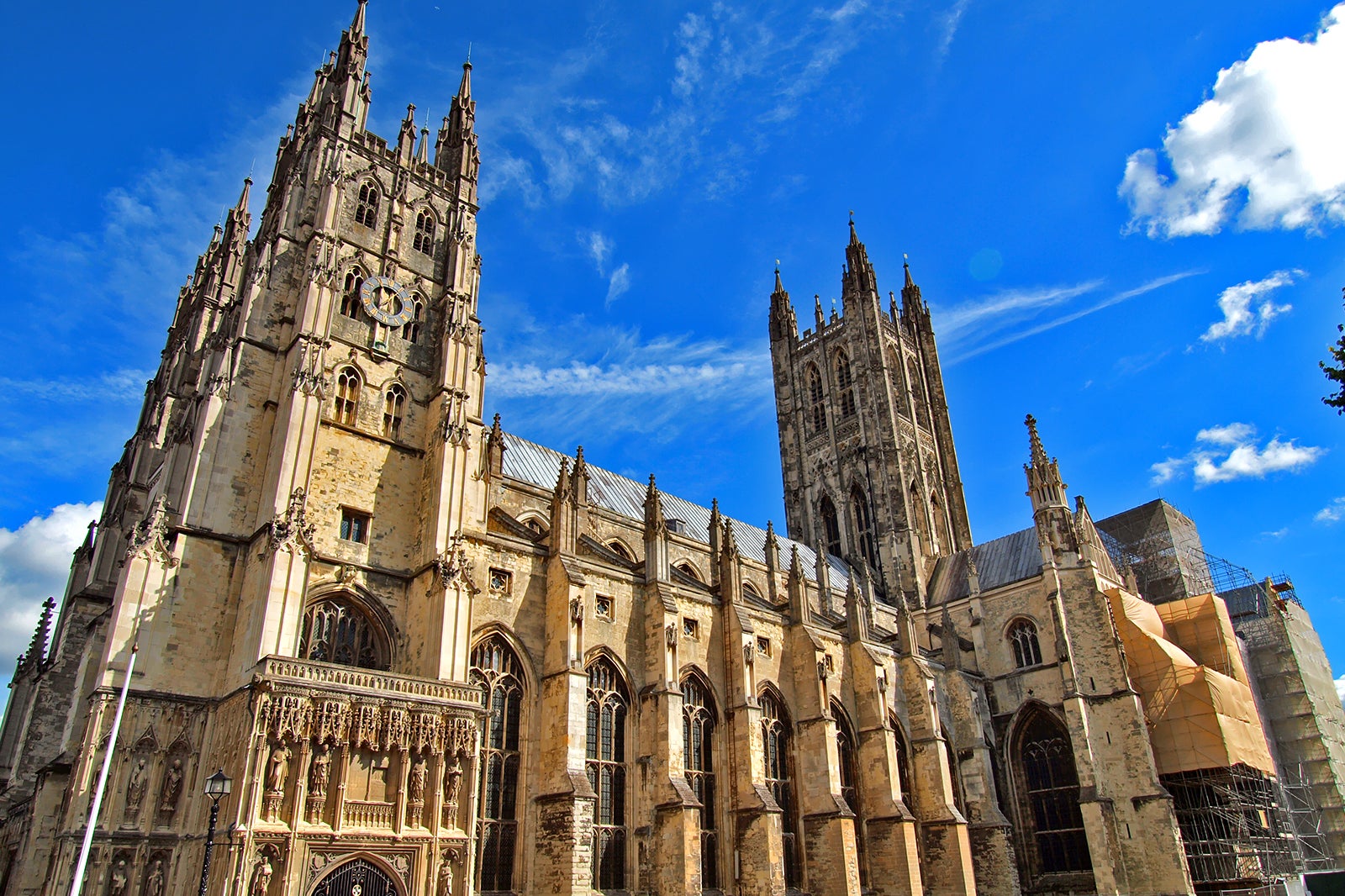 Canterbury Cathedral
Admire one of England's oldest Christian structures
Canterbury Cathedral draws crowds in for its impressive history and regal beauty. As the site of the shrine to Thomas Becket and the seat of the Archbishop, history-lovers will rejoice in visiting this landmark. You can learn more about its past through guided tours that take place daily. The grounds are huge, so allow time to fully explore the cathedral's many gorgeous features, such as a Romanesque crypt, a glorious medieval stained-glass window and a perpendicular nave.
An entrance fee applies, except on Sundays when it's free during services. If you want exterior pictures without the crowds, come back in the evening for a little photo shoot.
Location: Cathedral House, 11 The Precincts, Canterbury CT1 2EH, UK
Phone: +44 (0)1227 762862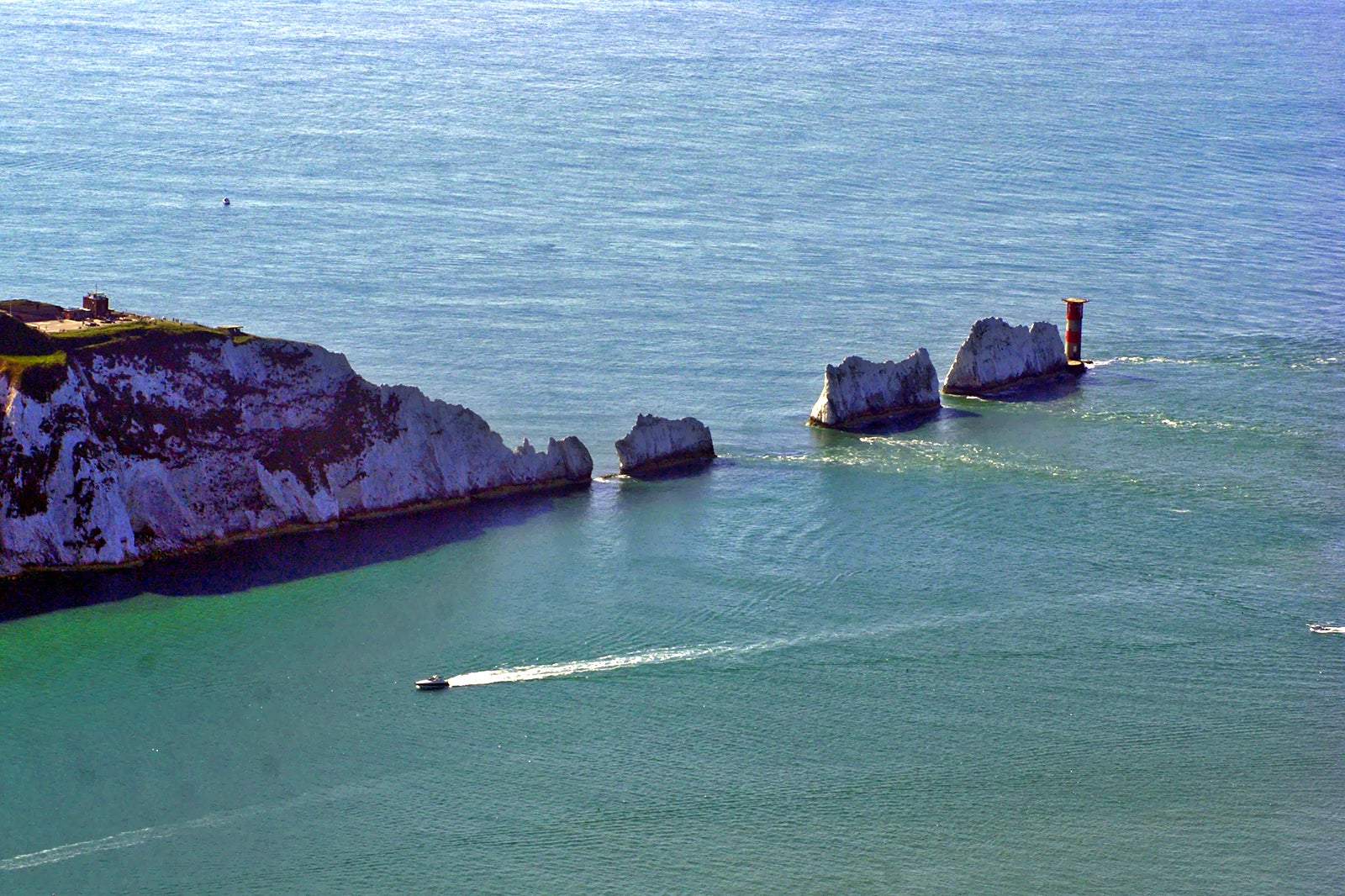 The Needles, Isle of Wight
Take a chairlift over to the beach and the sand cliffs
The Needles are beautiful sandstone cliffs on the lovely coastline of Alum Bay. They've pulled visitors in for years on end for their unique geology and wistful looks. These stacks of rocks lie off the western point of Isle of Wight and rise to about 100 feet above sea level. A chairlift transports you from the clifftop to the beach below.
On your trip down, you'll get a marvellous bird's-eye view of the multicoloured cliffs and sweeping ocean views over the glistening blue waters that stretch as far as the eye can see. Besides stunning geology, The Needles also offer riveting history and even traditional children's rides and family attractions. Make sure to also check out the famous Trinity Lighthouse close by.
Location: Alum Bay New Road, Alum Bay, Totland Bay PO39 0JD, UK
Open: Daily from 10am to 5pm
Phone: +44 (0)1983 752401
Families
Photo
Budget
Adventure
photo by Ian Stannard (CC BY-SA 2.0) modified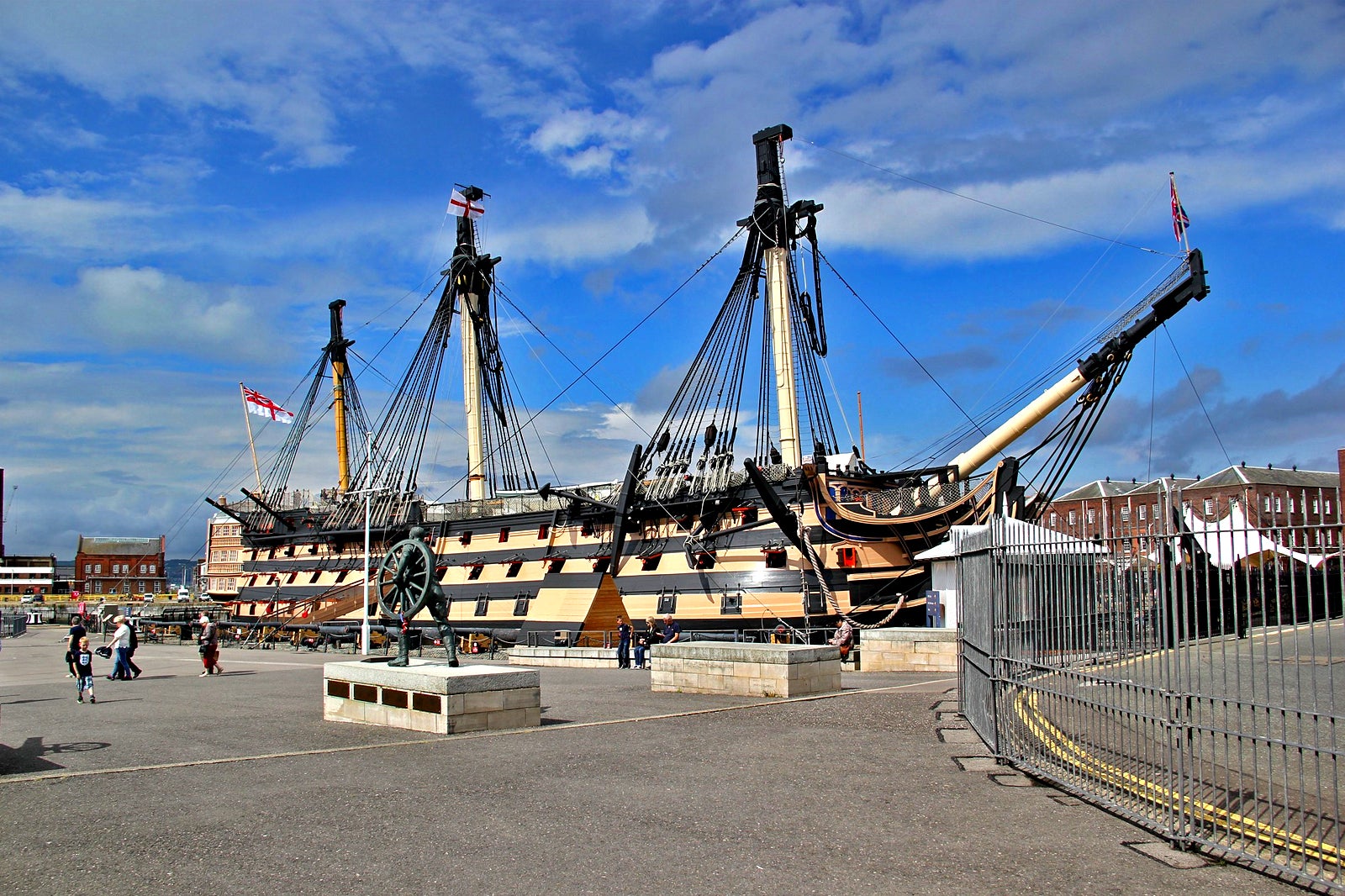 HMS Victory, Portsmouth
Check out Lord Nelson's famous ship from the Battle of Trafalgar
A trip to the HMS Victory will be a history-filled fun day out uncovering the story behind one of the nation's greatest ships. As one of the most famous and largest wooden warships ever built and paramount to the 1805 Battle of Trafalgar, HMS Victory holds a solid place in British history. Her grand scale (227 feet long with 3 gun decks) matches her epic history, dating back to her launch in 1765. Still technically in service, she's the oldest naval ship in the world.
The view of the Victory from the dock is enough to impress you, but a wander inside truly takes you back in time, with her cramped spaces and evocative smell of old timber. Young children will particularly love examining the cannons and naval paraphernalia.
Location: Main Road, Portsmouth PO1 3LJ, UK
Open: Daily from 10am to 6pm
Phone: +44 (0)23 9283 9766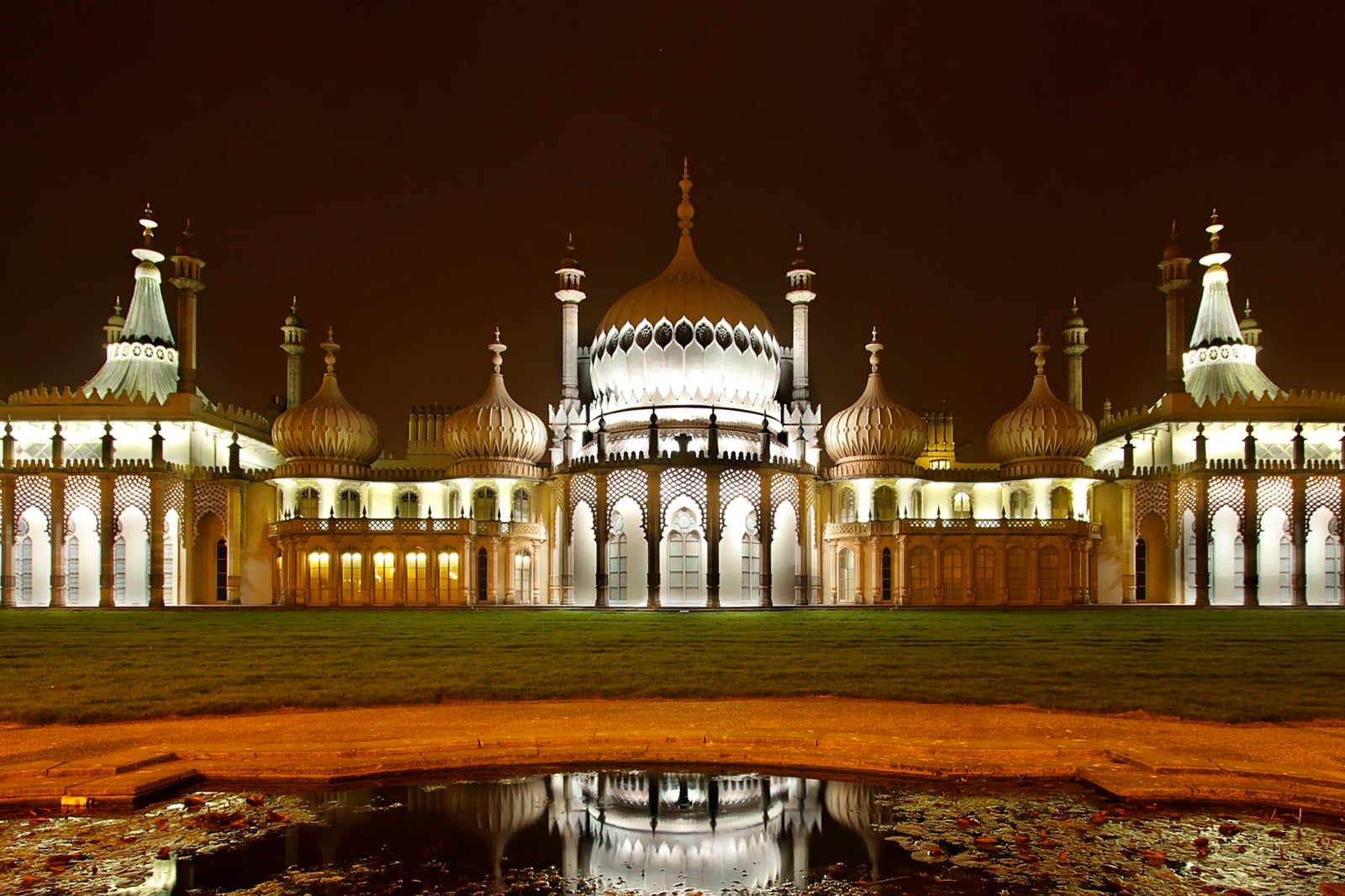 Brighton Pavilion
Wander around this exotic palace by the sea
Brighton Pavilion, also known as The Royal Pavilion, is the extraordinary seaside palace of the Prince Regent (George IV). It was transformed by architect John Nash between 1815 and 1823 into one of the most recognisable and striking buildings in Britain. The intricate palace fits right into place in the cheerful and eclectic city of Brighton.
The landmark's opulence stuns all visitors and is certainly one of the finest examples of early 19th-century chinoiserie anywhere in Europe. Since the city is walkable, we recommend planning your visit to the pavilion as part of a full day of sightseeing around this part of the South Coast.
Location: 4/5 Pavilion Buildings, Brighton BN1 1EE, UK
Open: Hours vary by season
Phone: +44 (0)300 029 0900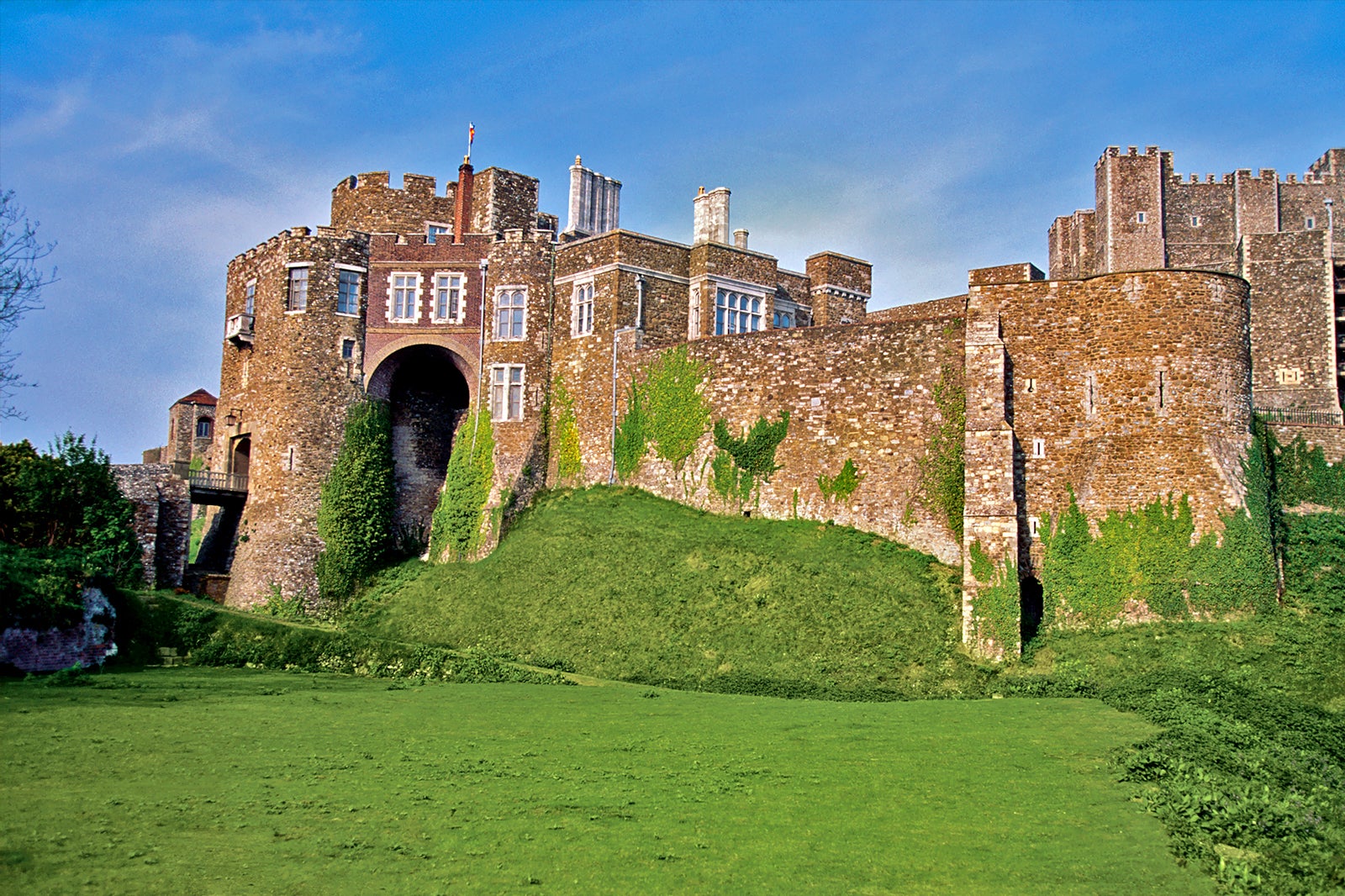 Dover Castle
Roam through centuries of history
Dover Castle is among the most renowned English fortresses, having commanded the gateway to the realm for 9 centuries and seen everything from the Romans to the Cold War. The castle sits at the top, literally and metaphorically, of Dover's cityscape and was used to strengthen the country's weakest point at the shortest sea crossing to mainland Europe.
Highlights of this revered castle include the unmissable secret wartime tunnels and the Great Tower. Its sprawling grounds also contain the remains of a Roman lighthouse, which may be the oldest standing building in Britain. The Great Tower hosts historical exhibits and the wartime tunnels make for a highly entertaining visit, so make sure to take the 50-minute guided tour.
Location: Castle Hill Road, Dover CT16 1HU, UK
Open: Daily from 10am to 6pm
Phone: +44 (0)370 333 1181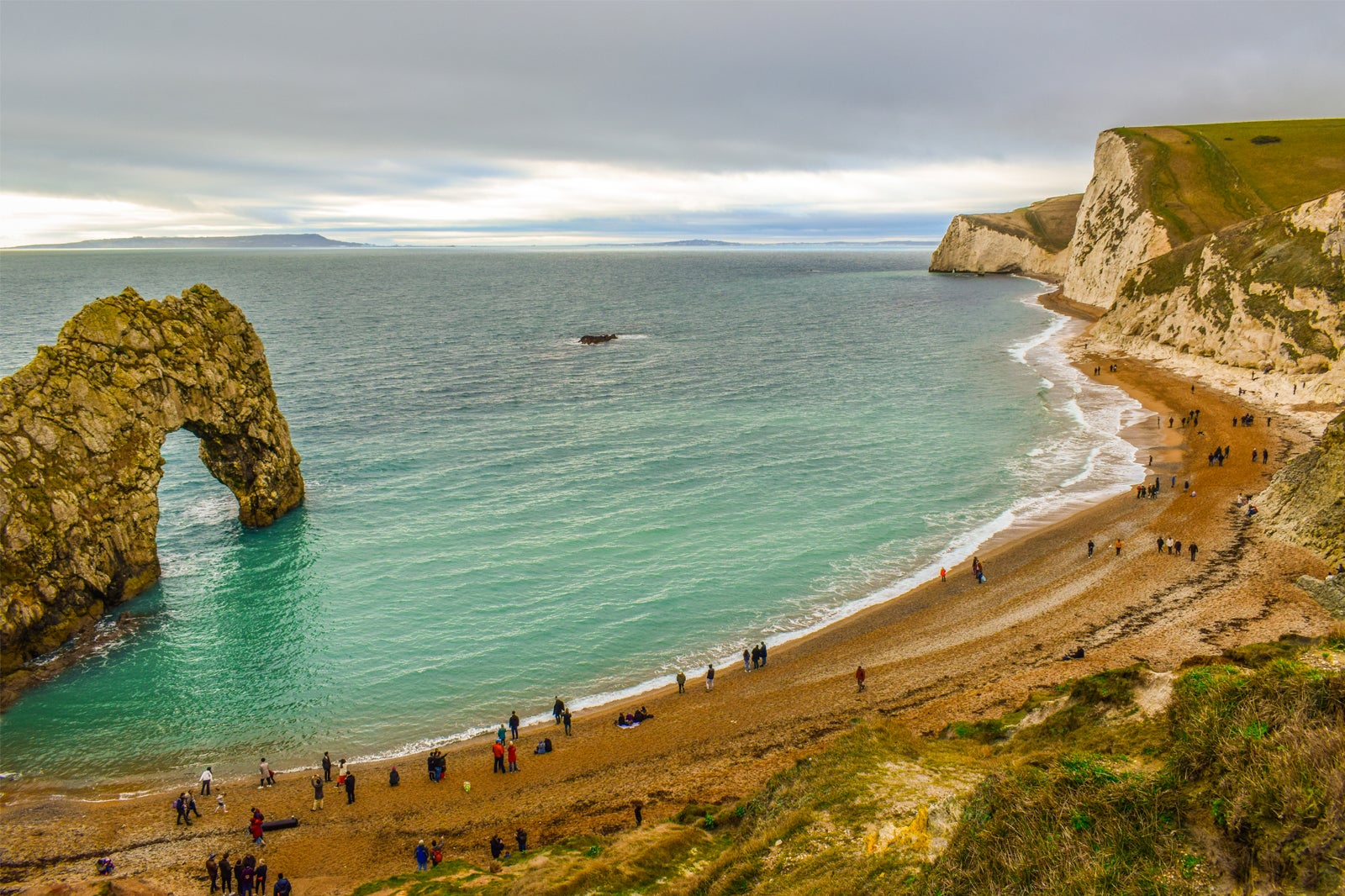 The Jurassic Coast
Journey through 95 miles of breathtaking coastline
As a World Heritage Site, the Jurassic Coast should be high on your list of things to do in the UK. This diverse and gorgeous landscape features incredible geology that is sure to thrill nature enthusiasts. The spectacular shoreline spans from Exmouth in East Devon to Swanage in Dorset, encompassing 185 million years of the Earth's history in just 95 miles – you can "walk through time" in just a few hours.
On a full tour of the coast, you can see the stamp of time through the contrasting colours of stone and rock. Devon features rusty-red Triassic rocks while Lulworth Cove has younger, creamy-coloured Cretaceous rocks. Highlights include Durdle Door, Lulworth Cove, Corfe Castle, West Bay, Sandbanks and Chesil Beach.
Families
History
Photo
Adventure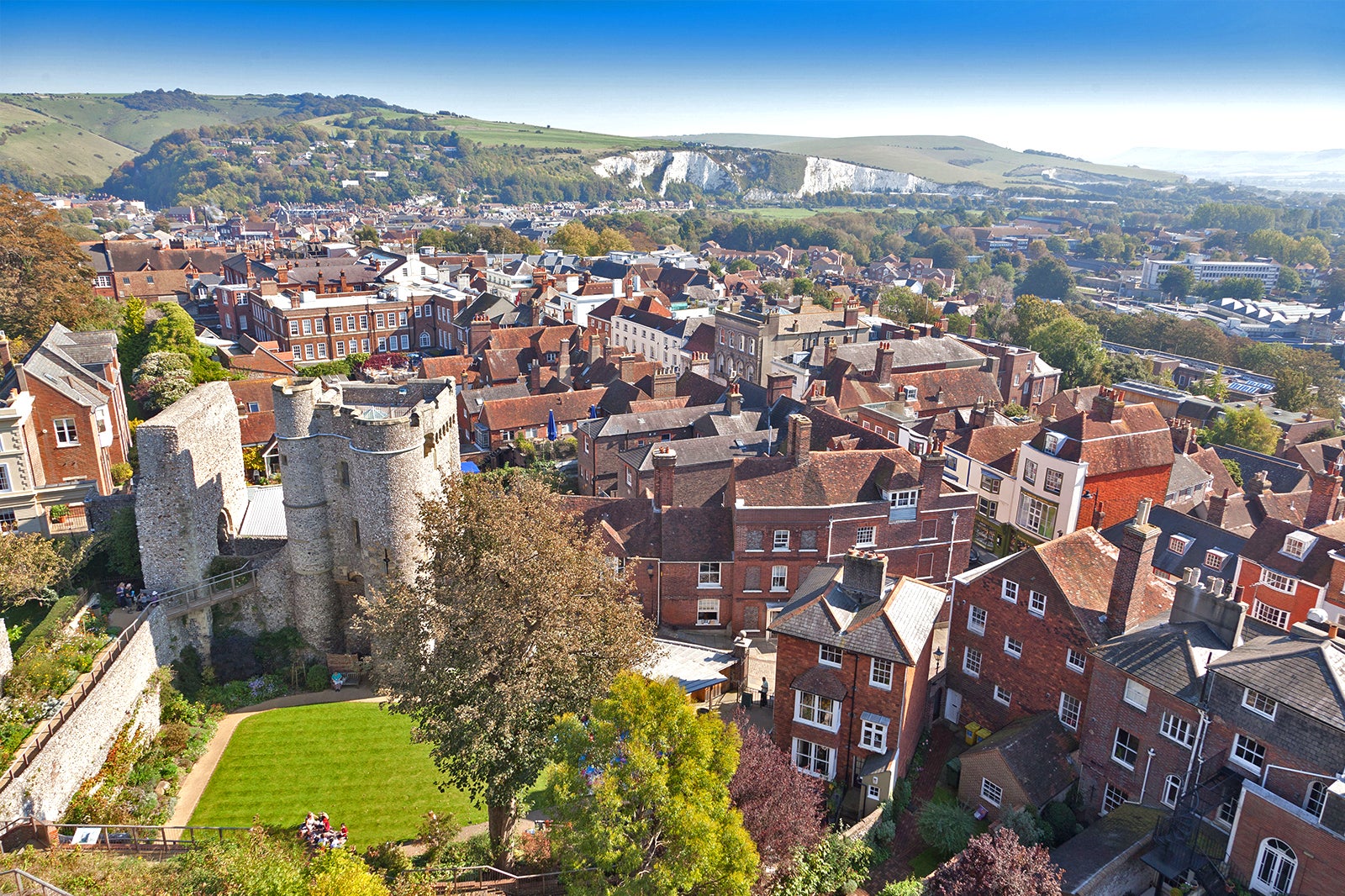 Rye, East Sussex
Walk down cobbled lanes lined with medieval houses
Found near the coast, Rye could be one of the last few of England's best-kept secrets. Tucked in between green undulating hills and the English Channel, it's one of the best-preserved medieval towns in England. This quaint town enchants with names like Mermaid Street, Wish Street and Watchbell Lane peppered all over the place.
With crooked half-timber houses, steep cobbled lanes, ancient inns, a castle and a beach walk, it makes for a lovely and laidback day out or weekend trip. Linger around the lanes, exploring the cute shops and cafés, and then head to Camber Sands for a picnic on the beach. If you're looking for a little history, pop into Bodiam Castle, which floats in a glimmering moat.
Location: Rye, East Sussex, UK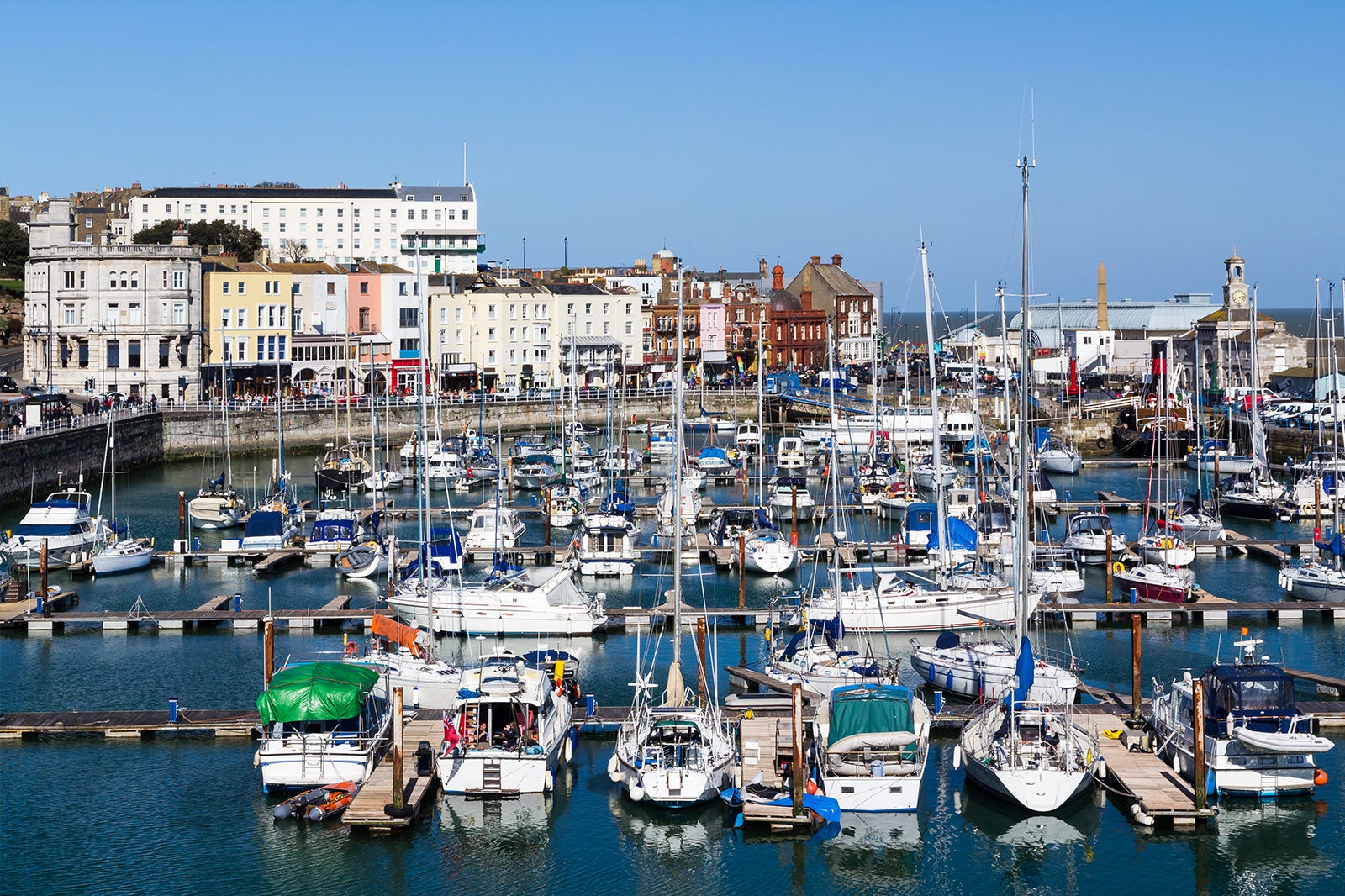 Ramsgate, East Kent
Experience a quintessential British seaside town
Ramsgate is a historical port town that features a bustling Royal Harbour and yacht-packed marina that's flooded in history and continental charm. Visit the Maritime Museum where you'll learn about Ramsgate's rich heritage in fishing and shipbuilding. A must-see is the Ramsgate Tunnels, where you can tour the largest Civilian Deep Shelter Air Raid Precaution where over 300 families lived permanently in 1940.
For something more leisurely, walk around the town admiring the elegant Georgian terraces or head to the sea to watch seals basking on the Goodwin Sands. For nature lovers, walk the coastal path to Broadstairs or head south on the epic Saxon Shore Way to the wildlife-rich Pegwell Bay Country Park.
Location: Ramsgate, East Kent, UK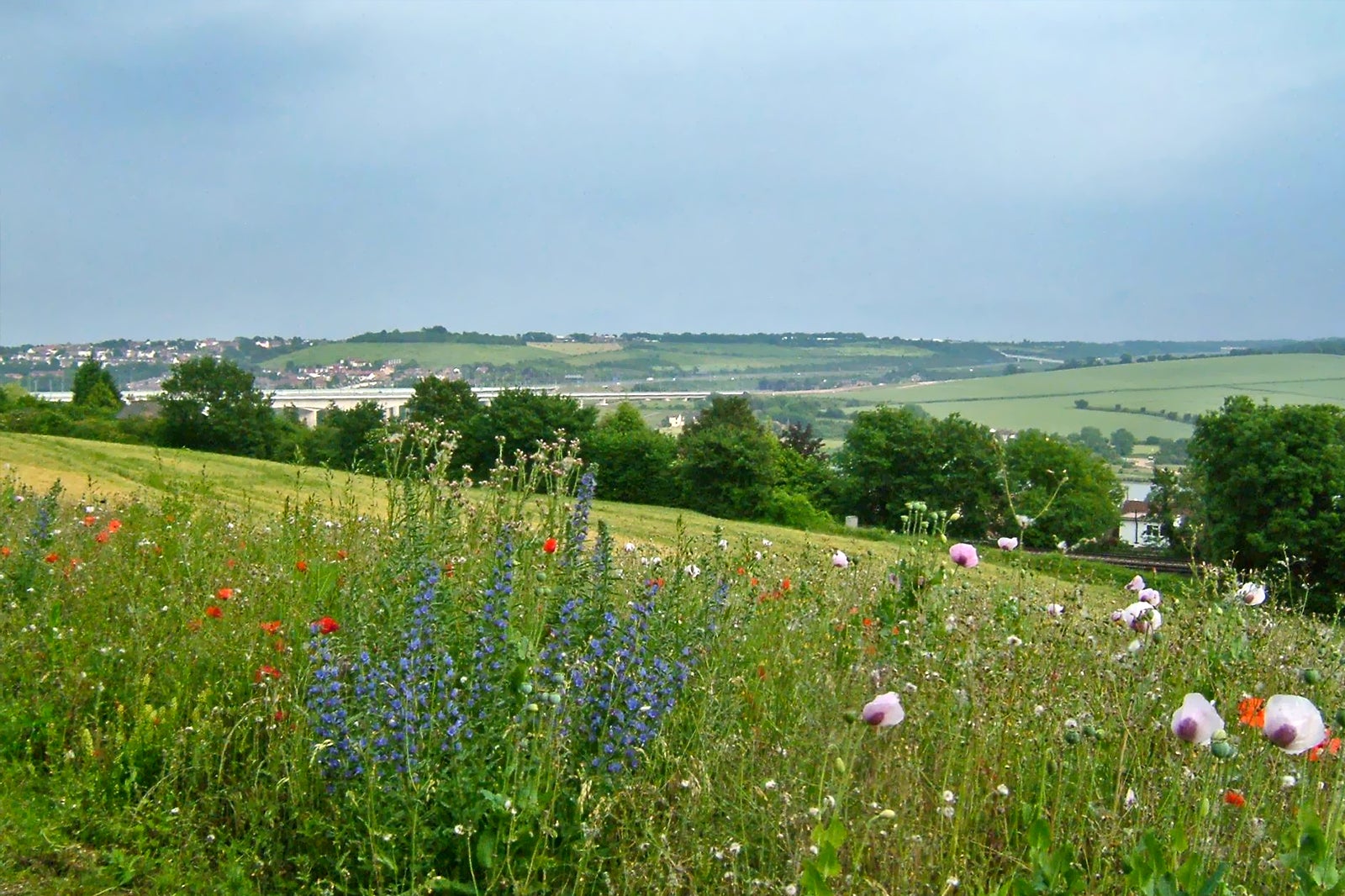 Kent Downs
Explore this enchanting nature reserve
The Kent Downs on England's South Coast stretch from the White Cliffs of Dover up to the borders of Surrey and London and contain vibrant and contrasting landscapes. They have dramatic chalk cliffs, secluded dry valleys, networks of minuscule lanes and historical hedgerows. You'll also find ancient woodlands, distinct historical villages and towns, traditional orchards and many wildlife, cultural and historic hotspots.
Ranscombe Farm is famous for its stunning wildflowers and Kent Orchard for its apple-picking. When it comes to walking trails, there's an endless supply. A favourite is the trail down North Downs Way. There's Romney Marsh offering haunting beauty that can be explored along walking and cycling trails and Blean Woods, the largest area of ancient woodland in England.
Location: West Barn, Penstock Hall Farm, Canterbury Road, East Brabourne, Ashford TN25 5LL, UK
Phone: +44 1303 815170
photo by Clem Rutter, Rochester, Kent. (CC BY 2.5) modified