Harrods is a London icon and one of Europe's largest upmarket department stores, covering an area of around 5 acres. You'll find over 330 retailers selling luxury items of clothing, jewellery and bridalwear, but you'll also find electronics, packaged gifts, health and beauty items, home appliances, and houseware.
Harrods resides within a listed 19th-century building, attracting just as many architecture and history buffs as shopping enthusiasts. Besides its retailers, the 7-storey mall houses acclaimed food halls, restaurants, monuments and custom arcade games. It can attract up to 300,000 visitors per day, including famous names and even royals.
With so many products to browse and activities to enjoy, you could spend an entire day at this iconic department store. So, whether you want to shop until your heart's content or simply see one of London's most famous landmarks, you might want to add Harrods to your itinerary.
Harrods in London - one of the highlights of 10 Unique Shopping Experiences in London (Read all about London here)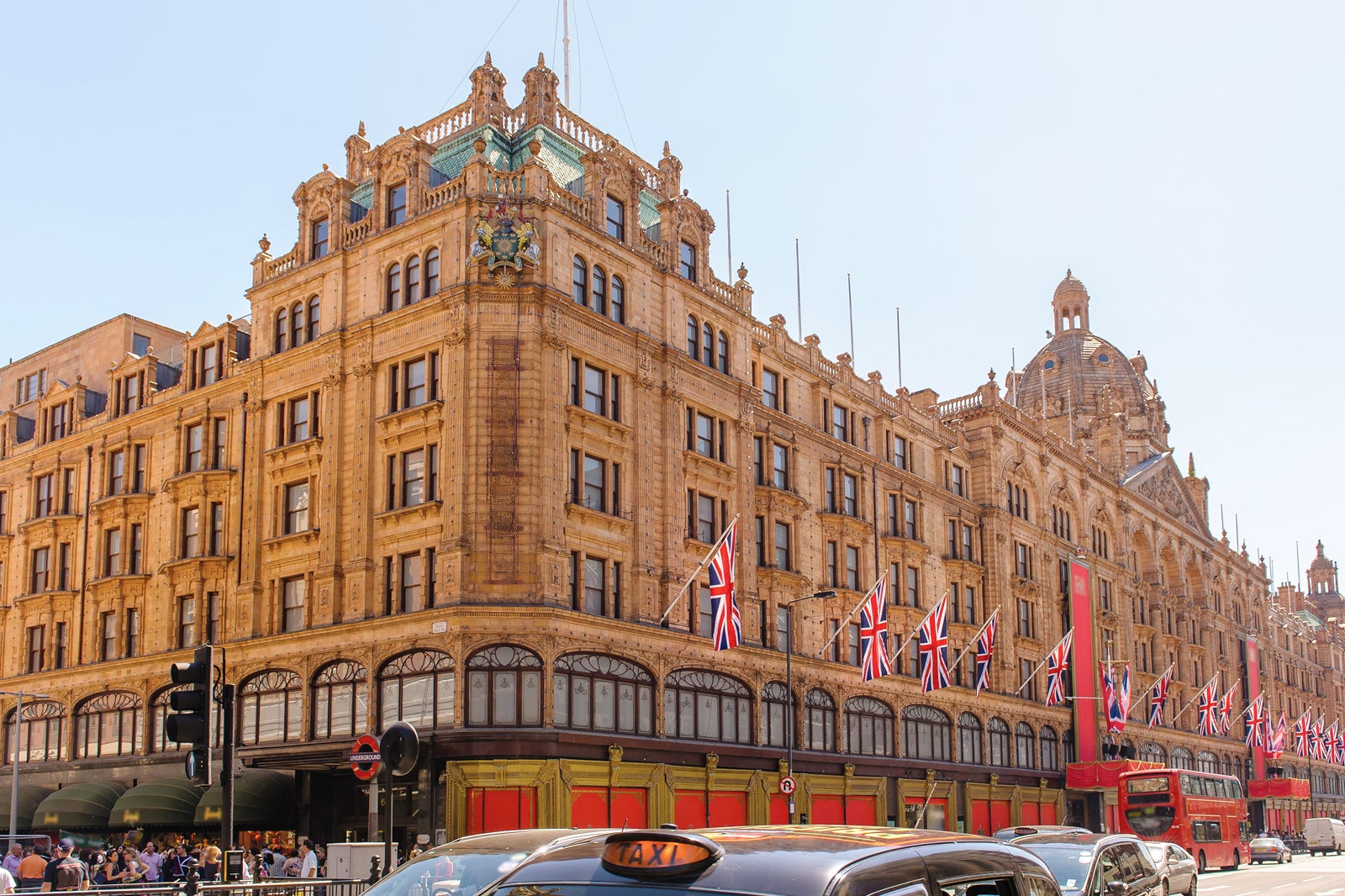 What are the highlights of Harrods?
Shopping is undeniably the main draw of Harrods, but the grandeur of every detail makes the visit a unique experience. Explore its departments, which have interiors inspired by styles ranging from art deco to Egyptian, and you'll find luxury products from over 5,000 brands, including Valentino, Heidi Klein, Prada, Estée Lauder, Dior, and Dolce and Gabbana. Plenty of luxury items are available exclusively in Harrods, from antiques to bespoke cakes and customisable jewellery.
Kids will love the large toy department on the 4th floor, which has 8 uniquely themed boutiques specialising in a specific toy category. If you're looking for perfumes, makeup and designer clothing, visit the 17 boutiques in the Superbrands department on the 1st floor. You can grab a bite from the famous food emporium when you're feeling peckish. Harrods Food Hall is home to a fresh market, fine wines and spirits, a roastery and bakery, and around 6 premium restaurants. Upstairs on the 5th floor, you can relax and rejuvenate at a Moroccan spa.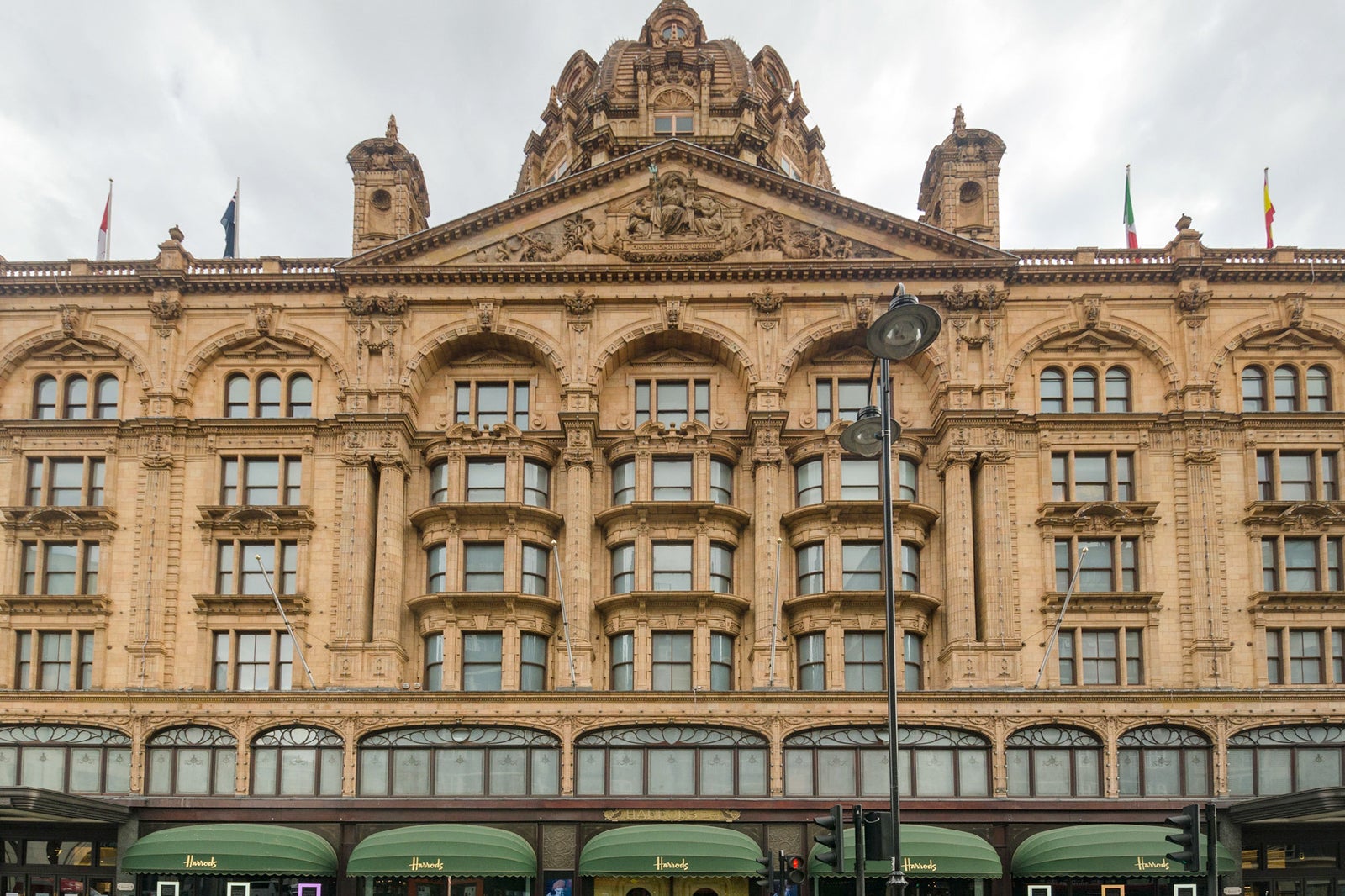 What else can you do at Harrods?
Harrods has occupied its current site in Knightsbridge since 1849, though the store's origins date back to 1824. If you're not much of a shopper, you can check out attractions that make Harrods more than just a luxury shopping destination. Its history, monuments and appearance make it a London treasure.
The grand exterior of Harrods reflects the opulent interior and luxury boutiques. Throughout the day, you can appreciate the Edwardian-inspired façade completed in 1905 after more than a decade in the making. Inside, you can see the frequently photographed Egyptian escalator, which pays homage to the fact that Harrods was England's first store to unveil one back in 1898.
At the foot of the escalator, there's a memorial to Diana, Princess of Wales and Dodi Fayed, which was unveiled in 1998. Near Entrance 3, you can see a bronze statue of the couple under the wings of an albatross dancing on a beach.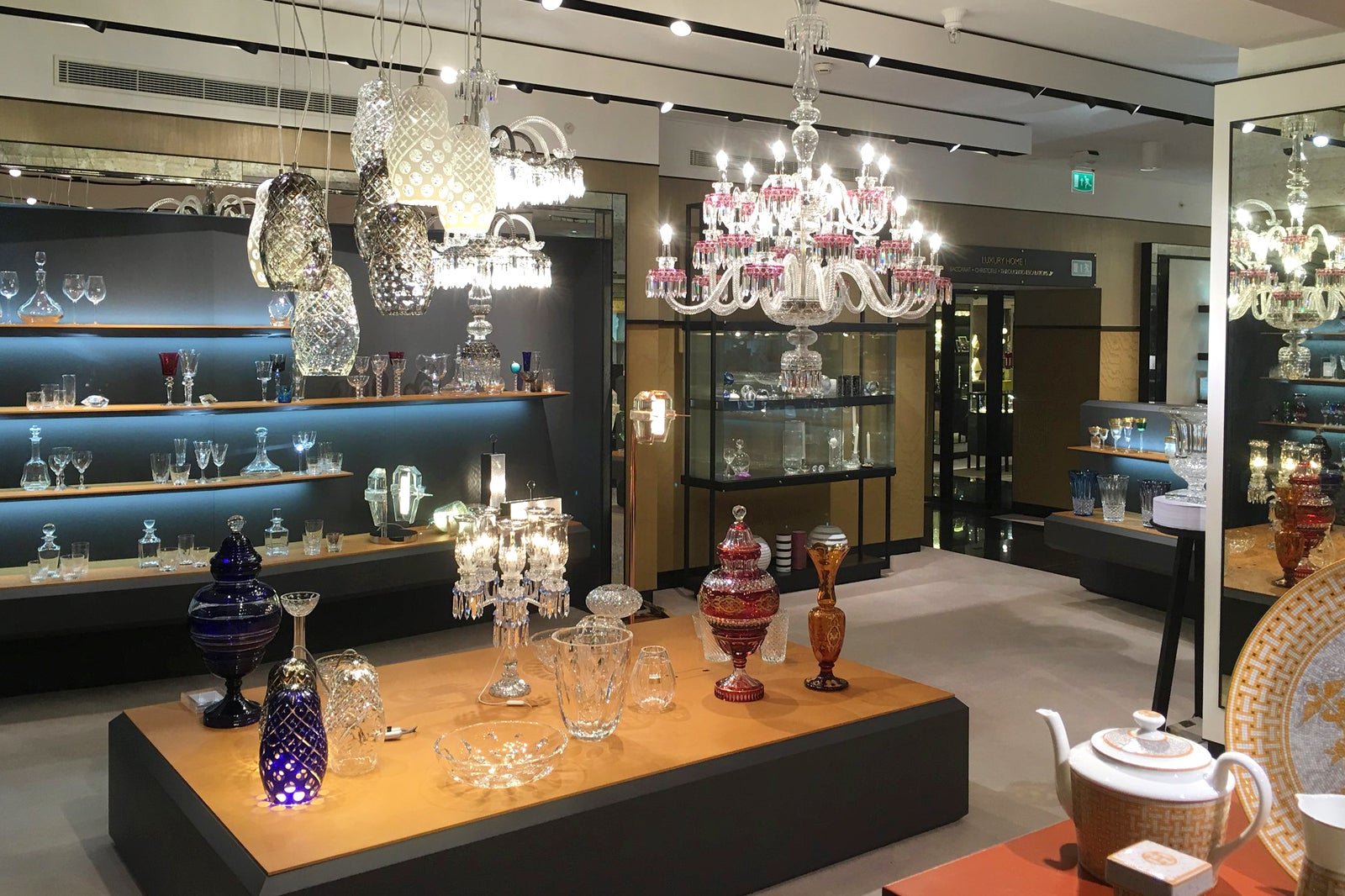 Good to know about Harrods
If you fancy a bit of window shopping without having to get out the credit card, visit Harrods when the doors open on Sunday – only browsing is permitted until noon. No matter which day you visit, we recommend getting there early before the crowds result in long queues.
While you might struggle to find what most would call a bargain, you can find affordable luxury goods from the Harrods brand. For example, you can pick up a tote bag for around £50, which is much cheaper than many alternatives from the top-end names. There are also loads of treats for around £10 in the food emporium and confectionary boutiques, such as delicious biscuits, chocolates and jams. Pick up some delicacies from the fresh market for a picnic at Hyde Park, which is a 5-minute walk away.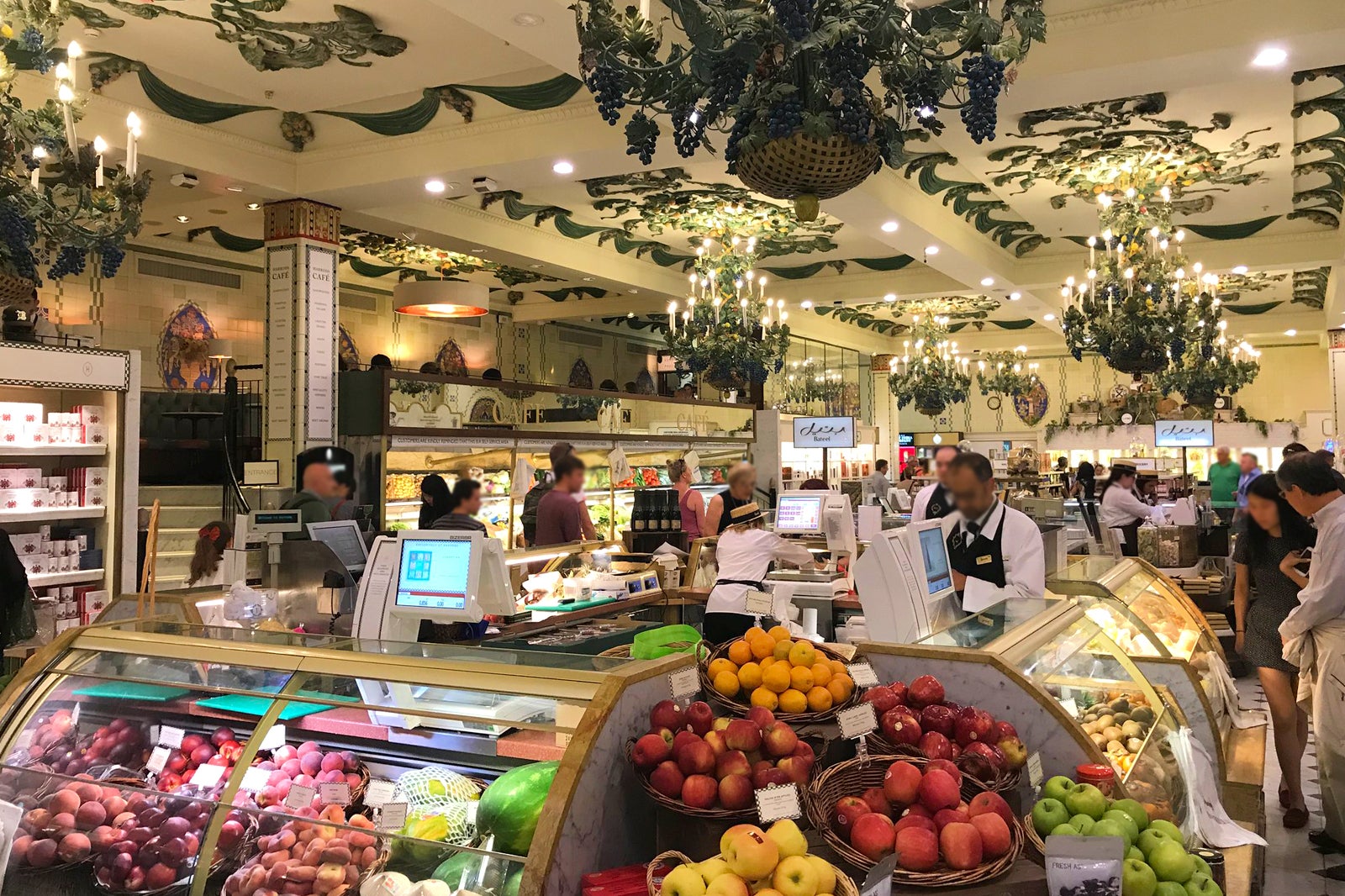 Harrods in London
Location: 87-135 Brompton Rd, Knightsbridge, London SW1X 7XL, UK
Open: Monday–Saturday from 10 am to 9 pm, Sunday from 11.30 am to 6 pm
Phone: +44 (0)20 7730 1234
Back to top