10 Best Nightlife in Ayia Napa
Where to Go at Night in Ayia Napa
Ayia Napa is Cyprus' premier party city and probably the rowdiest resort on the Mediterranean Sea. It has an array of boozy bars to wet your whistle in and debaucherous discos for getting down. The wild reputation of its booming after-dark scene draws in scores of young crowds between April and October every year.
Perhaps the resort's biggest drawcard is its wide variety of vibrant nightlife options. From thumping all-night clubs to laidback sports bars and hedonistic booze cruises, there's a fiesta for most tastes here. Read on for the best nightlife experiences in Ayia Napa to make the most of fun-filled Cyprus holiday.
1
Go bar-hopping in town
From Ayia Napa's central square and down bar streets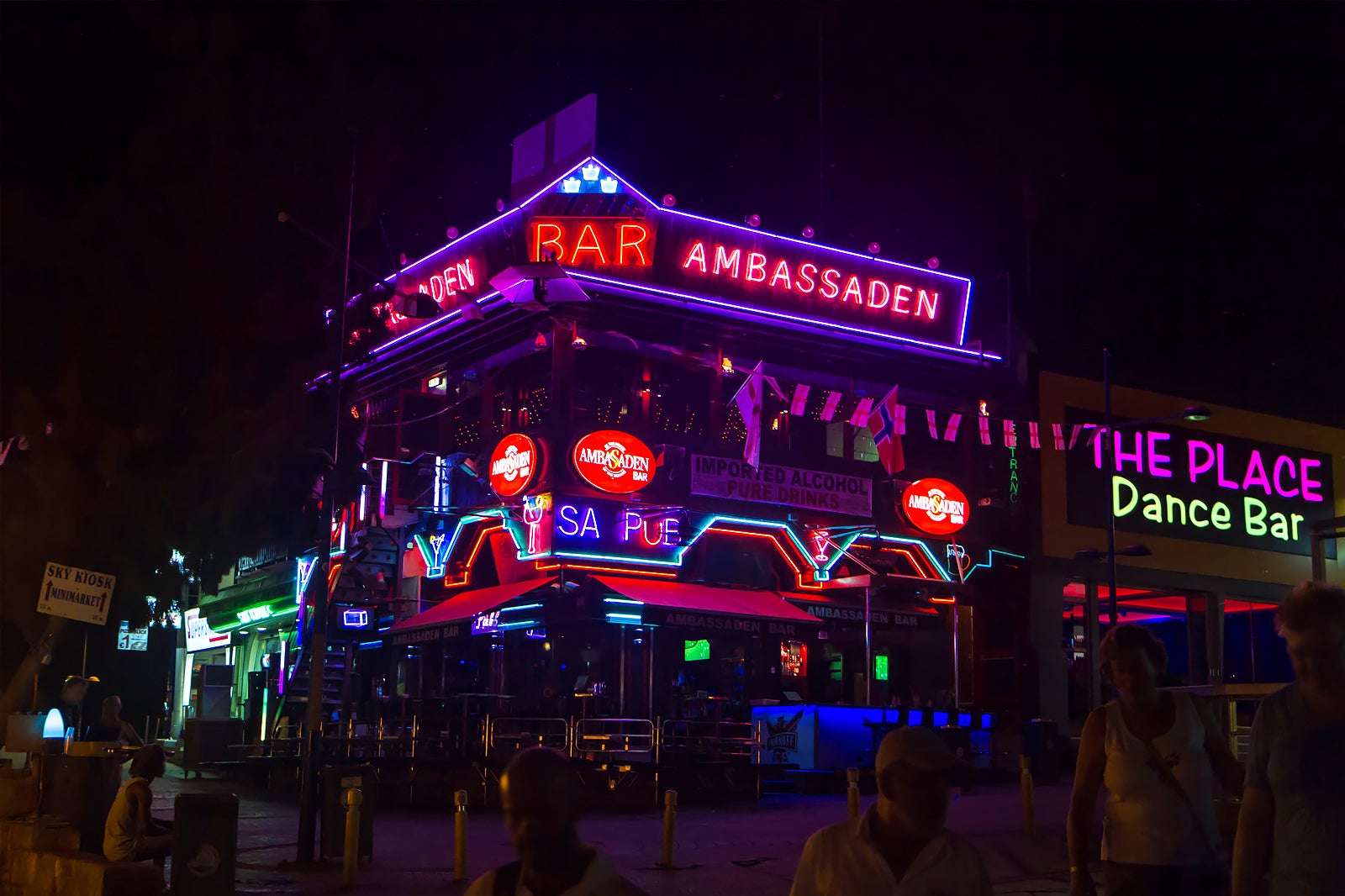 Ayia Napa's CPD (central party district) is the epicentre of the Cyprus nightlife scene and a guaranteed wild night out, even in the shoulder season. Ayia Napa Square serves as the throbbing heart of it all, with rows of packed venues lining the plaza to create a festive, carnival-like vibe. The atmosphere intensifies as the night draws on, especially in Square Bar, where live bands pump up a boisterous crowd.
If the plaza isn't quite to your liking, wander westward down the neon-lit Ayias Mavris Street. Dozens of booming venues compete for your patronage with drink specials and naughty booze-fuelled games. Our top pick is Eden, although sometimes it's just best to follow your nose.
photo by Максим Улитин (CC BY 3.0) modified
2
Hit Ayia Napa's beach bars
Parties on the sand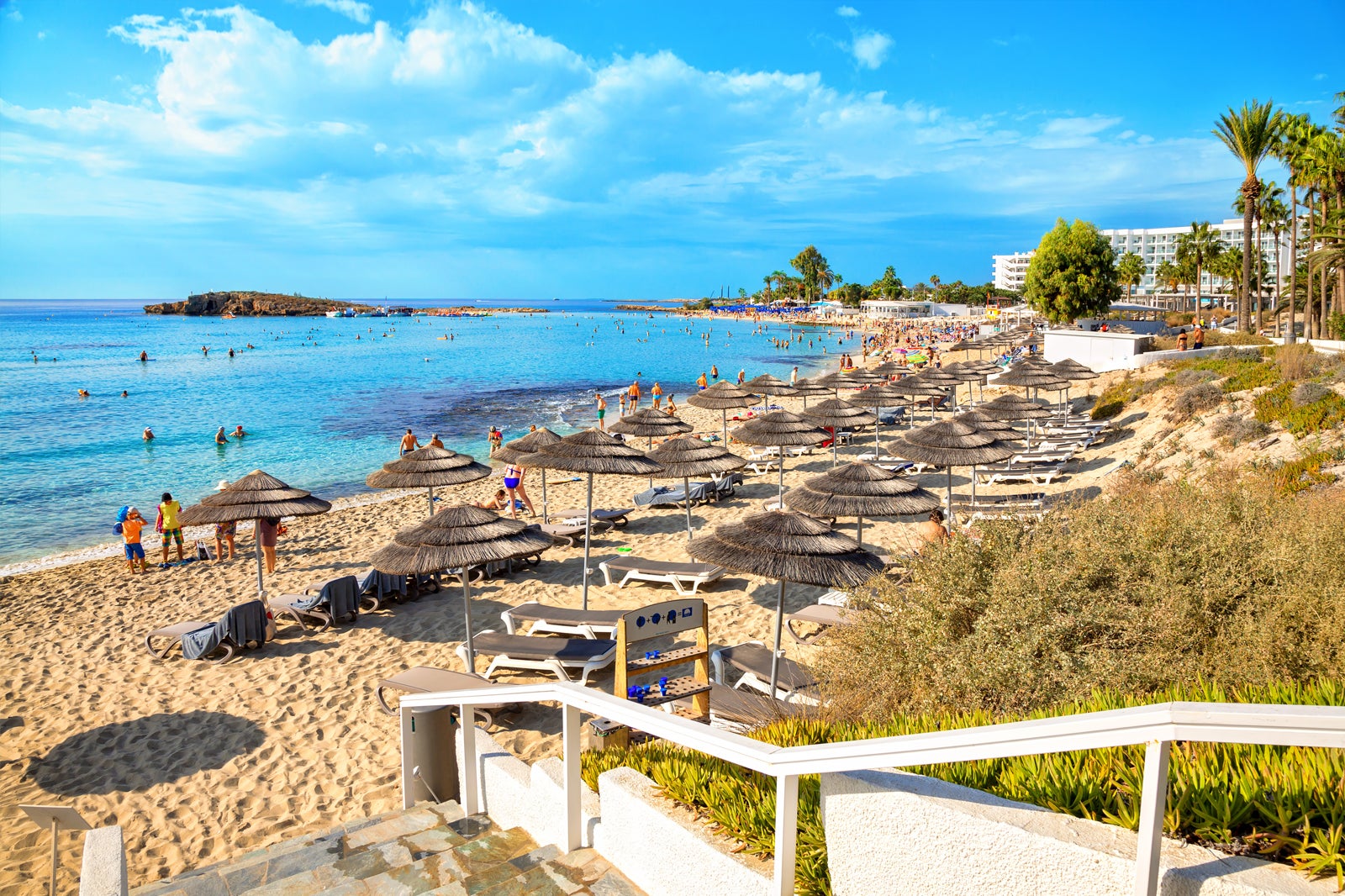 Ayia Napa isn't all ear-splitting discos and drink-till-you-drop partying; the resort town boasts several low-key beach bars as well. Head to any of Ayia Napa's golden sandy beaches during the day to indulge in a few frothy brews in a sophisticated setting. Levels or Beach House Dome on Makronissos Beach and the Nissaki Lounge Beach Bar on Ayia Thekla Beach all offer tasty food, chillout tunes, and creative cocktails.
Of course, not all Ayia Napa Beach Bars are sophisticated affairs. Some venues, notably the notorious Nissi Bay Beach Bar, host wild foam parties right throughout the summer. Choose wisely.
3
Go on a bar crawl
Get the most out of your evening in Ayia Napa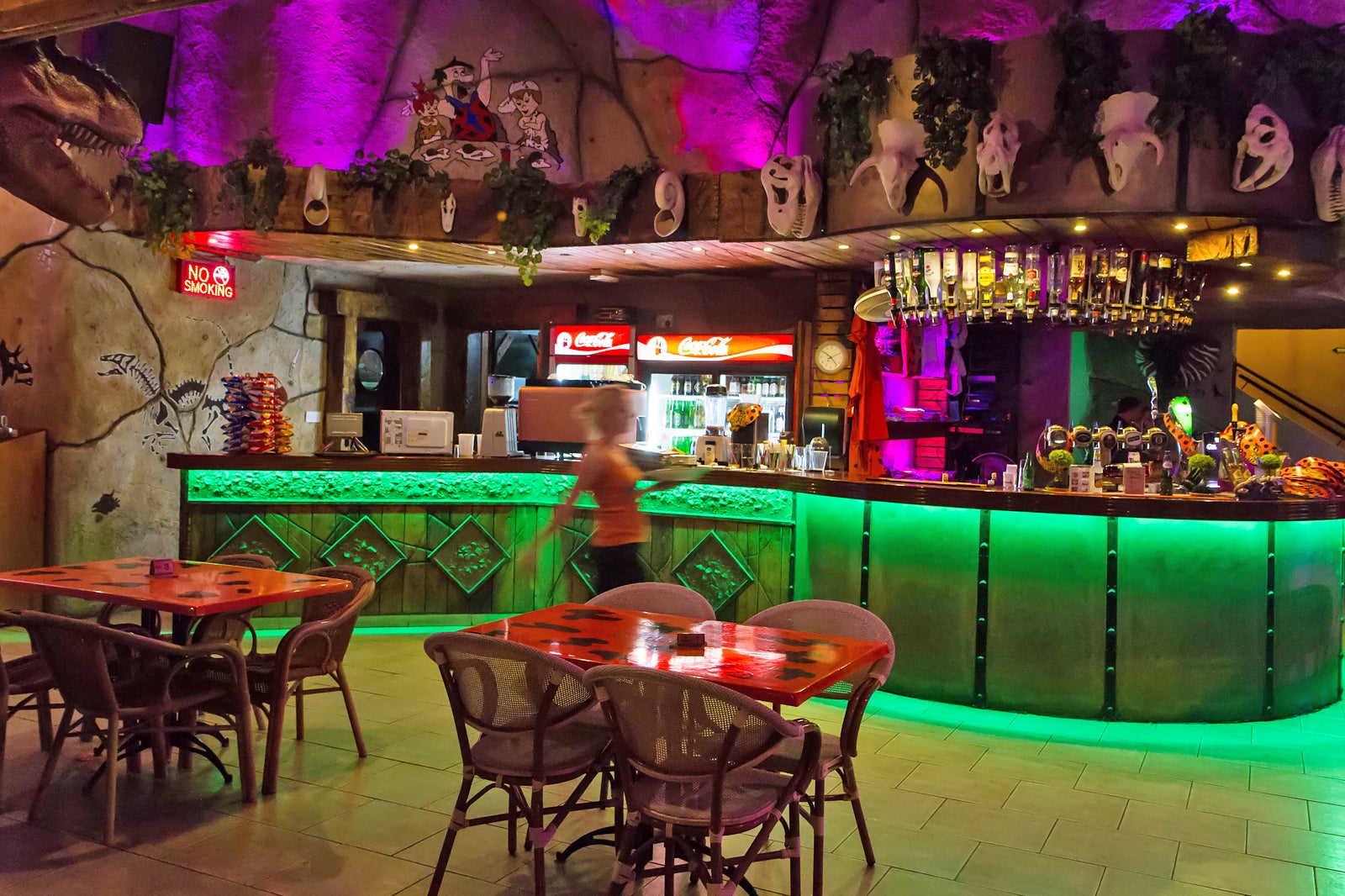 Can't decide which of Ayia Napa's dozens of venues to frequent? We can't blame you. So sign up for a bar crawl and let a team of hardened party professionals guide you to the best spots. Not only do these events chaperone you around town on boozy adventures, but with a guest list often stretching into 4 figures, it's a sure-fire way to meet likeminded party animals as well.
There are 2 companies that dominate the scene: Mayhem (Tuesday and Saturday) and Party Hard (Sunday and Wednesday). Both charge a reasonable rate and throw in free club entries, free shots, drinking games, and prizes to sweeten the deal.
photo by Максим Улитин (CC BY 3.0) modified
4
Ayia Napa's nightclubs
Hot spots to dance the night away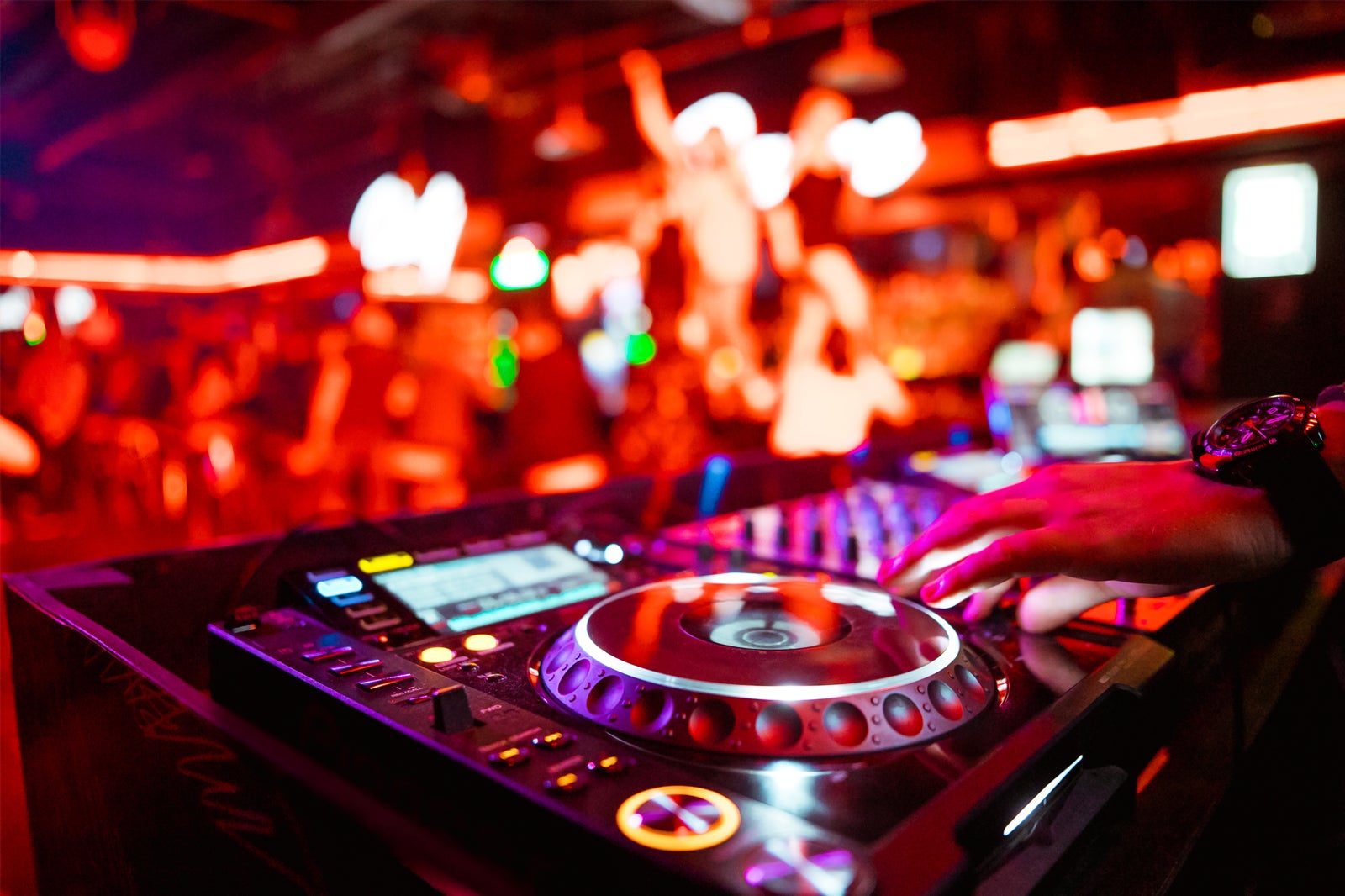 Ayia Napa has got a well-earned reputation as one of Europe's premier clubbing meccas, with a solid selection of booming all-night venues to cater to all musical tastes. Different places open for different months depending on their popularity, so check ahead to ensure your discoteca of choice will be pumping out the tunes.
And with so many options to choose from, the hardest part is deciding where to go. Check out Aqua Club for an after-party that rages on until breakfast, Blue Moon Bar to boogie with the Scandinavian crowd, Carwash Disco for cheesy old-school classics, or Club Sin for a quick dubstep fix. But for the biggest party in town, the enormous triple-arena Castle Club is king.
5
Catch a game at Ayia Napa's sports bars
Drink and cheer on your winning team
Sports-mad holidaymakers in Ayia Napa looking to watch their favourite team in action can grab a table at one of the city's sports bars. Broadcasting everything from Premier League fixtures to the NBA playoffs, an array of local venues offer a lively atmosphere for fans to watch and mingle.
If you don't mind taking a 15-minute cab ride to Protaras, then Rockerfellas is the best sports bar in the region. Within Ayia Napa itself, try Carina Sportsbar or the more upmarket Liquid Cafe N Bar.
Ayia Napa nightlife isn't all about ear-splitting music and tabletop dancing – there are several homely pubs dotted around as well. Our picks are Paddy's Irish Bar and Tommy's Pub, 2 laidback locales perfect for a quiet pint with the lads/lasses.
6
Join the Pamba pool party
Make an epic splash in Ayia Napa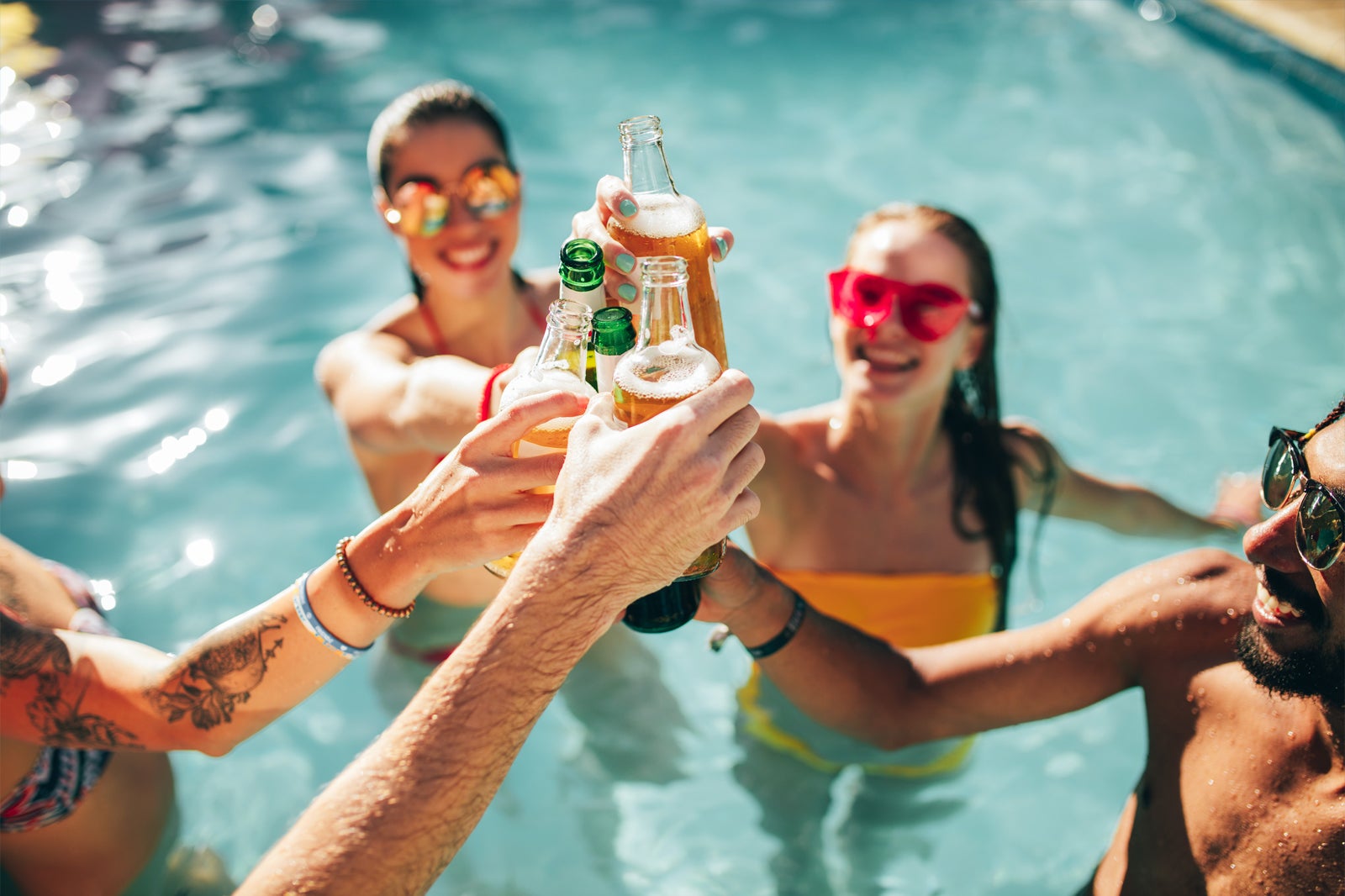 Can't wait for nightfall to kick-off the festivities? Then book yourself into the legendary Pamba Pool Party, a crazy event that goes off every Thursday afternoon during the season. Taking place in the sundeck area of the stylish Napa Rocks Hotel, this epic pool party sees thousands of scantily clad revellers let loose from midday to sundown.
International DJs, creative cocktails, VIP sunbeds, and non-stop splashing have made Pamba an Ayia Napa classic. Be sure to rock up before the hour-long open bar begins because that's when the craziness kicks up a notch.
Location: Napa Rocks Hotel, Nissi Ave 10, Ayia Napa, Cyprus
7
Go to an Ayia Napa summer event
Events for the best time of the year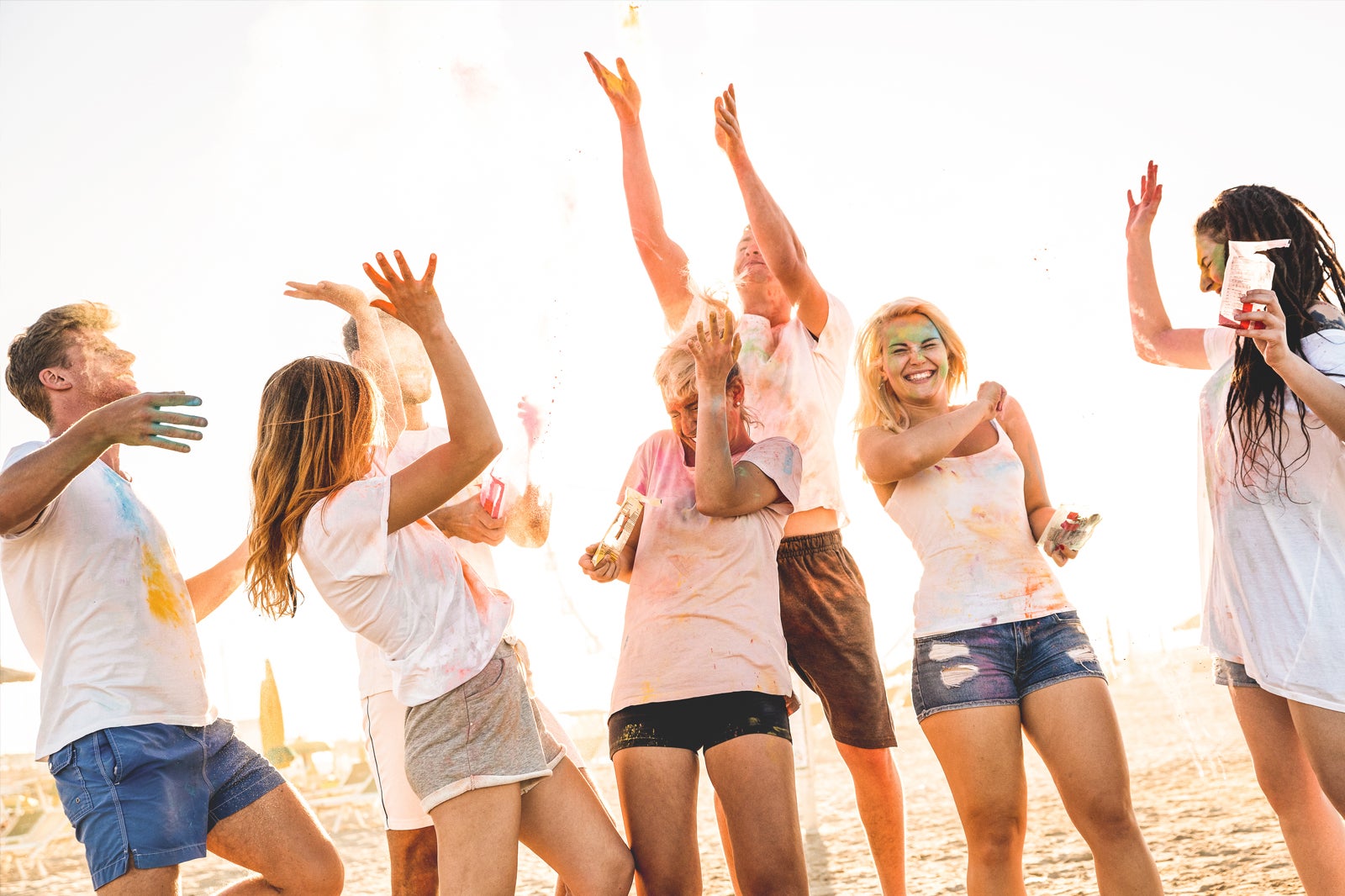 Ayia Napa hosts a slew of action-packed events throughout the summer, offering an excellent alternative to the club scene in town. Held on a rotating basis, there's a crazy bash somewhere in the resort almost every day, so you won't have to wait long to hit up an event.
The biggest and baddest is Kandi Fest, a wild Friday-night shindig held at a state-of-the-art waterfront venue called The Dock. Competitions, naughty games, dance-offs, a 3-hour bar tab, and a top international line-up make this one to remember. If you can't make Kandi, there are plenty of alternatives: the Thai-style Full Moon Party (Mondays), the Insta-friendly White Party (Tuesdays), the ultra-messy Paint Party (Fridays), and the savage Jungle Party (Sundays).
8
Watch the Stardust Variety show
For some knee-slapping evening fun
The Stardust Variety show is where you can give the mayhem of downtown Ayia Napa a miss and instead treat yourself to a hilarious spot of stagecraft. Starring an outrageous ensemble of glammed-up drag queens, this knee-slapping variety show serves up an eclectic mix of song and dance the whole family can enjoy (despite being a little politically incorrect at times).
Tickets to the nightly event are reasonably priced and go on sale as part of a package including return transport, a tasty chicken dinner, drinks, and lots of laughs. By the end of the 2-hour gig, the show promises to persuade you the 'best looking girls in Ayia Napa are boys.'
Location: Octagon Tavern, 7 Yiannaki Tziovani, Vrysoulles, Cyprus
Open: Tuesday, Friday and Saturday from 7pm to 11.45pm
Phone: +357 96 700203
9
Fantasy Boat Party
For some partying on the waves
The Fantasy Boat Party is an Ayia Napa institution no self-respecting party animal will miss, which sets sail almost every single day between April and October. The 4-hour booze cruise sees scores of revved up revellers drinking and sailing their way around Cyprus' picturesque Mediterranean coastline, enjoying games and swimming stops en route.
On-board, the corrupt cop Constable Cruise ensures everyone remains adequately inebriated, and non-stop tunes from in-house DJ/MC Marshall keep the punters amused. And to top things off, there's a 30-minute open-bar as the vessel heads back to port around sunset. Parents needn't stress about the safety of their darlings because a sober lifeguard and first-aid officer works diligently to keep them from harm.
Location: Ayia Napa Harbour, Archiepieskopou Makariou III 44, Ayia Napa 5330, Cyprus
Open: Monday–Friday from 10am to 10pm
Phone: +357 99 408132
10
Book a private sunset cruise
Take in the beautiful Ayia Napa evenings by catamaran
Nightlife
Couples
Families
Photo
Luxury
Adventure
For a civilised boat trip in Ayia Napa that isn't overrun with wasted early 20-somethings, book yourself onto a sunset catamaran cruise. Although tours aboard luxury twin-hull vessels typically include an open bar as part of the deal, the crowd here mostly consists of couples and families, so it's all about relaxing and soaking up the sights.
The half-day trip sees you sail past the region's liveliest beaches and resorts, a smattering of small deserted coves and bays, and concludes with a view of the famous Famagusta ghost town. Sunbathing, swimming, snorkelling, and kayaking are popular pursuits by day, before everyone hits the bar to warm up for the night's revelry at sunset.
Back to top