10 Romantic Ideas for a Honeymoon in Split
What Can Couples Do in Split Together?
Split is a stunning Croatian city that's steeped in history and natural scenery, which makes it a great choice for a romantic getaway. Though it's Croatia's second-largest urban centre and the largest city on the Adriatic coast, it still manages to maintain so much of its old-world charm. You'll find lots to keep you and your companion occupied while in town, from well-preserved Roman architecture to a tranquil beach. A nearby forest park provides lots of opportunities for strolls and picnics for those who fancy exploring the great outdoors.
But, it isn't all holding hands and sunsets. If you'd like your romantic evenings to be higher octane, there are lots of opportunities for experiencing the local bars and clubs. Whatever shape you'd like your romance to come in, you'll find something suitable with our list of the most romantic places in Split.
1
Stroll through Old Split
Take a romantic stroll through Split's stunning streets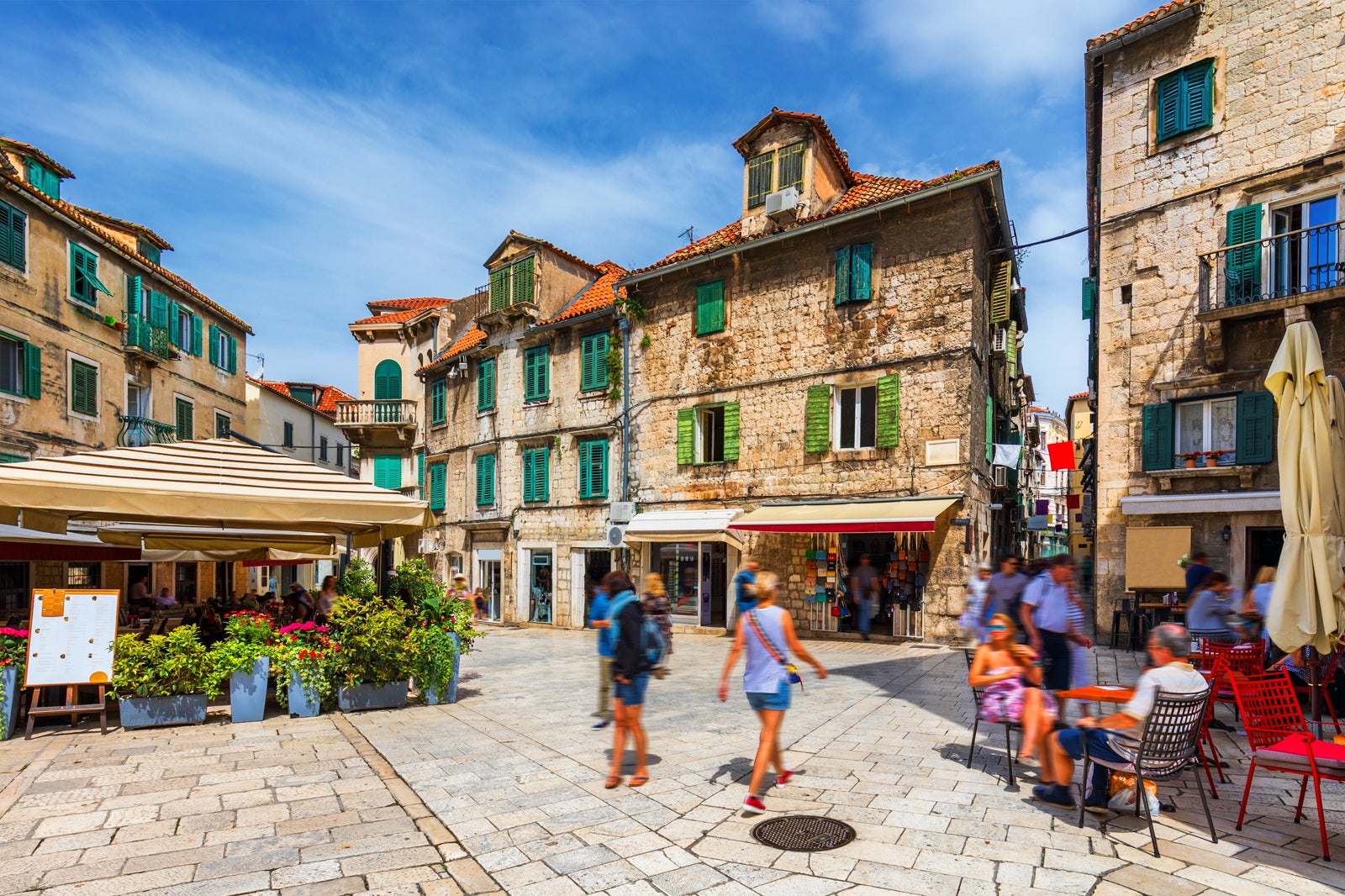 Couples
Photo
Budget
History
Wandering through the old town of Split is certainly a romantic experience. The historic heart of Croatia's second-largest city is bursting with stunning architecture that spans millennia. As well as some of the world's best-preserved Roman remains at Diocletian's Palace, you'll find an abundance of later architectural styles to savour here too, from 12th-century Romanesque churches and medieval forts to Renaissance, Baroque, and Gothic-style buildings.
The atmosphere here is magical – if strolling hand in hand with your beloved works up a thirst, there are ample cafes and restaurants throughout the area to share a drink or a meal while soaking it all in.
Location: Narodni trg, 21000, Split, Croatia
2
Picnic in Marjan Park
Put your feet up and enjoy a romantic picnic in beautiful surroundings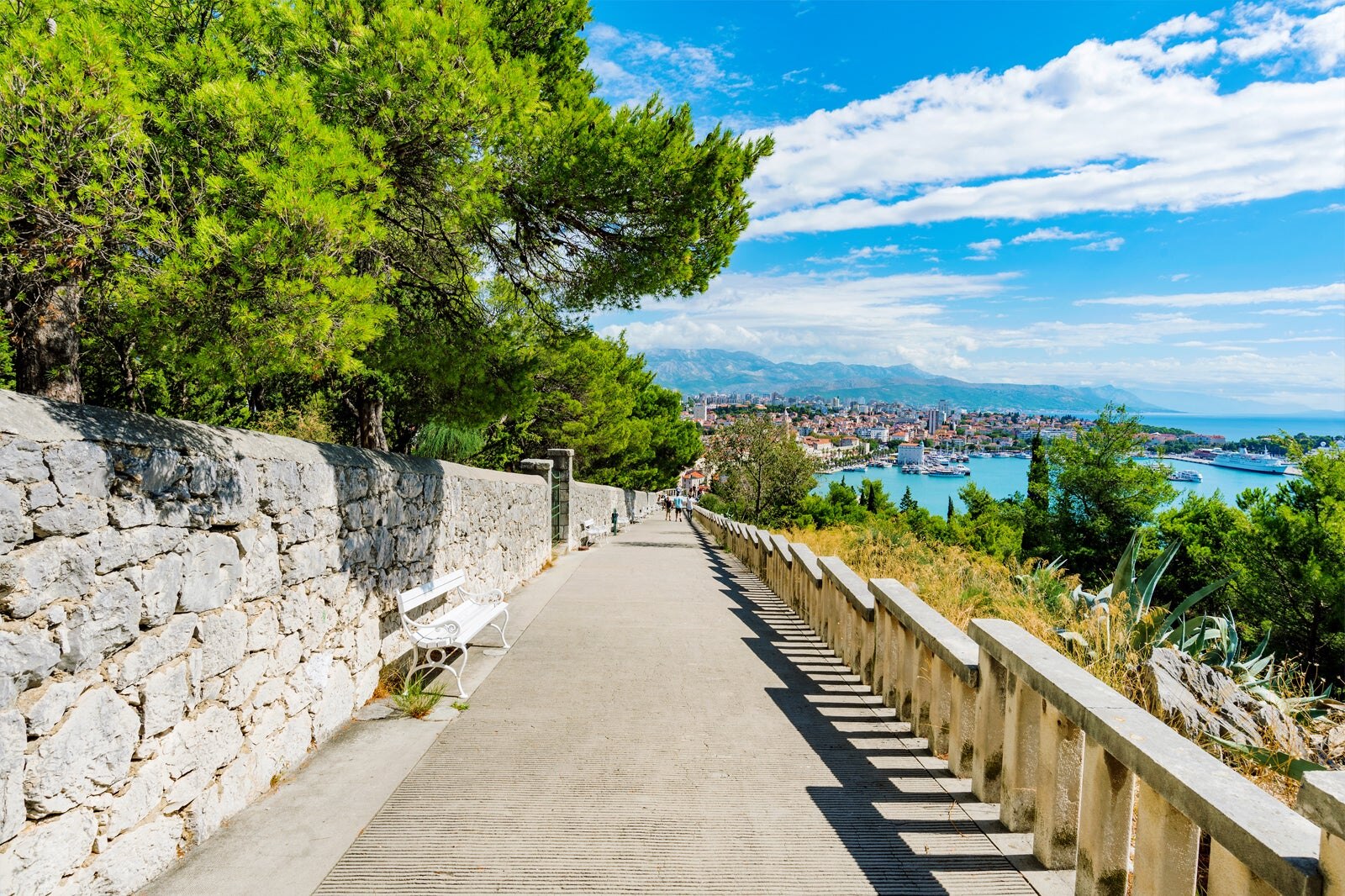 Marjan Park, with its beautiful natural surroundings and proximity to the city of Split itself, makes the perfect setting for a romantic picnic. Hiking and jogging trails crisscross the park, winding through Mediterranean pine forests along the way.
Though called a park, Marjan is actually a sprawling nature reserve with the 178-metre-high hill of Telegrin as its focal point. Around 314 steps will take you to the summit. From this perch above Split, you can view the entire city below, as well as nearby islands. Quite the setting for dining al fresco with that special person in your life.
Location: Obala Hrvatskog narodnog preporoda 25, 21000, Split, Croatia
Phone: +385 (0)21 362 991
3
Saint Domnius Cathedral
Climb the bell tower to be rewarded with inspiring views over the city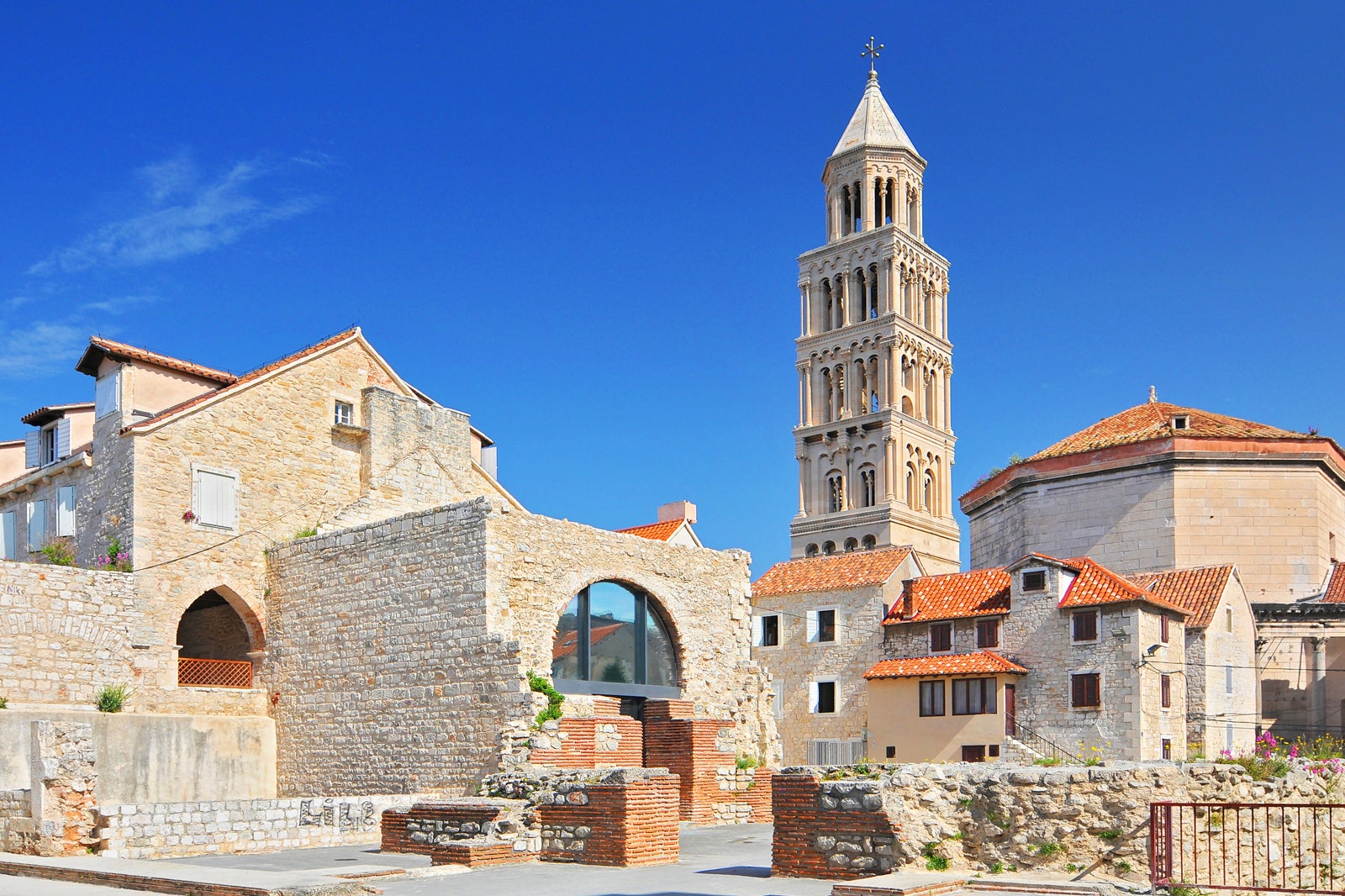 The bell tower of Split's iconic octagonal cathedral is surely worth a visit. The experience is romantic in the same way a rollercoaster ride is - the fear spices things up! The tower is part of the Saint Domnius Cathedral, but you'll have to pay a separate entrance fee to climb the tower and things can get a little hairy if you are afraid of heights.
It takes about 183 steps to reach the top, with the final section seeing stone steps give way to metal ones that afford perhaps unwelcome views through to the void below. At the top, you'll be rewarded with spectacular views over the city. The perfect spot to pop the question – even if that question is, "Can we go down now?"
Location: Ul. Kraj Svetog Duje 5, 21000, Split, Croatia
Open: Daily from 7am to 9pm
Phone: +385 (0)21 345 602
4
Dine together in Pjaca
Soak up the atmosphere in Split's People's Square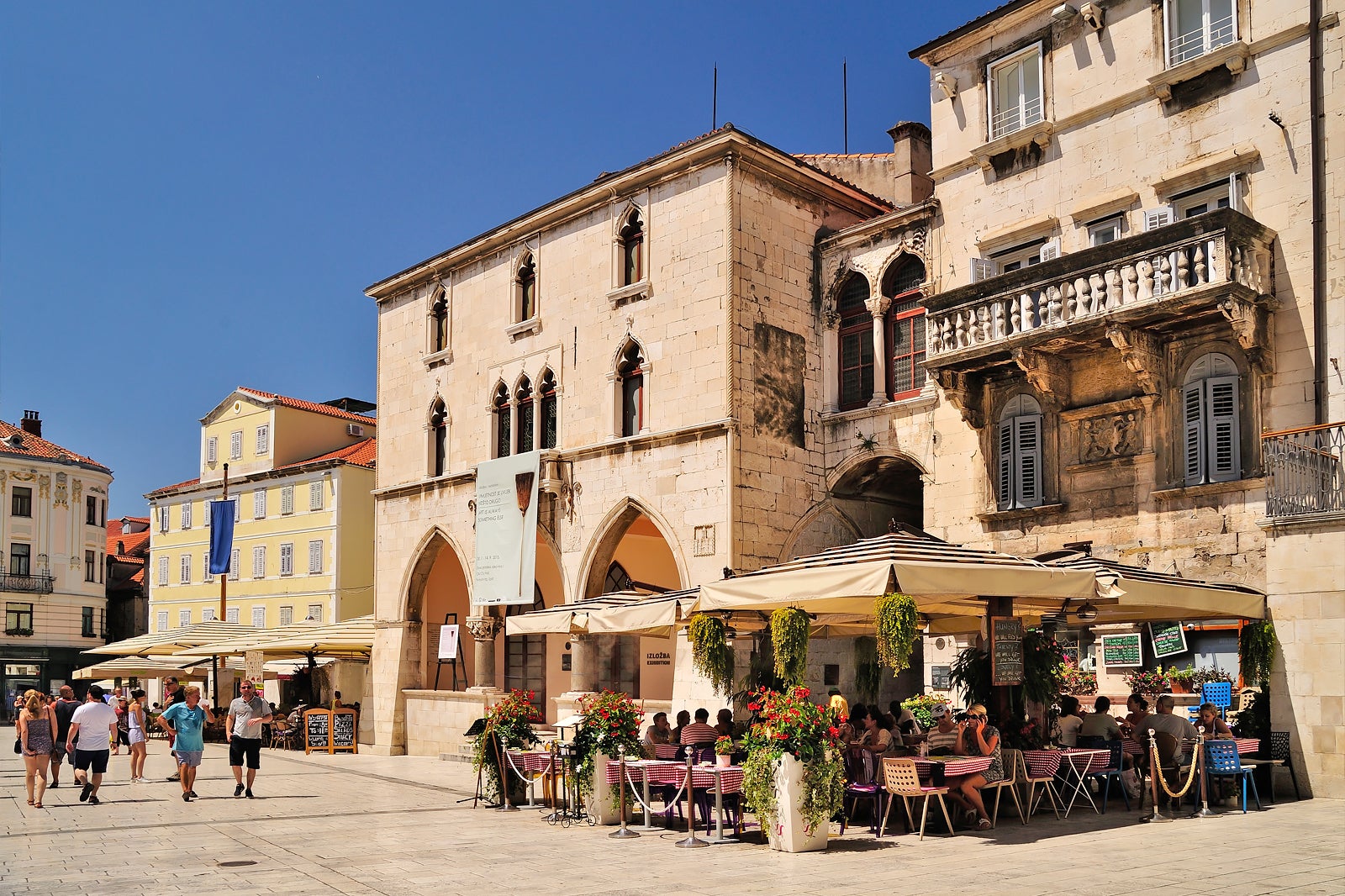 Pjaca (People's Square) has been a centre of the life of Split since the 15th century. It's also a romantic setting for soaking up the centuries of history that surround the Old Town. There's plenty to see in this area before dining at one of its many cafes, bars, or restaurants. The square itself is overlooked by a unique Romanesque clock which displays the time in 24 digits rather than 12. The impressive Town Hall building serves as an exhibition centre, hosting art and history exhibitions during the summer months. This is a lively, bustling spot to soak up the beautiful Gothic architecture and enjoy some great people-watching together.
Though commonly referred to by locals as Pjaca (pronounced piatsa), this central square's real name is Narodni Trg (People's Square). It's located just to the west of Diocletian's Palace, just outside the walls of Old Town.
Location: Ul. Iza Lože 1, 21000, Split, Croatia
5
Take a dip at Kasuni Beach
Escape the bustle of the city on this tranquil beach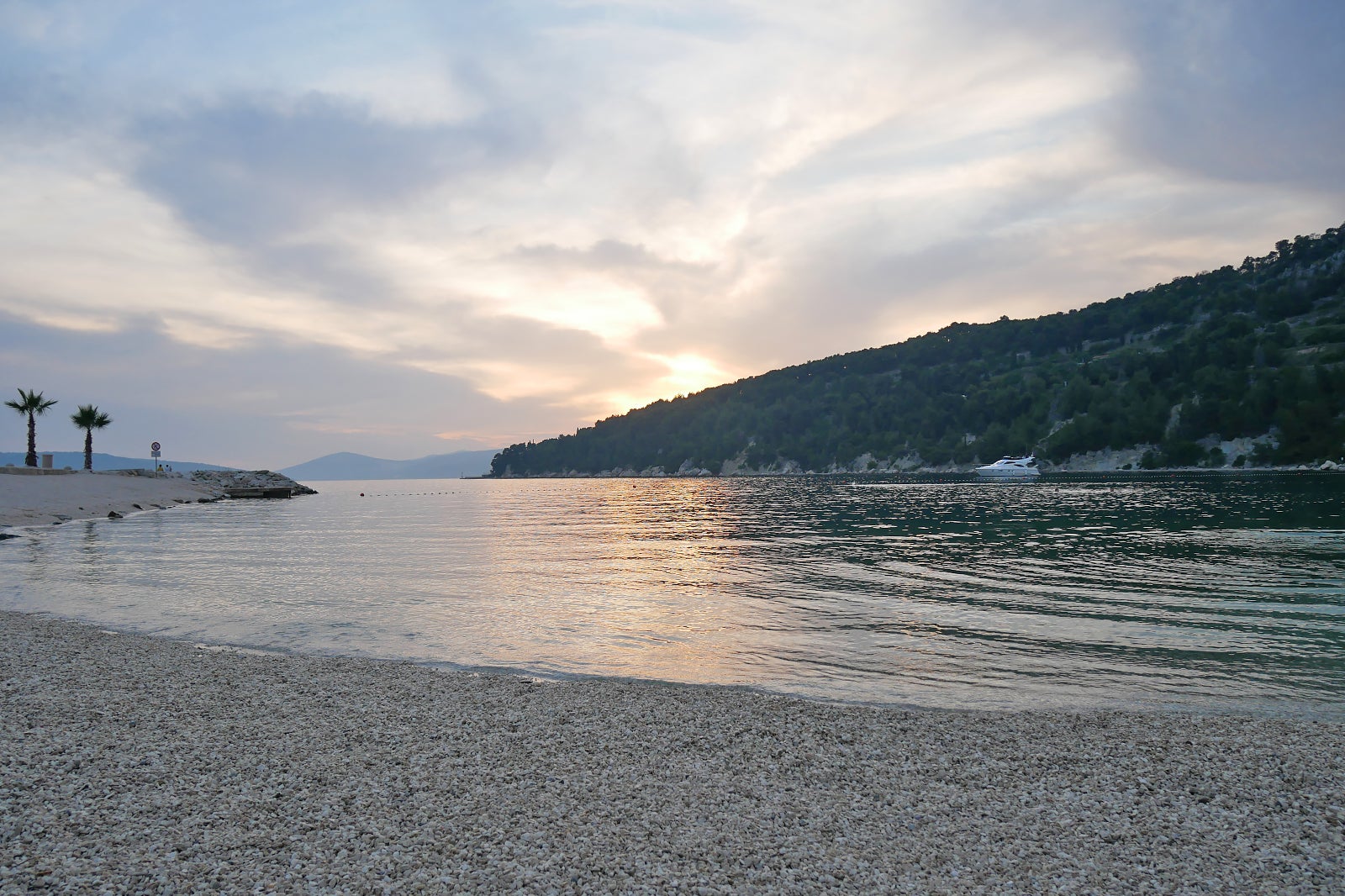 Kasuni Beach, a tranquil stretch of pebble and sand, is a good option if you want to escape the bustle of Split with your significant other. With its backdrop of the pine tree-covered hills of Marjan Park, this is a laidback spot for couples looking to enjoy a relaxing day out. The place is relatively quiet, even in summer. The waters here are crystal clear and perfect for a dip.
There's a beachside coffee shop for snacks and refreshments, as well as public toilets. For those looking for a little more activity, there are numerous walking trails and smaller beaches in the surrounding Marjan peninsula. Kasuni Beach is about 2 miles from the centre of Split. Buses run regularly from the Riva, but you can also get there on foot by simply heading west along the coast.
Location: Marjan Forest Park, Adriatic Sea, Croatia
photo by Zvone00 (CC BY-SA 4.0) modified
6
See sculptures at Meštrović Gallery
One for art lovers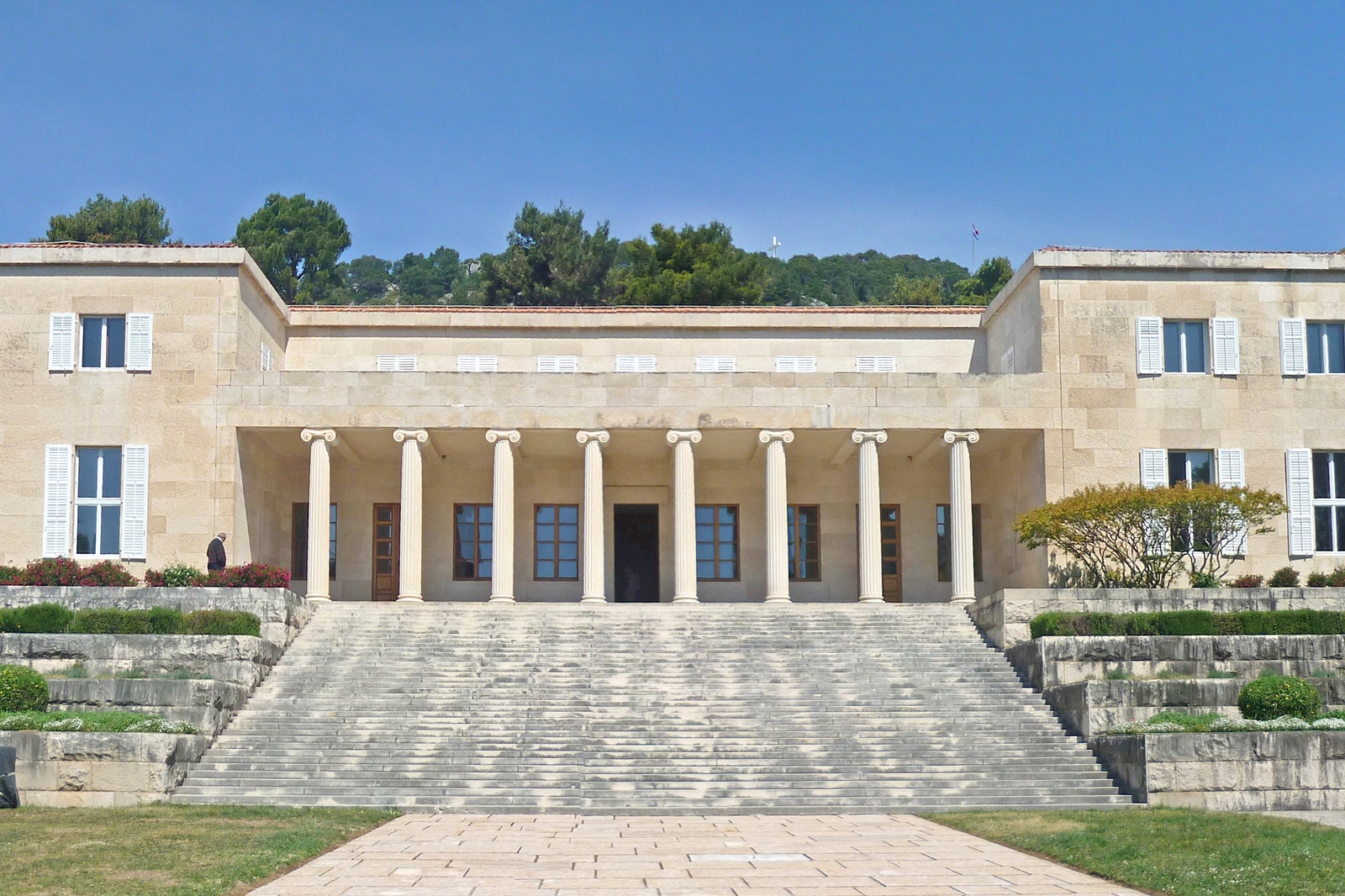 Meštrović Gallery is dedicated to the artworks of Ivan Meštrović, a Yugoslavian and Croatian artist, sculptor, and writer. One of the leading sculptors of his day, Meštrović was also an architect and even designed his former Split residence, which houses the Meštrović Gallery. Many of his best marble sculptures are on display in the outdoor sculpture garden.
Along with sculptures, there are drawings, paintings, architectural plans, and even furniture sets to view. A highlight of your visit here will be the towering Gregory of Nin monument. Standing 28 feet tall, this bronze statue of a former bishop of the medieval capital of Nin is a favourite among locals. It's said that rubbing Gregory's big toe assures that your most heartfelt wish will be granted. Located on the southern slopes of Marjan Forest Park, Meštrović Gallery is within a 20-minute walk from Split Old Town.
Location: Šetalište Ivana Meštrovića 46, 21000, Split, Croatia
Open: Tuesday–Saturday from 9am to 4pm, Sunday from 10am to 3pm (closed on Mondays)
Phone: +385 (0)21 340 800
photo by SchiDD (CC BY-SA 4.0) modified
7
Take a wine tasting tour
Sample the delights of the local vines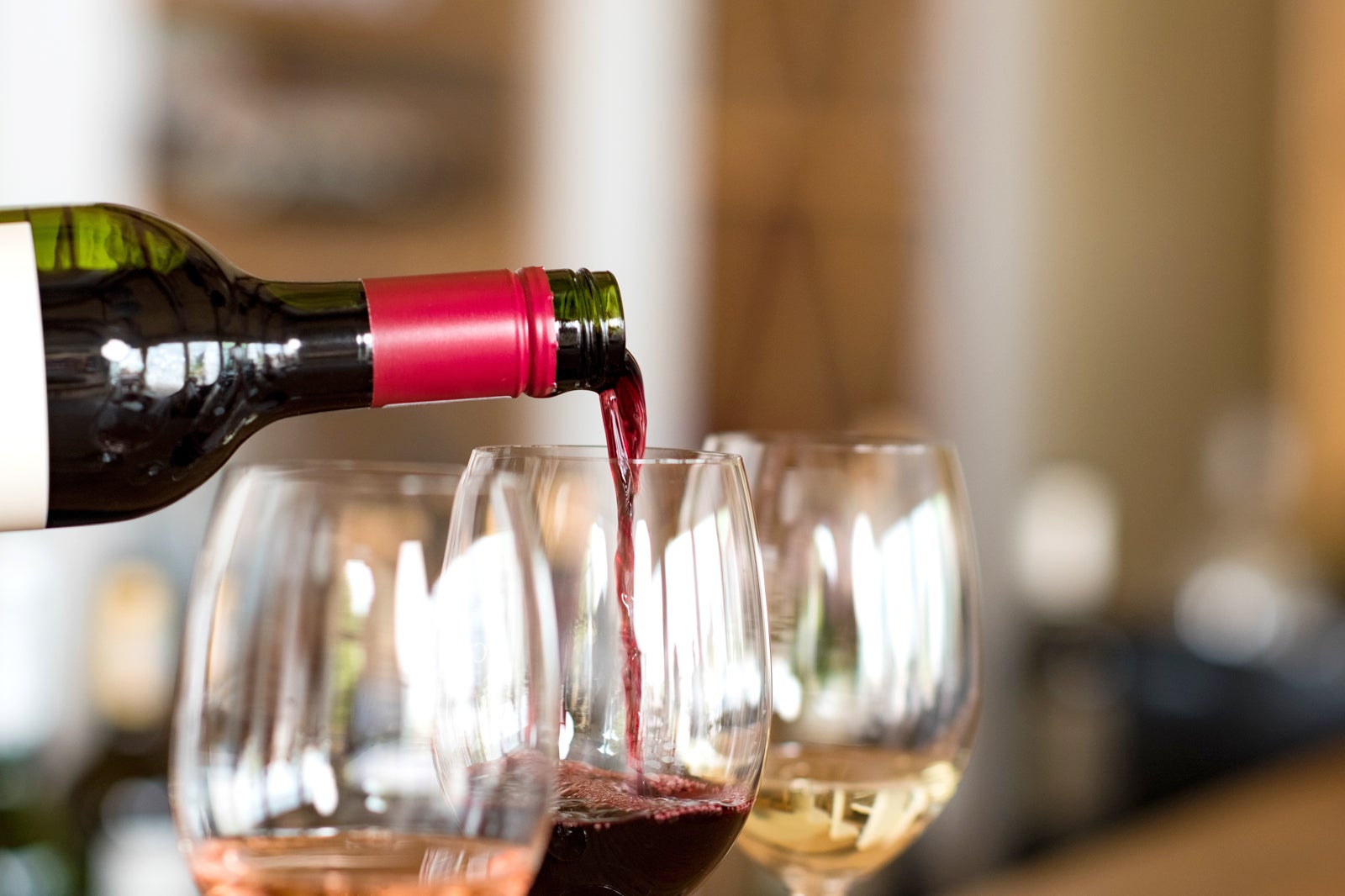 Since Croatia is wine country, what better way to kick romance into gear than to share a glass or two while in Split? There are several wine-tasting experiences available to visitors. These tours offer not only the opportunity to sample some of the delicious produce of the region, but a chance to gain insight into the local history and culture, too.
There's a wide range of options to choose from here, from wine and food sampling at Diocletian's Wine House (located in a 1,700-year-old palace of the same name) to a boat tour out to a family-run vineyard on the nearby island of Brač. There's a diverse range of local wines to be sampled too.
8
Spend the day on Riva promenade
While away the day and night exploring Split's social hub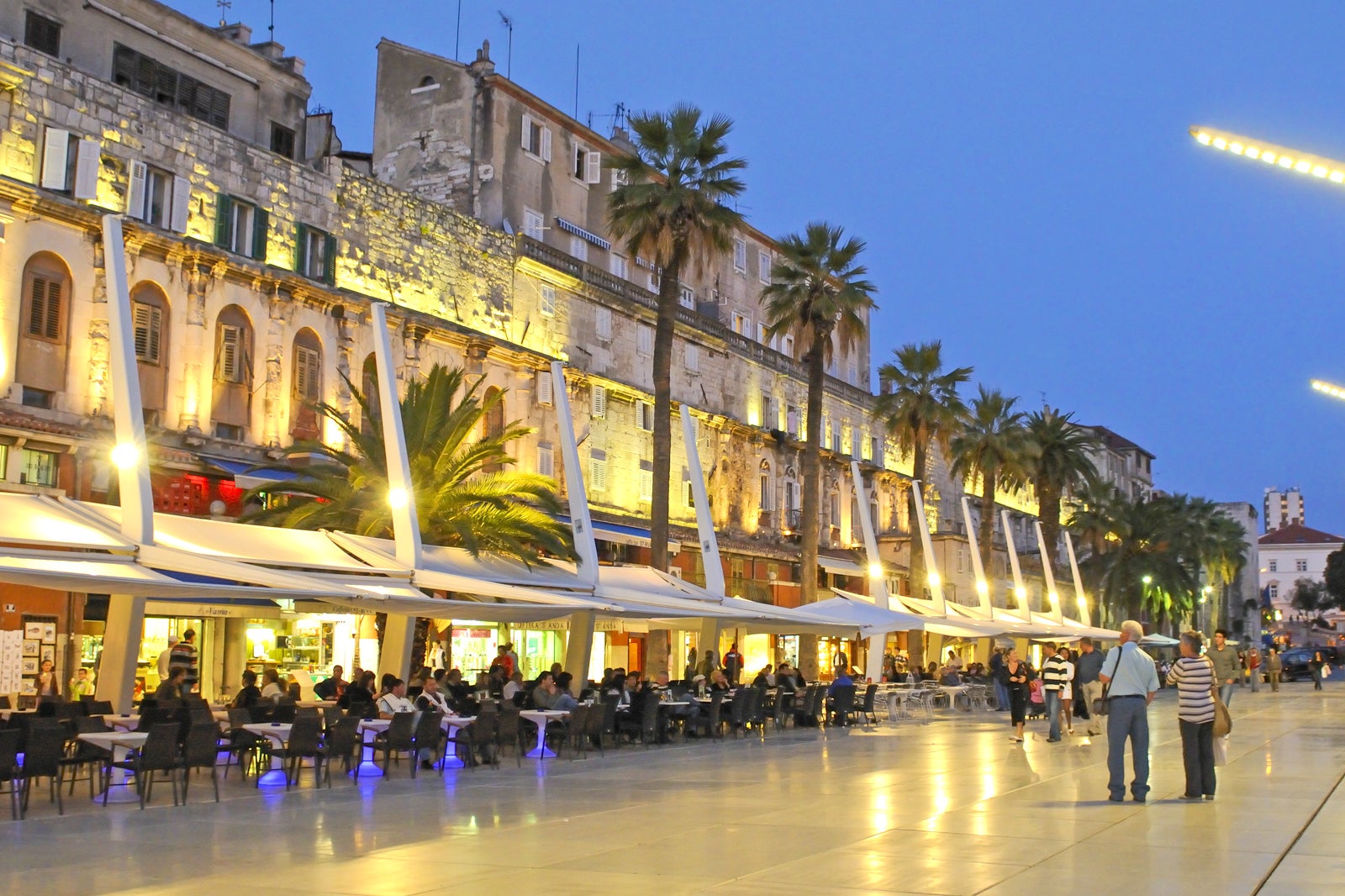 Couples
Families
Photo
Nightlife
Budget
Riva is one of the most vibrant and important public areas in Split. This pedestrianised promenade is a great spot for dining or a drink as it's lined with characterful cafes and chic restaurants. There's also vibrant entertainment, with bars hosting live music and street performers along the palm tree-lined esplanade. Split's waterfront is a social hub for locals and a great venue for people-watching.
During the day, you can sit on a bench shaded by palm fronds and gaze out over the twinkling waves. The place really comes to life in the evening as the promenade's 250-metre length fills up with locals and visitors alike. From low-key romantic restaurants selling local fare to pulsating nightclubs open through to the wee hours, Riva has just about everything you'd need for a night out.
9
Take in a sunset over the Adriatic
Enjoy a stroll or paddle under a blazing sunset sky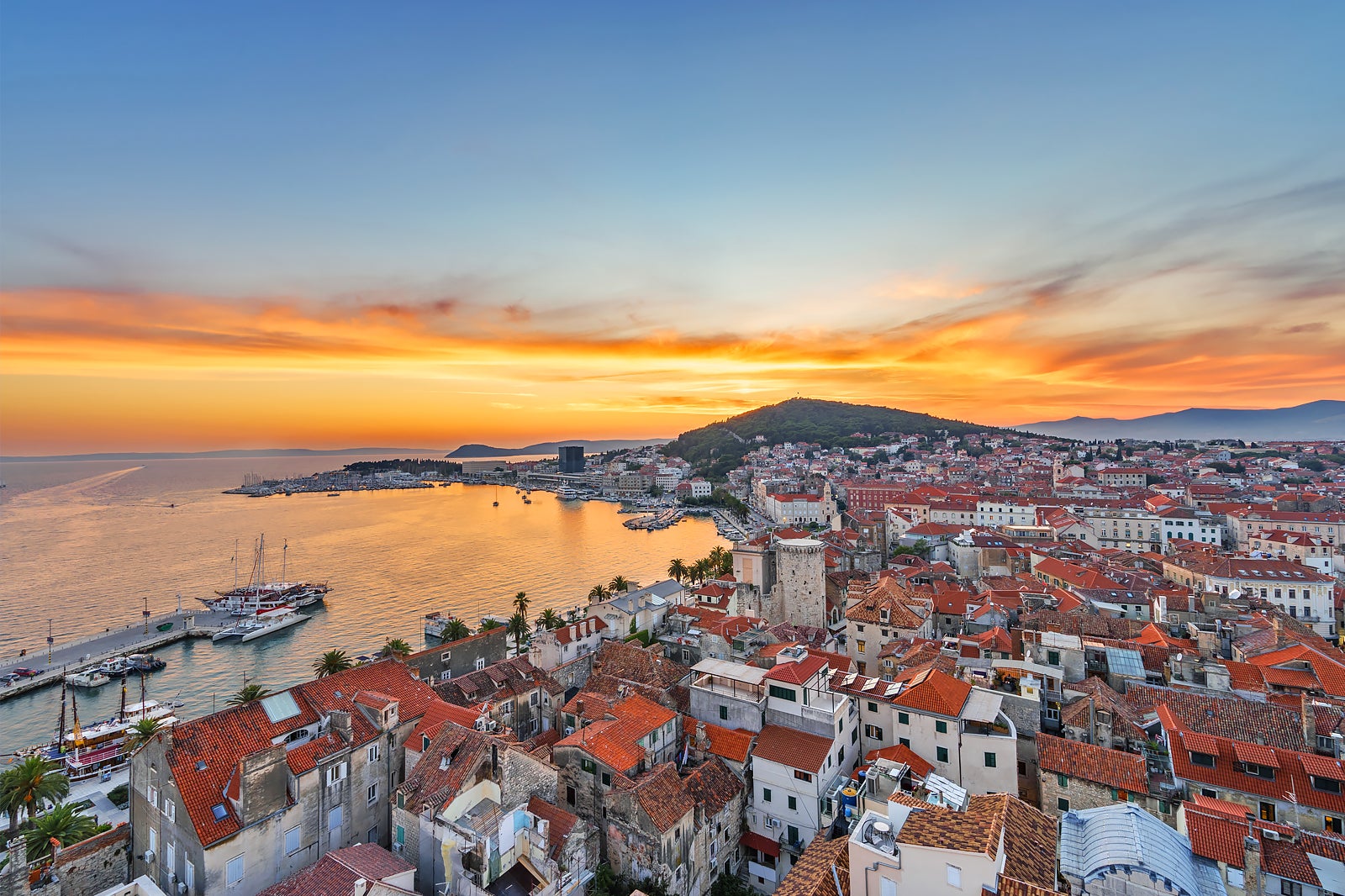 Couples
Photo
Nightlife
Budget
With Split city hugging the coastline all the way out to the Marjan peninsula, there are many ideal places to enjoy one of the area's stunning sunsets over the Adriatic. There are even kayak sunset tours available, allowing you to savour the golden spectacle right from the water's edge. For most people, however, the sunset is best enjoyed from a relaxing vantage point on dry land.
If you find yourself in Old Town at dusk, head to the western end of the Riva to escape the bustling crowds. Where the docks stretch out into the harbour, you'll find a quiet spot to take in the sunset with that special someone. You'll also find a fantastic view up Marjan Hill, especially from Telegrin Peak looking out over the city and the nearby Dalmatian Islands framed in dying light.
10
Visit the peristyle of Diocletian's Palace
Step back in time exploring an ancient Roman complex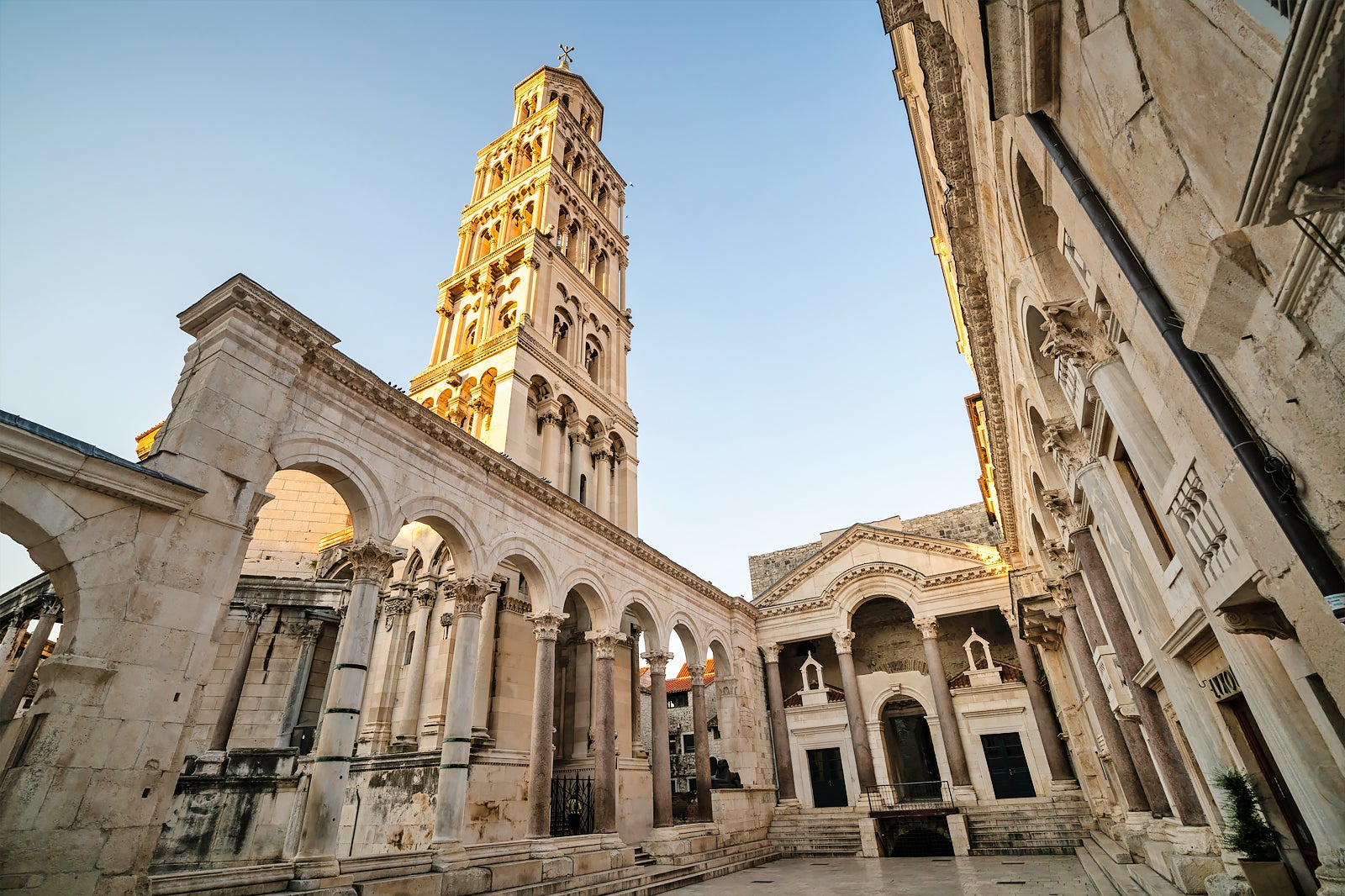 Couples
Photo
Budget
History
Diocletian's Palace is one of the world's best-preserved Roman complexes and a spectacular location to explore. Today, the complex takes up about half of Split's Old Town and makes for some super photo opportunities for mementoes of your trip. In the palace's central square, known as the peristyle, you'll see a sphinx and note some darker coloured columns that were brought back from Egypt after Diocletian crushed a rebellion there. The sphinx itself is reputed to be 3,500 years old.
This area of Split is often referred to as a 'living museum' as the daily life of locals goes on all around. If you want to explore some of the most interesting aspects of this site, there's a 90-minute walking tour of Diocletian's Palace available, as well as a Game of Thrones tour if you're a fan of the TV show.
Location: Dioklecijanova ul. 1, 21000, Split, Croatia
Phone: +385 97 779 0719
Back to top