15 Best Beaches in Croatia
Croatia's Most Beautiful Beaches
The best beaches in Croatia are spread along the Dalmatian Coast and across the Adriatic. As varied as the many different islands that they call home, these coastal stretches range from secluded coves with only narrow pebbly strips between rugged crags to long sandy shores lapped by calm, shimmering blue waters.
Croatia is a holiday destination that's best known for its coastal beauty, after all. The waters around Croatia's islands are known to be some of the clearest in the world. That, with scenes of stunning old walled cities and ancient castles overlooking tranquil seaports, seemingly blur the line between fantasy and reality. Check through our list of Croatia's most beautiful beaches for you to claim during your island getaway.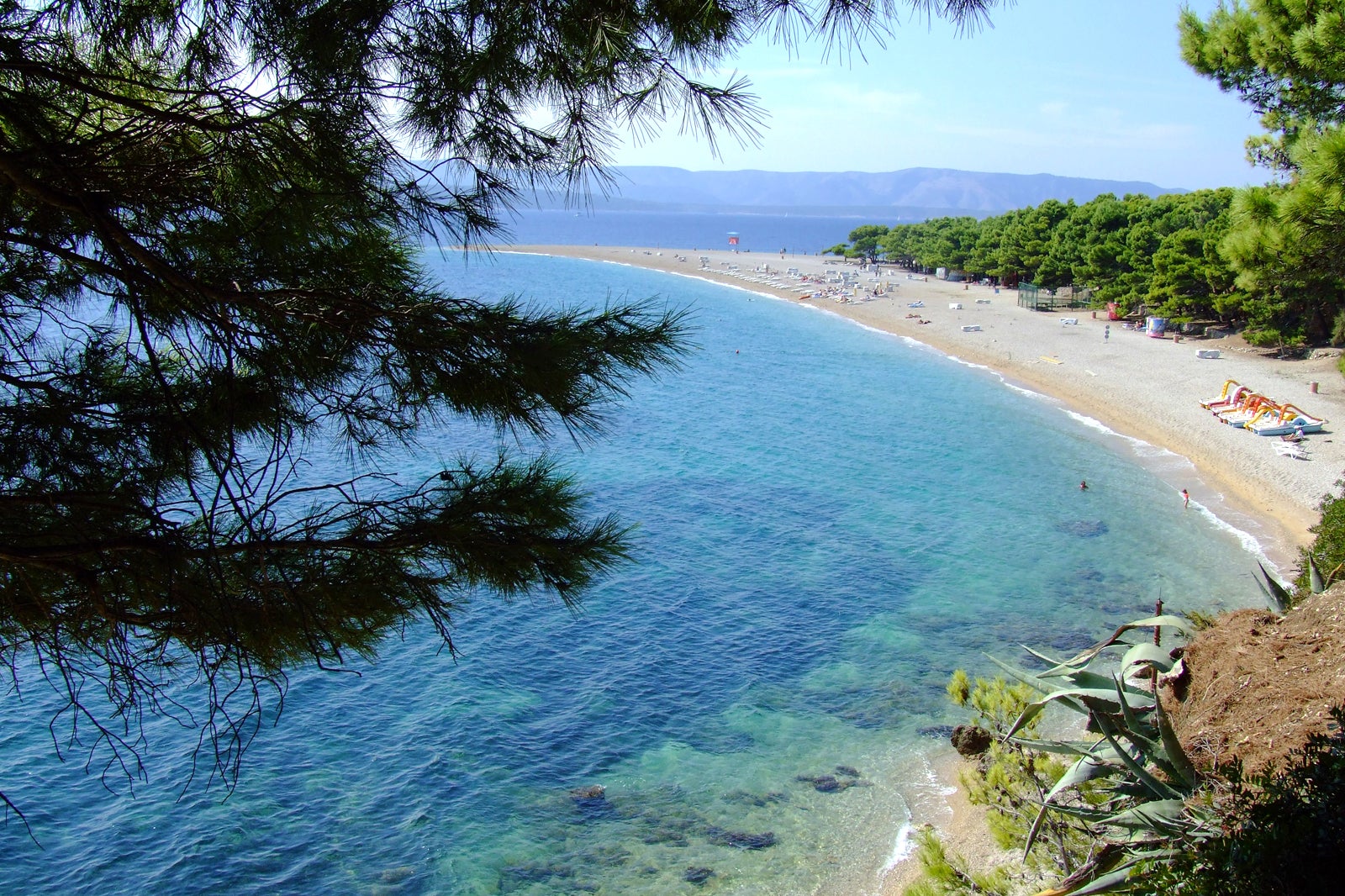 Golden Horn, Brac
A wedge-shaped beach jutting out to sea
The Golden Horn is a stunning triangular-shaped spit of white to pebbly sand that forms the southernmost point of Brac Island. Also called the Golden Cape or Zlatni Rat in the local tongue, this spectacular landmark beach juts out like an arrow blade into the azure waters of the Adriatic.
The green part of the Golden Horn beach is well facilitated with hotels, bars and restaurants. While swimming, boating and windsurfing are popular here, many people travel to Zlatni Rat simply for the impressive views. You can drive up the nearby hill to Brac's tallest peak and take in the beach and the bay's stunning seascape from above.
Location: Put Zlatnog rata, 21420, Bol, Brac Island, Croatia
photo by gravitat-OFF (CC BY 2.0) modified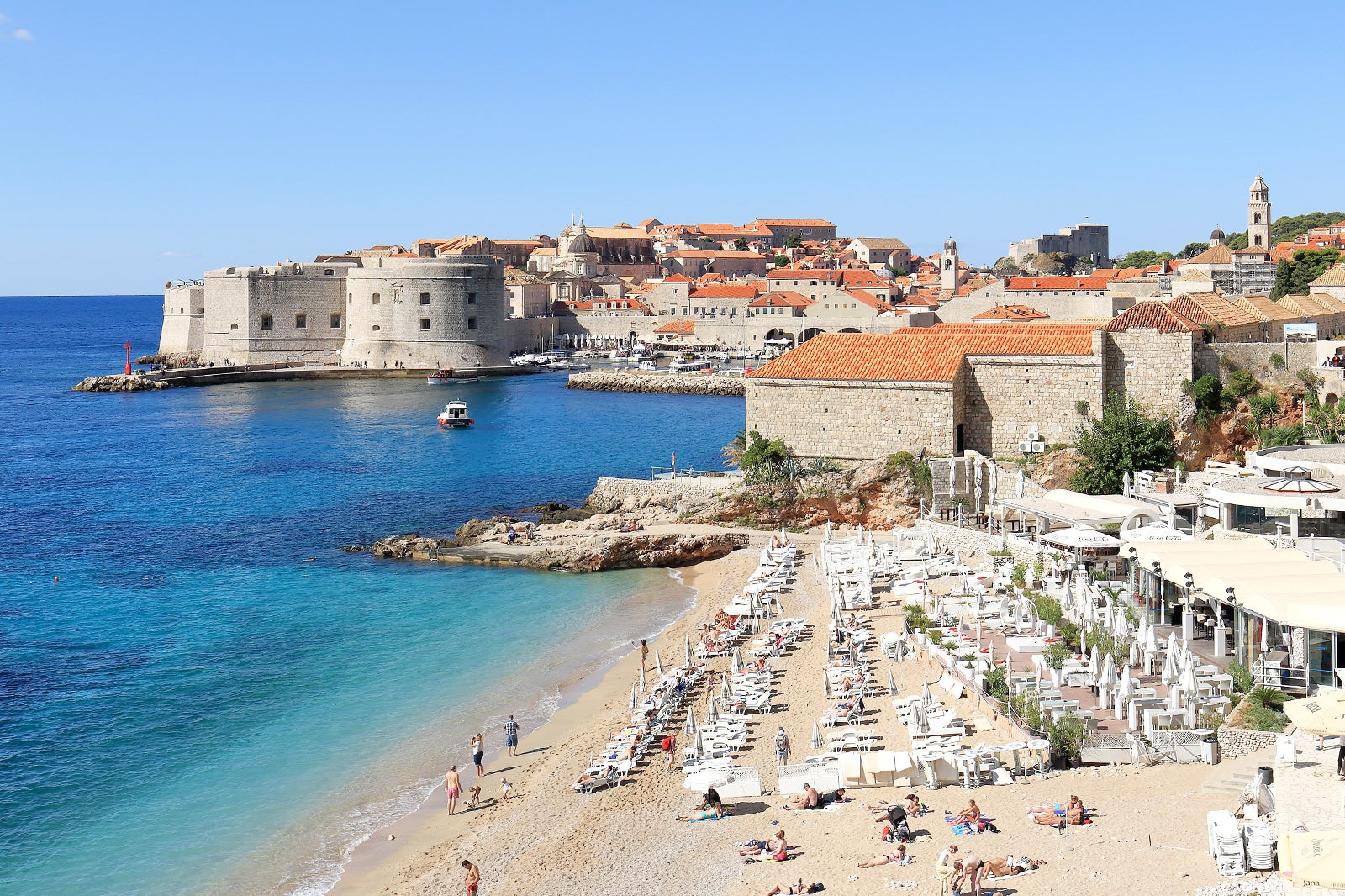 Banje Beach, Dubrovnik
A small piece of coastal paradise below the Old Town
Banje Beach is a summer seaside mecca in Dubrovnik, just a few minutes' walk down a series of steps from the fortified 7th-century Old Town and Game of Thrones filming location. The beach's pebbly coast attracts swimming and sunbathing crowds, with plenty of dining and drinking options available year-round
Outside July and August, Banje is usually less busy yet parasols remain for hire and the surrounding spots continue to serve local Dalmatian and Mediterranean bites. You can take in the breathtaking views of the beach with its blue waters framed by the magnificent Old Town and Lokrum Island on the horizon.
Location: Ul. Frana Supila, 20000, Dubrovnik, Croatia
photo by Martin Falbisoner (CC BY-SA 4.0) modified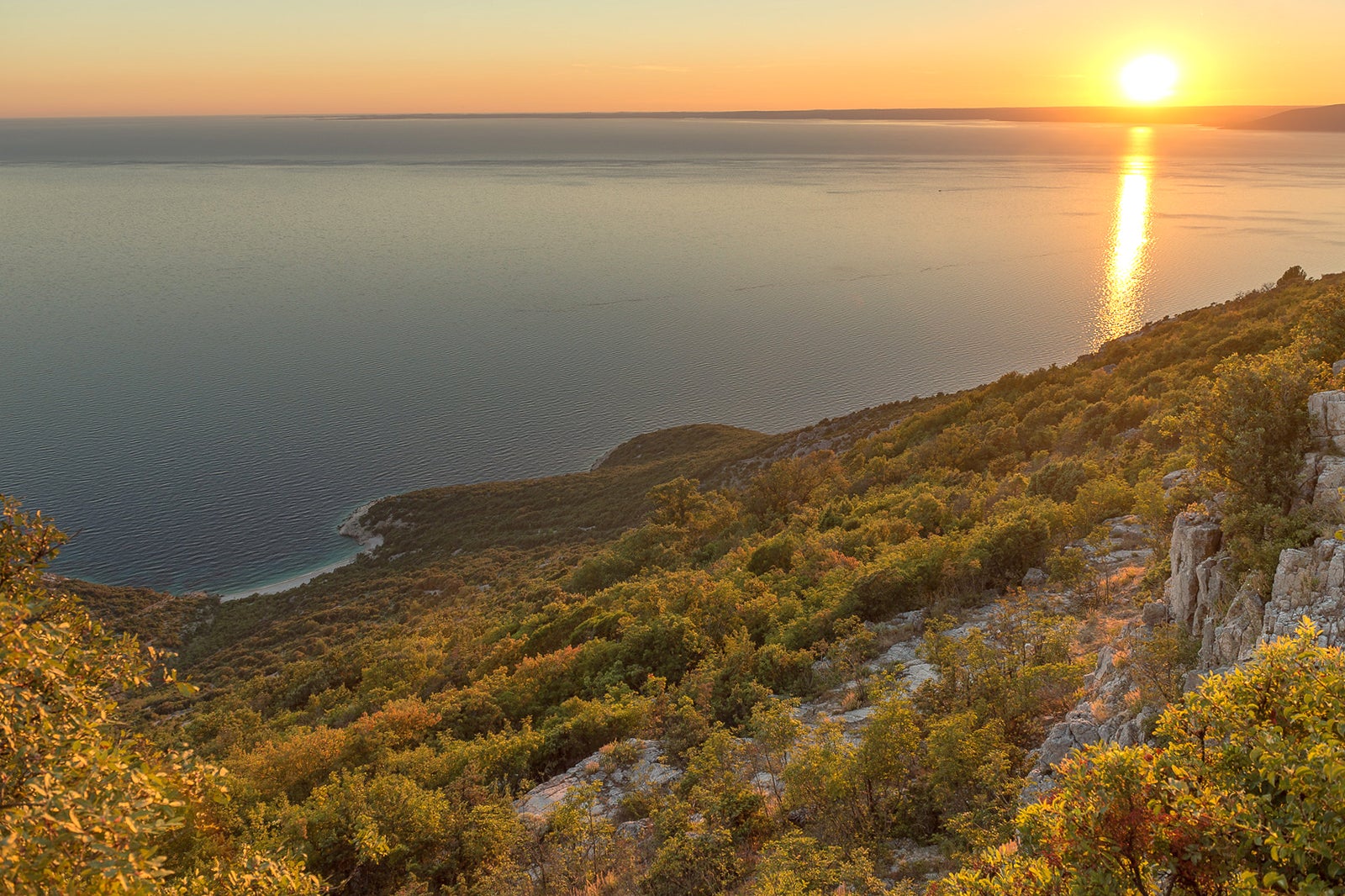 Lubenice Beach, Cres
Seclusion and views that are worth the effort
One of the many beautiful beaches lining the coasts of Cres Island, Sveti Ivan (St. Johns Beach) sits under the hilltop town of Lubenice ('watermelons' in Croatian) which the beach is also locally named after. You can reach the pebbly beach via steep paths down a green hill, which can take a hit if you lack stamina.
If you do make it, the efforts pay off really well with the stunning views and a sense of calm, with barely a beach vendor in sight. Sveti Ivan is divided in half by a rocky bluff and the waters near the soft sand shore are shallow and swimmable.
Location: Plaža Sv. Ivan, 51557, Lubenice, Cres Island, Croatia
photo by Alessandro Caproni (CC BY 2.0) modified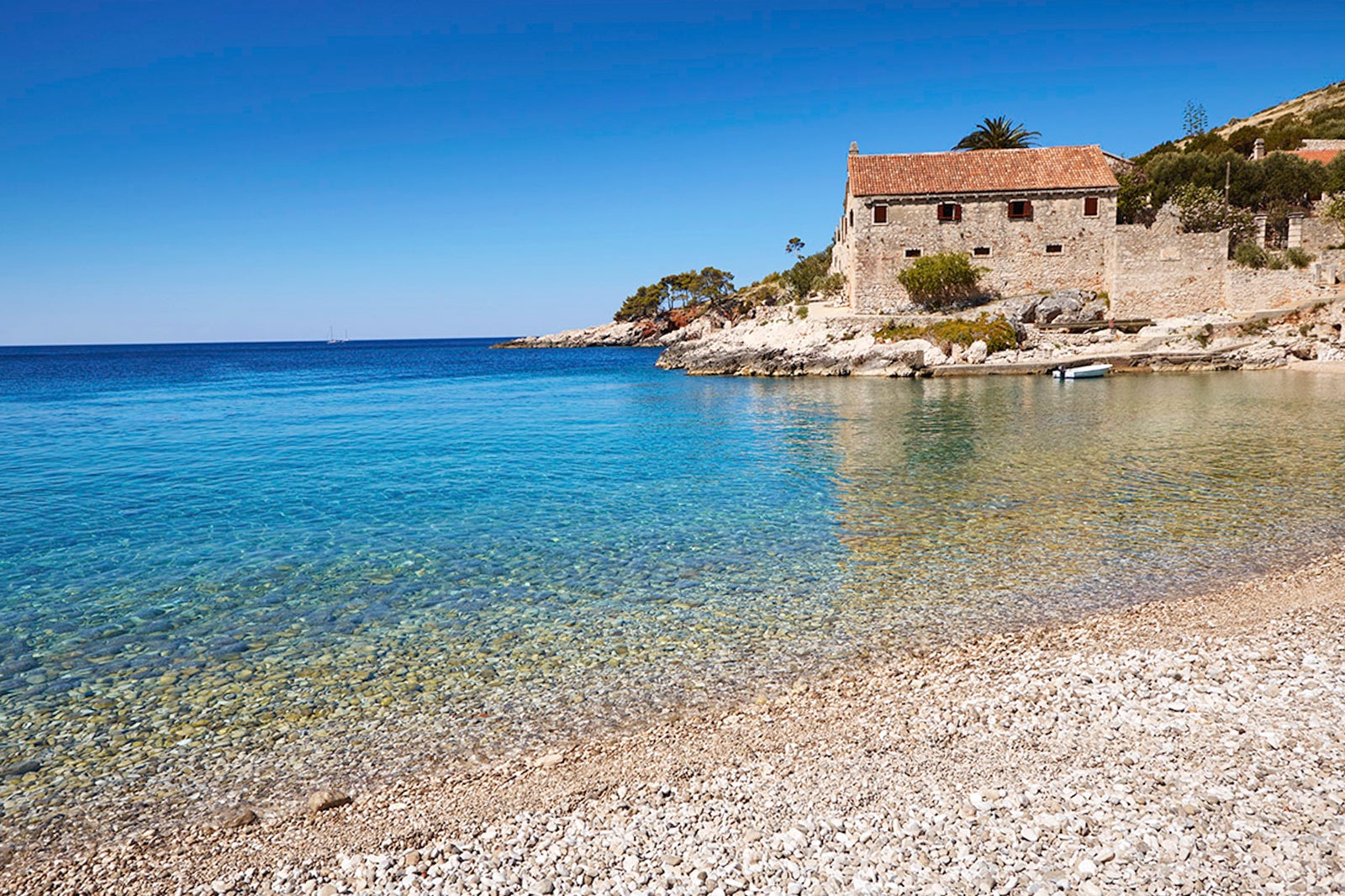 Dubovica Beach, Hvar
A coastal paradise at the end of a valley
Dubovica Beach takes its name from a village in a valley on the southern coast of Hvar Island. The rugged region with undulating terrain is covered in vineyards – there's one with old buildings right above the beach, offering spectacular scenery.
The scenic drive to Dubovica is simply part of the fun. Depart from Stari Grad along winding hill roads and through a tunnel before reaching the hills above the bay, where an unbeaten path leads you down to the tranquil cove, with its pebbly beach. You can replenish at a local restaurant on site that serves local and Mediterranean dishes.
Location: 21450, Zaraće, Hvar Island, Croatia
photo by Holiday Photos (CC BY-SA 2.0) modified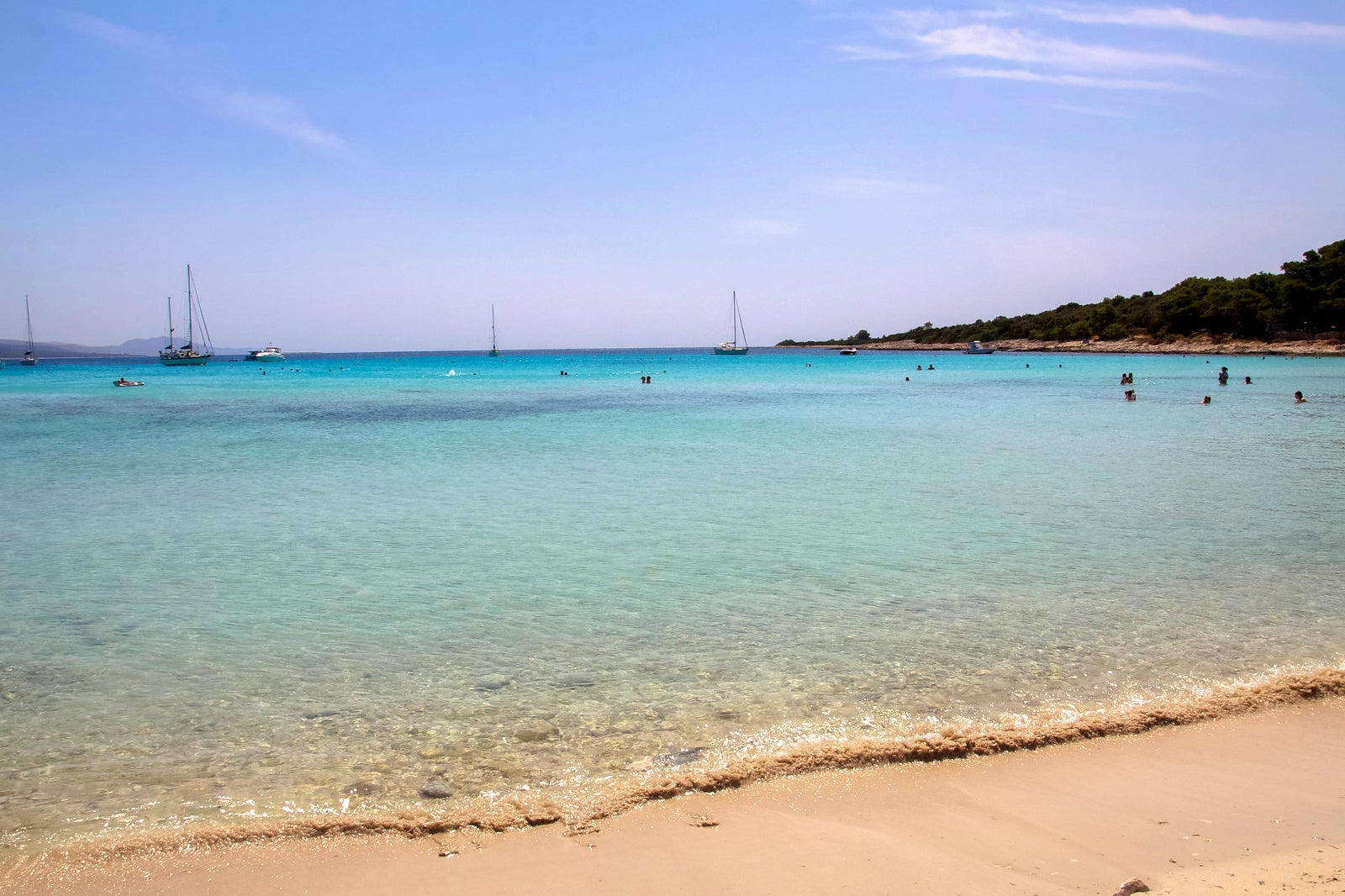 Sakarun Beach, Dugi Otok
Wade in a 'giant swimming pool'
Locally referred to as Saharun Beach, Sakarun is a 300-metre strip of white sand inside a narrow cove at the northern tip of the Dalmatian island of Dugi Otok (which means 'long island' in the local tongue). The shielding shape of the cove gives way to very calm waves – the azure waters remain shallow for about 200 metres out offshore.
A wonderful spot to bask and swim, Sakarun Beach is a seascape framed by the emerald pinewood forests of the adjacent rocky hills that make it a go-to just for the scenery. To get to the beach, follow a rugged trail off the main road between Veli Rat and Verunic.
Location: Općina Sali, 23287, Veli Rat, Croatia
photo by Greta Ceresini (CC BY 2.0) modified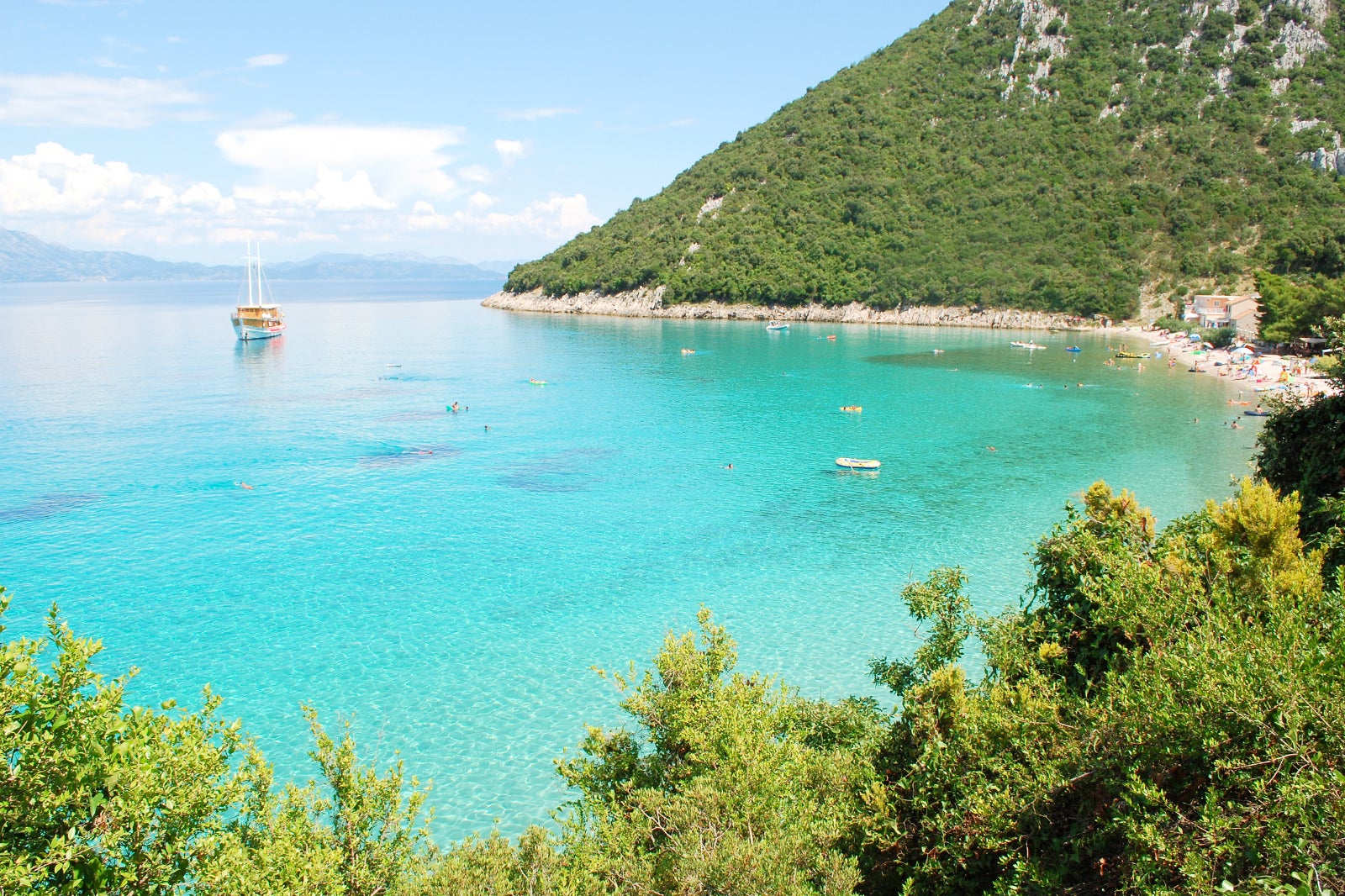 Divna Beach, Dalmatia
An aptly named 'beautiful' beach
The name Divna, which means 'beautiful' in Croatian, suits this beach rather well. Located on the northern shores of the Peljesac peninsula, the beach consists mostly of fine pebbles, stretching for about 200 metres between green hills and with a few pretty houses and trees right on the shore. These towering trees provide good enough shade for sitting and enjoying the bay views).
Divna Beach is a popular camping ground, with barely any bars or restaurants around – which, to beach lovers looking for nature, can be a good thing. The tranquil waters are great for swimming, and the pebbly seabed seemingly extends for as far as your eyes can see.
Location: 20240, Donja Vrućica, Croatia
photo by Kris Slive (CC BY-SA 3.0) modified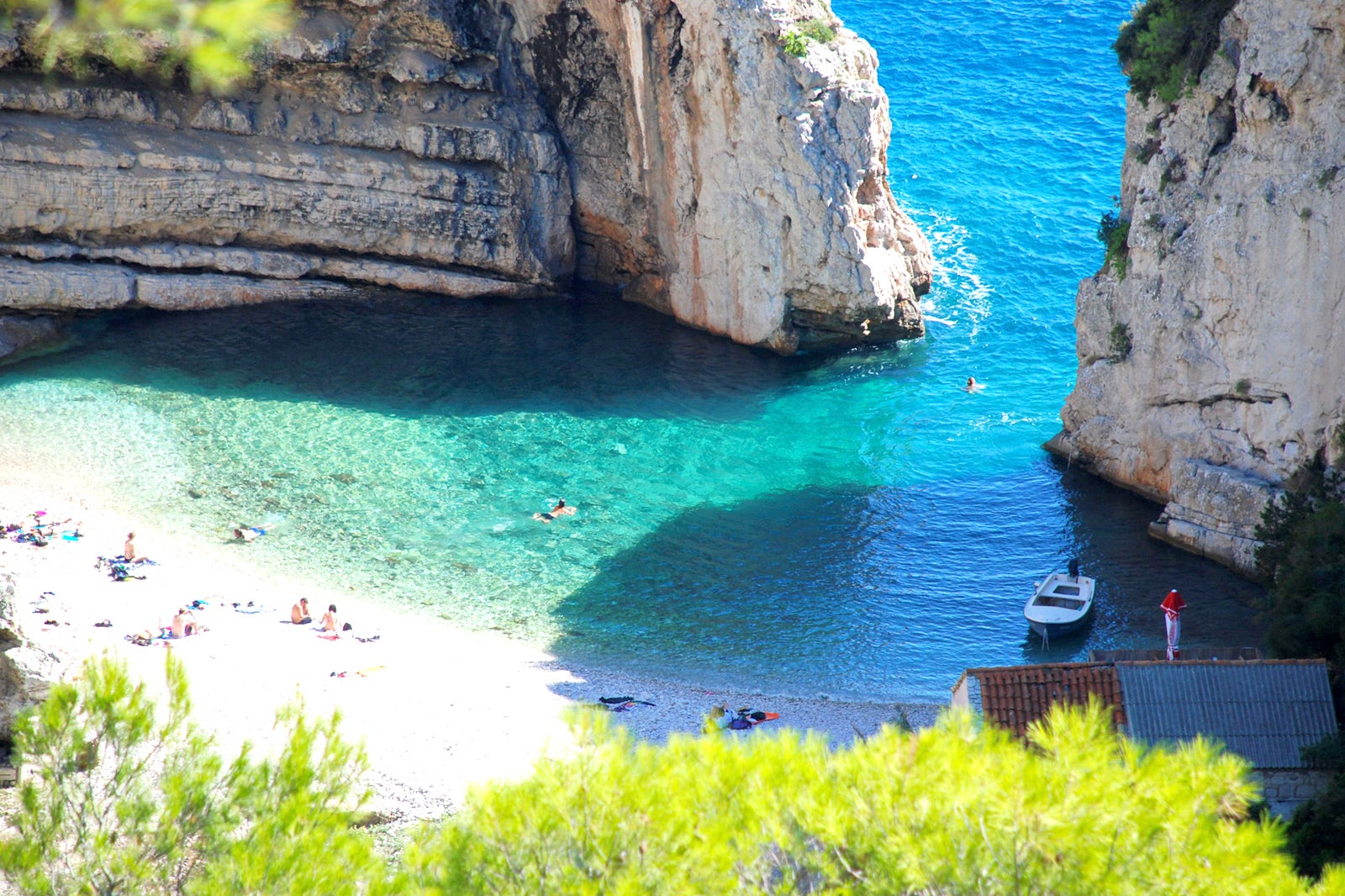 Stiniva Cove Beach, Vis
A magical spot between curtain-like cliffs
One of the more challenging beaches to get to on Vis Island, Stiniva's secluded cove is a breathtaking visual treat. The stretch of sand is only about 40 metres long, and the calm waters are sheltered from the open sea by a narrow opening between 2 tall adjacent rocks.
Most visitors come to Stiniva's hidden beach by sailboat, anchoring just outside its opening. Adventurous travellers who come by land usually get there by hiking down the mountains from the main road. Efforts are paid off by the view, and there's often a beach bar on site selling refreshments.
Location: 21480, Marinje Zemlje, Croatia
photo by Miroslav Vajdic (CC BY-SA 2.0) modified
Oprna Beach, Krk
Barren above, temptingly azure below
The village of Stara Baska on the large Croatian Island of Krk has 2 wonderfully idyllic coves, namely Oprna and the namesake Stara Baska. The coastal region is hilly and barren, and the beaches' characteristics are a mix of fine, rocky and pebbly.
While you can easily access both beaches by car and with a bit of effort on foot, most visitors come to the beaches by boat. The waters off the 120- and 130-metre-long coasts are shallow and clear, great for swimming, snorkelling, and further out, diving. The beach also offers recreational fun with onsite beach bars and pedal boats and parasols for rent.
Location: 51521, Stara Baska, Croatia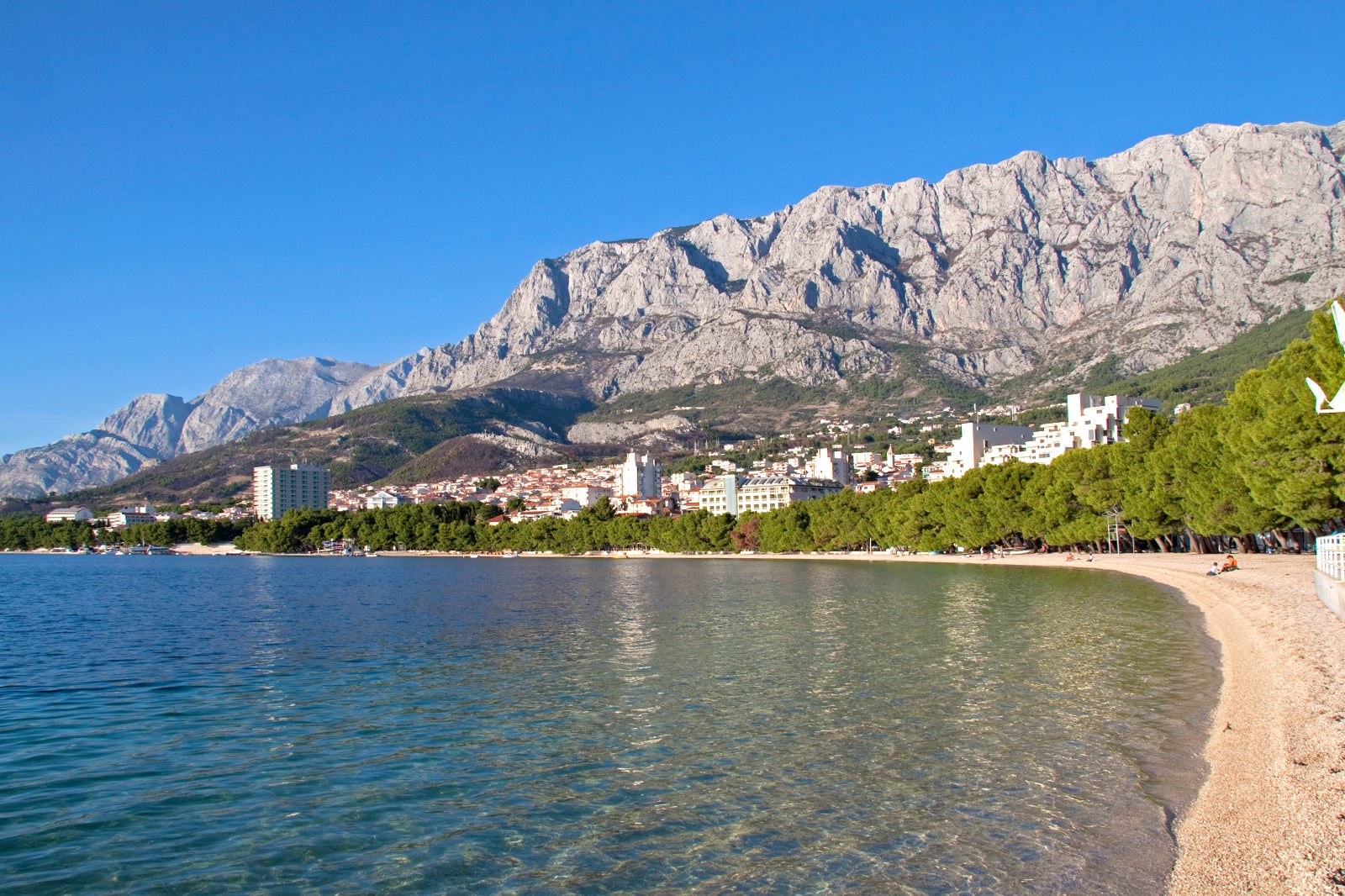 Makarska Beach, Makarska
A collection of well-developed resort beaches
The Makarska Riviera on Croatia's mainland has a collection of secluded bays framed by pinewood-forested hills and villages that date back to medieval times. The pebbled beaches of Makarska are mostly well developed with several beach resorts. Some sections are naturally shaded by trees, while others are lined by parasols to attract summer crowds.
Most of the beaches along the Makarska coastline are shallow and swimmable. Bars, restaurants and nightclubs aren't hard to find. If you're looking for a clothing optional beach experience, you can go on a 10-minute drive southeast of Makarska Beach to the small and secluded naturist cove of Nugal.
Location: Šetalište Dr. Franje Tuđmana 11, 21300, Makarska, Croatia
photo by Tony Hisgett (CC BY 2.0) modified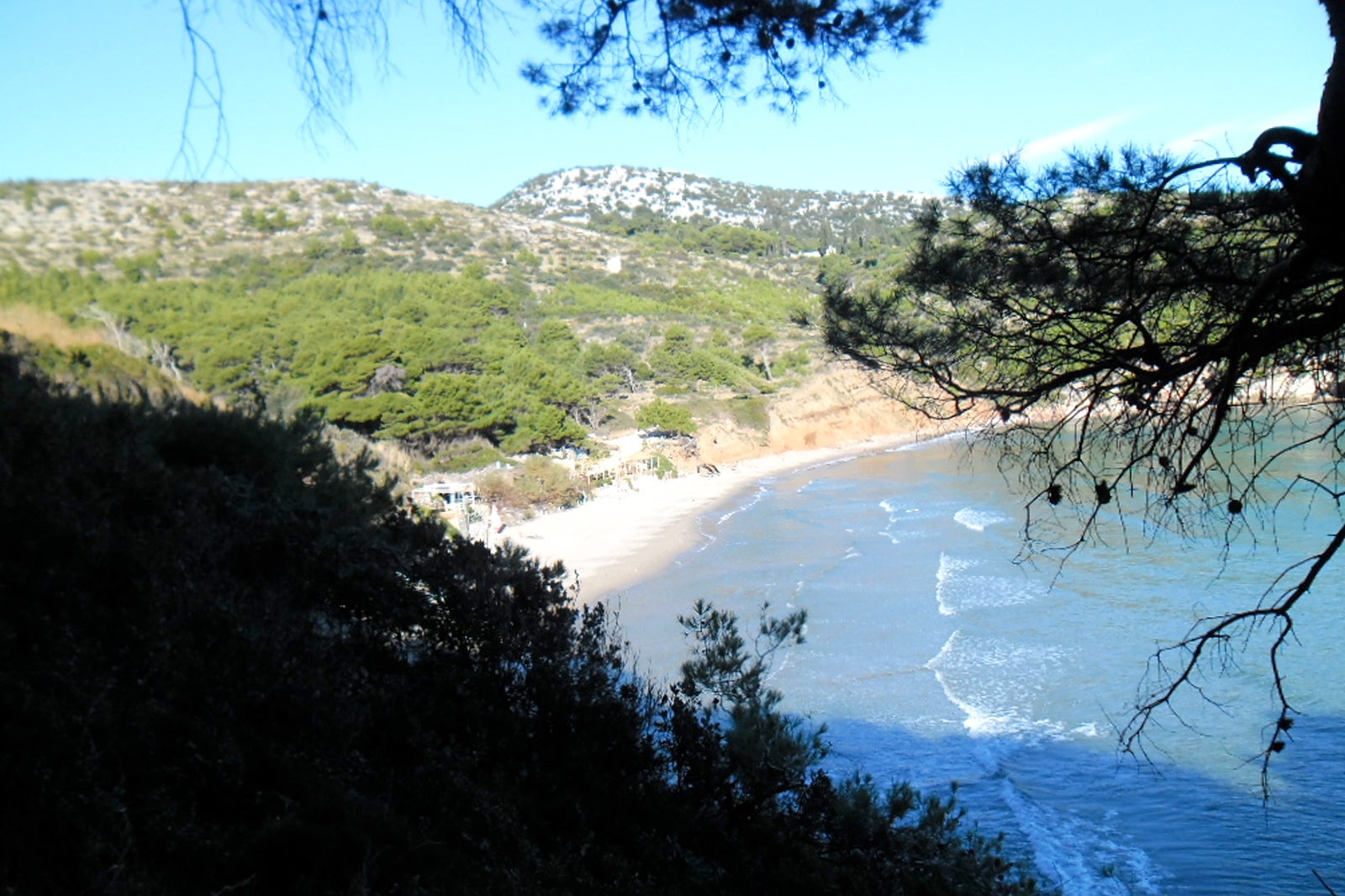 Sunj Beach, Lopud
One of Croatia's very few sandy beaches
Sandy beaches in Croatia are rather scarce, but Sunj on the southern coast of the island of Lopud comes out as a top pick. Unlike the many hidden beaches and secluded bays in Cyprus, this beach stretches for about 1 km and its offshore waters remain shallow for at least 100 metres out.
Sunj Beach's pristine views owe much to it being inside a nature park. But there are modern offerings around, such as moderately priced dining spots on the beach, as well as a host of recreational facilities you can enjoy and rent gear from.
Location: 20222, Lopud, Croatia
photo by August Dominus (CC BY 3.0) modified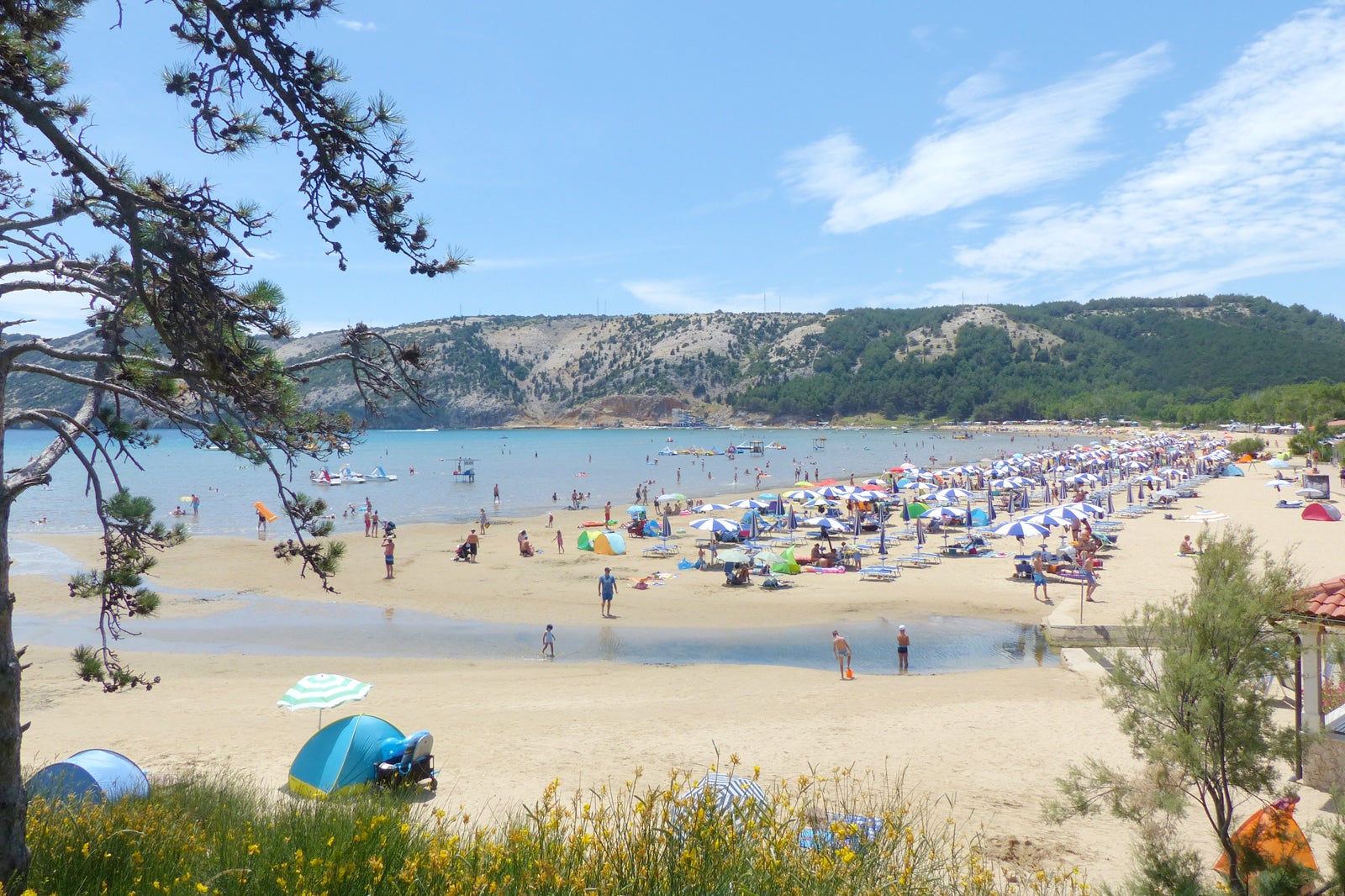 Paradise Beach, Lopar
A long sandy stretch offering family fun
Locally referred to as Rajska Plaza in the local tongue, Paradise Beach is the largest and most popular beach on the island of Lopar. The sandy beach stretches for almost 2 km with a well-developed resort but still manages to preserve much of its natural beauty.
Paradise Beach is great for families, as it offers plenty of fun and recreation – from excitement in and above the waves like parasailing or on the sand with beach volley and waterparks, and even parties after sunsets, there's virtually something for everyone.
Location: San Marino, Lopar, Rab, Croatia
photo by Elekes Andor (CC BY-SA 4.0) modified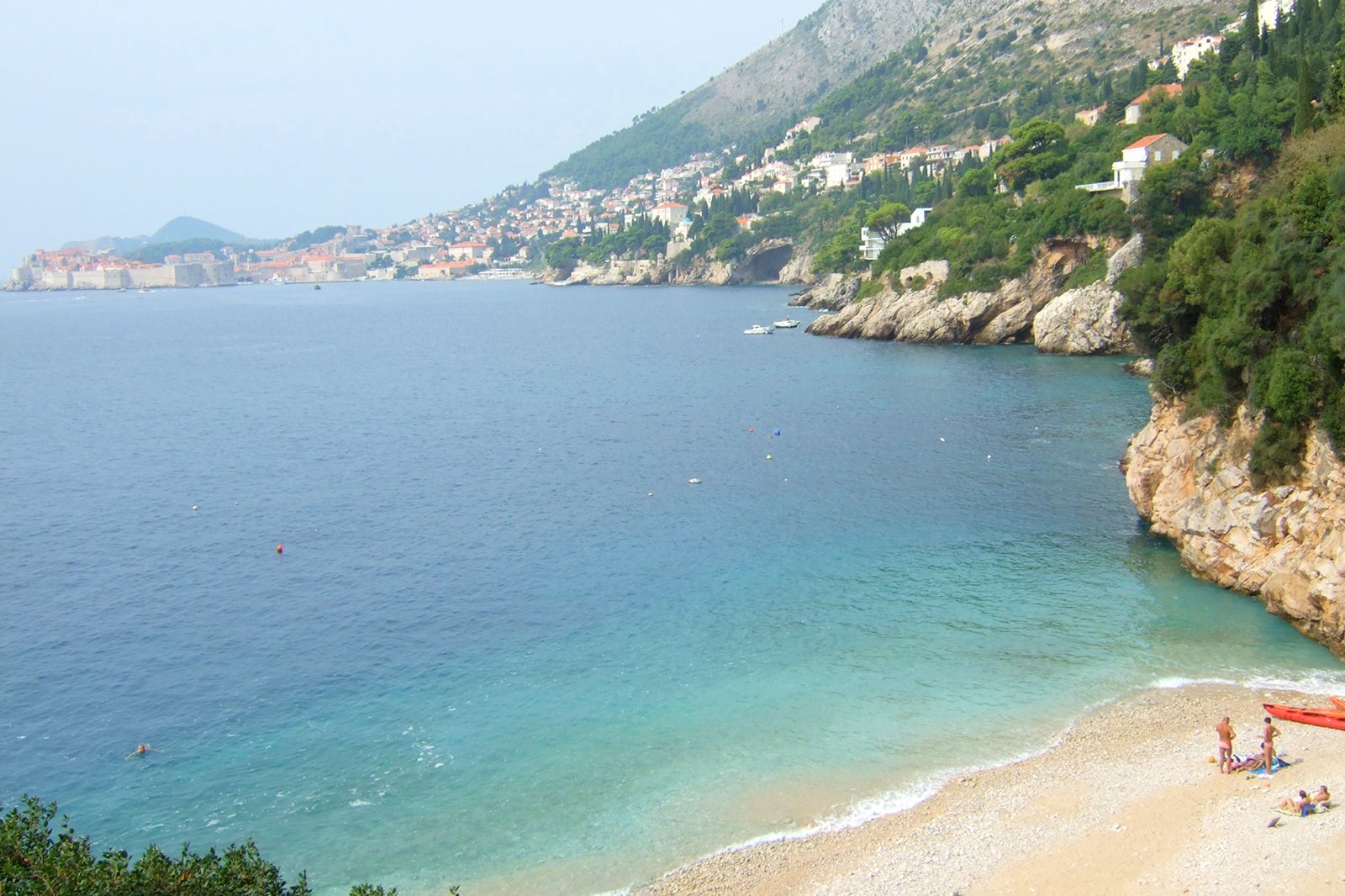 St James Beach, Dubrovnik
A tranquil and scenic cove hidden under a monastery
St James Beach or Sveti Jakov (English names 'James' and 'Jacob' are derived from 'Yaakov' in Hebrew), is a secluded beach in Dubrovnik. The beach is hidden under a namesake Gothic-Renaissance stone cathedral. A flight of steps leads you down to the beach, which is a mix of sand and pebbles.
Besides for swimming in the calm, shallow and clear waters or basking under the sun, people also come in the afternoons in time to catch the wonderful sunsets. Sun loungers are available for rent, and there's a restaurant nearby serving Mediterranean cuisine.
Location: Ul. Vlaha Bukovca 14, 20000, Croatia
photo by colleen_elizabeth (CC BY-SA 2.0) modified
Mali Bok, Cres
A short, but rewarding, excursion from Cres town
The island of Cres has plenty of great beaches, and Mali Bok on its eastern side is one that offers pristine nature. That comes as no wonder since the beach is part of a 550-hectare protected natural area. You can discover this 'secret' beach on a road trip around the island, with a slight detour from the village of Orlec.
The beach of Mali Bok is small and rugged, hidden at the base of a rocky cliff. Spanning about 50 metres in length, there's not much sand or space to have fun beach games, but the otherworldly scenery and calmness allow you to relax and reconnect with nature.
Location: 51557, Orlec, Cres, Croatia
Klancac Beach, Brsec
A hidden gem under a medieval village
The tiny medieval village of Brsec is home to the exotic Klancac Beach, hidden by high cliffs on the eastern shore of the Istrian peninsula. Like most beaches across the Adriatic, Klancac is pebbly, yet the waters feature reefs teeming with fish, so it's great for snorkelling besides swimming.
You can get to the hilltop above the Klancac Beach by car, but you'll need to take a walk down to the beach itself. It is a popular spot during the summer and can get crowded – in any case, you can simply enjoy the soothing views for yourself, from above.
Queen's Beach, Nin
Enjoy the views – while smothered in therapeutic mud
Known by locals as Kraljicina Plaza, the 3-km sandy coastline of Queen's Beach in the town of Nin is part of a vast and scenic lagoon. The seascape has the breathtaking Mount Velebit as a backdrop. The beach itself is famous for a peculiar aspect: therapeutic peloid mud.
The mud at Queen's Beach has been said to cure various ailments and skin conditions, known since the times of Ancient Romans. Combine this with a soak in its calm waters, you have yourself a pleasant and unique, open-air thalassic spa experience.