10 Free Things to Do in Edmonton
How to Experience Edmonton a Small Budget
For free things to do in Edmonton, the central public space of Sir Winston Churchill Square is a great starting point, and there's usually lots going on there. The Old Strathcona neighbourhood in south-central Edmonton offers historical walks, and is alive with bars, shops, and street performers.
Further out on the outskirts and around the North Saskatchewan River Valley, you can find an assortment of lush and beautiful parks for budget-friendly escapes. From scenic viewpoints for taking in breathtaking cityscapes to scientific observatories for searching the stars, there's plenty around Edmonton for budget travellers, as you'll find below.
1
Churchill Square
There's plenty to see and do, right in the heart of town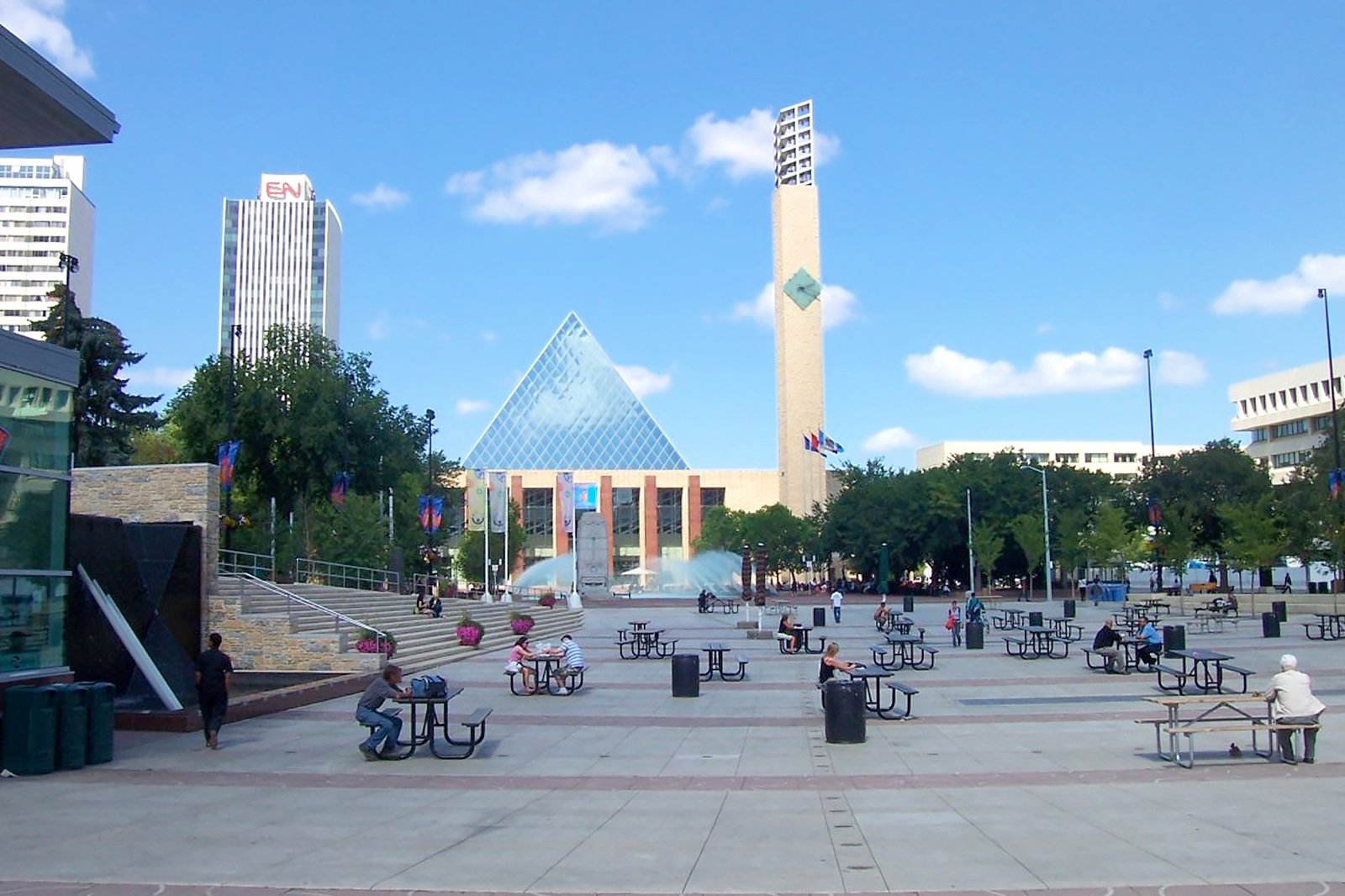 You can take in the beautiful gardens and pick a bench to sit on inside Sir Winston Churchill Square, Edmonton's main public space. Even when there aren't any major multiday festivals going on, there's always something happening, like buskers playing or painters applying their amazing artistry onto a piece of canvas. Enjoy free Wi-Fi, grab cheap snacks from the street food vendors, or take a selfie against the huge Happy Wall – a vivid, 17-metre-long interactive pixel art installation.
Location: 100 St NW, Edmonton, AB T5J 2E5, Canada
Phone: +1 780-442-5311
photo by Traveler100 (CC BY 3.0) modified
2
Edmonton's river valley parks
Scenic riverside spaces for hiking and picnicking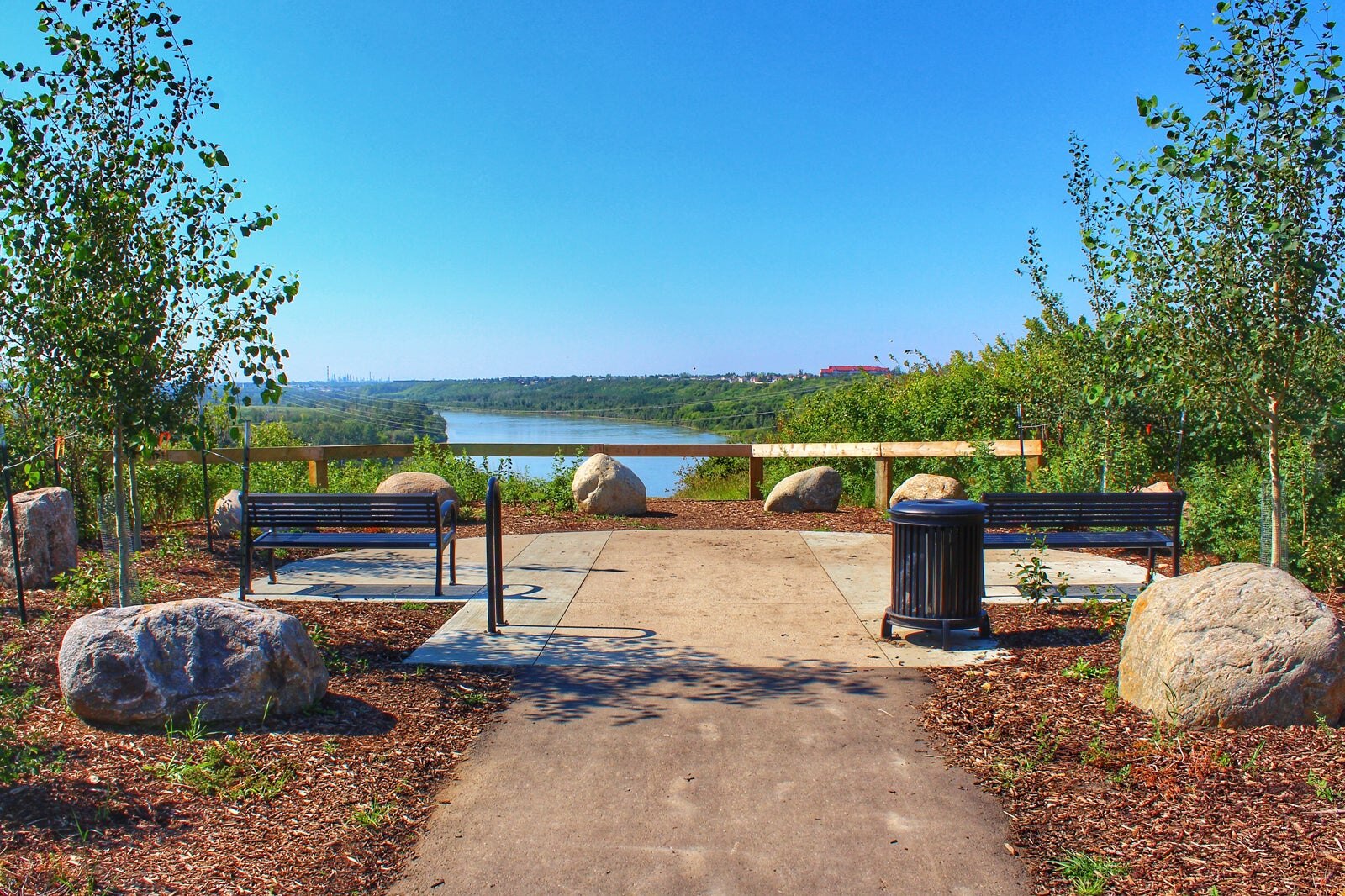 If you're up for some adventure, Edmonton's great collection of river valley parks are all free to hike through. With over a dozen parks spread throughout the North Saskatchewan River Valley, you have plenty to choose from. You can enjoy scenic riverside trails for cycling, leisure walks, or a morning jog between the interconnected parklands of Hawrelak, Buena Vista, and Sir Wilfrid Laurier Park. Picnics and barbeques are great at Government House Park, with paved paths heading into the lush forests of McKinnon Ravine.
3
Alberta Legislature Building
Explore the beautiful gardens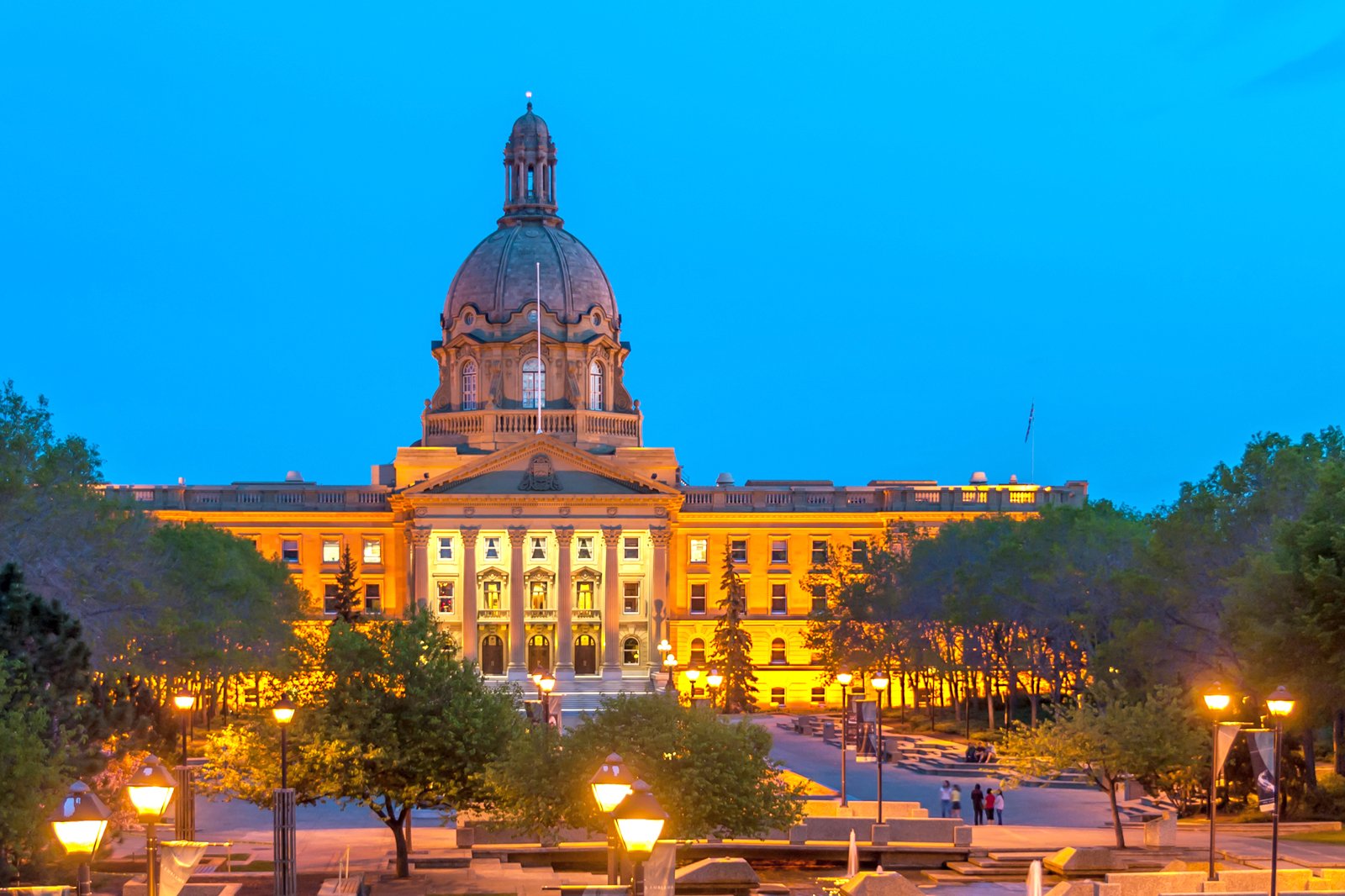 If you're looking for an iconic Edmontonian landmark for memorable photos, Alberta Legislature Building is one of the city's best. Home to the province's Legislative Assembly, the building is photogenic for its majestic, Beaux-Arts architecture, standing tall on its manicured grounds. It's easy to snap a cool shot of the landmark from any angle, with its marble pillars and domed roof, and with beautiful fountains in a row that beautifully light up at night. You also can sign up for a free tour of the inside.
Location: 10800 97 Ave NW, Edmonton, AB T5K 2B6, Canada
Open: Daily from 10 am to 5 pm
Phone: +1 780-427-7362
4
Old Strathcona Farmers' Market
Enjoy Edmonton's fresh goods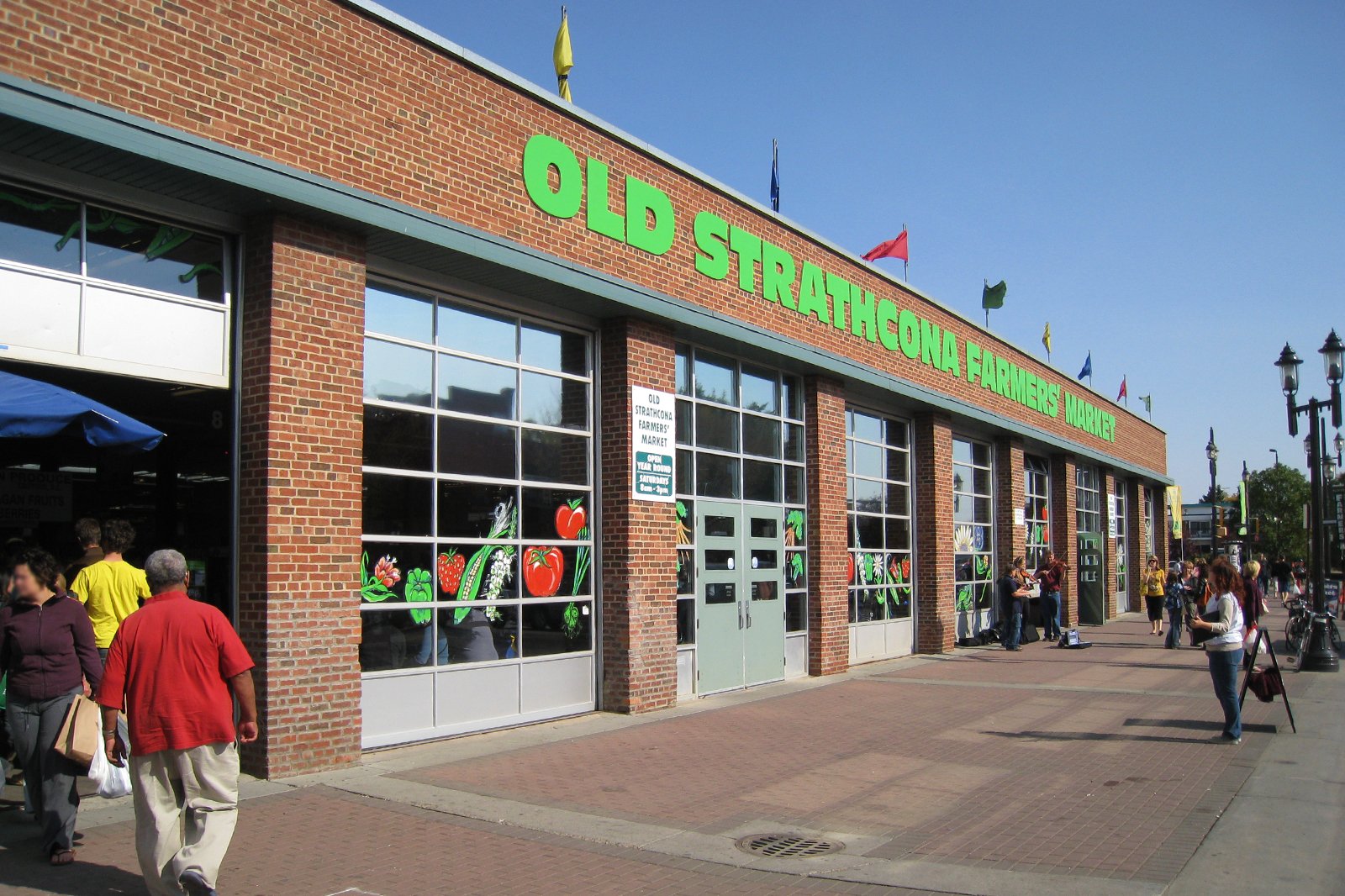 Edmonton's Old Strathcona neighbourhood offers pleasurable walks through the historical heart of the city, with rows of heritage buildings and classical theatres that hark back to the Roaring '20s. If you plan to explore the district on a Saturday morning, you can check out the Old Strathcona Farmers' Market on 83 Avenue, where over 100 different vendors open stalls inside a large warehouse-like building. Locally grown produce such as plump, red strawberries can be a tempting snack, and there are handmade arts and crafts for souvenirs, too.
Location: 10310 83 Ave NW, Edmonton, AB T6E 5C3, Canada
Open: Saturday from 8 am to 3 pm
Phone: +1 780-439-1844
photo by Mack Male (CC BY-SA 2.0) modified
5
University of Alberta Observatory
Marvel at the wonders of astronomy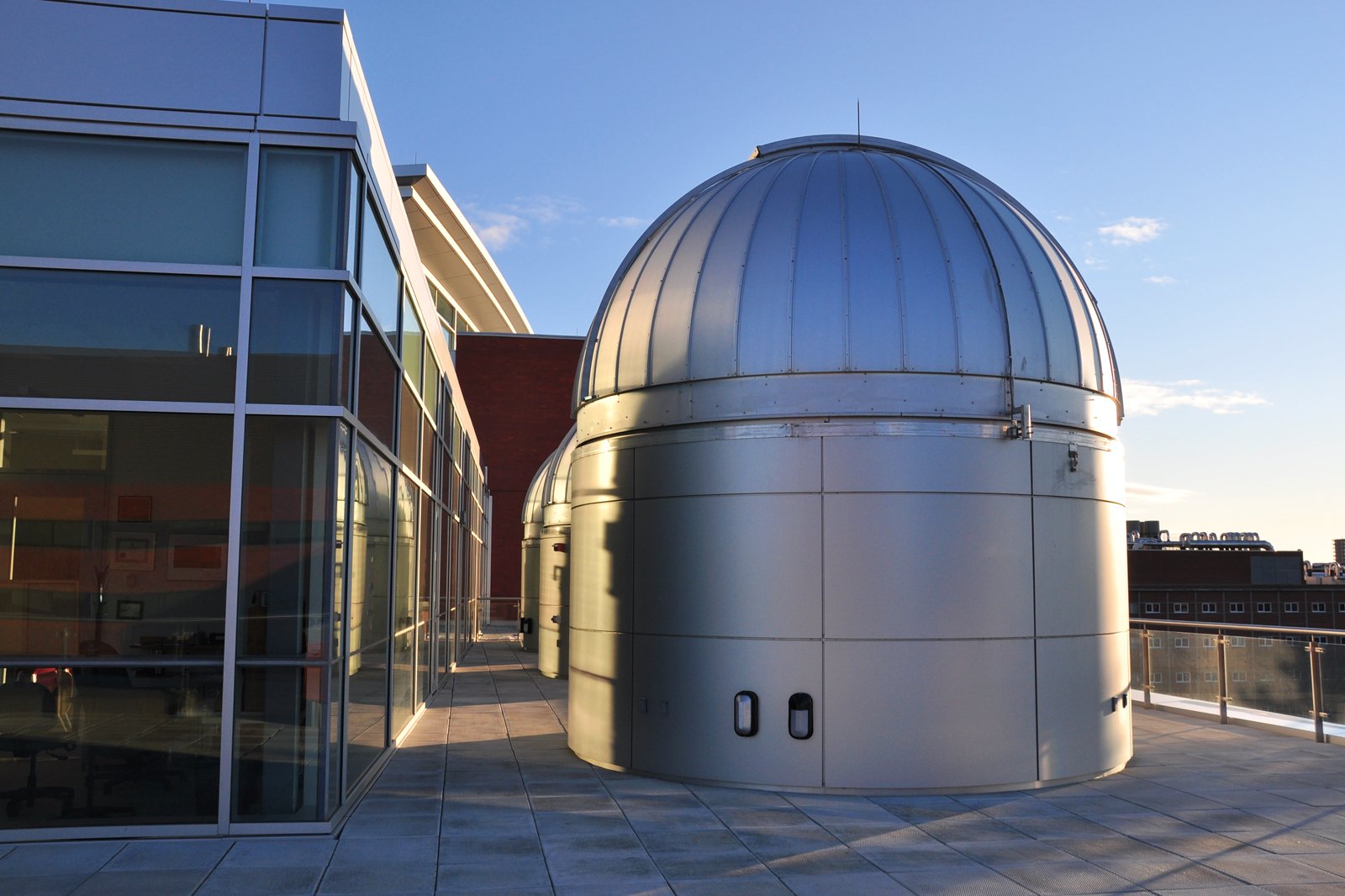 If you're keen on science and astronomy but looking for a cheaper alternative to Edmonton's Telus World of Science, a visit to the Centennial Centre for Interdisciplinary Science might work for you. It's on the main campus of the University of Alberta, where you can find an observatory that's open to the public every Thursday. They have volunteers on standby who'll be able to show you around and help you to track your favourite heavenly bodies through the telescopes. Wear warm clothes as their telescopes are situated outside and it can be chilly.
Location: Centennial Centre for Interdisciplinary Science, Edmonton, AB T6G 2E9, Canada
Open: Thursday from midday to 1 pm and from 7 pm to 8 pm
Phone: +1 780-492-3111
photo by Bill Burris (CC BY-SA 2.0) modified
6
Art Gallery of Alberta
A variety of visual arts to enjoy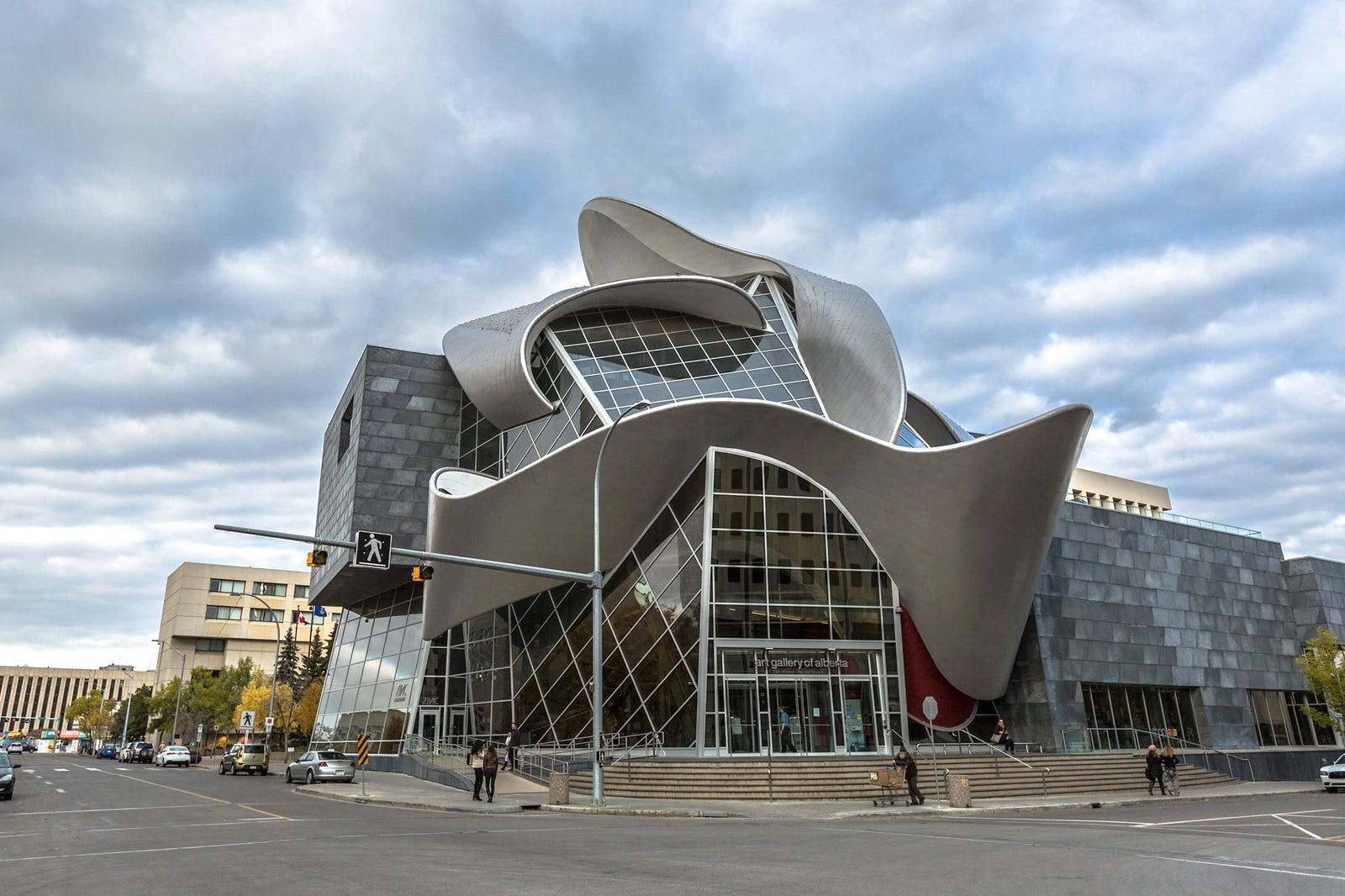 Housed in an eye-catching building off Churchill Square, the Art Gallery of Alberta is a cool destination for art-lovers in Edmonton. While you'll need to get tickets to explore the regularly rotated exhibits on most days, there are free days when you can admire the wealth of contemporary paintings and photographs on display. You can expect free admissions to the gallery on celebrated Canadian days, such as Family Day on 18th February, Canada Day on 1st July, National Aboriginal Day on 21st June, and throughout the Alberta Culture Days weekend at the end of September.
Location: 2 Sir Winston Churchill Sq, Edmonton, AB T5J 2C1, Canada
Open: Tuesday–Wednesday from 11 am to 8 pm, Thursday–Friday from 11 am to 5 pm, Saturday–Sunday from 10 am to 5 pm (closed on Mondays)
Phone: +1 780-422-6223
photo by IQRemix (CC BY-SA 2.0) modified
7
Mactaggart Sanctuary
A popular and scenic loop in Edmonton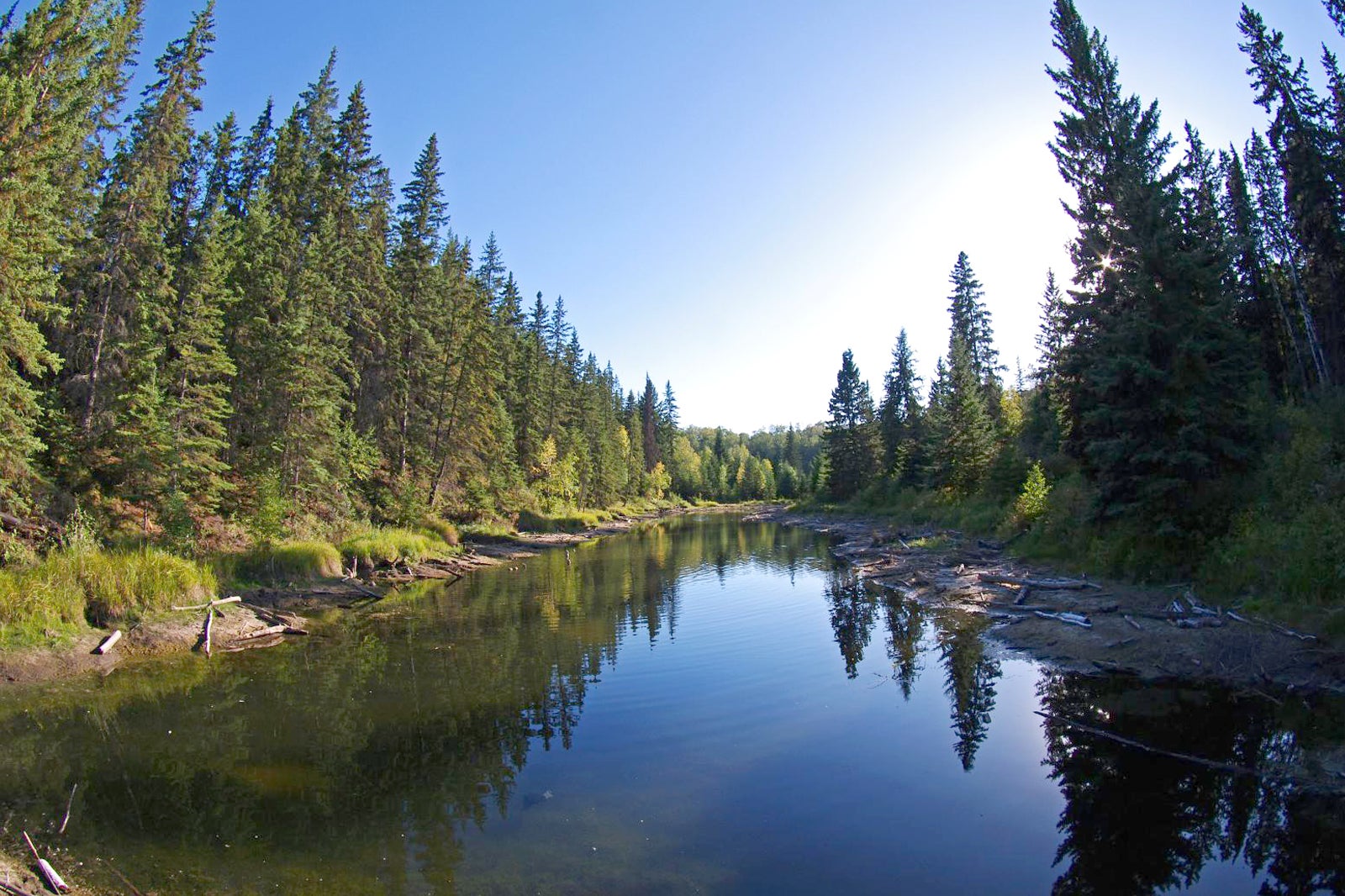 You'll find no shortage of beautiful nature trails throughout the North Saskatchewan River Valley. The Mactaggart Sanctuary Path is a very popular one which allows you to enjoy the scenic outdoors for approximately 2 km. It's a relatively easy trail to accomplish and comes with the bonus of occasional native bird and wildlife sightings along the way. The best time to hike the route is between May and October, when you can expect the foliage and flowers to be at their most vivid.
Location: Mactaggart Sanctuary Trail, Edmonton, AB T6J 5N2, Canada
photo by Kurt Bauschardt (CC BY-SA 2.0) modified
8
Neon Sign Museum
Enjoy an evening walk under vintage signs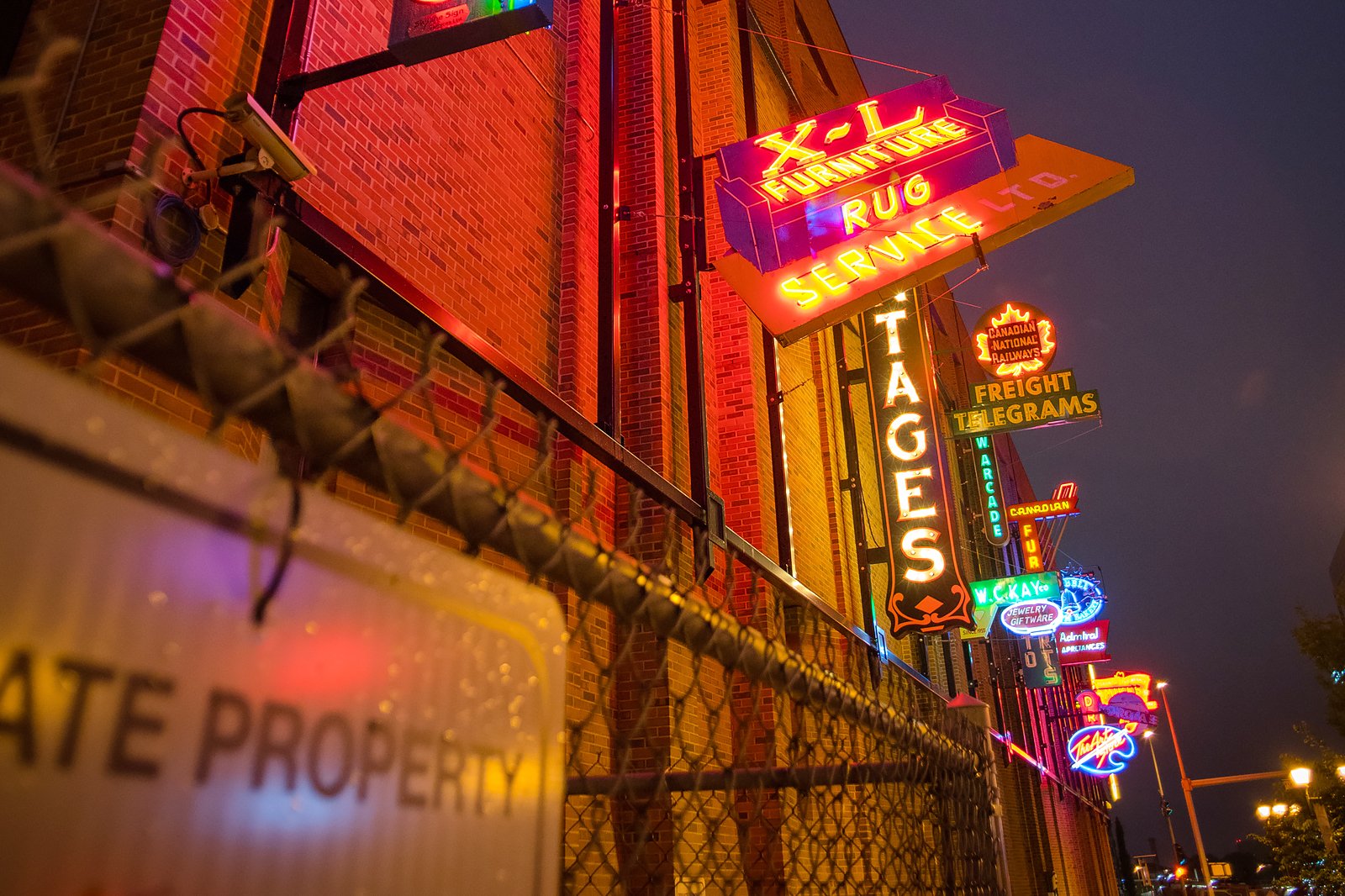 Budget
History
Photo
Unusual
While enjoying an evening walk down the street from the hockey and concert venue of Rogers Place, you can find one of Edmonton's quirkiest open-air museums glimmering in the dark. The Neon Sign Museum is a one-of-a-kind gallery that features a collection of functional neon signs that were salvaged, restored, and reinstalled from various historical stores, stations, and theatres throughout the city. There are over a dozen neon signs in its collection, lining the walls of the TELUS building and the Mercer Warehouse building on 104 Street.
Location: 104 St NW, Edmonton, AB T5J 0K7, Canada
Phone: +1 780-496-5281
photo by Kurt Bauschardt (CC BY-SA 2.0) modified
9
Whyte Avenue
Have an arty afternoon stroll through Old Strathcona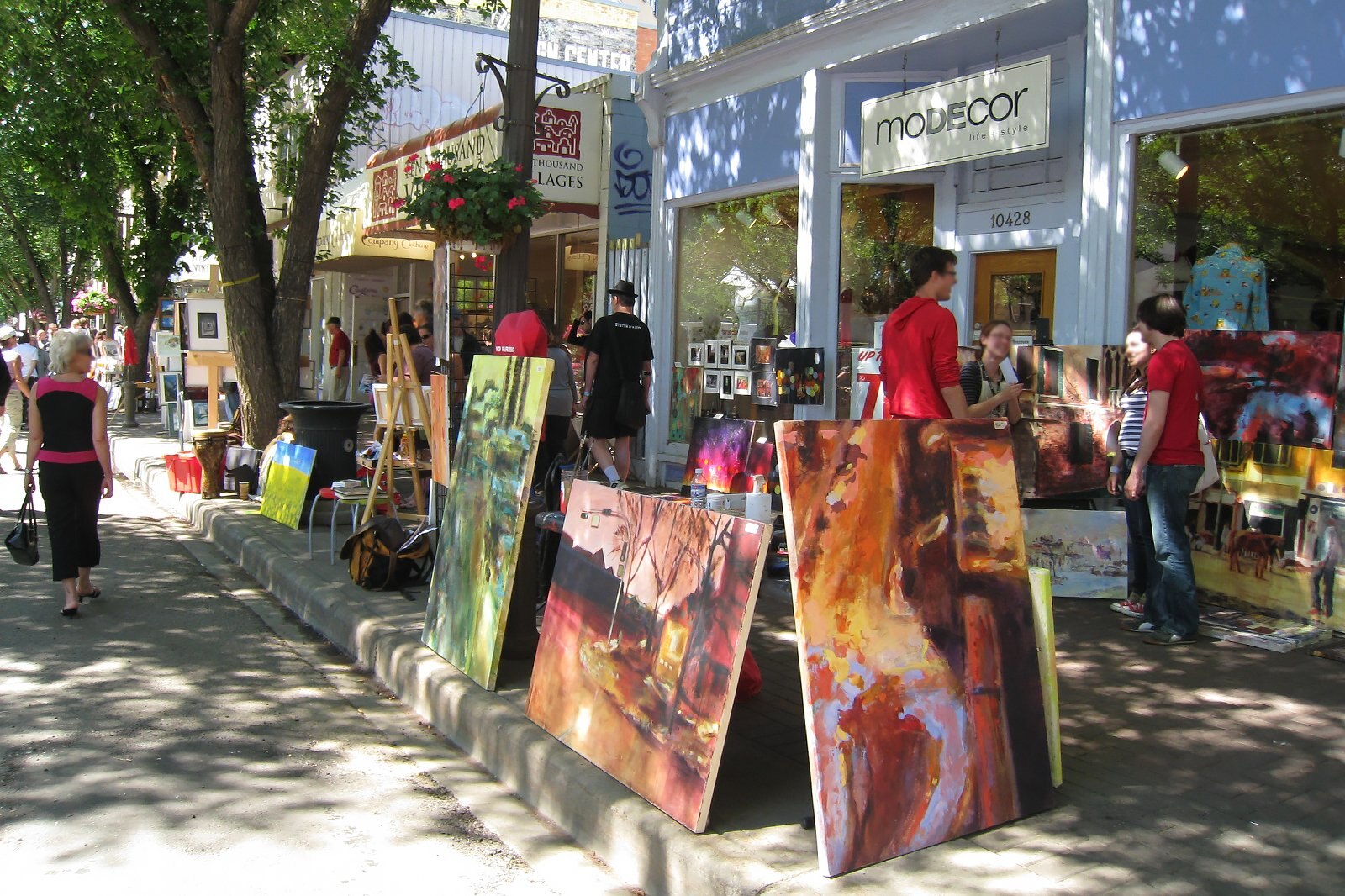 Edmonton's Whyte Avenue serves as the main route that runs through the Old Strathcona historical neighbourhood in downtown. It also happens to serve as an open-air venue for Edmonton's Art Walk, which is usually held in July. This is when the avenue turns into an outdoor art studio, with painters and illustrators putting up their canvasses and easels all along its 4 km length. This allows art-lovers to watch masterpieces take shape before their eyes, and you can even get a good price to buy them directly from their creators.
Location: 82 Ave NW, Edmonton, AB, Canada
photo by Mack Male (CC BY-SA 2.0) modified
10
100 Street Funicular
Enjoy scenic rides overlooking the downtown skyline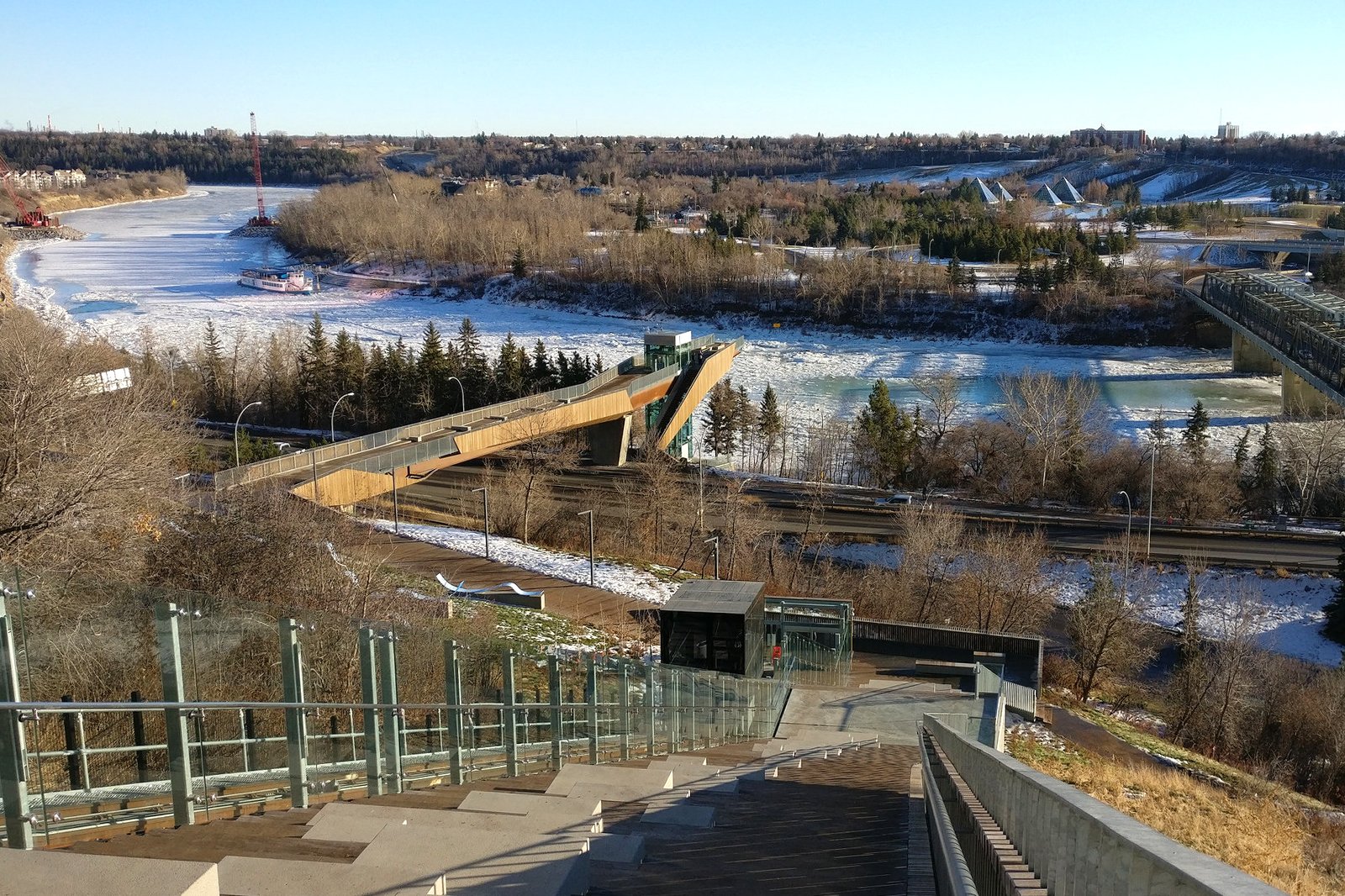 The Mechanized River Valley Access in Edmonton was established to provide easy access to the North Saskatchewan River Valley and is now best known as the 100 Street Funicular. A platform allows you to take in amazing panoramas from the top bank near the Fairmont Hotel Macdonald, then you can proceed down the flight of stairs and across the promenade and bridge towards the glass-enclosed funicular. The smooth ride down provides you with wonderful views over the curves of the river and the downtown skyline.
Location: 10065 100 St NW, Edmonton, AB T5J 0N6, Canada
Open: Daily from 7 am to 9 pm
Phone: +1 780-944-5555
photo by Mack Male (CC BY-SA 2.0) modified
Back to top