The Landmine Museum represents an agonising window into the realism of the country's land mine situation – during Cambodia's 3-decade-long conflict, approximately 6 million land mines were planted in the nation. This museum was founded in 1997 by Aki Ra, with the aim to make the country safe through the removal of mines from wherever he could find them. Aki Ra was forced to work as a minelayer by the Khmer Rouge, planting land mines from an age as young as 5 years old.
Later, as part of the United Nation's endeavour to restore peace in the country during the 1990s, Aki Ra got the opportunity to work as a de-miner. Though the UN left the country in 1994, he continued the mission in his own way, even though it was not according to international de-mining standards. Initially, Aki Ra turned his own home on the outskirts of the Siem Reap into a museum, displaying decommissioned bombs, land mines and other explosive weapons that he'd unearthed since 1995.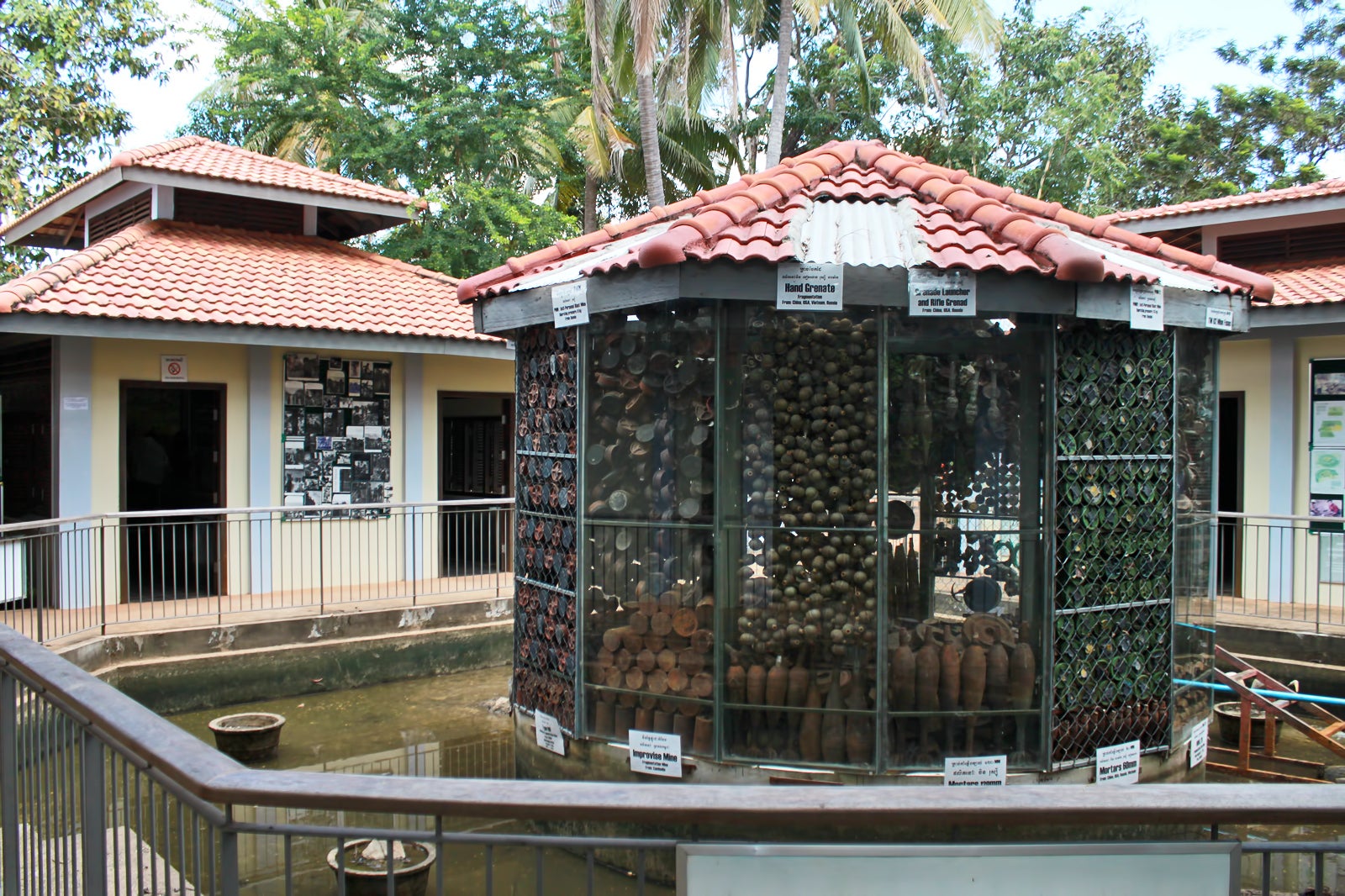 In 2001, Canadian photojournalist Richard Fitoussi founded the Cambodia Landmine Museum Relief Fund (CLMMRF) in Canada to promote and raise funds for Aki Ra's work.
From legal and monetary support to providing an NGO license for the museum's relief facility that serves as a safe residence for disadvantaged children, the CLMMRF became instrumental in realising most of Aki Ra's goals. For one thing, he was able to find a better venue for the museum, which was officially opened on 22 April 2007.
Cambodia Landmine Museum
The Landmine Museum is one of the most popular attractions in Cambodia, after Angkor Wat. The key highlight of the museum is its 4 galleries containing a vast assortment of deactivated arms that not only throw light on the land mine curse in the country but also the consequences of wars.
The displays include hidden mines, mortars, booby traps, guns and other ordnance recovered from different parts of the country. A small shop and an area devoted to carrying out the works of his NGO can also be seen here. Perhaps the best aspect of this museum is that it serves as a source of income for amputees to support their families, in addition to caring for hundreds of children badly affected by poverty and mine laying.
The Landmine Museum holds the distinction of being the first of its kind in the world. It's completely safe and abides by all protocols put forward by the Ottawa International Treaty to Ban Land Mines and the Cambodian Mine Action and Victim Association Authority (CMAA). Located within the Angkor Wat Archeological Park, the Landmine Museum is about 5 km from Banteay Srey Temple or roughly a 30-minute drive from Siem Reap. A donation of about US$1 per person is required to enter the museum.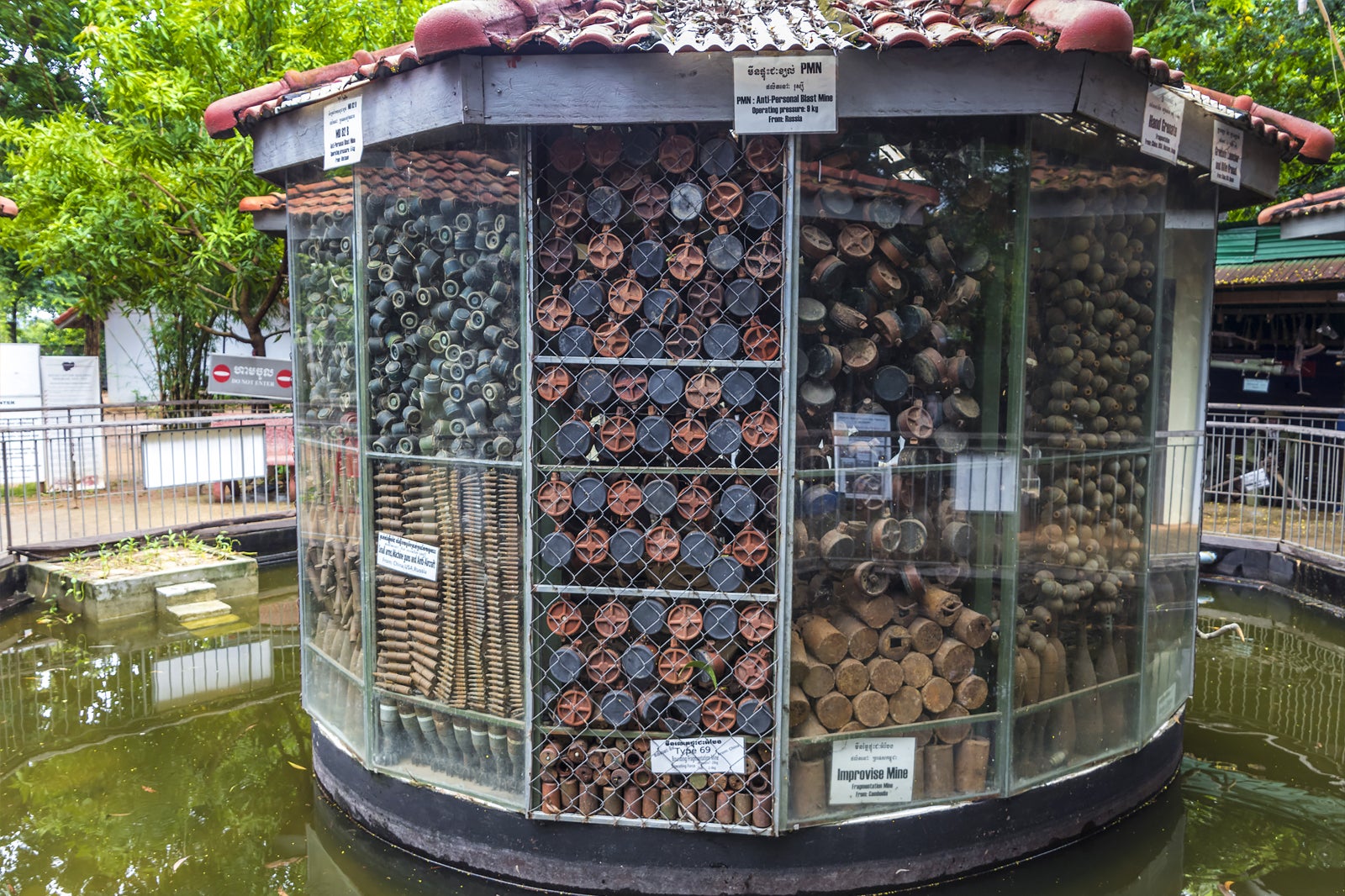 Cambodia Landmine Museum in Siem Reap
Location: Angkor Archeological Park, Siem Reap, Cambodia
Open: Daily from 7.30am to 5.30pm
Phone: +855 15 674 163