10 Incredible Places in Bulgaria Only Locals Know
Taking You Off The Beaten Track in Bulgaria
Bulgaria is often overlooked by travellers visiting Eastern Europe, but the country boasts a variety of astonishing spots and natural wonders. Nature lovers can enjoy the wilderness at the Belogradchik Rocks and The Seven Rila Lakes, while Cape Kaliakra is where you can spot a variety of marine wildlife.
Bulgaria also has plenty of quaint towns where you can soak up some history or join in a classic Bulgarian festival. Manmade relics such as The Evksinograd Residence and Rila Monastery offer hours of sightseeing and photo-taking. If you're thinking of getting off the beaten track on your trip, check out our guide on incredible places in Bulgaria you've probably never heard of.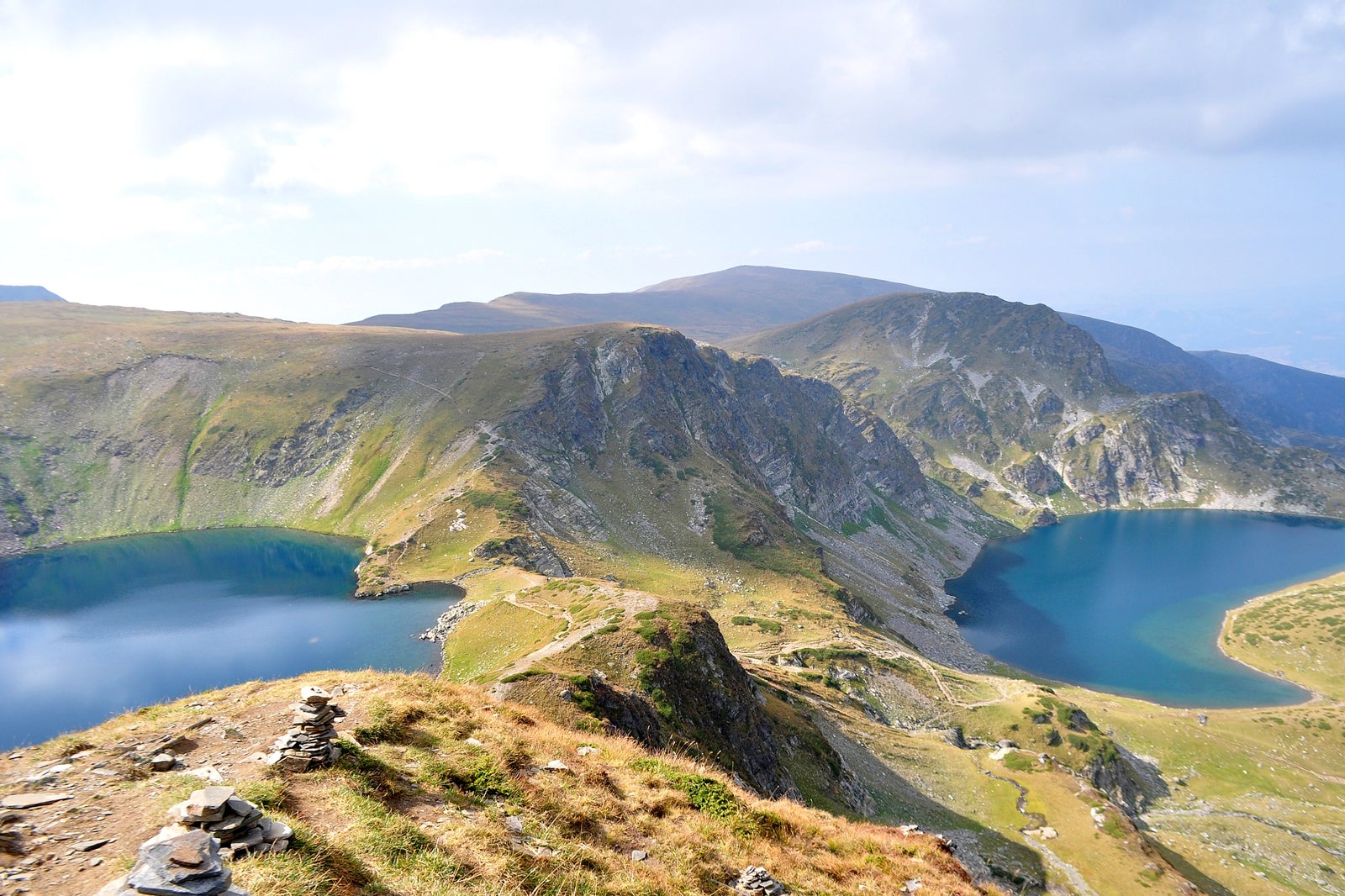 Seven Rila Lakes
Enjoy a panoramic view of 7 glacial lakes
The Seven Rila Lakes lie in the north-western part of the Rila Mountains in Bulgaria. Each glacial lakes is named after its shape or distinctive element – The Eye Lake, The Tear Lake, Lower Lake, The Kidney Lake, The Fish Lake, Twin Lake, and The Trefoil Lake. Hike to the mountain ridge of Lake Mount to enjoy panoramic views of all 7 lakes.
The best time to visit the lakes is from July to August when the chances of rain are low. The Seven Rila Lakes are part of the Rila National Park, where you can rent cabins close to the lakes. You can also opt for a hotel in nearby Panichishte or Sapareva Banya.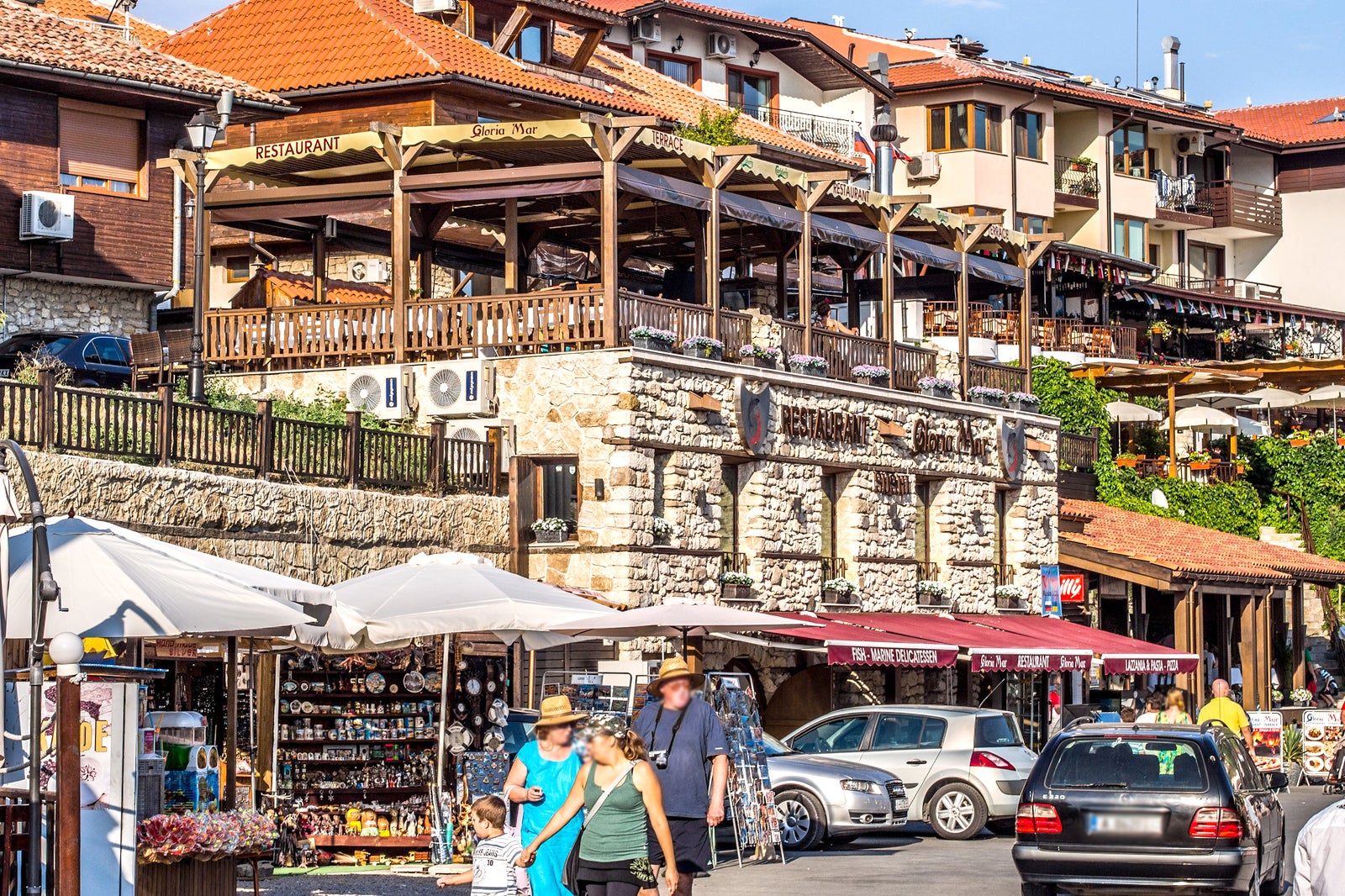 Nessebar
UNESCO town with beautiful beaches and an ancient fortress
Nessebar is a UNESCO World Heritage Site, where you can explore the ancient city fortress, atmospheric church ruins, and many interesting museums. It's one of the oldest towns on the Bulgarian Black Sea coast, with most of the city remains dating back to the Hellenistic period (323–31 BC).
For a more relaxing getaway, head to Nessebar's Southern Beach. This white-sand beach is lined with seafood restaurants that offer classic Bulgarian dishes such as tsatsa (fried whole fish) and tarator (cold soup made with cucumbers, yoghurt, garlic and dill). The best way to see Nessebar is by taking one of the panoramic trains circling the city. A ride costs less than £1 and allows you to get from one part of town to the other in less than 10 minutes.
photo by Sergey Galyonkin (CC BY-SA 2.0) modified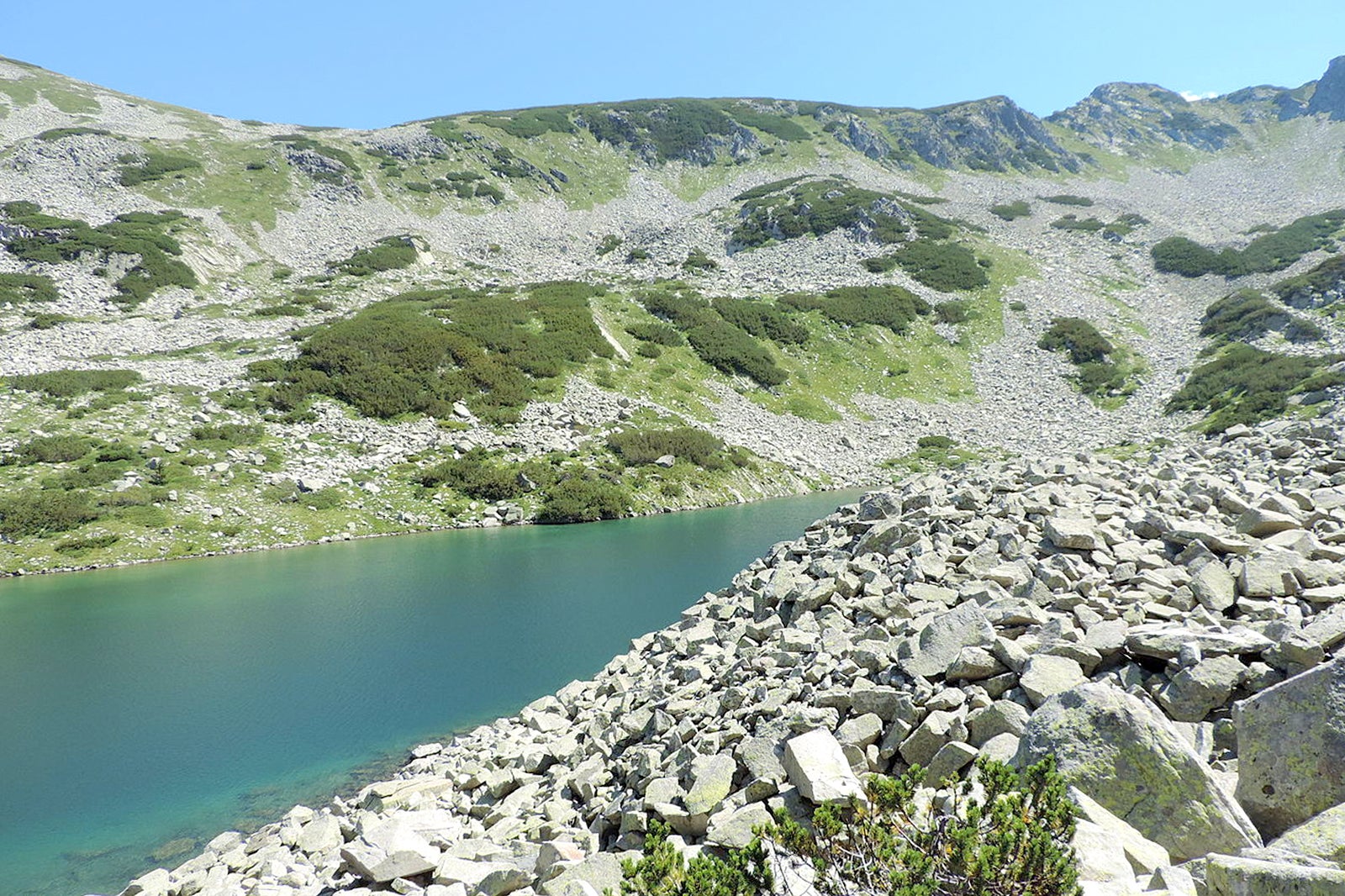 Pirin National Park
Hiking trails leading to glacial lakes and waterfallst
The Pirin National Park in southwestern Bulgaria boasts a mountainous landscape with glacial lakes, waterfalls, caves, and forests. While this park (and UNESCO World Heritage Site) attracts mostly experienced hikers with its challenging trails, you can find relatively easier hikes at Mount Vihren, the second highest peak in Bulgaria. A roundtrip hike from the main base to the summit takes about 6 hours, and you'll be rewarded with some of the most beautiful views in the country.
Pirin Nationa Park is also home to Banskoa, a wintertime resort with some of the longest ski runs in the world. You'll find several mountain bungalows within Pirin National Park, most of which offer nightly rates for about £5 per person.
photo by Спасимир (CC BY-SA 4.0) modified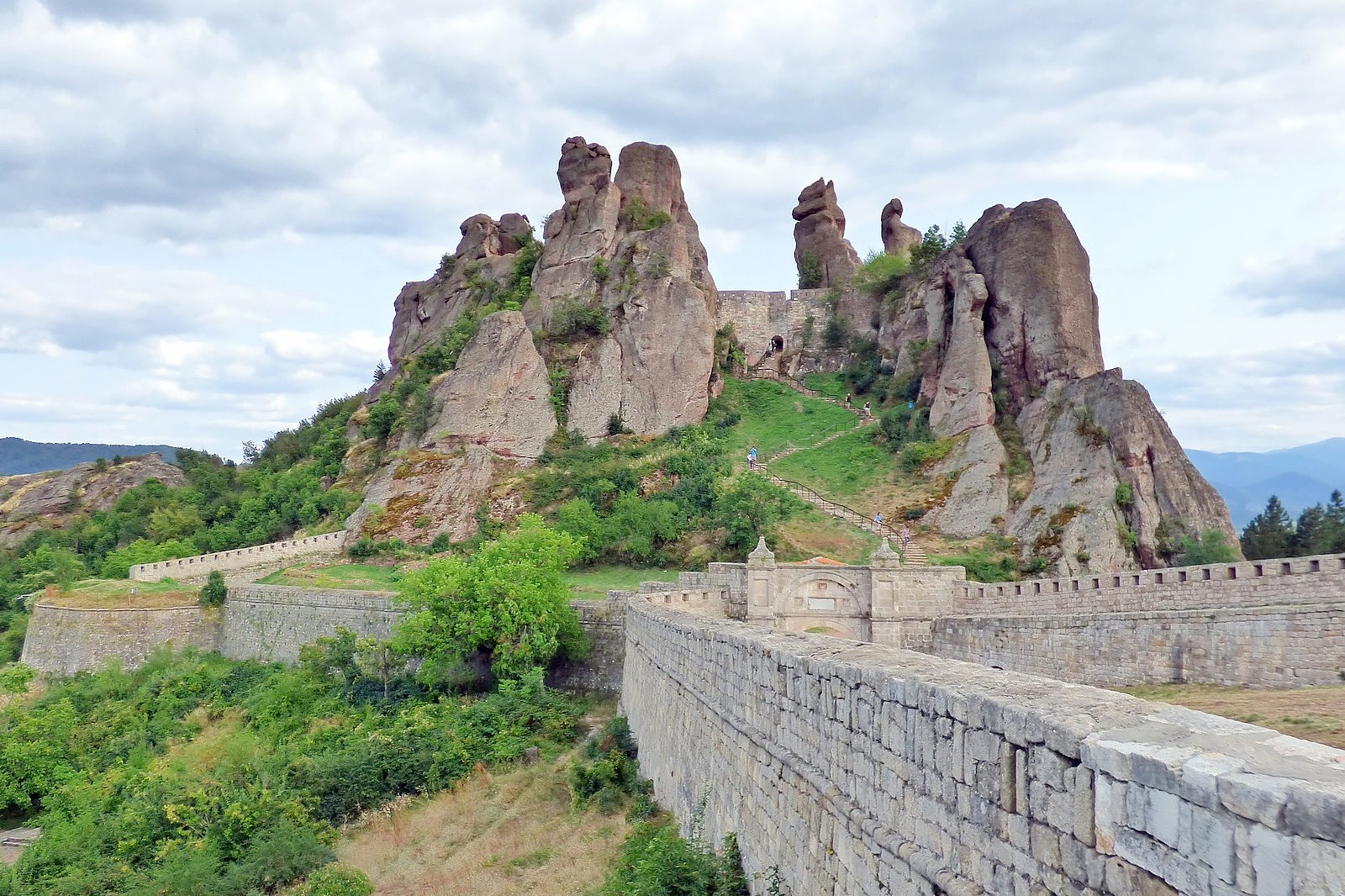 Belogradchik Rocks & Fortress
A natural wonder and ancient fortress
The Belogradchik Rocks are a natural wonder near the town of Belogradchik in northwest Bulgaria. The rocks vary in colour and reach up to 200 meters in height, towering and providing protection over the town's ancient fortress (of the same name). Spanning over 10,000 sq m, the entrance fee to the fortress costs approximately £2. Tours are self-guided.
Direct buses run to Belogradchik from Sofia about once a day, with a direct route that takes about 4 hours. While you're in Belogradchik, take a trip to Magura Cave, which lies 24 km northwest of Belogradchik Fortress – you can see preserved rock paintings dating back to prehistoric times.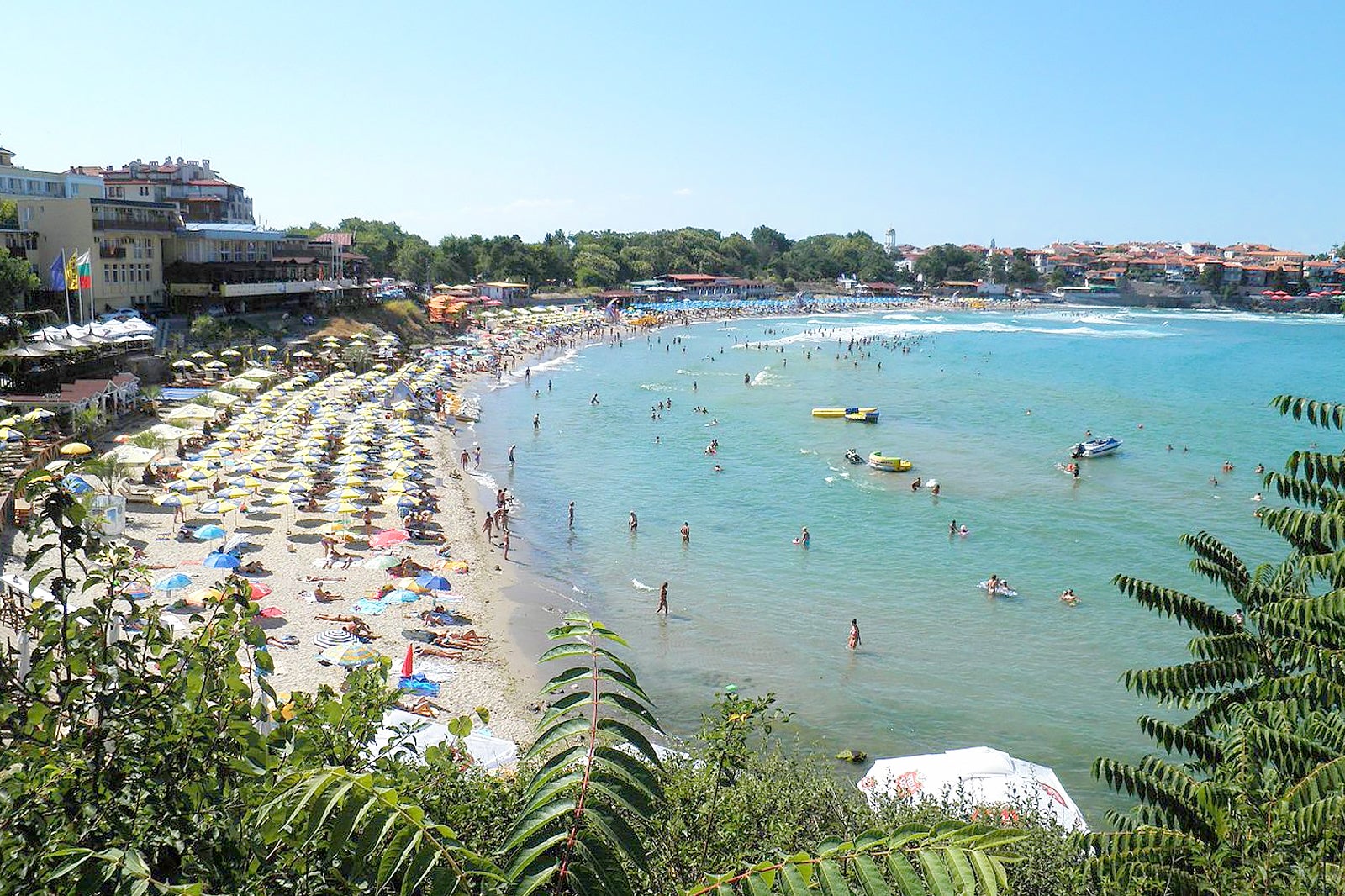 Sozopol
A coastal town with beautiful beaches and cobbled streets
The ancient coastal town of Sozopol is renowned for its charming cobbled streets, beautiful beaches, and fresh seafood. The Apollonia Arts Festival takes place in September, bringing in some of the world's most famous artists and filmmakers. The arts-and-music festival lasts for around 10 days, featuring 70 events such as plays, open-air film screenings, and jazz music concerts.
Sozopol is about 43.5 km away southeast of Airport Burgas – a public bus from Burgas Central station to Sozopol costs about £3 and takes 30 minutes.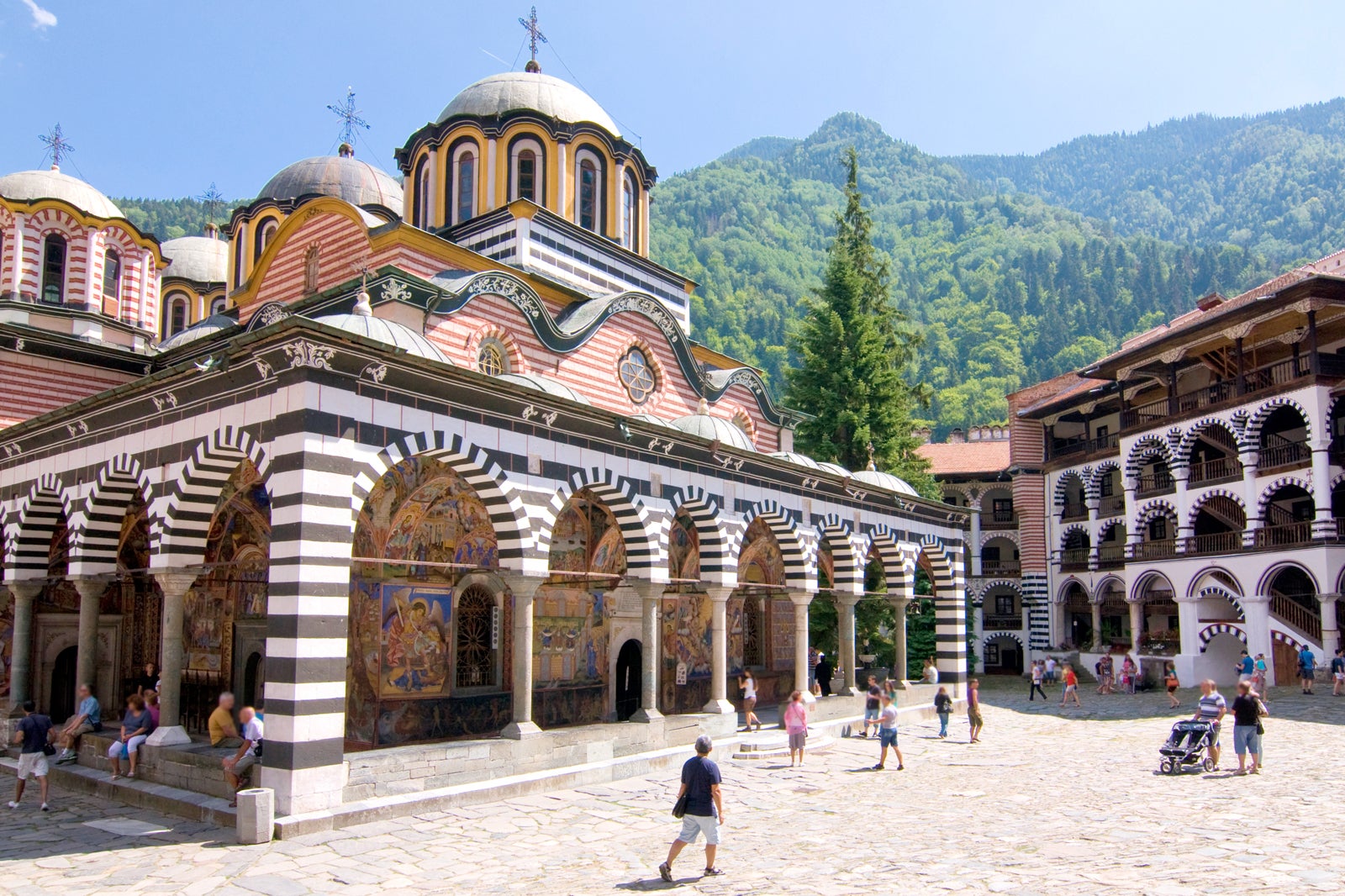 Rila Monastery
Historic convent known for its beauty and grandeur
Rila Monastery is one of the largest Eastern Orthodox monasteries in Bulgaria. Featuring colossal arches and an ancient courtyard, the functioning convent dates back to the 10th century – you can marvel at intricate murals and bask in the absolute silence of this UNESCO-listed convent.
Rila Monastery has an onsite museum that displays the 19th-century Rafail's Cross, which has around 104 religious scenes and 650 figures meticulously carved into the wooden cross. You can get to Rila Monastery from Sofia by bus, which departs at 10.20am from the western bus station.
photo by Raggatt2000 (CC BY-SA 3.0) modified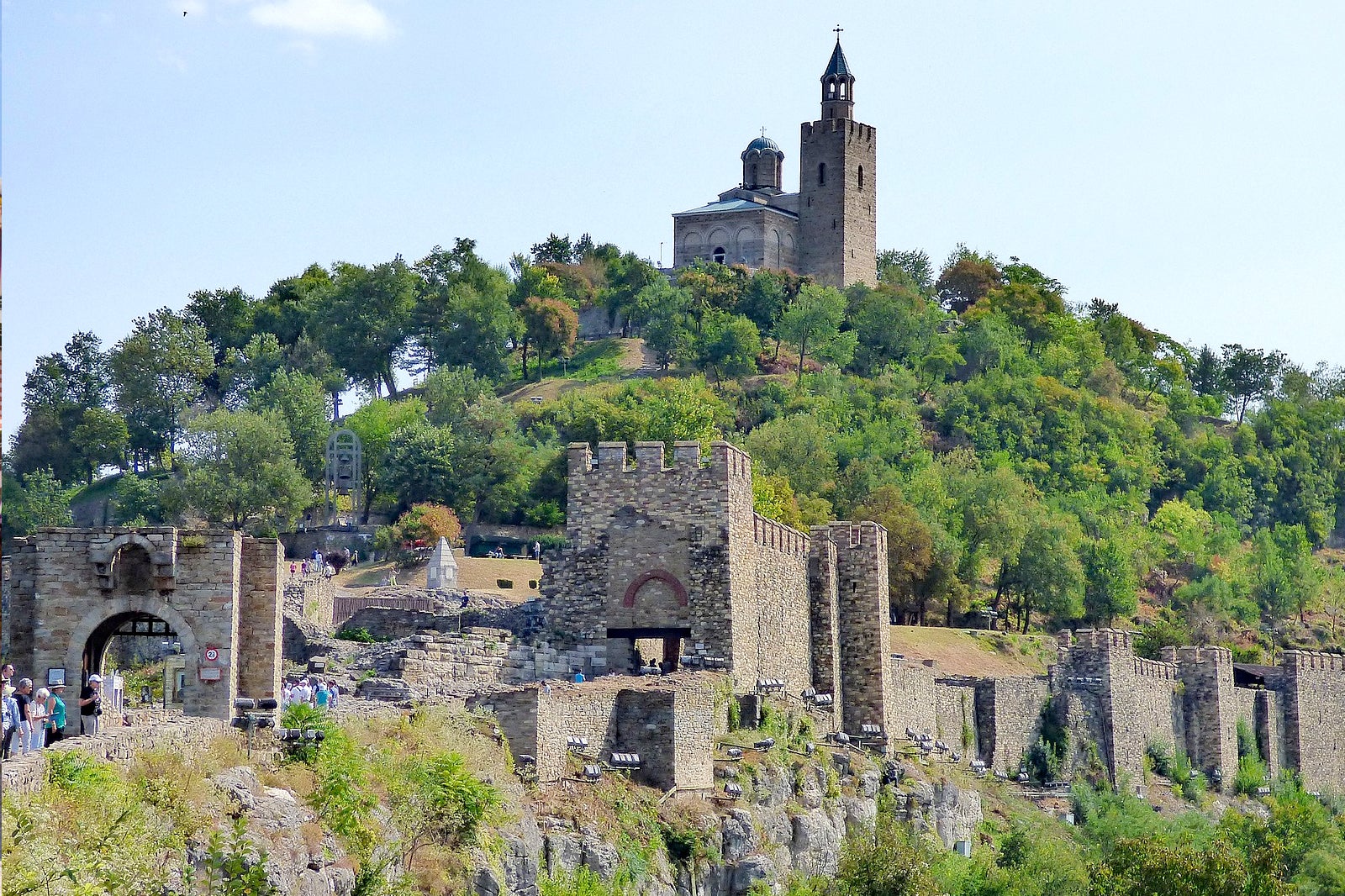 Veliko Târnovo
Charming town full of medieval history
Veliko Târnovo is built on 3 hills by the Yantra River, the tallest of which is home to the Tsaravets Fortress. Once the country's capital, the Bulgarian town is a blend of medieval history and modern charm. A bus ticket from Sofia costs around £10.
Visit the Patriarchal Cathedral, sail down the river, or join a free walking tour to see the city's unique architecture. Be sure to visit the famous Tsaravets Fortress, and head down to the Samovodska Charshiya market square to shop for authentic souvenirs, such as wooden masks and handcrafted jewellery.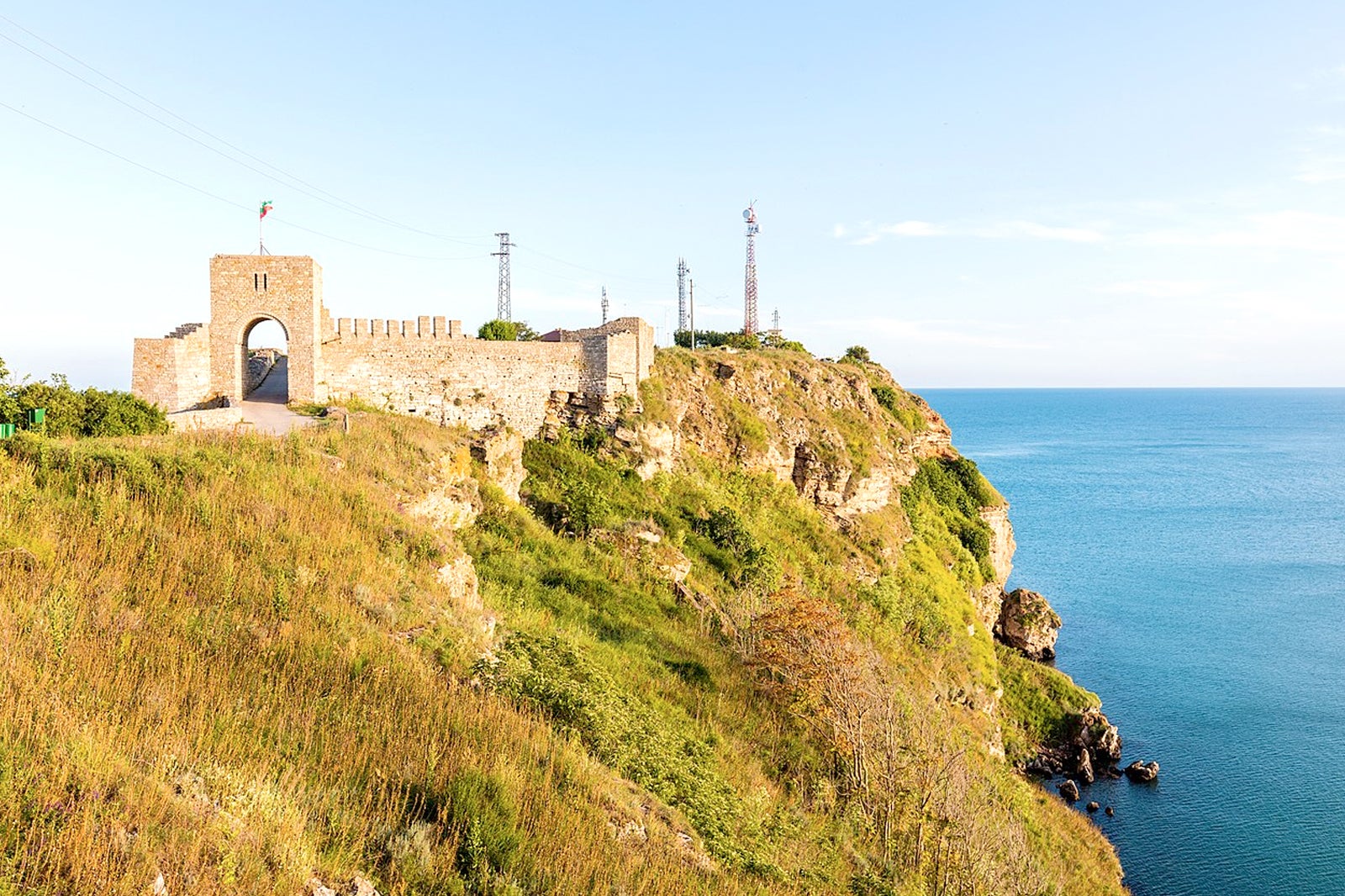 Cape Kaliakra
Spot dolphins and marsh birds at this scenic coast
Cape Kaliakra, located in the north of the Bulgarian Black Sea coast, boasts vertical cliffs reaching up 70 metres above sea level. Remnants of fortified walls, public baths, and temples dot the reserve, reminding visitors of Bulgaria's tumultuous history.
At the entrance of Cape Kaliakra, the famous 'Gate of the 40 Maidens' obelisk pays tribute to the maidens who jumped into the sea to escape Ottoman warriors. Dolphins, marsh birds, and over 80 rare species of plants can be found in the reserve. The easiest way to get Cape Kaliakra is via a £9 bus ride from Varna.
photo by Diego Delso (CC BY-SA 4.0) modified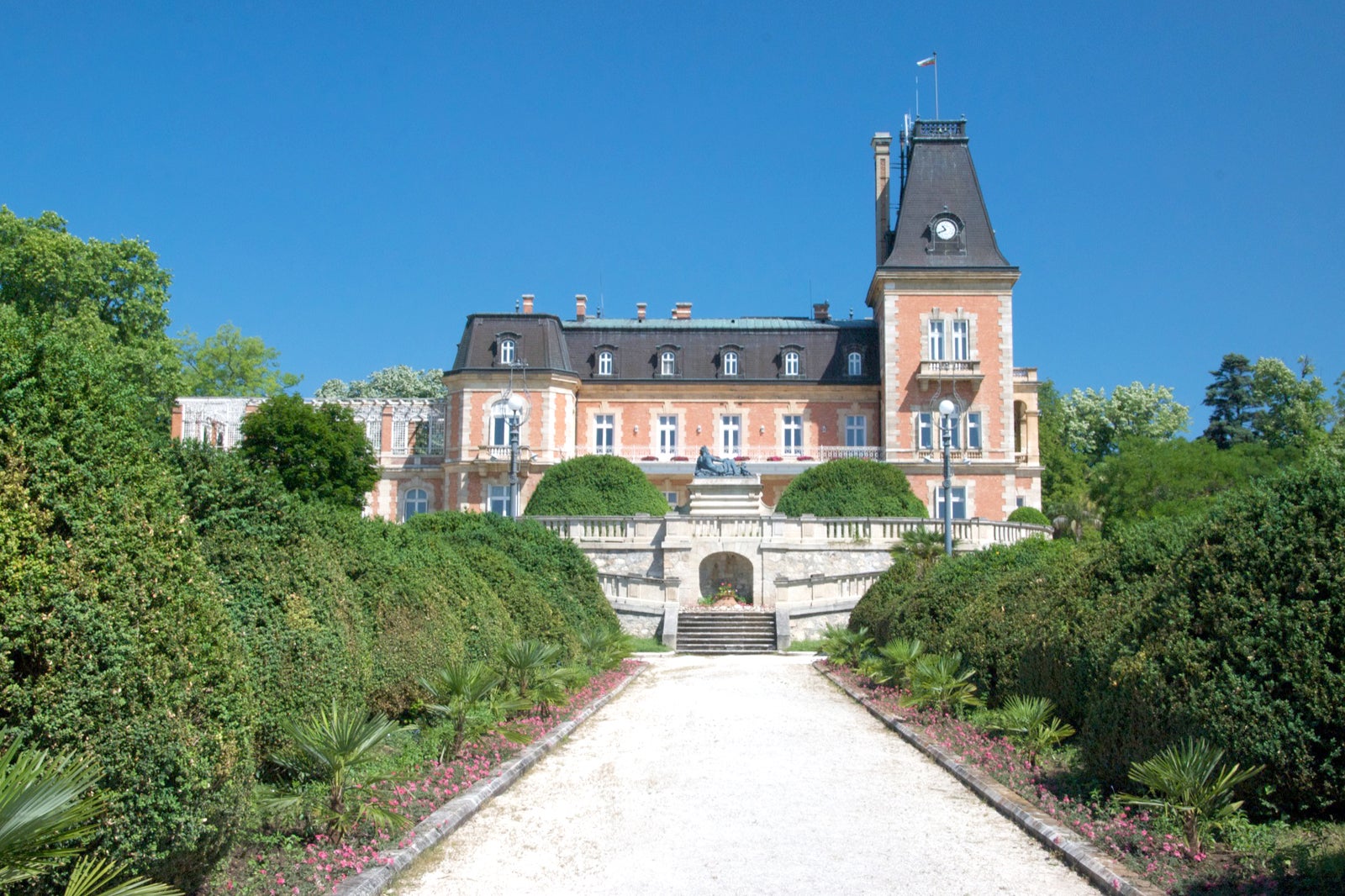 Evksinograd Residence
Former royal palace with a functioning winery
The Evksinograd Residence was the royal palace of Prince Ferdinand, but now welcomes visitors for private tours of the royal grounds. Marvel at gold-trimmed halls, authentic marble fireplaces, and French chandeliers. The palace's renowned vineyards produce 12 varieties of white wine and are considered among the best in Bulgaria.
Located 7.7 km east of Varna on the Black Coast, the Evksinograd Residence has several villas available for those looking to stay for a night or two. There's also a restaurant and a barbecue area, along with tennis, basketball, and volleyball courts.
photo by Alex Lovell-Troy (CC BY 2.0) modified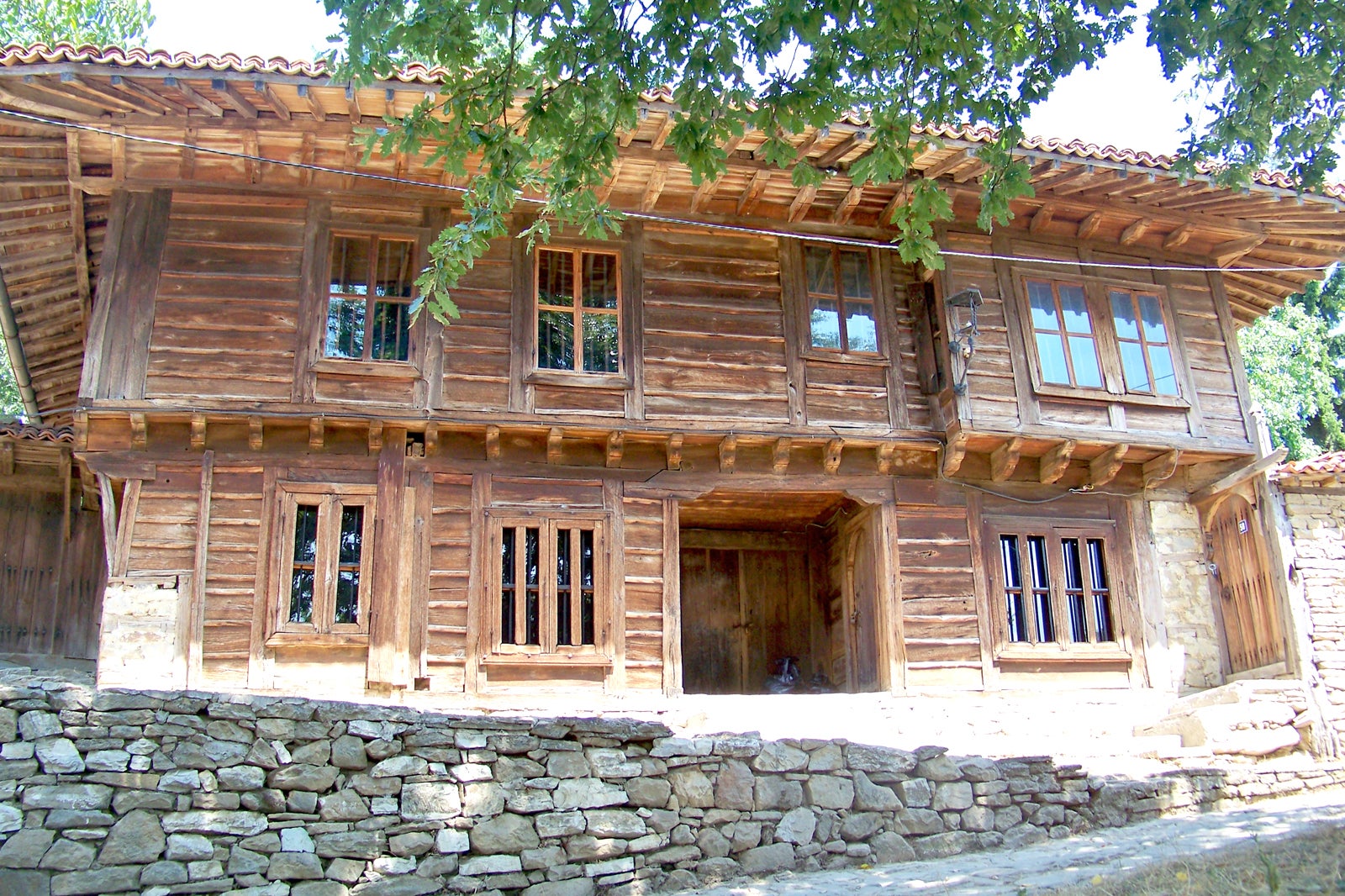 Zheravna
Where you can celebrate the Festival of Folklore Costume
Zheravna is an architectural reserve with narrow cobblestone streets and several fountains. Set in a small valley at the southern foot of the eastern Balkan Mountains, this quaint village has over 200 wooden houses built during the Bulgarian National Revival period (18th and 19th centuries).
Zheravna is usually busiest during its annual Festival of Folklore Costume, which takes place in August. During this 3-day event, people wear old folklore costumes or uniforms, sleep under the stars, and cook traditional Bulgarian meals over open fires. Local artists, musicians and warriors engage in workshops and re-enactments.
photo by Infobgv (CC BY-SA 4.0) modified