10 Best Street Foods In Brazil
Local Brazilian Food You Should Really Try
Brazilian street food is a real highlight of a trip to this evocative and eclectic country. Considering this is a place that excels at pastimes as diverse as football, jiu jitsu, and samba, it shouldn't be too surprising that Brazilian food also draws its flavours from a vast fusion of influences. The country's population is impressively diverse, including people of European, Amerindian, African, Levantine, and East Asian descent. This rich blend is reflected in the vast array of flavours to be found in its food.
It's said that if you really want to get to know a place you need to get to know the people and there's no better way of doing this than to eat what they eat. Luckily, Brazilian culture is lively and fun-loving and eating outside plays a large role in daily life. All of Brazil can be found in the copious amount of street snacks you will find at every turn. From refreshing smoothies that will rehydrate you by the beach, to the taste of old gaucho cowboy heritage at the churrascaria, the full range of sweet to savoury can be sampled in our list of the best street foods in Brazil.
1
Pão de queijo (cheese bread)
A light and fluffy snack with roots that reach back to the time of slavery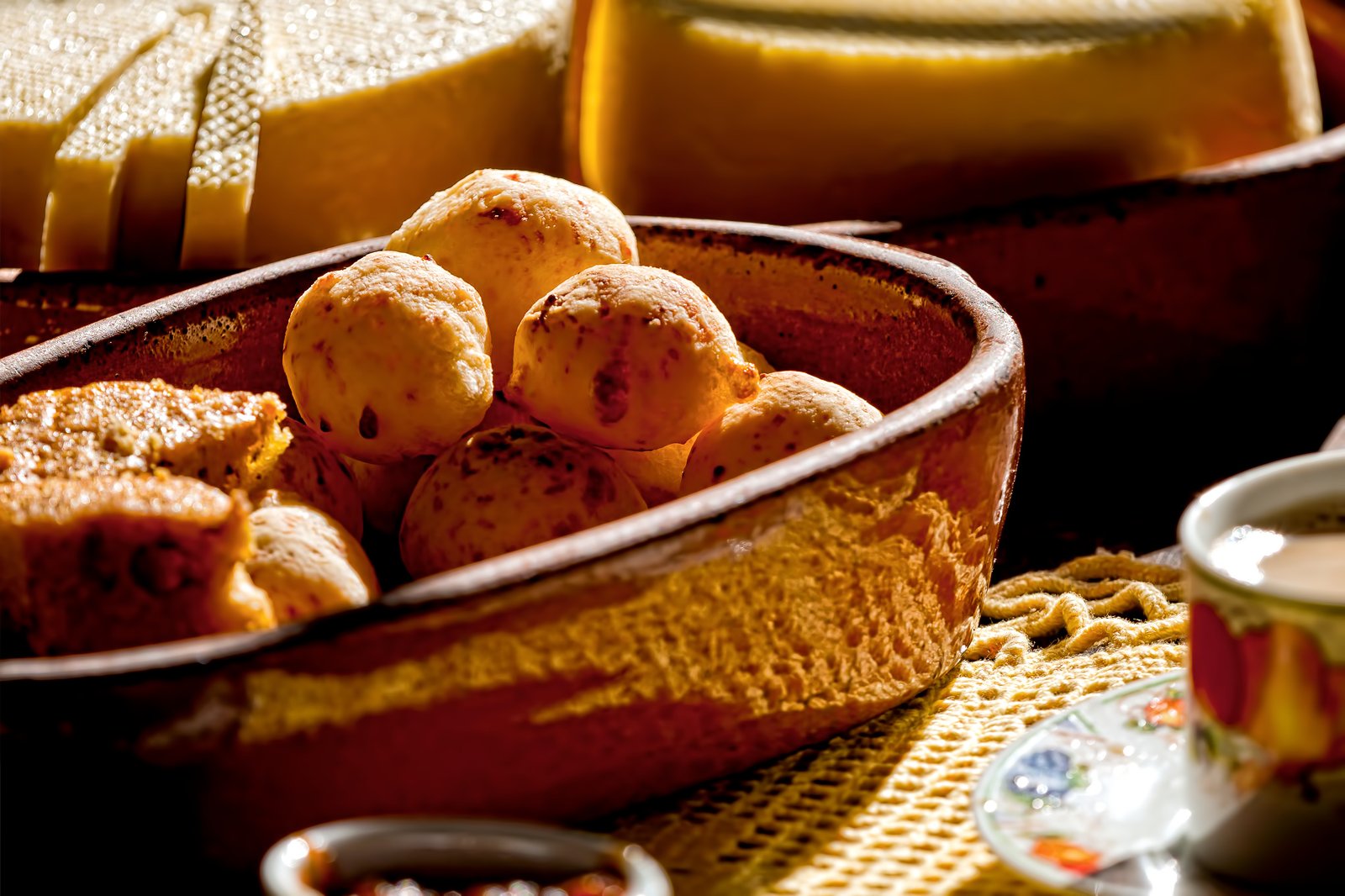 Literally 'cheese bread', Pao de Queijo are light and fluffy and made using soft cheese and cassava flour. Popularly eaten as a breakfast food, this snack can be eaten at any time of the day or night. They can be served 'as is' hot from the oven, or they can be cut open and stuffed with even more cheese, or jam if you are craving a sweeter fix.
Pão de queijo has its roots in the food of Brazil's African slaves who gathered the white starchy residue left over from the cassava preparation process and baked it. After the ending of slavery, locals in Minas Gerais, Brazil's diary centre, began to add milk and cheese to create the food we know today.
photo by Jonathan Wilkins (CC BY-SA 3.0) modified
2
Mandioca frito (cassava chips)
A distinctly Brazilian twist to good, old-fashioned chips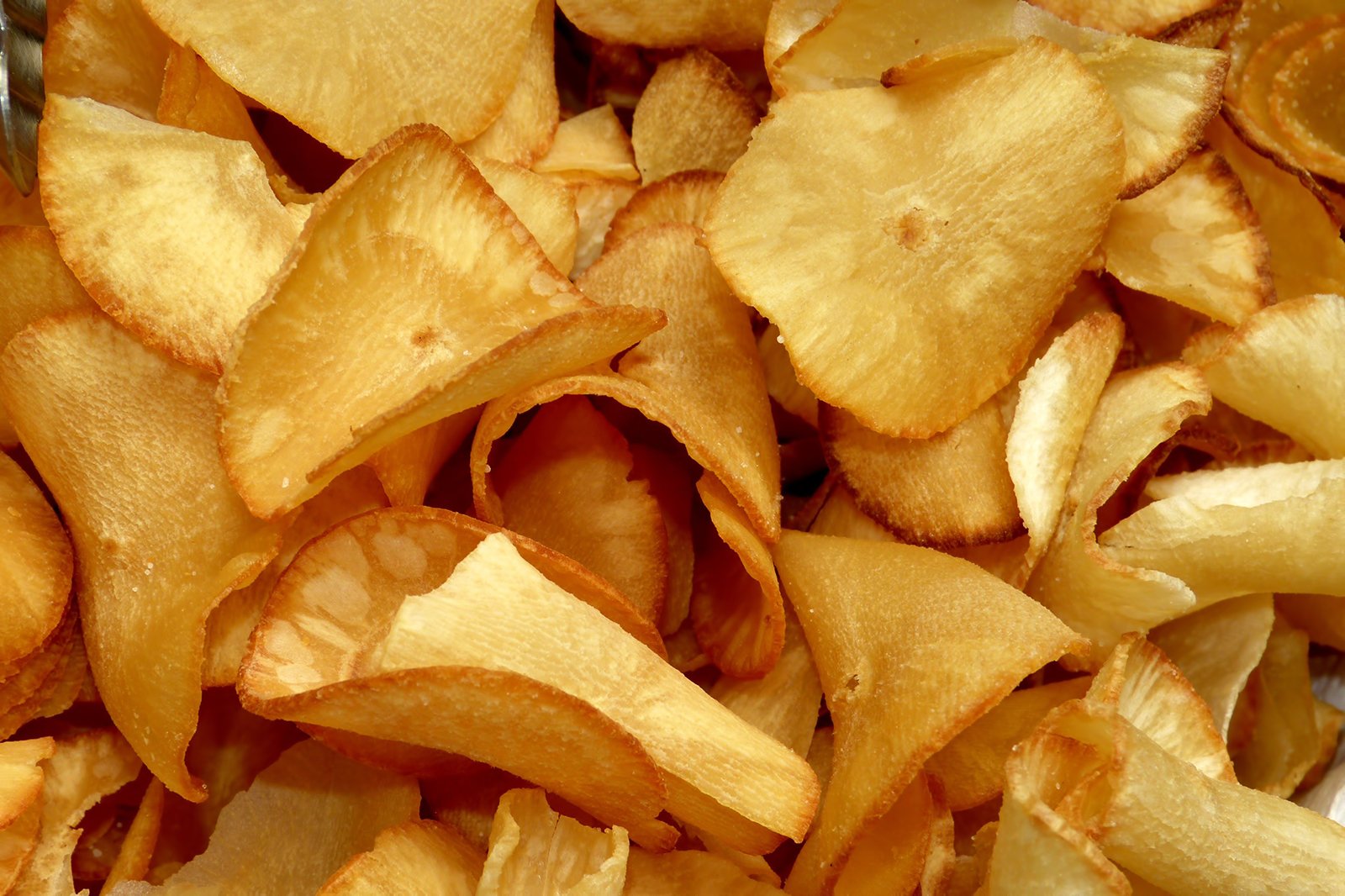 Cassava, or yuca as it is sometimes called, is an important staple in Brazilian cuisine. Though poisonous unless peeled and thoroughly cooked, cassava is the third most important carbohydrate source in the tropics and Brazilians love their cassava chips. Somewhat similar in taste and texture to potato chips, cassava chips are easy to prepare and make for a great snack food while enjoying a beer.
Even if the main ingredient of cassava chips seems uniquely exotic to you, it's likely you are familiar with it in some guise or other already. The same starchy root vegetable that is the source of cassava chips is the source of the pearls in bubble tea, and it's also the main ingredient in tapioca pudding.
3
Bolinhos de Bacalhau (fried cod cakes)
A delicious reminder of Brazil's European heritage
Bolinhos de Bacalhau translates literally from Portuguese to 'cakes of cod' and they are ubiquitous. You'll find them everywhere from bars and restaurants, to the street vendors on the side of the road. Crispy golden on the outside with a creamy mix of salted cod and potato on the inside, they usually come served with lime for that little bit of extra bite. They are formed using 2 spoons (giving them their round shape) and are usually served as appetisers, or as a snack food on their own.
Brazil's love affair with cod is part of its Portuguese heritage, as the fish is a staple in the seafaring nations of Portugal and its neighbour Spain. Proper etiquette requires they be eaten with a toothpick when sharing with friends.
photo by Christian Benseler (CC BY 2.0) modified
4
Kibe (meat patties)
A Brazilian interpretation of a Middle Eastern classic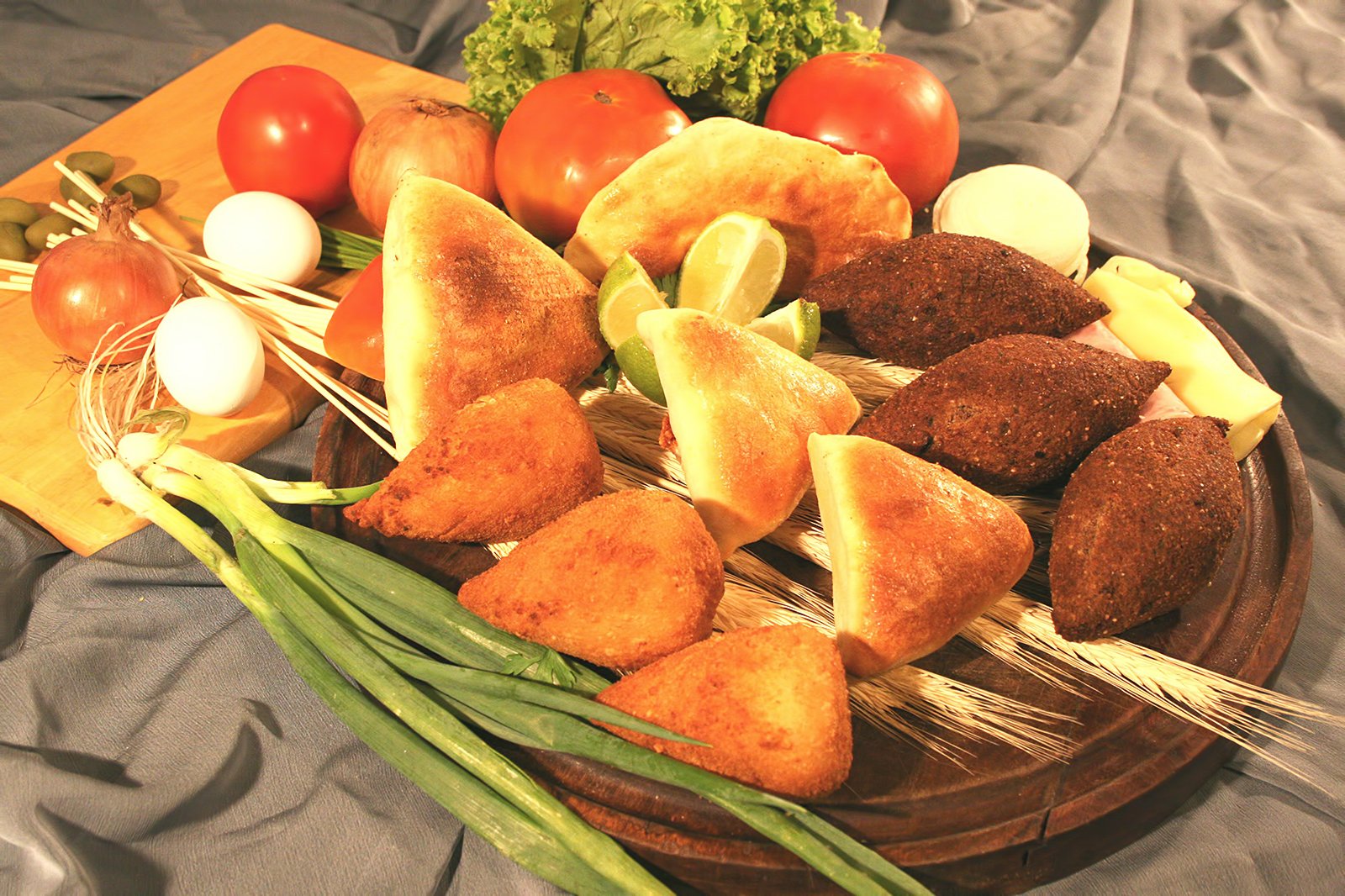 Though the roots of kibe lie in the Middle East, they have found a secure home amid the fusion of flavours that form Brazilian cuisine. And it is no wonder given its deliciousness. Made from a mixture of bulgur wheat, minced onions, and minced beef, the mixture is moulded into patties, seasoned with a variety of herbs and spices, and then fried. While other meats are used in their countries of origin, Brazilian kibe generally only use minced beef.
Kibe is believed to have arrived in Latin America with the Levantine immigrants in the 19th and early 20th centuries. This national dish of several Middle Eastern countries has now firmly established itself in not only Brazil, but in parts of Mexico and Colombia too.
5
Brazilian acarajé with vatapá (African-style falafel)
Set the taste buds tingling with this spicy street snack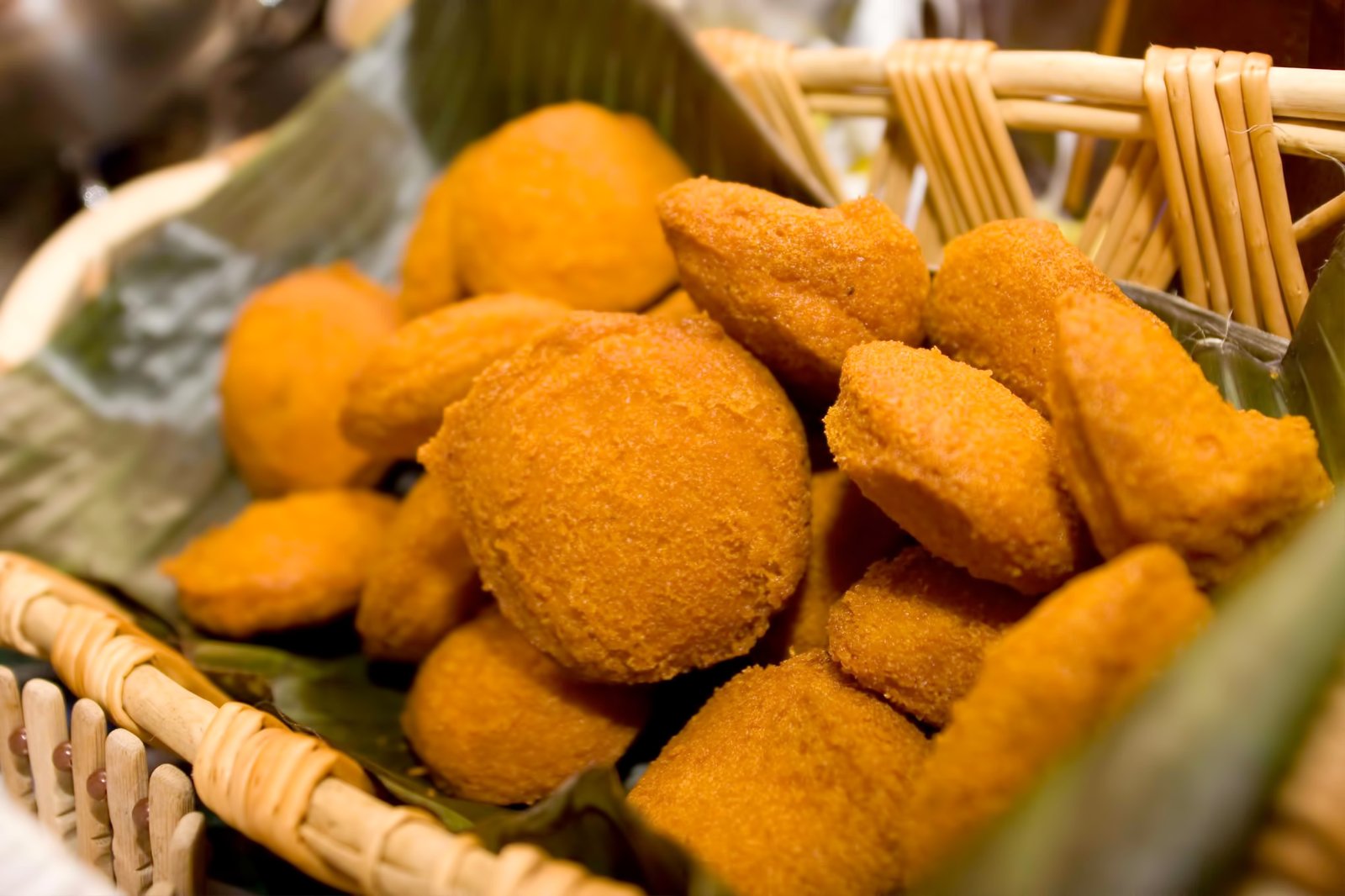 Nowhere is it more apparent that Brazil is a cultural melting pot than in the food its people enjoy. The fusion that is Brazil is well embodied in the dish acarajé with vatapá. To make acarajé, black-eyed peas are mashed and seasoned with salt, and chopped onions. The mixture is moulded into a scone-like shape before being deep-fried in palm oil. To serve, it is cut open and stuffed with vatapá, which is a spicy paste made from shrimp, nuts, bread, and coconut milk.
This dish has its roots in Africa, but in Brazil it's particularly associated with the northeastern state of Bahia, especially the city of Salvador. Now, it is a popular street snack all over Brazil, so you will likely be able to locate it in most population centres.
6
Picanha (barbecued beef)
It's all about the beef with this cowboy classic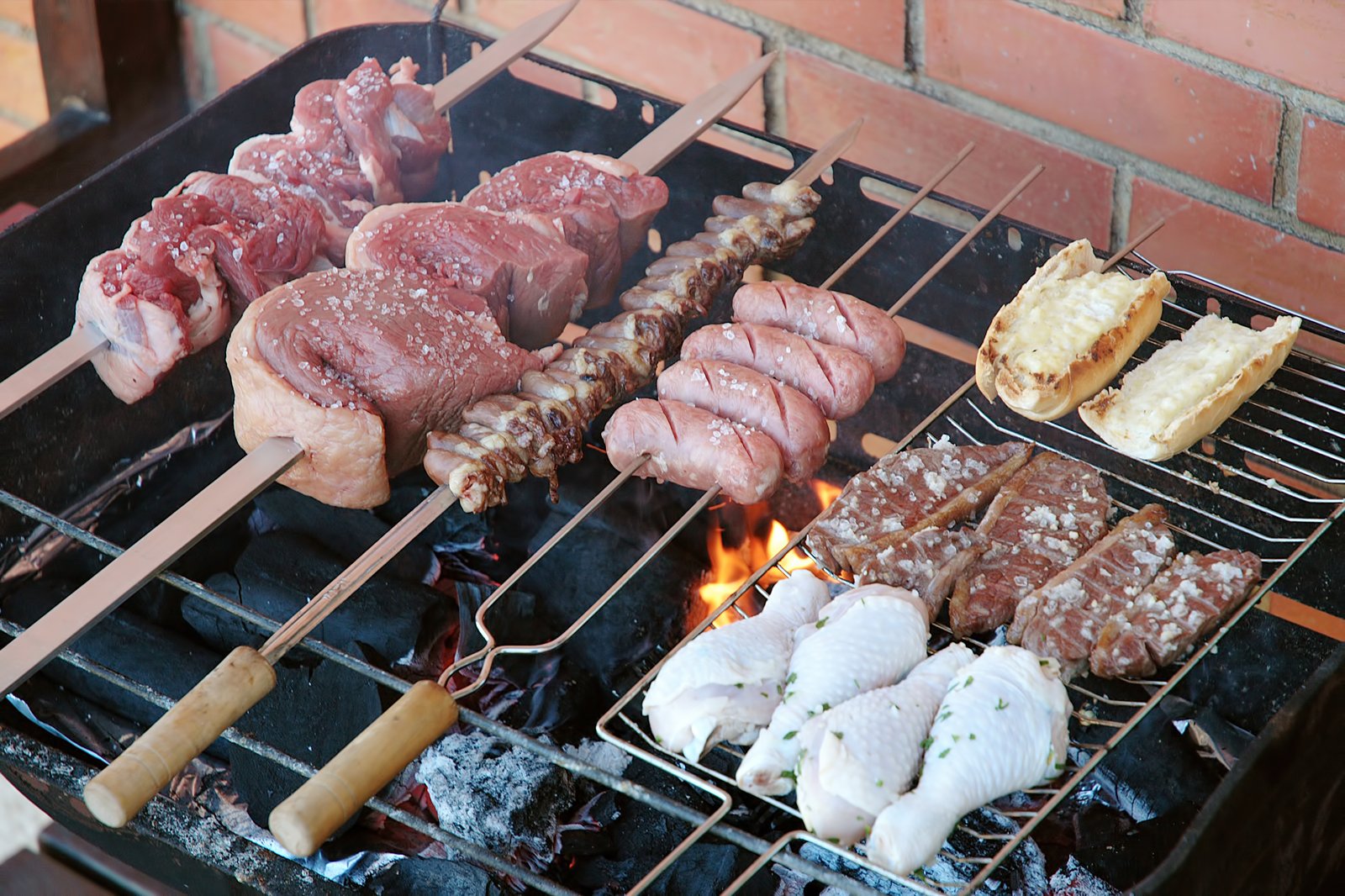 Picanha refers to a prized cut of beef that corresponds to the top part of a sirloin. This juicy and tender cut retains its fat, which lends it even more flavour when charred to perfection on the barbecue. It is usually seasoned with rock salt, though black pepper can be added too after it has been cooked.
There are a few theories on the origins of the name picanha, but each essentially derives the name from a branding iron that was used to brand cattle. The area on the cow's rump where it would receive the hot brand roughly corresponds to the area where the cut of beef would be taken from.
photo by Leonardo "Leguas" Carvalho (CC BY-SA 2.5) modified
7
Coxinha (chicken croquettes)
Crunchy chicken croquettes fried to golden perfection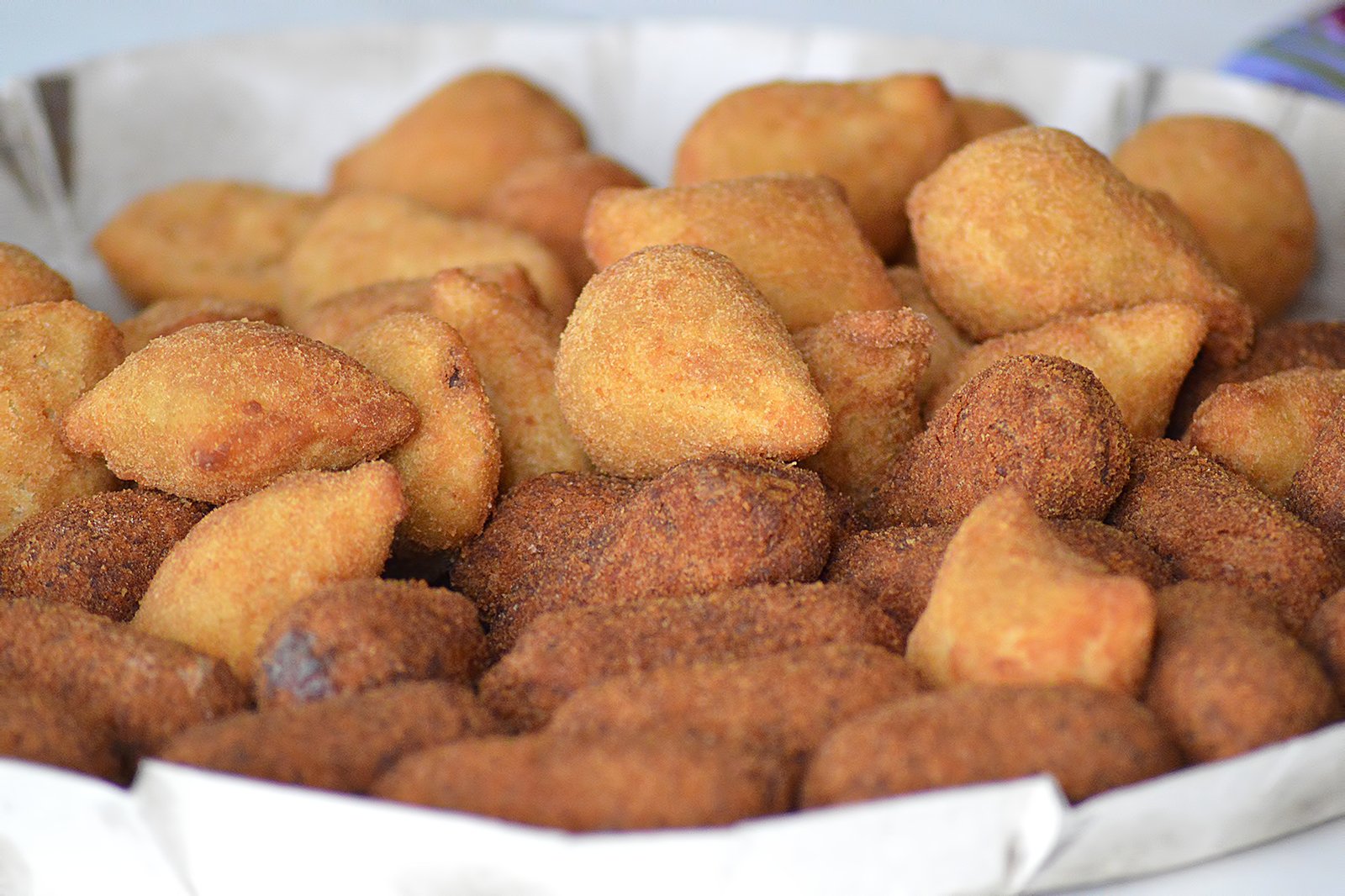 Taste is the primary criteria for street food, and so it should be no surprise to see another deep-fried entry on our list. Coxinha are crunchy croquettes formed from a layer of dough coated with breadcrumbs. These are manipulated into the shape of a chicken drumstick, reminiscent of what would have been the snack's original filling. The results are fried to a golden perfection that provides a satisfying crunch when bitten into.
The most common filling for coxinha is shredded chicken and the soft, creamy cheese Catupiry. Today, however, it is possible to find non-standard variations employing everything from fruits to vegetables. Originally from São Paulo, this classic Brazilian comfort food is now popular throughout the country.
8
Açai na Tigela (Açai in the Bowl)
Indulge your sweet (or savoury) tooth with this breakfast favourite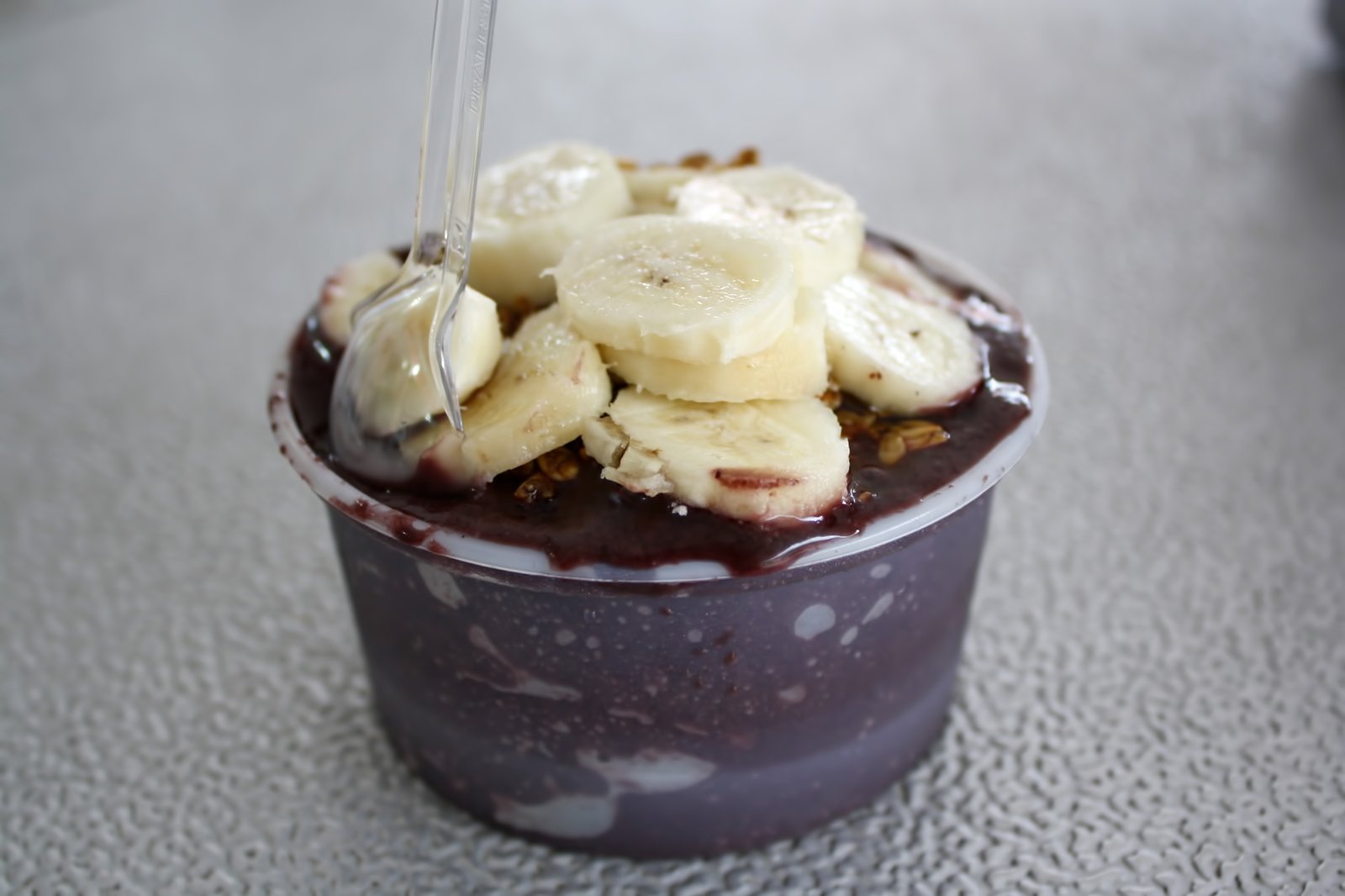 Açai na tigela consists of frozen açai palm fruit mashed into a smoothie and served in a bowl or a glass. Though the dish is popular throughout Brazil, there are some differences in traditional preparation from region to region. In the north of the country, where the dish originated, a savoury version employing shrimp or dried fish with tapioca is common. In the south, the açai palm fruit is often mixed with other fruits or guaraná syrup and topped with banana or granola.
Açai na Tigela is commonly sold from beachside kiosks along the coast, or in juice bars in cities such as Pará, Rio de Janeiro, or São Paulo. Often eaten for breakfast, this summer favourite can serve as a convenient vegetarian or vegan go-to in meat-loving Brazil.
9
Brigadeiros (chocolate balls)
Indulge yourself with this simple sweet treat with a military past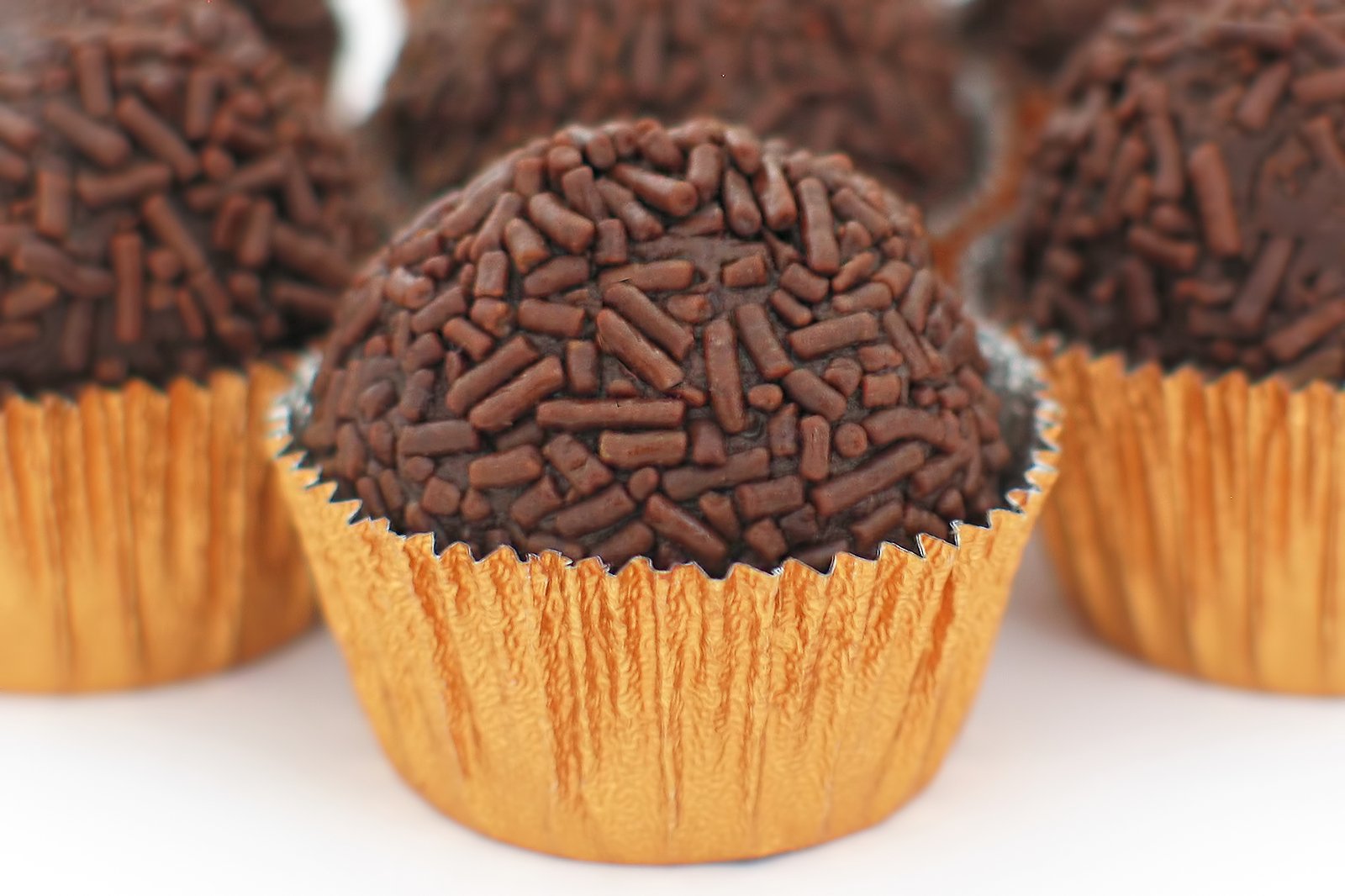 Named after Brigadier Eduardo Gomes, a famous Brazilian political figure of the 1940s, Brigadeiros are chocolate sweets that are popular with sweet-toothed adults and children alike. Requiring little more than condensed milk, butter, and cocoa powder to make, these sweets became popular during World War II due to the fact that no fresh ingredients are required to make them.
To this day, this chocolate temptation maintains its popularity at the numerous festivals and carnivals Brazil is famous for. This soft chocolate treat can come decorated with almonds, pistachios, or coconut flakes – as if they weren't tasty enough already.
photo by Mayra Chiachia (CC BY 2.0) modified
10
Pastel de queijo (deep-fried cheese pastry)
A deep-fried cheesy treat to tickle the taste buds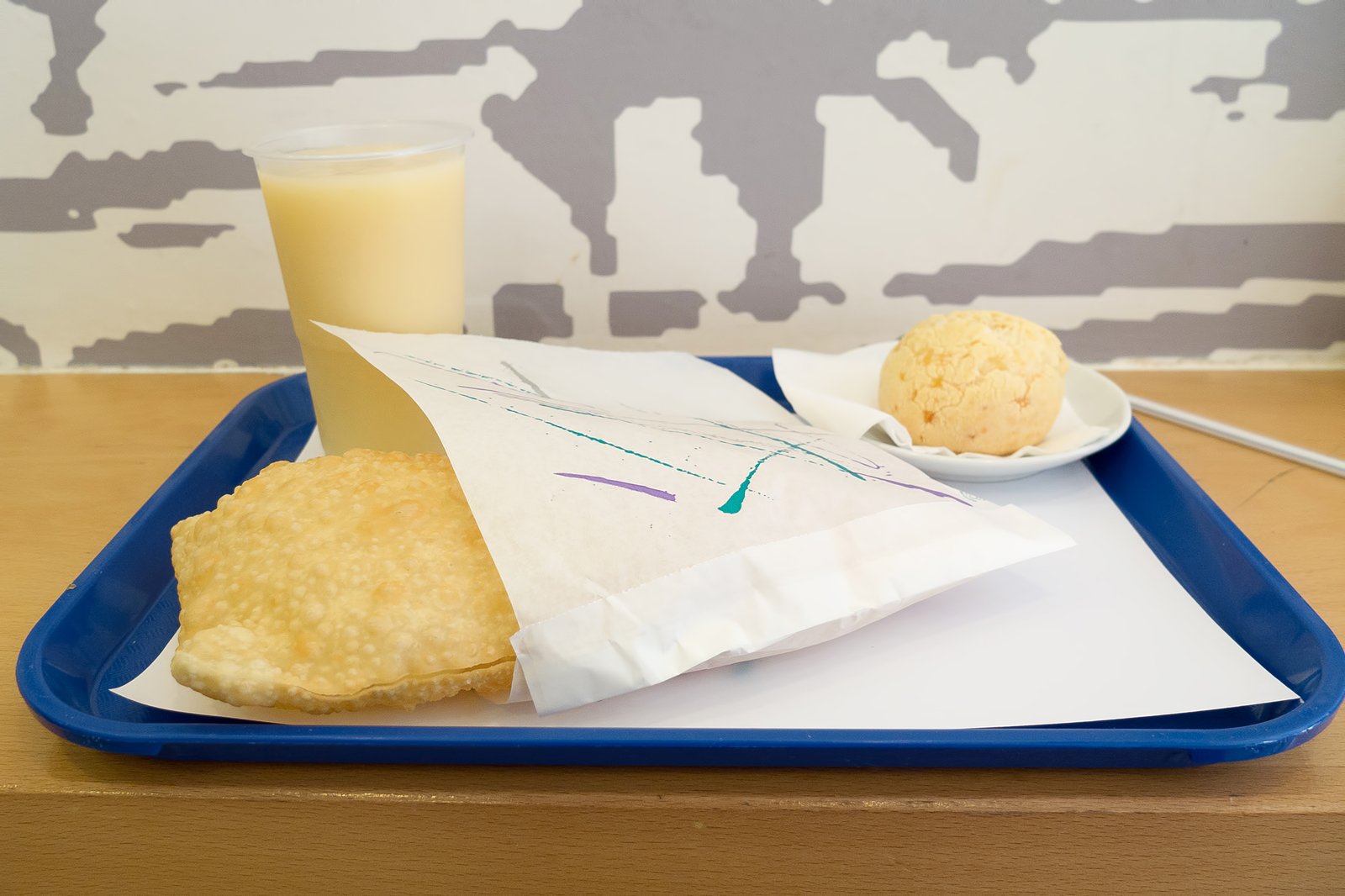 This delectable deep-fried treat is most popular in the southeast, particularly in São Paulo and the surrounding regions. Usually savoury, this snack-sized street food consists of a crisp pastry which can be stuffed with ground beef, chicken, melting cheese, or heart of palm. Sweeter takes on the well-loved recipe can also be found – with chocolate, caramel, and various tropical fruits available for the more sweet-toothed traveller.
Usually rectangular in shape, these thin crust pastries can be found everywhere from farmers' markets to sit-down restaurants. However, their handy size, ease of preparation, and general yumminess see them fit the bill perfectly as street food fodder.
photo by Flavio Ensiki (CC BY 2.0) modified