10 Date Ideas for Couples in Vienna
Vienna's Most Romantic Places
Vienna is considered one of the most romantic cities in the world, and with good reason. The city's splendid showcase of Austrian grandeur includes well-preserved palaces, museums, and beautiful city squares and gardens. Your romantic walks throughout the city are often serenaded by the classical pieces of Mozart, Beethoven, and Brahms.
Enjoy an intimate whirl through chandelier-lit coffee houses and storybook Habsburg palaces. Waltz along the blue Danube, or live royal fantasies in fairy tale-like palaces. Taking Vienna's most romantic places into account, we've gathered some great date ideas for couples in Vienna to help you can find your vision of romance in the city.
1
Stroll through Schönbrunn Palace's gardens
Follow the footsteps of the Habsburgs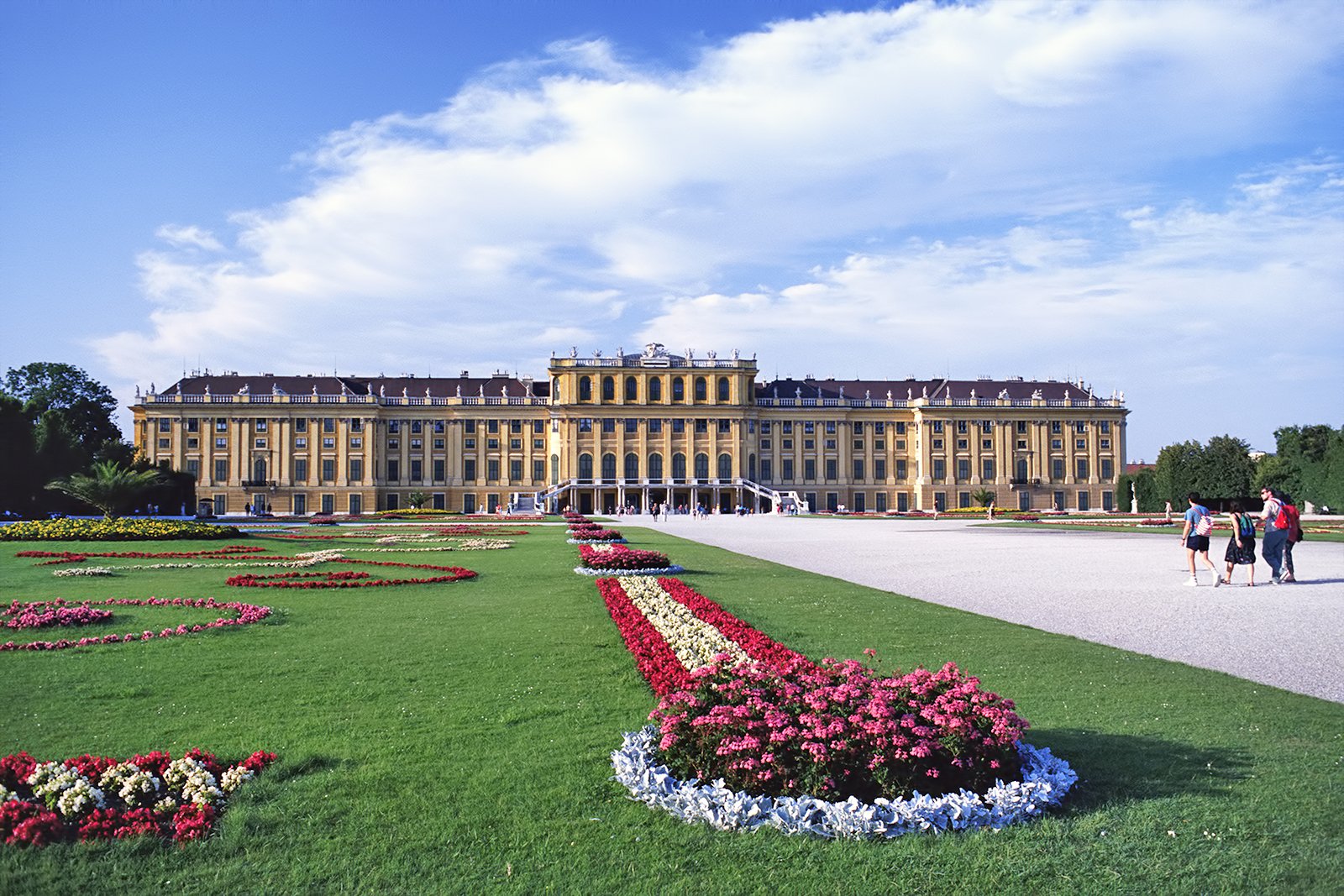 Couples
Families
History
Photo
Schönbrunn Palace in Vienna is the 18th-century summer palace of Emperor Franz Joseph I. It's open for palace tours, which allow you to gawp at the ornate, rococo interiors. You can follow the footsteps of the Habsburgs in the baroque palace's marvellous gardens.
Stroll past dancing fountains, floral terraces and romantic sights such as the Star Pool decorated with marble nymphs. Lose yourself in the maze before visiting the Wagenburg museum, where you'll be able to gaze at golden carriages that would make Cinderella green with envy.
Location: Schönbrunner Schloßstraße 47, 1130 Wien, Austria
Open: Daily from 10 am to 5 pm (Schönbrunn Palace Park opens from 6.30 am to 9 pm)
Phone: +43 1 81113239
2
Look for The Kiss at the Belvedere
Discover romantic paintings inside a baroque palace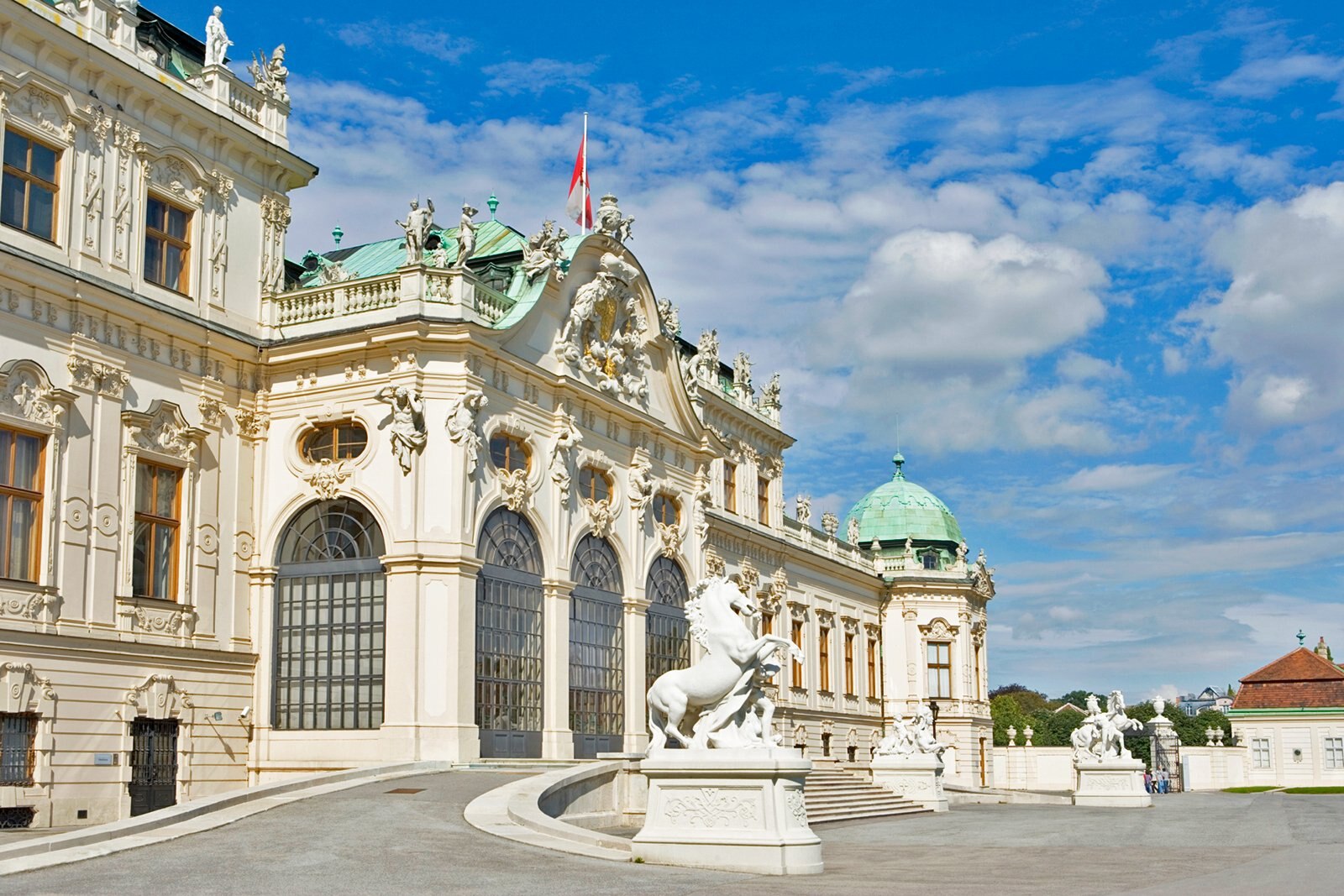 Belvedere Palace is the baroque, 18th-century summer palace of Prince Eugene of Savoy. It's home to a great art collection, most notably of symbolist works by Viennese painter Gustav Klimt. Tucked away inside the Upper Belvedere's galleries, you'll find the late artists' captivating The Kiss, also referred to as The Lovers.
The mosaic-like painting portrays a couple on the brink of a precipice, kissing in a tight embrace in a meadow of flowers. The lovers' garments are adorned with gold leaf. The background, too, is covered in gold, silver, and even platinum flakes. Private tours are available, letting you learn more about the art and its history.
Location: Prinz Eugen-Straße 27, 1030 Wien, Austria
Open: Lower Belvedere and Belvedere 21: daily from 10 am to 6 pm. Upper Belvedere: daily from 9 am to 6 pm.
Phone: +43 1 795570
3
Go boating on the Danube
Follow the course along the Donauinsel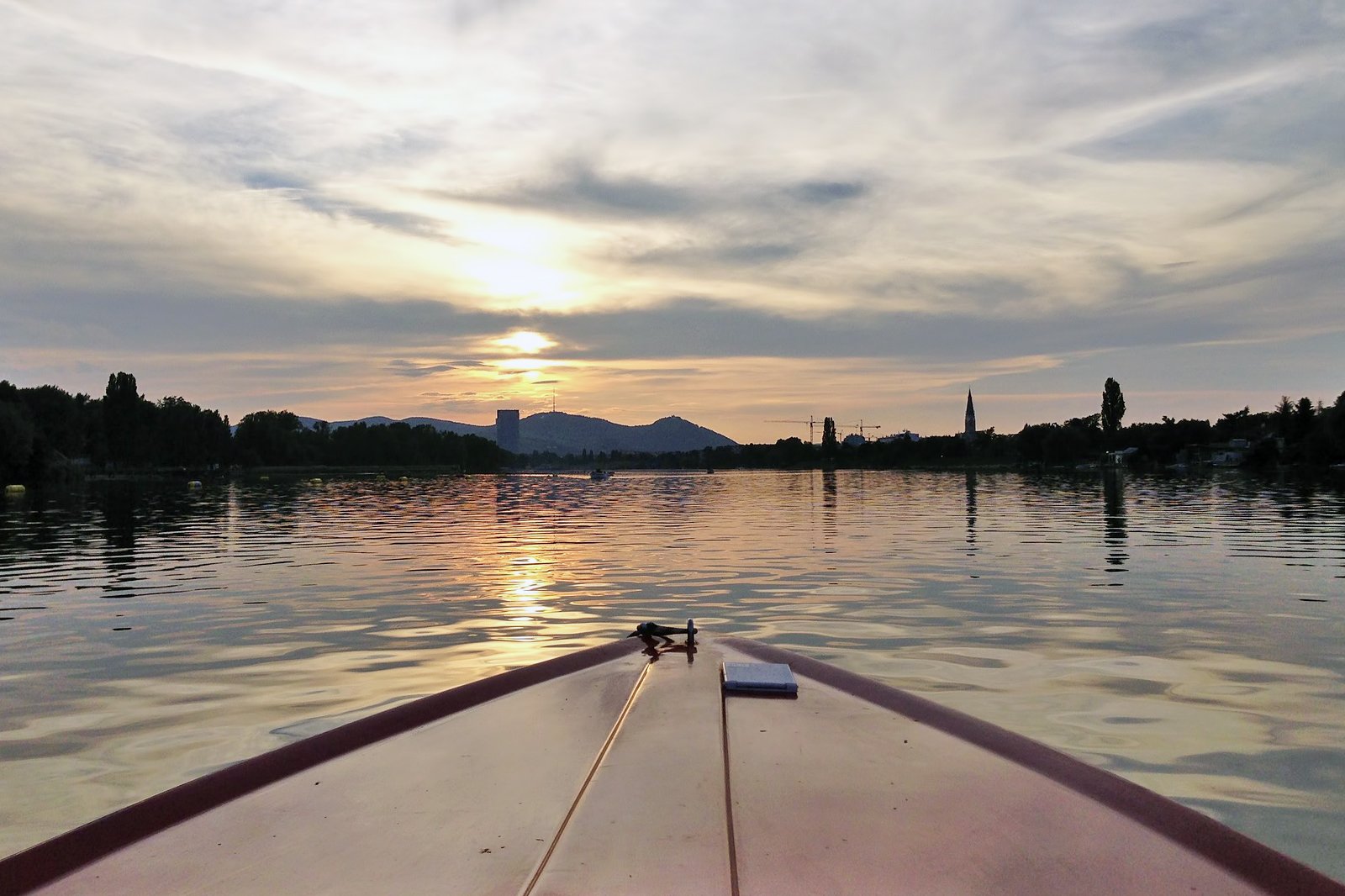 Couples
Families
Budget
Adventure
The long, narrow island of Donauinsel (Danube Island) in Vienna is where you can take in the Danube river at its best. The beauty of the Danube inspired Strauss to compose one of his famous waltzes, and the river truly does have something poetic in the way it winds through Vienna.
The small, green island to the east of the centre is a great spot for discovering the river. It has footpaths going along the riverbank, together with beaches from where you can ride on paddle boats built for 2.
Location: Donauinsel 1, 1220 Wien, Austria
4
Ride a carriage through Vienna
See Vienna's romantic evening scenes by fiaker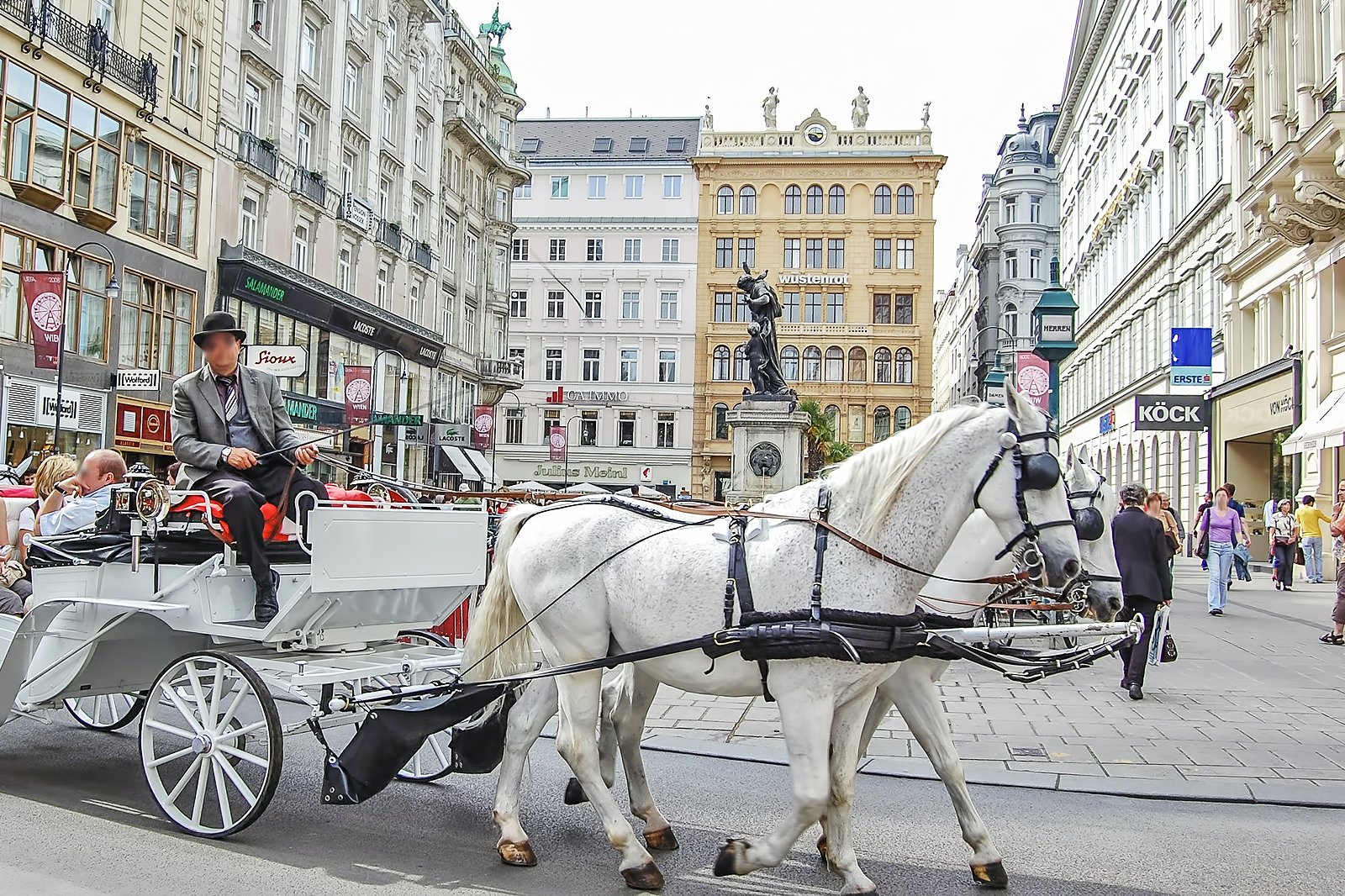 Couples
Families
History
Photo
Adventure
Besides famous classical tunes permeating the air, familiar sounds of Vienna include the distant clip-clopping of hooves against cobbled streets. You can book a memorable sightseeing tour on a traditional horse-drawn fiaker carriage, form your hotel in Vienna.
A spin is most romantic by night, when Innere Stadt's monuments and charming pathways are bathed in gold light. You can also find carriages usually lining up for customers on Stephansplatz, Albertinaplatz, and in front of the Hofburg Palace. They're fitted with plush seats, and the coachmen are usually clad in period costumes.
5
Hofburg Palace
A treasured Viennese landmark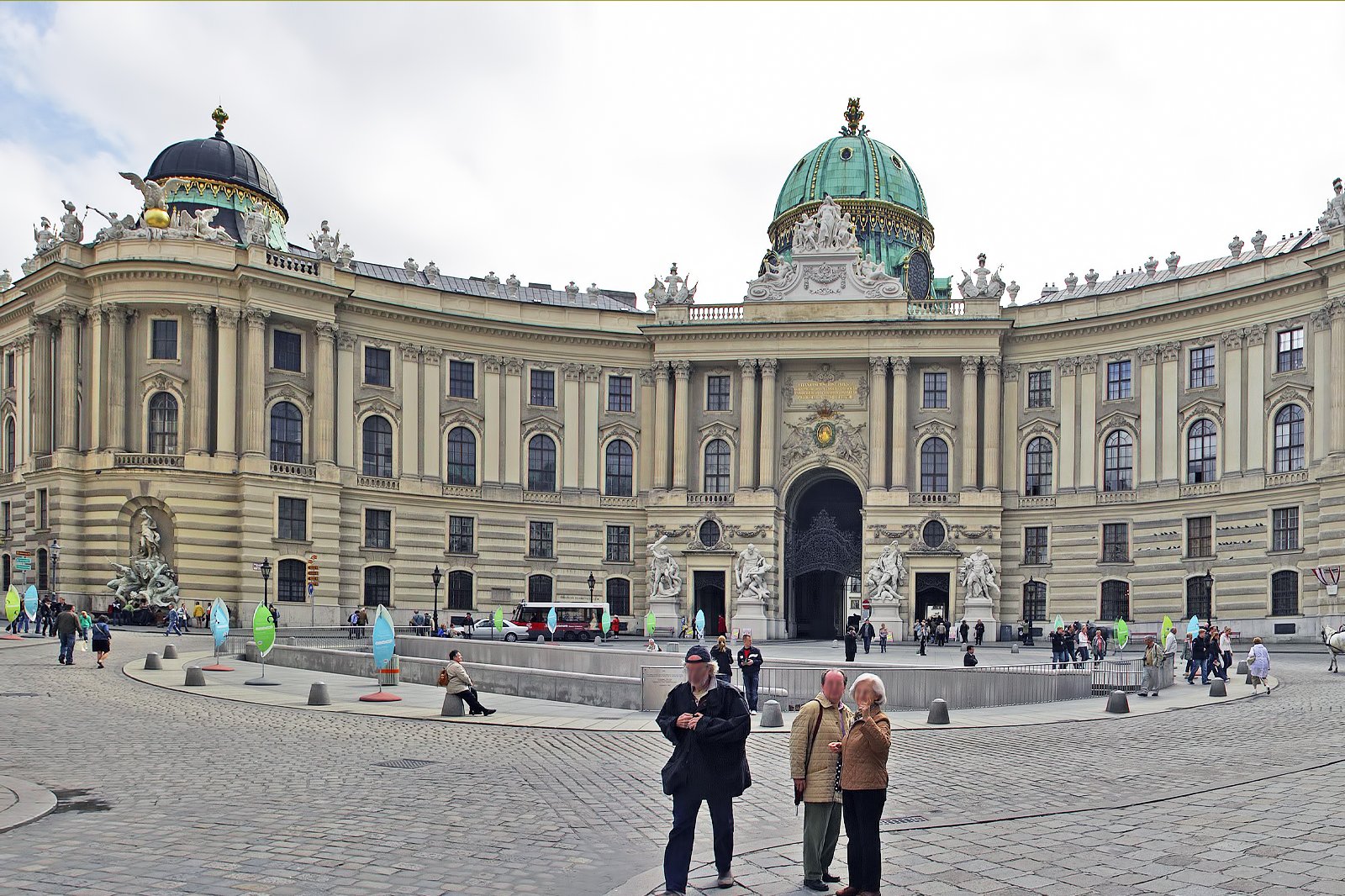 The fairy-tale Hofburg Imperial Palace was once the focal point of the 600-year long reign of the Habsburgs. The palace houses the Imperial Apartments, including that of Empress Elisabeth's with her sumptuous Living Room that's widely considered among Hofburg's prettiest rooms. The palace also has a treasury with glittering rubies the size of plums.
During your visit, be sure to see the snow-white, graceful Lippizaner horses in the Spanish Riding School at 10am and listen to the Vienna Boys' Choir in the chapel on Sunday during service.
Location: Michaelerkuppel, 1010 Wien, Austria
Open: September–June: daily from 9 am to 5.30 pm. July–August: daily from 9 am to 6 pm
Phone: +43 1 5337570
6
Learn to waltz together
Vienna is home to the ballroom dance, after all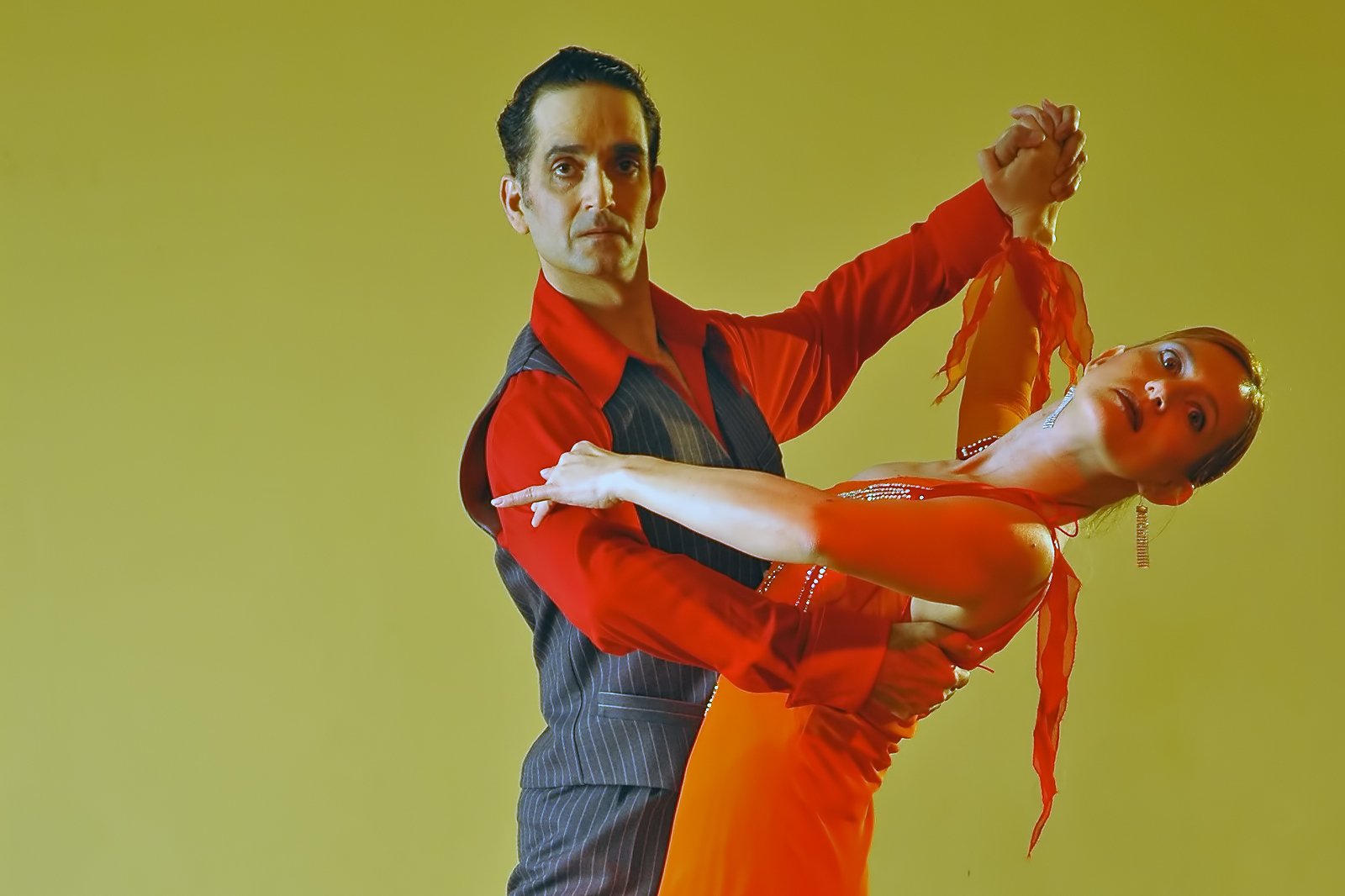 A date out in Vienna can be more memorable by picking up some moves through a waltz class together. The home of the waltz holds hundreds of balls during the three-month season that roughly starts in November and peaks between January and February. Joining one can be an ultimate Viennese experience.
Regardless of any ball season, you can learn to waltz at many classes available in the city. One of them is the Tanzschule Elmayer. It offers 50-minute classes for couples.
Location: Bräunerstraße 13, 1010 Wien, Austria
Open: Daily from 3 pm to 8 pm
Phone: +43 1 5127197
7
Sip Austrian wines at Esterházykeller
An ancient tavern in the heart of Vienna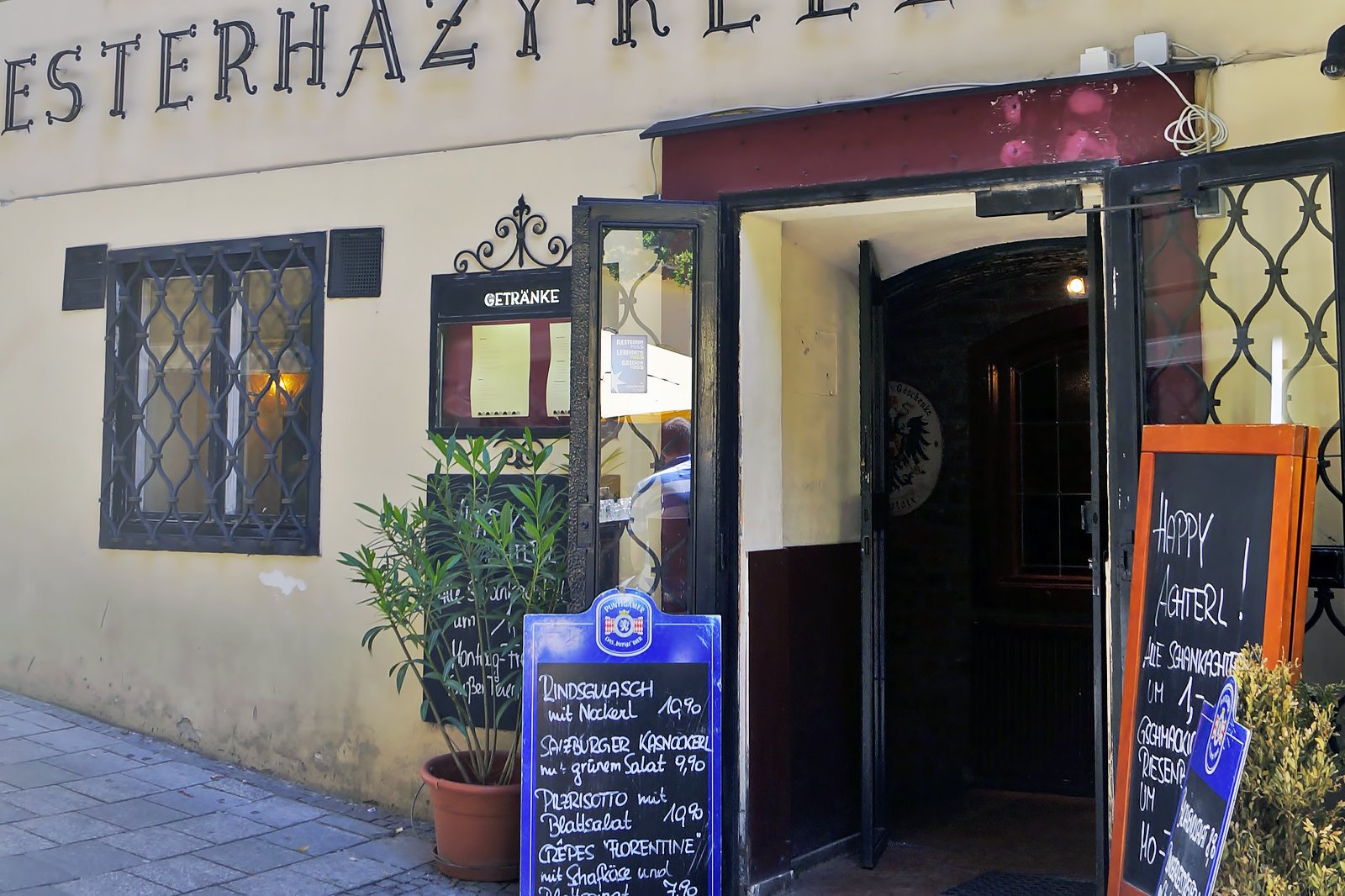 Esterházykeller (Esterházy Cellar) is a longstanding wine tavern, part of the baroque Esterházy palace, on Wallnerstraße in Vienna. The 17th-century Heurige (wine tavern) is tucked away in a cobbled courtyard of the palace, with brick vaults and wooden booths that make it an intimate spot for a rendezvous.
Accompanying the great selection of homegrown Riesling and Grüner Veltliner wines is classic Viennese cuisine. That comes with the bonus of historical flair, as you can immerse yourselves in an original theatre setting where Joseph Haydn, Mozart, and Viennese royals used to hang out back in the 1600s
Location: Haarhof 1, 1010 Wien, Austria
Open: Monday–Friday from 4 pm to 11 pm, Saturdays and Sundays from 12.30 pm to 11 pm
Phone: +43 1 5333482
photo by Wienwiki / Admin1 (CC BY-SA 3.0) modified
8
Share a chocolate spa treatment
Delight with Vienna's chocolatey pampering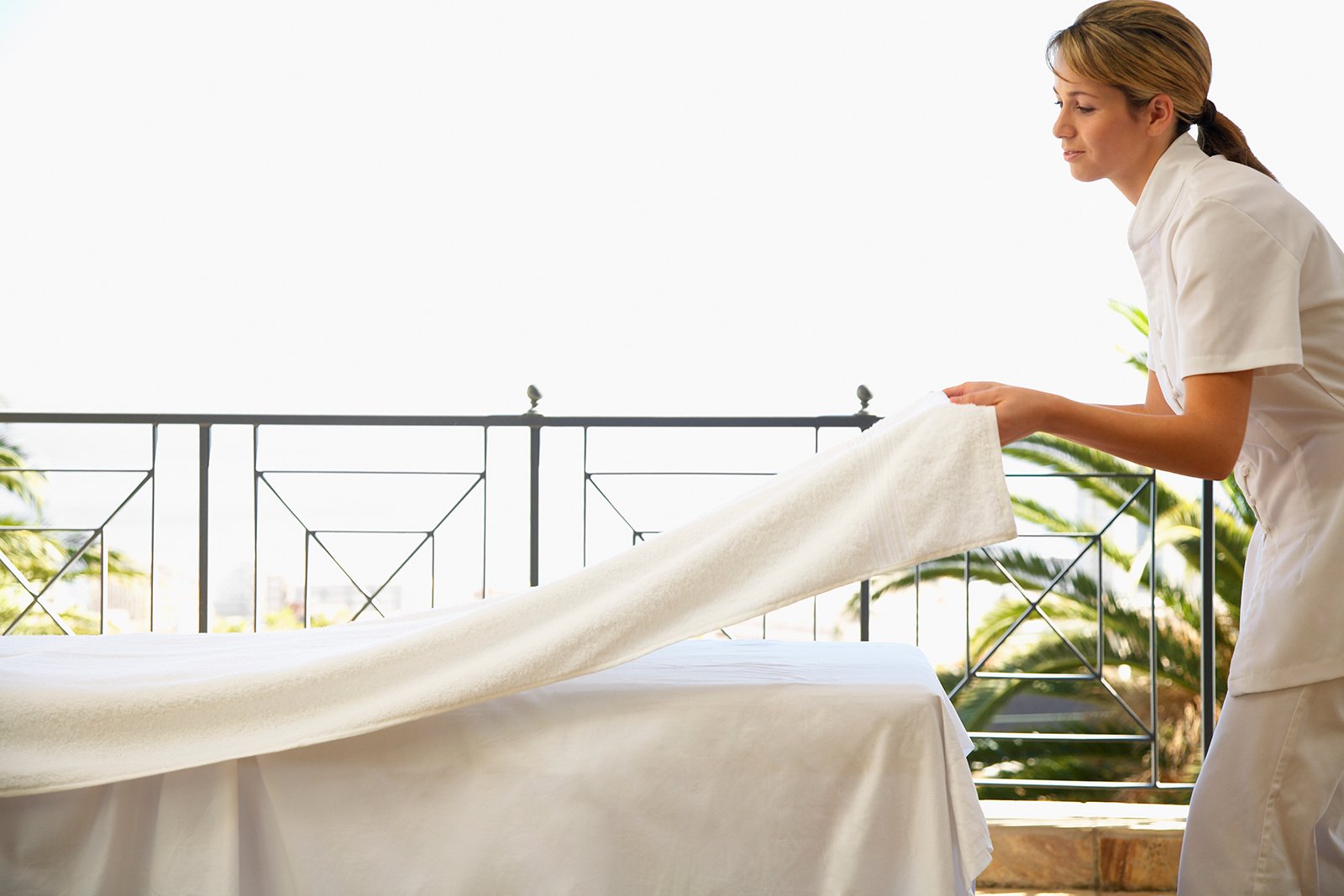 Slip into the romance and red velvet of the 19th century at Café Sacher, the home of the famous Viennese chocolate cake known as Sachertorte. Chandeliers and gilt-framed oil paintings create a grand setting while you crack the icing on a rich Sachertorte chocolate cake with apricot jam.
For true chocolatey indulgence, you can head up to Sacher Boutique Spa, which shares the same location as the café at Hotel Sacher Wien. Their 90-minute Symphony in Chocolate treatment includes a rich chocolate wrap, purifying cacao peeling, a chocolate body mask and a relaxing massage using chocolate-based body care products.
Location: Hotel Sacher Wien, Philharmoniker Str. 4, 1010 Wien, Austria
Open: Daily from 8 am to 6 pm
Phone: +43 1 51456510
9
Watch a ballet at Vienna State Opera
The stately classical hub of Vienna's art culture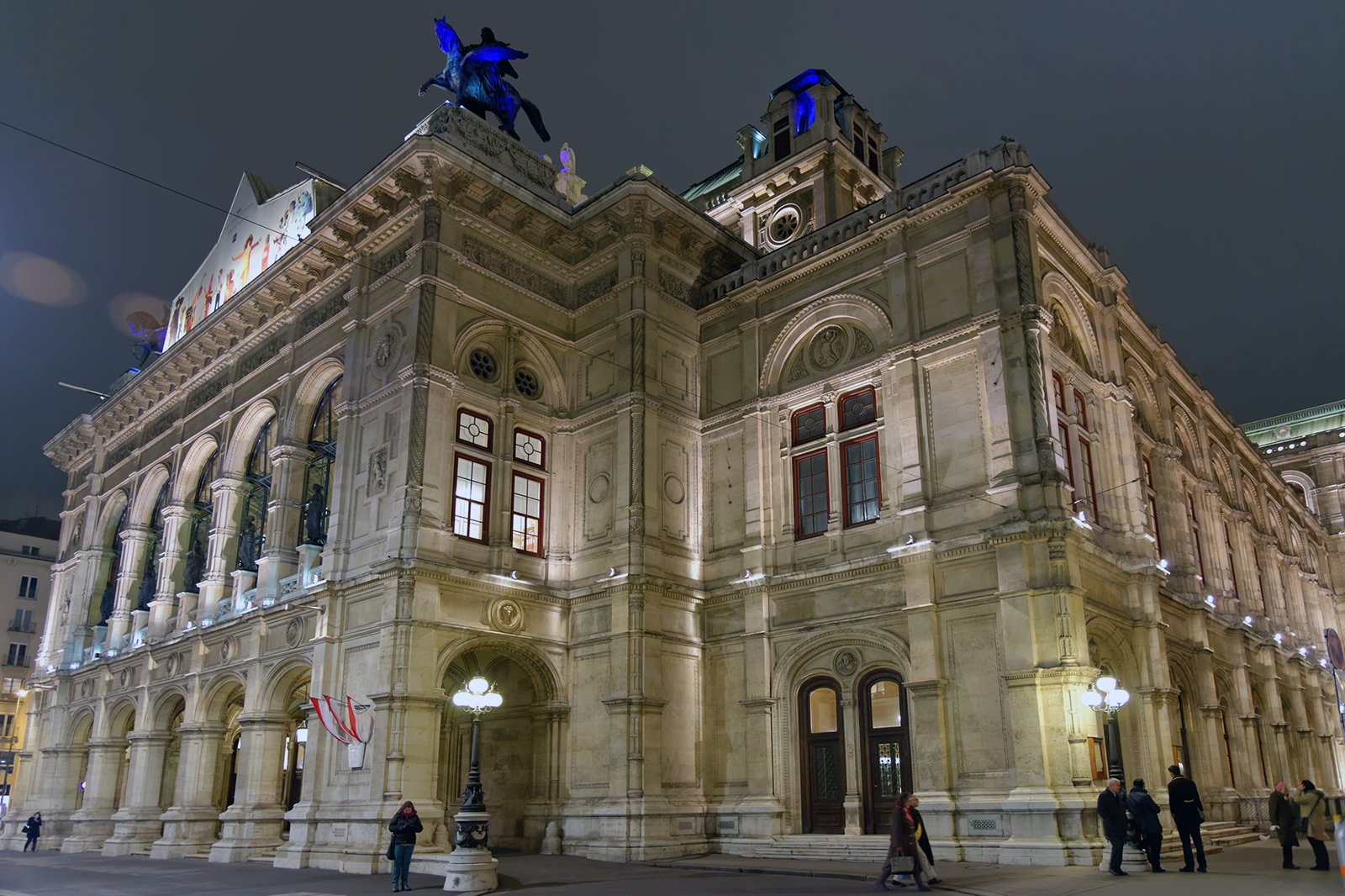 Nothing says romantic Vienna quite like a night at the Staatsoper (Vienna State Opera). Shaped like a horseshoe, the red-and-gold auditorium sets the scene for world-class opera and ballet, with the celebrated Vienna Philharmonic in the pit.
Vienna State Opera House dates to the 1860s, and it's still as magnificent as it was over a century ago. It has a lavishly frescoed and decorated grand entry hall, as well as elegant intermission rooms. The best seats average between €100 to €200.
Location: Opernring 2, 1010 Wien, Austria
Open: Most shows start around 7.30 pm
Phone: +43 1 514442250
10
Book a candlelit dinner at Le Ciel
Experience Michelin-starred Viennese dining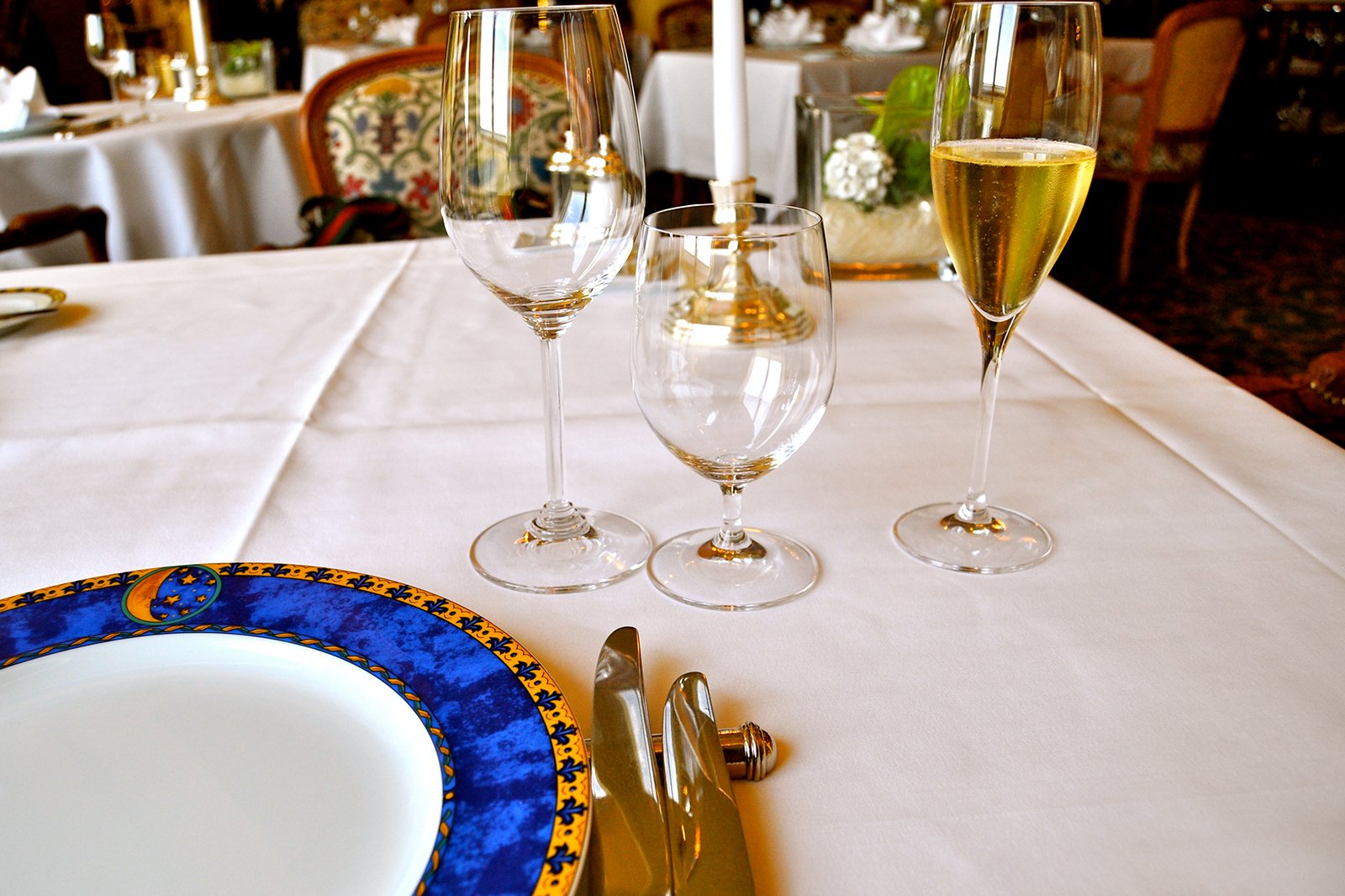 Restaurant Le Ciel by Toni Mörwald is an award-winning restaurant in Vienna. You can find the restaurant on the 7th floor of the Grand Hotel Wien, offering baroque interiors and splendid views over the rooftops of Vienna. Besides holding a Michelin star, the restaurant also achieved 3 toques and a near-perfect score of 18 from Gault Millau.
You do need to book ahead to enjoy this fine dining moment by candlelight. The prices tend to be on the higher side for Vienna, but it's one of the go-to spots to impress. Choose lunch at its outside terrace for a more casual ambiance.
Location: Kärntner Ring 9, 1010 Wien, Austria
Open: Tuesday–Saturday from midday to 3 pm and from 7 pm to midnight (closed on Sundays and Mondays)
Phone: +43 1 515809100
Back to top