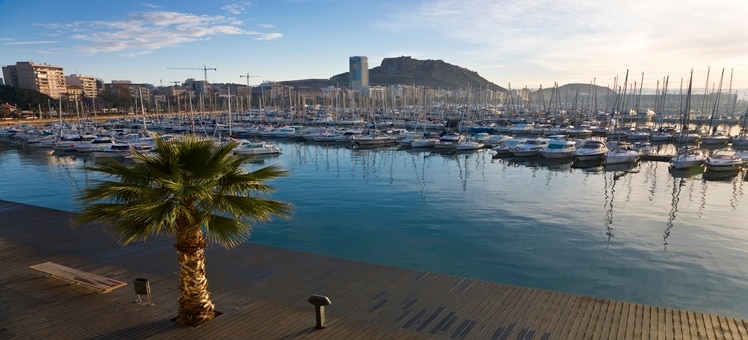 An Alicante city guide - beaches, culture, festivals and sport
Alicante is the gateway to the Costa Blanca in eastern Spain, where the mountains meet the sea. This vibrant university town is popular with millions of tourists who fly into Alicante airport each year.  For many travelers, the long, sandy beaches are the main temptation but Alicante's many charms include its old town, hilltop castle, art collections, history, fine foods, nightlife and fiery fiestas.
---
View full guide
Where to stay in Alicante – a neighborhood guide

Alicante ranges from traditional, historic neighborhoods to purpose-built seaside resorts, offering rooms with a view of glistening ocean or terraces overlooking a rustic Spanish square. The city's historic quarter is lined with boutiques, high street stores and five-star dining, plus locally-run bars, cafes and open-air markets. There's a matching hotel whether you want to rub shoulders with the marina trendsetters, enjoy family life by the beach or talk football in a typical tavern.

Alicante shopping guide – where to go and what to buy

From bustling outdoor markets to chic designer stores and high street fashions, Alicante is a top spot for shopping.  The main city streets are lined with glass-fronted stores showing off their wares from leather goods to local foods. Several large shopping malls are dotted around the city with well-known high street stores, fast-food restaurants and cooling air-conditioning to provide relief from the summer heat. Markets are great for hunting out a bargain and for local crafts and produce too.

Where to eat in Alicante – a food and dining guide

Vibrant yellow rice and deep red prawns; the colors of Alicante's food pay homage to the Spanish flag. Freshly caught fish and shellfish are favorite local dishes at affordable prices. Alicante cuisine makes the most of local produce from the sea and land, washed down with intense ruby red wines or cava produced from nearby vineyards.  Sweet garlic, rich-red paprika and golden saffron are widely used.

What to see and do in Alicante – a guide to notable attractions and landmarks

Alicante's picturesque sandy beaches coupled with many hours of daily sunshine are the main attractions for the millions of passengers who fly into this Spanish destination each year. However, Alicante offers imposing buildings and a multitude of cultural events and exhibitions to entertain. The historic old town takes centre stage for many of Alicante's finest fiestas while swanky yachts sail into the chic marina lined with top restaurants and bars.

A Costa Blanca travel guide – Moorish castles, miles of sandy beaches and succulent fresh seafood

Costa Blanca holidays combine family beach resorts, theme parks and historic old towns. Wherever you book your Costa Blanca hotel, there are watersports and golf courses nearby, alongside alfresco dining and beachfront bars.