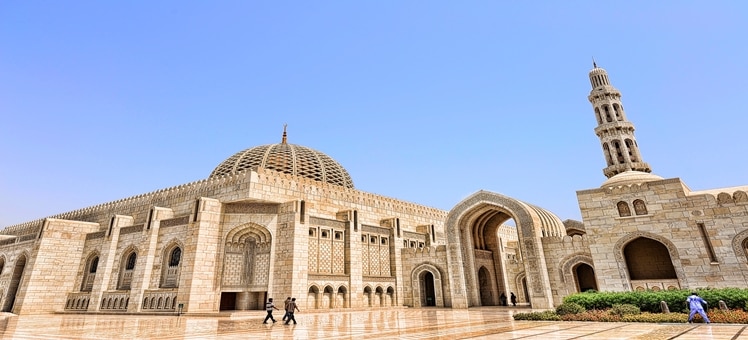 A guide to Oman – desert forts, shimmering cities and green oases
A land of mirages and mysticism, all in Oman may not be as it first appears. Seemingly barren deserts hide lush wadis, or oases, where camels drink from palm-fronded pools. Fishing dhows haul in the freshest seafood from the open sea, while ancient ruins swelter under a desert sun, miles from water. Mountains, usually brown and dry, become green and lush overnight in the monsoon season. In the cities, grand mosques dazzle with mesmerizing patterns. In every sense, Oman is a beguiling place worth discovering. 
---
View full guide
Where to stay in Oman – a guide to the best places across the country

One thousand and one Arabian Nights… if you have the time to spend in Oman, each night could be a different experience. One of the most magical has to be sleeping in a Bedouin camp under billions of stars. Then there is Muscat, a gleaming city with extravagant hotels to make you feel like royalty. Salalah has beach resort hotels set in lush surroundings, while Nizwa has traditional guesthouses offering respite from the dusty desert.

Where to shop in Oman – a guide to retail therapy by city

Rich in Arab mysticism, Oman's souqs are a wonderland of exquisite crafts, precious materials and local delicacies. They overwhelm every sense with the pungent aromas of spices and perfumes, a kaleidoscope of colors, a cacophony of human and animal noise. Each region has its own specialty, from the pottery of Nizwa to the frankincense of Salalah. The pristine malls of Muscat couldn't be a more different experience; westernized and airy. But for a true taste of Oman, delving headfirst into the souqs is a must. 

Where to eat in Oman – a guide to regional cuisine

For most of Oman's history, the cuisine developed from the few native plants and animals which could survive in the arid, desert climate. Even the tropical bounty of the south was mostly confined to the Dohfar region, so a true Omani meal is simple: usually some sort of stewed meat served with modestly seasoned rice. But with an infusion of both Indian and Lebanese flavors, popular dishes in Oman today are diverse and exotic. Tea and coffee are both important drinks in Omani culture, served with sweet Halwa. 

What to see and do in Oman – a regional guide to the country's attractions

From glittering coastal cities to remote desert outposts, Oman packs in uniquely varied landscapes and climates into a relatively small landmass. The culture too changes distinctly from place to place – Muscat's affluent urbanites, the Bedouin of the desert interior, the independent groups of the northern Musandam region. With so many contrasts, it can be hard to pin down the essence of Oman, but perhaps it is simply the hospitality of the people, eager to show you the best of their corner of this diverse country.