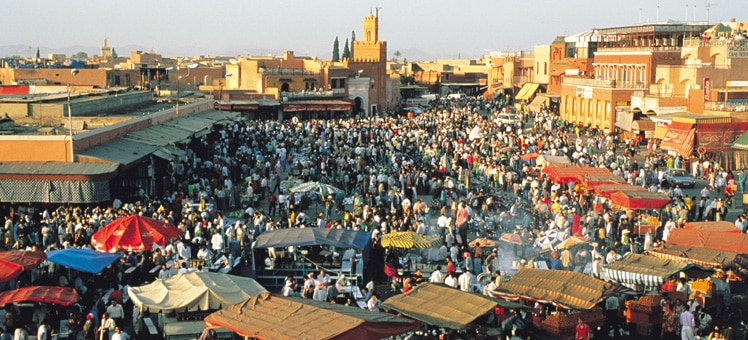 A Marrakech city guide – rose-tinted architecture, chaotic souks and peaceful gardens
Rose colored buildings and dusty, ochre streets bake under a North African sun, the Atlas Mountains shimmering in the distance. A cavalcade of beaten-up cars, taxis, bikes and donkeys hoot, bray and force their way through traffic jams, threatening to run over any pedestrian in their path. At the center of it all, the Djemaa El-Fna, or Place of the Dead, is a constant theatrical show. Marrakech is an assault on the senses, but it is pure joy to experience it. 
---
View full guide
Where to stay in Marrakech – a guide to the city's districts

Whether you want to be at the center of the market culture, roused by the prayer bells and vendors' cries each morning, or in a quiet, modern district with a French café on the corner serving coffee and croissants for breakfast, you can find it in Marrakech. You can choose between open green spaces, crowded, atmospheric streets – even a desert oasis. Then there's the varied accommodation: will you opt for a traditional riad with a charming courtyard, or a luxury resort with a party atmosphere?

Where to shop in Marrakech – a guide to the city's souks, boutiques and co-operatives

The labyrinthine souks of the medina provide Marrakech's essential shopping experience. Sunlight filters through gaps in the makeshift roofs; boys carrying mint tea appear on cue to seal good deals. Fabrics, spices and jewelry fight for space and attention. Behind the scenes, a whole section of leather tanneries, blacksmiths and craft workshops are busy in creating the products to sell – a fascinating place to explore. In Gueliz, meanwhile, wide boulevards with modern shops offer respite from the medina's sensory overload. 

Where to eat in Marrakech – a guide to the city's cuisine

Each night in Djemaa El-Fna, a spectacle unfolds before your eyes. Cooking stalls, tables and chairs are set up under canvas, turning the whole square into a huge, outdoor restaurant, serving up traditional Moroccan dishes. Elsewhere in the medina, small, local restaurants also offer Arabic cuisine, but in more civilized surroundings. Meanwhile, the modern districts of Gueliz and Douar Lahna offer up exciting fusion cuisine, combining French, Moroccan and global influences. As a foodie destination, Marrakech does not disappoint. 

What to see and do in Marrakech – a guide to the main places of interest

Like one of the Islamic frescoes at the mosque, Marrakech is intricate and multilayered. Though it may appear as utter chaos at first, it is made up of many beautiful elements. The central square of the medina, Djemaa El-Fna, is the beating heart of the city, a constantly changing cityscape throughout the day and night. Pockets of tranquility can be found across the city, away from the crowds, with majestic palaces and gardens to explore. Look closely enough, and Marrakech will start to reveal her charms. 

A Morocco travel guide – a magic carpet ride of kasbahs, maze-like souks and Saharan sands

Holidays in Morocco are an assault on the senses. One minute you're camel trekking through desert dunes, the next you're bartering in the souks, steaming in a hammam (bathhouse) or eating lamb tagines hot from the burner. Choose a Morocco hotel to discover this land of 1001 experiences.

A Marrakech travel guide – mazy markets, Moroccan feasts and a steam clean in a hammam bath

Whether bargain hunting in the souks, romantic courtyard dining or enjoying a joint-cracking massage in a hammam - state your wish on a Marrakech city break and it shall be granted. Book a Marrakech hotel and sink into this fascinating city.