Harbour Views and Budget-Friendly Comfort - Where to Stay in Halifax
Harbour Views and Budget-Friendly Comfort - Where to Stay in Halifax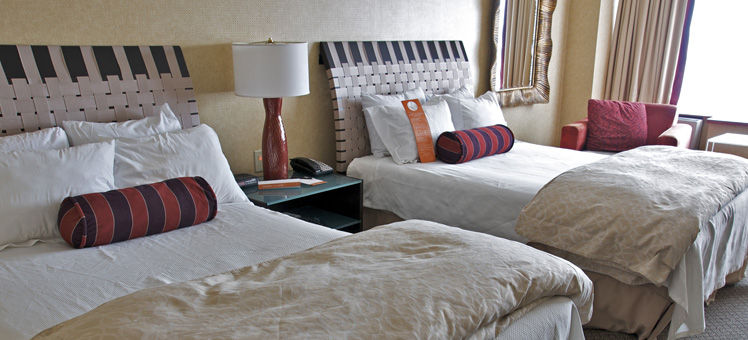 Whether you're planning an elegant vacation or a low-key getaway, you'll find a wide range of options in Halifax. Most of the city's upscale properties are located in the downtown area within steps of the boardwalk overlooking Halifax Harbour. For more picturesque views of the water and less expensive rates, you'll find a few cost-effective coastal hotels located within a 20-minute drive of the city centre.
Downtown
If you want to be where all the action is, you'll want to stay in downtown Halifax. While there are only a handful of hotels that are directly on Halifax Harbour, most of the accommodations are 5 blocks from the boardwalk. Some of Halifax's most popular points of interest, such as the Maritime Museum of the Atlantic and Halifax Citadel National Historic Site, are within a 15-minute walk. This neighbourhood is especially suited to shoppers as they can walk 7 minutes to the unique boutiques of Spring Garden Road.
Downtown Halifax hotels are a mix of elegant chains and boutique hotels, some of which are housed in historic properties. The larger hotels offer guests in-house dining options, while smaller spaces feature chic lounges where you can grab a drink and unwind at the end of the day.
There are plenty of cost-effective accommodations to consider in Dartmouth, which overlooks the city centre from the other side of Halifax Harbour. For water views, you can book a property within a couple of blocks of the harbor. If you're looking for access to downtown Halifax, you can opt for one of the many hotels located near major highways that will take you into the city centre in about 15 minutes. Don't feel like driving? You can always hop on the ferry near Woodside Industrial Wharf which will take you into the city in 10 minutes.
The hotels in Dartmouth tend to be simple and budget-friendly, and offer convenient amenities like free WiFi and flat-screen TVs. Some of the familiar chains also offer perks like free breakfast and fitness centres.
If you drive roughly 20 minutes north of the downtown area, you'll find a cluster of budget-friendly hotels largely concentrated near the northern and western waterfront of the Bedford Basin. Located close to subdivisions like Bedford and Clayton Park, this area offers a more subdued ambiance and rustic country flair.
Most of the area hotels are popular budget-friendly chains, although you'll also find quaint bed-and-breakfasts and all-suite hotels that offer kitchenettes. You'll be able to take advantage of free WiFi as well as free parking.
Discover
Find your perfect holiday in Halifax
From 100 hotels.