A Guide to Alibaug - Beaches, Forts, and Water Sports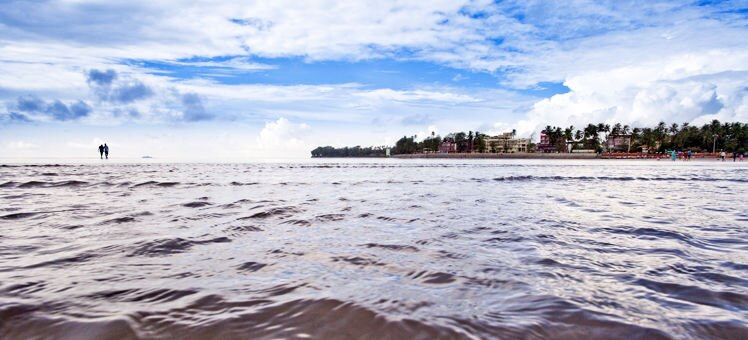 In its 17th-century heyday, Alibaug served as a naval base for the Maratha Empire. Located 100 km south of Mumbai, today's Alibaug is a weekend getaway, where you can relax on the beach, explore several historic forts, and indulge in thrilling water sports.
Beaches near Alibaug
You'll find beaches all along Alibaug's coastline, some bustling, others serene. The main beach, known simply as Alibaug, is a vast expanse of coarse black sand. The sounds of the sea are regularly interrupted by hawkers selling horse and camel rides and by crowds of talkative visitors. It's an 5-minute drive north to the quieter Varsoli Beach. Lined by tall, slender casuarina trees, the beachfront opens out to clean waters where you can enjoy a paddle or swim in peace.
Varsoli Beach, 2 km north of Alibaug, Maharashtra; Website: Varsoli Beach
A town of forts
Alibaug was fortified by the ruling Marathas to keep the English and Portuguese at bay. Kolaba Fort stands in the sea, a couple of kilometers off Alibaug Beach. During low tide, you can wade to the fort's stone walls, which afford spectacular views of both sea and land. Like Kolaba, Khanderi Fort sits in the sea, around 5 km from Alibaug. This thin strip of an island is walled in, and houses a lighthouse and several rusty old cannons.
Kolaba Fort, Alibaug, Maharashtra 402201; Website: Kolaba Fort
Water sports in Nagaon
A 20-minute drive south of Alibaug, Nagaon Beach is a water sports hub. On its chocolate-hued sands, you'll find a long line of personal watercraft and banana boats waiting to be hopped aboard. If you'd rather float about in the skies under a multi-coloured chute, plenty of operators offer parasailing excursions. For less adrenaline-based thrills, you can venture onto the calm waters for a fishing trip, keeping your eyes open for playful dolphins.
Nagaon Beach, Nagaon Village, Alibaug, Maharashtra 402204; Website: Nagaon Beach
Revdanda and Chaul
Steeped in history, the village of Revdanda is a half-hour drive south of Alibaug. Its star attraction is the Revdanda fort, built by the Portuguese in the 16th century. Overgrown with vegetation, the fort's walls are covered with religious insignia and engravings. Legend has it that the ruined monastery within was where St. Francis Xavier gave his first sermons in India. Near Revdanda are the ruins of Chaul, once a thriving Portuguese settlement. You can explore its crumbling fort strewn with old cannons before strolling the town's roads, where you'll see more ruins amid betel-nut farms.