A Look at Laughlin - Your Guide to Nevada's Riverside Gaming Paradise
A Look at Laughlin - Your Guide to Nevada's Riverside Gaming Paradise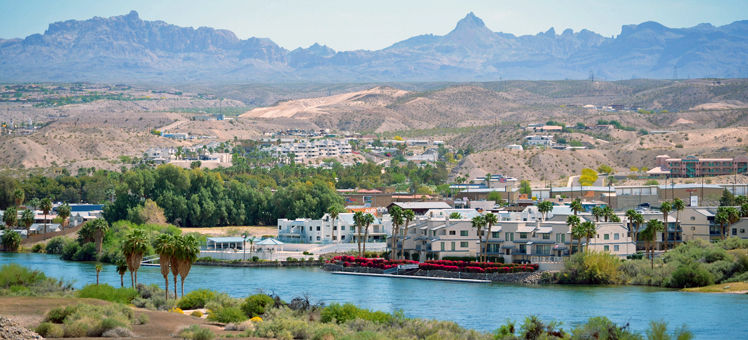 Laughlin combines the flash of Nevada gaming with the splash of river-based adventure. Those looking to woo Lady Luck visit this compact riverfront town to search the casinos for a hot slot machine or gaming table. The adjacent colourado River lures thrill-seekers, revelers, and fun-loving families to partake in several water-based activities, while nearby parks and nature preserves show off the area's quieter side.
The casino scene
Laughlin was founded on the gaming industry, and the dream of winning big still attracts crowds from all over. The city's downtown is home to 9 casinos, most of which line the banks of the colourado River. These gambling halls are connected by River Walk, a bustling waterfront pedestrian path that offers a nice place to sit and people-watch between gaming sessions. Places like Riverside Resort and Casino host the expected array of slot machines and table games, including blackjack and craps. Other spots like Harrah's Laughlin Casino & Hotel also feature poker tables along with live entertainment venues.
The colourado River
People who prefer the thrill of the open water to the roulette wheel frolic in this mighty river, which makes up Laughlin's eastern border. Adventurous types will find plenty of places to rent jet-skis and other watercraft, although most rental locations are located directly across the river in Bullhead City, Arizona. If you'd prefer to let someone else navigate the water, services like Laughlin River Tours will let you kick back and enjoy a leisurely cruise with a drink in hand.
Laughlin parks and recreation
Outside Laughlin's collection of casinos, the region is filled with state parks and recreational areas that provide outdoor enthusiasts plenty of options to play, explore, or just relax. Many of these areas, like colourado River Heritage Greenway Park and Big Bend of the colourado River State Recreation Area, can be found on the city's outskirts. Most are located on or near the colourado River, and they provide a quieter environment for splashing around.
Nearby Laughlin activities
Laughlin is located about 2 hours from some of American southwest's most iconic spots. If you think luck may be lurking elsewhere, you can travel 90 minutes north to Las Vegas and explore the collection of brightly lit casinos adorning its famed strip. Laughlin Tours LLC also organizes a day trip to the Grand Canyon's northern rim, where you can test your nerve by taking the famed Skywalk and traversing over the natural formation.
The golf courses
Laughlin's perpetually sunny skies make golfing an option all year long. Most of the area's courses are located across the colourado River in Arizona, where venues like Laughlin Ranch Golf Club and Los Lagos Golf Club challenge players with dramatic rolling hills and rugged desert landscapes. If you develop a hankering for a bite or a sip on the proverbial 19th hole, most courses also feature onsite restaurants.
Discover
Find your perfect holiday in Laughlin
From 10 hotels.