A Tampa City Guide - Culture, Sports, and Wildlife Near Florida's Gulf Coast
A Tampa City Guide - Culture, Sports, and Wildlife Near Florida's Gulf Coast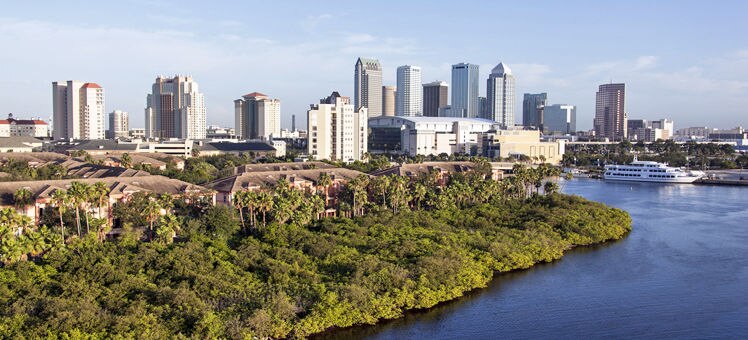 Tampa - also known as "The Big Guava" - is a bustling Florida city set on Tampa Bay, just east of the Gulf of Mexico's turquoise waters. Settled in 1823, the city is known for its Cuban and Spanish heritage, which can be experienced in many parts of the sprawling metropolitan area. Tampa activities range far and wide, whether you're a foodie, sports fan, or culture vulture.
Intriguing Ybor City
This lively section of Tampa was built around the cigar-rolling industry. It's the place to go if you want to sip cafecitos at El Molino, or taste authentic Cuban sandwiches - the official sandwich of Tampa. To learn about historic Ybor, take a walking tour and visit Ybor City Museum State Park, set in the former bakery where Cuban bread - a regional staple similar to Italian bread - is said to have originated. Or sit back and soak up the culture as the streetcar takes you to various points throughout the historical area.
For good sports
Those who want to take in a game are spoiled for choice in Tampa, home to 3 major league teams. Football fanatics can revel in the rowdiness of a Buccaneers game. For hockey and baseball aficionados, the city is home to the Tampa Bay Lightning, former Stanley Cup winners, and the Tampa Bay Rays. Visiting during off-season? Get a sneak peek of 4 Major League Baseball teams during spring training, including the New York Yankees and the Baltimore Orioles. Race fans can place their bets as thoroughbreds hit the final stretch at the Tampa Bay Downs.
Tampa Bay Downs, 11225 Race Track Road, Tampa 33626; Tel: +1 813 855 4401; Website: Tampa Bay Downs

Tampa Bay Buccaneers, 1 Buccaneer Place, Tampa 33607; Tel: +1 800 795 2827; Website: Tampa Bay Buccaneers
Florida's famed wildlife
If you're playing a game of "Florida wildlife bingo," you'll be able to tick off several squares here. You can stroll the boardwalks or canoe the waters of Lettuce Lake Park while spying on sunning alligators and turtles. All birdwatchers have to do is turn their heads: White Ibises, Great Blue Herons, and Sandhill Cranes are all residents of Tampa. Humans migrating south to escape snow and gray skies should consider an outing to Tampa's Manatee Viewing centre. This ex-power station no longer provides electricity, but it does give the docile giants a place to stay warm in winter months.
Lettuce Lake Park, 6920 E Fletcher Avenue, Tampa 33637; Tel: +1 813 987 6204; Website: Lettuce Lake Park

Manatee Viewing centre, 6990 Dickman Road, Apollo Beach 33572; Tel: +1 813 228 4289; Website: Manatee Viewing centre
Tampa day trips
Prefer to see animals while riding roller coasters? Drive 15 minutes to Busch Gardens Tampa to get your thrills on one of North America's tallest freestanding drop towers, or by taking a Serengeti Night Safari. And while the downtown area has a vibrant arts scene, a half-hour drive across the bay leads to the Salvador Dalí Museum, where you can trace the renowned surrealist's life and career through his paintings and sketches. A 25-minute drive south, Fort De Soto Park offers swaths of brilliant white sand lapped by gentle, blue-green Gulf of Mexico waters.
Busch Gardens Tampa, 10165 N Malcolm McKinley Dr, Tampa 33612; Tel: +1 888 800 5447; Website: Busch Gardens Tampa

The Salvador Dalí Museum, 1 Dali Blvd, St. Petersburg 33701; Tel: +1 727 823 3767; Website: The Salvador Dalí Museum