What to See and Do in Avignon - Architecture, Country Landscapes, and Art Museums
What to See and Do in Avignon - Architecture, Country Landscapes, and Art Museums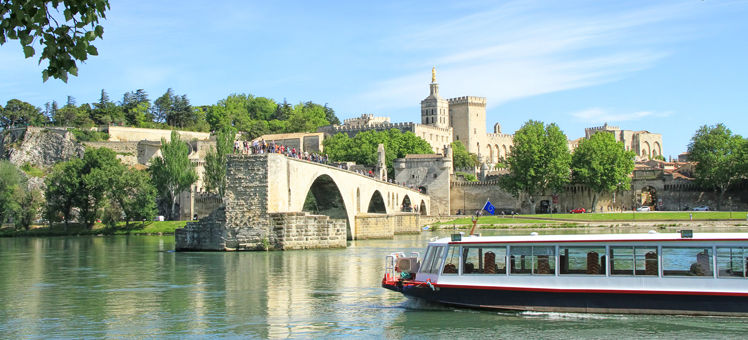 Avignon is a hub of art and history whose city centre is enclosed by Gothic walls. Whether you're seeking a restful moment in which to enjoy sweeping country views, busy markets piled high with fresh produce, or historic surroundings that speak of ages past, you'll find it in Avignon.
A medieval cityscape
Upon arrival in Avignon, you'll notice that the Gothic walls erected 7 centuries ago still surround the city centre. You can walk on sections of these ramparts by entering from designated passageways. Afterwards, you can take a stroll on cobblestoned Pont d'Avignon, also known as Pont Saint-Bénézet, and look back towards the town. Admire the wall's stone turrets and parapets while taking in the blue-green waters of the Rhône river.
Palais des Papes
Built in the 14th century, Palais des Papes was once home to powerful popes who relocated from Rome during a period of political instability. Nowadays, you can meander through its arches, read signage explaining the palace's history, and examine frescos, statues, and fine architectural details. Once you reach the battlements, you'll have panoramic views of the Rhône and the surrounding countryside. Before heading out, you can stop for refreshments at the café and pick up a souvenir at the gift shop.
Palais des Papes, Place du Palais, 84000 Avignon; Tel: +33 4 32 74 32 74; Website: Palais des Papes
Gardens overlooking the Rhône
Paved paths wind through Rocher des Doms, a spectacular hilltop garden. The pond and grotto create a peaceful setting where visitors can reflect while watching swans swim by, and strategically placed benches throughout the park offer views of the horizon. If you like people watching, the café has outdoor tables that are ideal for taking it all in while sipping an espresso. South of Pont d'Avignon, the park overlooks the famed bridge.
A museum tour
You could easily spend days roaming Avignon's museums - but even a few hours can help satiate your appetite for art. Musée Angladon, once the private residence of founders Jean and Paulette Angladon-Dubrujeaud, houses a collection of paintings and drawings from the 18th to 20th centuries, including pieces by van Gogh and Picasso. Musée du Petit Palais is known for its Renaissance and Italian art, and Musée Louis Vouland displays ornamental furniture and Provençal works.
Musée Angladon, 5 Rue Laboureur, 84000 Avignon; Tel: +33 4 90 82 29 03; Website: Musée Angladon

Musée Louis Vouland, 17 Rue Victor Hugo, 84000 Avignon; Tel: +33 4 90 86 03 79; Website: Musée Louis Vouland
Les Halles covered market
Discover the indoor Les Halles market and its myriad of local and exotic products, from spices and breads to fish, cheeses, and tapenades. Located in Place Pie, Les Halles is easily recognized by its massive plant-wall exterior, designed by biologist Patrick Blanc in 2005. If you're keen, you can even learn the art of cuisine from experts who share their know-how every Saturday morning. The market is open daily except Mondays.