Dance Clubs, Big Beats, and Signature Cocktails - Nightlife in Miami Beach
Dance Clubs, Big Beats, and Signature Cocktails - Nightlife in Miami Beach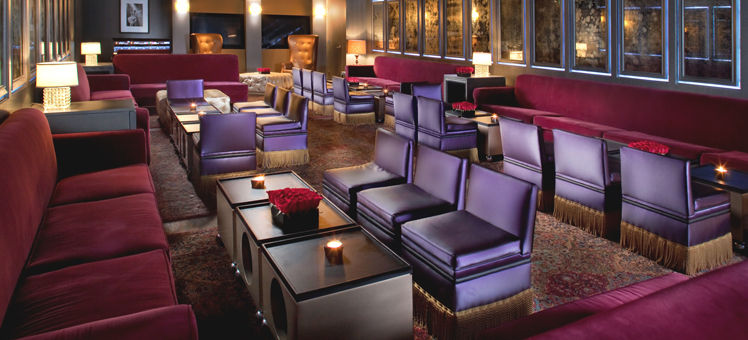 Nightlife is a cornerstone of the culture in Miami Beach. You'll find throngs of late night revelers in the city's mega-sized dance clubs, while those seeking a less hectic evening can opt for sumptuous hotel cocktail lounges. If you're looking for live music, you can take in a rhythmic Cuban floor show or an electric indie rock band.
Dance clubs
Flashing lights, hypnotic beats, and beautiful people gyrating on a colossal dance floor are just a few of the things you'll find on the other side of the velvet rope at a Miami Beach nightclub. You'll also find top-shelf drinks and world-renowned DJs. Expect to use a series of superlatives - the loudest music, the most beautiful go-go dancers, and the best atmosphere - when you describe the scene to your friends back home.
Mansion
Technicolour lights, clouds of dry ice, neon-bedecked acrobats, and shimmering confetti raining down from the ceiling contribute to the over-the-top atmosphere at Mansion. This venue has also hosted famous DJs like David Guetta and Skrillex.
1235 Washington Avenue, Miami Beach 33139Tel: +1 786 735 3344
Mansion website
Story
This 27,000-square-foot nightclub prides itself on offering patrons an extravagant circus-style atmosphere, as well as premium bottle service and over 60 VIP tables.
136 Collins Avenue, Miami Beach 33139. Tel: +1 305 479 4426
Story website
Mango's Tropical Cafe
Mango's offers explosive Latin music and dance performances. Come for the Cuban conga and Mexican mariachi, and stay for the Brazilian samba mixed with hip-hop that will surely get you out of your seat.
900 Ocean Drive, Miami Beach 33139. Tel: +1 305 673 4422
Mango's Tropical Cafe website
Cocktail bars
If you're looking for a spot to knock back a drink before hitting the clubs, you can head to one of Miami Beach's many cocktail bars. From ultramodern and opulent hotel bars to old school private clubs outfitted with tufted leather banquettes, this is the city to indulge in innovative, handcrafted drinks and classic cocktails. Just don't be surprised if you find yourself spending the entire evening in one of these spots.
Skybar
Eclectic Moroccan decor draws patrons to the bar's Red Room Garden, while signature drinks like the Skybar martini made with vanilla vodka, strawberries, and coconut, convince them to stay.
Shore Club South Beach, 1901 Collins Avenue, Miami Beach 33139. Tel: +1 305 695 3100
Skybar website
The Broken Shaker
Located inside the chic Freehand hostel, this festive, award-winning bar serves creative cocktails and gourmet bites.
2727 Indian Creek Drive, Miami Beach 33140. Tel: +1 305 531 2727
The Broken Shaker website
The Regent Cocktail Club
Spend an evening in Rat Pack style with classic mixed drinks, cool jazz, and plush leather sofas at The Regent Cocktail Club in the Gale hotel.
1690 Collins Avenue, Miami Beach 33139. Tel: +1 786 975 2555
The Regent Cocktail Club website
Live music
An evening of live music is about as intrinsic to Miami Beach culture as sand and surf. You can catch big name touring acts, retro rock bands, up-and-coming solo artists, and a host of local multicultural performers. November is Miami Live Month, where venues throughout the city feature nightly live music acts as well as special promotions and unique events.
The Fillmore Miami Beach at the Jackie Gleason theatre
Originally used as a TV studio in the 1960s, this sophisticated theatre hosts a variety of local and international music acts, as well as stand-up comedians.
1700 Washington Avenue, Miami Beach 33139. Tel: +1 305 673 7300
The Fillmore Miami Beach at the Jackie Gleason theatre website
Discover
Find your perfect holiday in Miami Beach
From 820 hotels.