Good to Know - Tips to Get the Most from Your Coronado Vacation
Good to Know - Tips to Get the Most from Your Coronado Vacation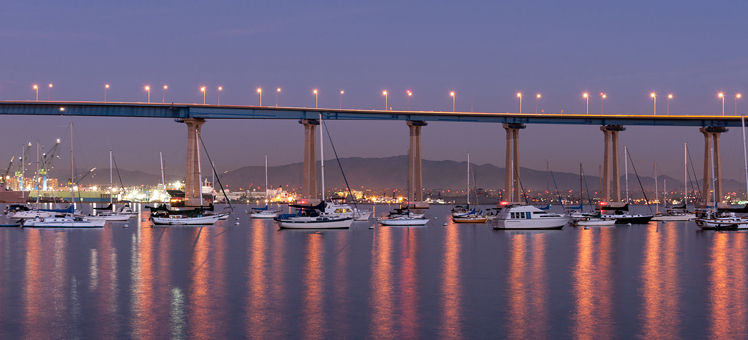 Coronado's mix of pristine beachfront and sunny weather has been attracting vacationers for over a century. Many visitors combine a Coronado getaway with some time in San Diego, easily accessed via a short ferry ride or a drive across the soaring San Diego-Coronado Bridge. And while Coronado is just minutes from a major metropolis, its devotion to being on "island time" makes it feel much farther away.
Best time to travel
Coronado's weather hovers between 65 degrees F (18 C) and 75 degrees (24 C) throughout the year. You'll find the peak blend of local and vacationing families enjoying the beach between July and September, and you'll also see peak rates to match the demand. Although the city sees about 265 sunny days a year, the skies tend to be overcast during May and June, which keeps the beaches less busy. September and October experience a slight drop in temperatures and a dramatic drop in crowds.
Not to miss
The island's famous beaches - most notably, Coronado Central Beach - are the main reason many people choose to vacation here. The wide, sandy shores serve as home base for an array of outdoor activities, from kayaking and surfing to simply relaxing and soaking up the rays. The laid-back vacation vibe extends to the compact downtown, perfect for shopping and strolling. For a change of pace, sign up for a tour of the glamorous Hotel del Coronado, which has been hosting celebrities and dignitaries since it opened in 1888.
Getting around
Domestic and international flights land at San Diego International Airport (SAN), about 8 miles north of downtown Coronado. Renting a car probably isn't necessary unless you plan to explore San Diego. If San Diego is on your agenda, you can easily get there by ferry, too. Several spots in Coronado rent bikes, a great way to explore the island. You can catch a ride on the city's shuttle bus to go from one side of town to the other. Parking may require a bit of patience if you do rent a car, especially if you're visiting during the summer.
Cuisine
Overall, the city's eclectic restaurant scene reflects its dual identity as a resort town and a laid-back residential community. Near the waterfront, you'll find panoramic views and upscale restaurants incorporating seafood into contemporary American, Californian, and Italian fare. In the downtown area, the options are mostly casual, including burgers and Mexican favorites, with several fine-dining restaurants sprinkled in.
Customs and etiquette
Coronado tends to go about its business at a slower pace. If you rent a car, you'll want to be mindful of cyclists and their rights. Southern California is one of the most ethnically and culturally diverse regions in the United States, so nobody should feel uncomfortable travelling here. Tipping isn't mandatory for services, but it is customary to tip around 15 to 20 percent for non-fast-food meals. It's also appropriate to leave a gratuity - about $2 to $4 per day - for the maid who cleans your guestroom.
Fast facts
Population: 24000

Spoken languages: English

Electrical: 110 volts, 60 Hz, plug type A, B

Phone calling code: 619

Emergency number: 911