A city guide to Amsterdam – countless museums, culinary delights and the never-ending nightlife
A city guide to Amsterdam – countless museums, culinary delights and the never-ending nightlife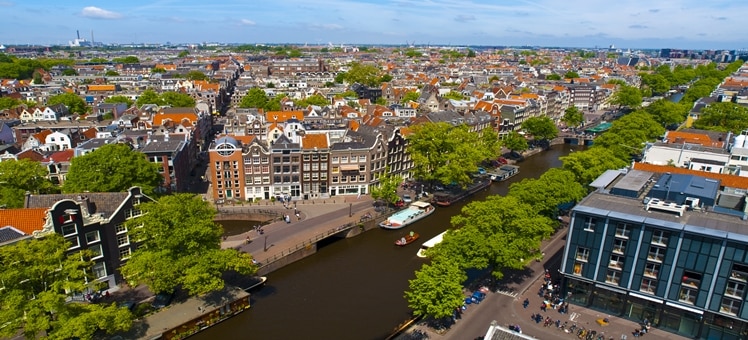 Whatever you think you know about Amsterdam, there is a lot more to be discovered. There are certain sights which you may plan on seeing, such as the famous Red-Light District or Anne Frank's house, but beyond that you'll find over 40 museums, The UNESCO Canal Ring and an extreme 1,281 bridges. The diversity in nationalities found in Holland brings an eclectic mix of culture into the capital, making it a fanciful place to discover.
The beauty of Amsterdam
With a population of approximately 760,000 people it's a tight-knit city full of friendly individuals and a calm atmosphere, perfect for a weekend away. Most tourists tend to explore the city by foot or rent a bike, but if you're desperate to see all of the sights the excellent transportation links will take you wherever you would like to go. Why not buy a map and navigate around Amsterdam's series of bridges and canals, or purposely lose yourself amongst the artistic treasures and various cafés. Prinsengracht is one of the most picturesque canals and where you will find some of the most interesting houseboats, whereas Brouwersgracht is a historic, charming canal perfect for an afternoon stroll.
A city of all ages
Many people don't realise that Amsterdam has activities for everyone to enjoy regardless of whether you're a group of teens or a family with little ones, so don't miss out the great adventures the city has to offer. For those of you who like being scared and learning about history, Amsterdam Dungeon hosts 11 special effects shows guaranteed to scare the wits out of you (min. age 10 years old). Or excite yourselves with a boat, bus or bicycle tour of the city, letting you see all the sights with a guide.
Nightlife
From the collection of nightclubs, cafés, and bars that are scattered across Amsterdam, you can be a tourist during the day and party with the locals at night. You don't need to stay the weekend to experience the party scene as nightclubs are open until 3am and cafés until 1am, entertaining a mixture of electro fans, jazz lovers or even the rock fanatics. Dress code is generally relaxed, but Jimmy Woo and Escape clubs adhere to their strict, smart dress code and many clubs charge entrance fees from €5 to €20, so it's best to check online before turning up.
Something different
Amsterdam has a variety of weird and wonderful museums, from Fluorescent Art to The House of Bols Cocktail & Genever Experience that will leave you amazed, informed and enlightened. Why not see how your flirting skills match up against others at a Flirting or Pole dancing Workshop? Or enjoy the Friday Night Skate in Vondelpark. There's no reason to only follow the crowd in Amsterdam when there are so many eccentric activities to take part in!
Discover
Find your perfect holiday in Amsterdam
From 800 hotels.