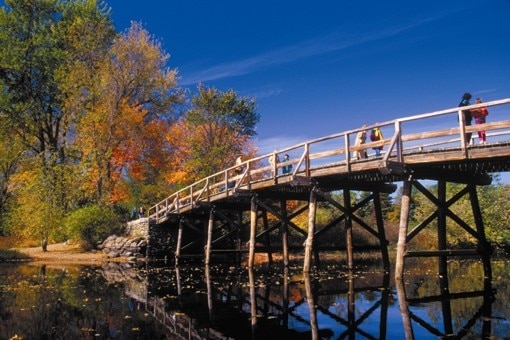 As leaves turn crimson, gold and orange, a fall vacation in Boston can be breathtakingly picturesque. Halloween celebrations and Thanksgiving parades abound. And with students returning, the university town regains its vibe. Book an fall hotel in Boston to experience this New England city at its most colorful.
Fall colors
Burnt orange, deep red and brilliant yellows color the city during the fall. Join dedicated photographers and capture the change of color as you stroll through leafy Boston Common. Don't miss the golden foliage reflected in the lagoon of the Public Garden. Other photogenic spots include the tree-lined boulevard of Commonwealth Avenue in trendy Back Bay and acorn-strewn paths in the Back Bay Fens, west of downtown. Boston's Revolutionary War Freedom Trail, dubbed the Foliage Trail during fall, is also particularly striking.


Halloween festivities
Book a Boston fall hotel and enjoy Halloween as locals embrace the chance to dress up in flamboyant and frightening costumes. Quirky Halloween-inspired events include the Howl-oween Dog Costume Contest & Pet Parade at Faneuil Hall Marketplace. Halloween is also a good time to book a trip on the scary Boston Ghost Cruise, which offers family-friendly trips around Halloween. Ghosts and Graveyard tours are also popular at this time of year, focusing on the more macabre events in Boston's history.


Festival fever
One of the best things about a fall break in Boston is the abundance of festivals and celebrations in the city. September is a chance to see top movies and A-listers during Boston Film Festival. And every year, Harvard Square holds an Octoberfest featuring live entertainment, Bavarian food and German-style beer gardens. Local restaurants also celebrate Thanksgiving in November with traditional dishes like maple syrup-baked sweet potatoes and green bean casseroles.


Pumpkin season
What's for lunch or dinner is a big deal for Boston foodies, and with pumpkins in season during fall, menus across town feature the big orange fruit in everything from pancakes to pies. A local specialty is homemade pumpkin ravioli. Warm up with pumpkin lattes in Boston's coffee shops. Or seek out the pumpkin-spice coffee at the locally owned Polcari's Coffee Shop in the North End.
Fall sports season
Soak up the atmosphere of the new sports season with Boston's football- and baseball- loving locals. Hope that you can book tickets to see the New England Patriots kick off the football season at Gillette Stadium. Meanwhile maybe you can catch the legendary Red Sox chasing another World Series title at Fenway Park. Or take a tour of the legendary ballpark that opened in 1912. If you can't get tickets to the season's opening games, drop into one of Boston's numerous sports bars for a hot dog, all the way, and some Samuel Adams Boston Lager.


Toe-tapping jazz bands
September hosts the nine-day Berklee BeanTown Jazz Festival, Boston's largest outdoor festival, across nine stages in Boston and Cambridge. Hear everything from cool Cuban jazz and upbeat mambo to soulful Chicago blues at venues as varied as the Berklee Performance Center to Scullers Jazz Club. Also look for outdoor stages along Columbus Avenue. Families will find plenty to do along Columbus Avenue at the family festival park, including an Instrument Petting Zoo.